Clear and bright…
September 7, 2008 | My Joys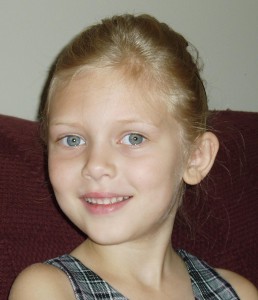 If ever a child has grown into the meaning of her name, it's Clara.  
All the baby name books say that Clara means "clear and bright", and here are some of the definitions of those words from Merriam-Webster: Clear: luminous, cloudless, serene, transparent, unmistakable, keen, innocent, pure.  Bright: shining, sunny, lively, cheerful, intelligent, promising. 
She is my oldest grandchild, firstborn of our daughter Carolyn and her husband Jeremy.  Clara is six years old and is in the first grade. She loves to read ("Grandma, I guess you could say I'm a bookworm!") and she's very content to spend hours drawing, creating and imagining.  While she was at our house yesterday, she read Charlotte's Web, made an 18-inch tall weather vane out of felt, construction paper, tape and pipe cleaner (making sure I knew which were the North/South/West/East arrows), built a small room out of Legos with an "emergency exit window", demonstrated the difference between the calls of the chickadees and nuthatches at our deck feeder, and told me she loved me about seven times.
One of the things I love most about Clara is her very real devotion for her three younger siblings. She and her brother Elijah are sixteen months apart and are true friends. There is a deep bond between them and it's beautiful to see. She thinks the antics of her little sister Vivienne are adorable and says, "Grandma, isn't Vivie so sweet?" And Clara is genuinely delighted when baby Audrey smiles or accomplishes something for the first time ("Grandma, Audrey can crawl and sit up now!").
I grew up loving books, and remember the first time that excitement for reading began in me: in the second grade at Workman Avenue Elementary School in West Covina, when my teacher Mrs. Lokken read aloud the Mrs. Piggle-Wiggle books to our class.  We would sit resting with our heads down on our desks after a hard-playing recess in furnace-like Southern California weather.  I remember thinking that I was going to read those books to my children when I became a mother someday.  And I did.  What never entered my seven year-old mind was that I might eventually be a grandmother as well, and perhaps I would read them to my grandchildren. 
So when the children's play "The Magic Mrs. Piggle-Wiggle" came to The Children's Theater in Minneapolis earlier this year, we began a tradition that I hope to continue for many years: a Grandma Date. Clara and I drove to the Twin Cities and saw the wonderful production, stayed at a nice hotel, ate at restaurants, and made some memories. Elijah knows that next year when he is six, he and I will do the same together.
Clara is tall and long-legged, has golden hair and skin, and expressive blue eyes.  She can be shy around new people, but her conversation with those she's comfortable with is constant, full of hypothesizing and frequent words of love. She is obedient to her parents, helpful and peaceful. She's an amazing example for her younger brother and sisters.
Clara loves to watch reruns of The Lawrence Welk Show on Saturday nights.  When she happens to be spending the night at Grandpa and Grandma's on a Saturday, she'll often look at me with wide eyes and say, "Grandma! Remember what's on TV tonight!"  And when I say, "Lawrence Welk?", she smiles and nods emphatically, knowing in a little while we'll be watching together, swaying to Guy and Ralna or Bobby and Cissy doing their thing.
She likes to hear about life "back in the old days" when I was a child, or about poignant memories I have of her when she was younger. Recently she asked me to tell her some things I remembered about her when she was a baby. One vivid memory came to mind. I told her that when she was about a year old, we had a high chair in our kitchen that we used just for her visits.  I told her how she would sit in this high chair and tentatively try some of the new finger foods her mama gave her. Even at a year old, Clara was watchful and quiet, and as I moved around the kitchen her eyes followed me, and when I spoke to her in Grandma-like coos and smiled at her, she grinned back hugely, breaking my heart into pieces.  I told Clara that as long as I was in the room, she was content. But if I left the kitchen and moved out of her eyesight, she would burst into tears. After hearing all of this, six-year old Clara looked into my eyes and placed her hand on mine and said, "Grandma, it's still pretty much like that now."
There are days now when life seems a little overwhelming to me. Years ago I couldn't have looked in my mind to the horizon of our future and seen there the things that make up our life now. We have things I never thought we'd have, and are missing things I never thought would be lost.  Sometimes it feels like we are muddling around in the dark, trying hard to hold on to our Savior's hand. Theologically, I know that He is holding us in His hands, but I forget that much too often.  How thankful I am for our grandchildren and the riches and perspective they bring to our lives. They cause us to lift our chins, roll up our sleeves and set our hearts and minds on what's truly important. They help us to pray and to dream and to hope. 
My oldest grandchild Clara brings me joy.  She is just plain good company.  Her very presence can make things seem clearer and brighter, although at age six she has no idea that she exemplifies the meaning of her name. It is my prayer that as she grows, she will learn to walk closely with the Lord and that she will look to Jesus as the Protector of her heart.
I'm so proud and thankful to share about my granddaughter Clara.  I love her so.