Lana
September 5, 2008 | My Joys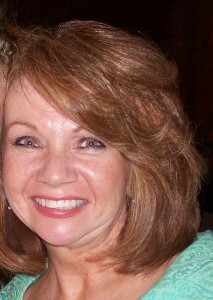 You see her enter a massive room full of dozens of tables and hundreds of chairs, and you are immediately struck by her gorgeous auburn hair, cut very stylishly. Next you notice how perfectly dressed she is, and you realize she knows what colors a redhead looks good in. You watch as she (and possibly an assistant or two) methodically but creatively transform the plain room into an enchanting place that will hold a wedding reception that fulfills a young bride's dreams. You note how efficient and particular this beautiful woman is as she expertly drapes each seat with a shimmery white fabric chair cover that she designed and made herself, and ties it off with a fancy, elegant bow for a final flourish.  A once nondescript room is now something that would evoke "ooohs" or "aaahs" from anyone entering, and would quickly draw them in.
I want you to meet Lana.  Really, what Lana does with her started-from-scratch chair cover business is very similar to what she does in her life.  She does it with her family, her home, and her friends.  This creative and generous woman can take the ordinary, and quite simply, make it better.  She brings a sense of refreshment with her wherever she goes.
A little over two years ago, Lana introduced herself to me at our Tuesday Community Bible Study and lovingly told me she would pray for my husband, who had been recently diagnosed with Parkinson's Disease. Last year she became a core leader at CBS and our friendship really took off. Lana is one of those rare women who is immediately so easy to be with, to converse with, to get to know, that she has made me feel like we've been friends for decades instead of a relatively short couple of years.  Everyone who calls Lana friend knows her attentive, compassionate way of listening. She has a tender heart that translates into everything she does.  When I need comfort and a good dose of encouragement, she's one of the first people I think of.
Lana is a prayerful, devoted wife, and mom to three grown and fabulously talented children, yet she prays for my husband and children. Her faith in Jesus permeates her life in a humble and attractive manner. She's a great decorator who brings peace and harmony to her home, not only with her creativity, but with her personality. She helped paint my newly remodeled kitchen and offered her service to us many other times. A year ago she heard that we had an undetected leak in a kitchen pipe which ruined floors, and she showed up at our door with a delicious dinner, to lighten my load.  She's just there, with a smile and a prayer and a soft way about her that really does make me feel better.
Lana is a true mixture of elegance and grace.  Like the transformation that occurs when she works her magic on ordinary, utilitarian chairs, she probably doesn't even realize she does the same with the people in her life.  She quietly changes any atmosphere into something a little more beautiful, a little softer and more inviting, with her gentle, sincerely compassionate ways.
She is a woman of many friends, yet she takes time to regularly communicate with me.  I am thankful for the richness and love Lana has brought into my life. I count her friendship among my most cherished blessings.
Meet Lana.