Meet Mrs. Nisky
September 20, 2008 | My Joys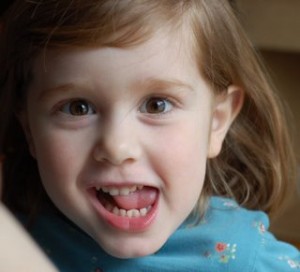 This is my beloved granddaughter, E.  If you look closely you might be able to see the light beaming from her face.  She is the second child of my oldest daughter Sharon and her husband Chris. Auburn-haired and copper-eyed, Miss E. has always looked to me like she could have been named Penny.
Although we learned when she was in utero that E. was going to be a Long-Femured Woman, this sweet four year-old is a peanut. Uncharacteristically petite (for our family, anyway) and thoroughly feminine, she reminds me of a pixie: gracefully flitting here and there, quieter by nature than her older brother and younger sister, yet fierce and feisty when she's bossed around. She has a unique quality about her that is hard to put in words, and it's apparent whether she is with you in person or just talking to you on the phone; she has this luminous essence that shines out from her and beams right inside of you and wrenches your heart. She has a whispery voice that, when accompanied by that pure and disarming smile that no one else on the earth has, just sort of melts me completely.
Miss E. loves to draw and paint, color and create. If her brother, Mr. McBoy, isn't often trying to engage and direct her in playtime, it's likely she'll be found stretched out on the rug, chin resting on one hand and legs behind, intensely concentrating on the small figures she's drawing.
E. has a penchant for collecting things. It started way back when she was a mere toddler. She always wanted to be carrying a purse or basket of some sort, and all throughout the day she would select small things to put in it, and then treasure and guard them carefully. If she was playing with a saucepan, little bits of things had to go in it. If she chose a decorative basket to put over her arm, hair bows and crayons and pennies and beans would be added. For a while she said her Rs in the endearing way so many young children do, and one winter when visiting Grandpa and Grandma she proudly announced, "I'm the collecto of the family." Little does she know that she has collected and carries around our hearts as well.
This summer her parents gave her the best present for her birthday, one totally in keeping with her personality. She attended a week of "Cinderella Ballet Camp", where this group of little girls were taught the fun basics, and got to be ballerinas and princesses at the same time.  It culminated with a darling recital at the end of the week, and the photos of E. doing her broom dance show a little girl truly aglow with satisfaction and excitement.
E. loves music too. Sharon says that she loves to sing and is always making up her own little songs, and she wants to know what the title is to every song she hears on the radio.  Sometimes when the music is instrumental and Mama doesn't know the title, she'll explain to E. that it's classical music.  So now E. thinks that the name of all instrumental songs she hears is "Classical".
Miss E. likes being a big sister, and evidently thinks that very exaggerated baby talk is the best way for her little sister to understand her.  "Are you the cutest baby in the whole wide world, you big girl honey? Yes you are! YES YOU ARE! You're the cutest little sweetheart!"  I wish I could be there to hear it, and to see little sister M.'s delighted reaction.
When I was about three or four years old, I used to grapple verbally for ways to tell my parents how much I loved them, and apparently I used to declare, "I love you two chibben and fee!" which was my way of saying the biggest number I could think of – two, seven and three.  This bent for hyperbolic expression must run in our family, because Miss E.'s parents tell me that when she expresses affection to them, she says things like "I love you twenty-four six hundred!", meaning, of course, lots and lots.
Over a year ago when her parents were talking with her and of course, using her first name, Miss E. interrupted and said firmly (and out of nowhere), "Don't call me E.!  My name is Mrs. Nisky!" They never knew where that new moniker came from but had to restrain themselves from laughing because she was so serious. So while other families have nicknames that make sense, as in Bobby for Robert or Jenny for Jennifer, our little Miss E. wants to be called Mrs. Nisky.
When I talk to E. on the phone I often ask her when she is coming to our part of the country to visit us.  "How 'bout Saturday?" she always cheerfully answers.  Oh, how I wish it were so.  We live far away from each other, so twice a year visits will have to do for now, along with frequent phone and e-mail updates.
When I look at E.'s sweet face and deep into her eyes, I think of the song, "This little light of mine…I'm gonna let it shine!" because that's exactly what she does.  It's who she is.  She has this wonderful and steady little light inside of her, full of innocence and love and spirit, and she lets it shine, and shine, and shine.  Our family is so happy and thankful that God has blessed us with the luminous Mrs. Nisky.