A Teeny-Tiny Decorating Project
We have lived in our new house for ten months now. Are you tired of me talking about how many months and days we've lived in our new house? I don't know why I keep mentioning that. We've done a few decorating things, but nothing major. A little red and cream toile wallpaper here, a little asymmetrical plate hanging there, but overall I just decided to be content with the modern/Swedish vibe of our home.
Now that we've settled in, I realize that I'm missing a place in our home for words. I have always liked having words on the walls in my homes. If you're new here and you've never seen the words on the walls of our old house, you can click here to see the words in the kitchen, and here to see the words on my old office walls.
Not long ago, I happened upon a photo online where the people painted their walls with black chalkboard paint, so they could write on their walls. Before you say blech and wonder why anyone would do something dumb like that, click here. (Once there, be sure to click the right arrows that say "next" so you can see the several different photos of how people used chalkboard paint in brilliant ways in their homes.) I'll wait while you look, and tell you what I'm up to when you come back here.
Did you see the unique ideas? Did you see the old door painted black and placed behind a bathtub? Did you see how even in a Victorian home they used chalkboard paint above rich oak paneling?
Now take a look at this picture below: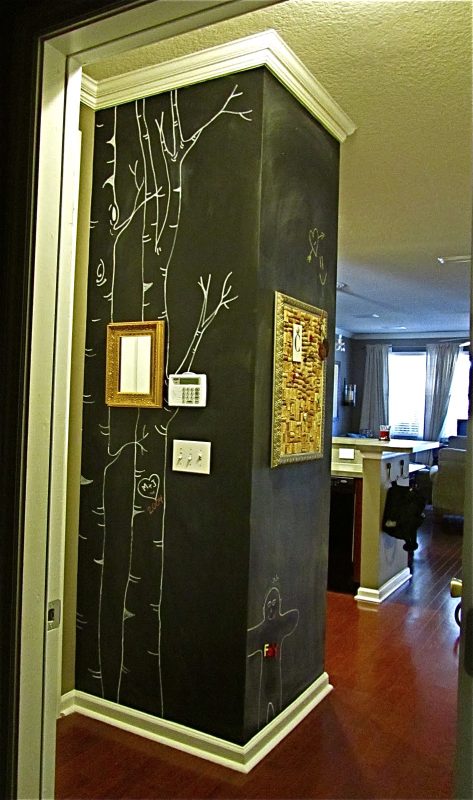 This is the photo I found online that made me stop and say, "Oh my gosh, I want that in my house!" I want a small piece of wall, perhaps a corner even, painted with black chalkboard paint, so we can write words on it. Like Bible verses I'm trying to memorize. Or grocery lists. Or the evening's menu when we have company. Or birthday wishes. Or a heartfelt prayer. Or drawings, like the birch trees in the home above, or of our Edith and Mildred the Schnauzers. Whatever. I'm just a gal who likes to have words on her walls.
So here's the wall I'm going to paint. It's in the dining room, and you can see this wall when you're standing in the kitchen and looking toward the living room. To the left of this wall are three very tall windows/French doors that let in a lot of light, and look out over Lake Superior.
My daughter Carolyn taped off the area for me with green frog tape, and it's all ready to paint. Can you envision how the black chalkboard paint will be on the wall where the clock is, and then will be wrapped around to the right where that little piece of wall is, above the shoes? (Click to enlarge the photo if you like.) The bird clock was hung there on the day we moved in because there was a nail there — I need to find a new place for the clock. The old, oak deacon's bench is a place to store pillows that I don't like anyplace else, and also the savage, heavy-duty anti-bark collars we must put on our delicate and innocent little Schnauzers each and every time they go outside. Oh! You don't know that heart-rending story? It's called A Sad Day In Schnauzerville, and if all this chalkboard paint talk is boring you, you can click here to read about the neighbors who left us an unfriendly note. (I never know who is new here and might not have read some of these scintillating posts.)
I'll post a picture when I'm done painting our little space with black chalkboard paint.  (I would like to thank Jessica Colvin so much for allowing me to post her photo above — she was so gracious when I asked her permission. Please visit Jessica's very creative blog here.)
If you have words on your walls, what do they say? And feel free to link to a photo if you have one!
If you were going to put words on your walls, what would they be?