"On the way to the zoo…"
(From the archives…)
Have you ever been in God's Waiting Room? I think most of us can identify with having been there at one time or another, when we're praying and waiting and trusting that He will move His mighty arm and intervene in the people and situations close to our hearts. My husband and I considered ourselves nearly permanent residents in God's Waiting Room as we prayed for a loved one for over twelve years. I lost hope more than a few times, but Michael never did, and God did move and did answer our prayers, and there isn't enough praise on the earth to express the wonder and gratitude I have felt for His power and faithfulness in that situation.
But then along comes another trip to the waiting room, and instead of diligently calling to mind what God did in our lives while we waited on Him before, I am kicking at the walls and pounding on the door and wanting out, now. I'm tired, and don't want to be here. I'm having a hard time remembering how God sustained us when we were here last. I think this new room is smaller and has fewer windows than the one we knew before. There also seems to be an electrical problem in this waiting room because the lights don't always work. Sometimes I sit here in total blackness.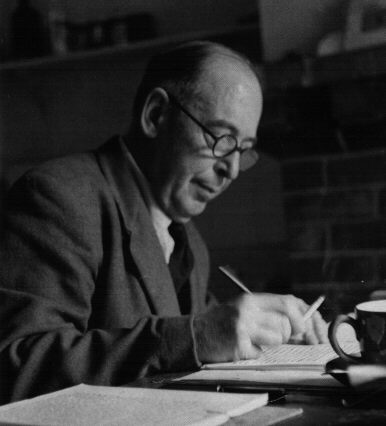 So a few months ago when I read an account about C. S. Lewis and his conversion to Christ, I was encouraged. I have long been a fan of Lewis. I think his work Mere Christianity could convince any person honestly seeking the truth about Jesus. And The Chronicles of Narnia will always be some of my most beloved books.
While I've read most of Lewis's writings, I have yet to read Surprised by Joy, where this quote comes from. Lewis writes about how quickly and without notable fanfare he went from not believing that Jesus Christ is the Son of God, to believing that Jesus is the Son of God.
"I know very well when but hardly how the final step was taken. I went with my brother to have a picnic at Whipsnade Zoo. We started in fog, but by the end of our journey the sun was shining. When we set out I did not believe that Jesus Christ is the Son of God and when we reached the zoo I did."
C. S. Lewis was riding in the sidecar of a motorcycle, and while on the way to the zoo, he believed. And 20th and 21st century Christendom has been powerfully impacted because on the way to the zoo, Lewis believed.
So sometimes God does a magnificent work in a short time. Perhaps this stint in the waiting room might not take twelve years. Maybe not even twelve months. Only God knows. But what might happen if I keep praying and believing on the way to the grocery store? How might God move in the hearts of those I love as they load the dishwasher? What miracle might take place as they're putting on their shoes?
If C. S. Lewis can quietly become a follower of Christ while riding in a motorcycle sidecar on the way to England's Whipsnade Zoo, then God can certainly perform lasting and cosmic works in me and in those I love in a relatively short period of time. Of course I don't know how long it will take for Him to do His work. His ways and thoughts are not my ways and thoughts. But I do know that He is good and He can be trusted. I don't always keep that in the forefront of my mind…when I'm clawing at the walls of this waiting room and kicking at the door and screaming to get out, I guess I'm not patiently trusting Jesus and casting my burdens on Him as He wants me to do. But I'm trying. Some days are better than others.
In the meantime, I'm thinking of what happened to C. S. Lewis on the way to the zoo. And praying that God will do even more wondrous things for our families on the way to the grocery store. And on the way to the gas station. And on the way to work. And on the way to school. And on the way to bed. And on the way home…