Monday Matters
1.  We finally got some measurable snow, and everyone I know is glad about it. It snowed all day yesterday. The weather folks say there's a larger system moving toward our area, due to arrive on Wednesday, with the potential to dump "tremendous amounts" of snow, so I will keep my faithful readers posted about that.  🙂
2.  Today is a special day, provided my eighth grandchild cooperates. The ultrasound that Sharon will have today should reveal if a sixth granddaughter is due in July, or a third grandson. Any hunches?
3.  Clara turned 10 recently and for her birthday she got to choose three things she wanted to do with me. One of them was to go on the Timber Twister. It was about 20 degrees (minus 6 Celsius) so it wasn't unbearable, but the wind was whipping and with the windchill factor it felt like it was way below zero. I hadn't brought a hat so I used my scarf to keep my ears and face warm as we hurtled down the mountain.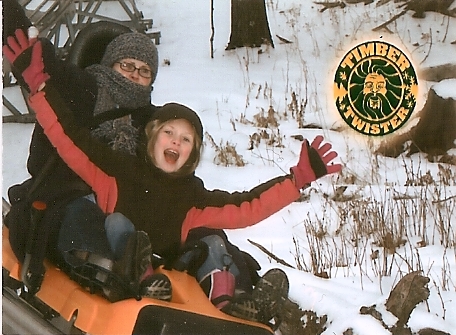 The first time down I just wrapped the scarf around my neck, but I had an ice-cream headache almost instantly. The second time down I tried to wrap my long scarf around my neck and around my ears and around my forehead, but the wind still made it shockingly cold. We had fun though! The cold kept most people away from the Timber Twister so it seemed like we were the only ones on the mountain — we whooped and hollered and made a good memory. You can click here to see a short video of a partial ride on the Timber Twister (in the winter), and of the same views Clara and I saw. Clara wanted the little photo keychain they offer as a memento, and we've chuckled over the picture because I think I look like a Muslim grandma when really I was an almost frozen grandma. I have one of my arms up too but it's hard to see in the picture.
4.  Yesterday we had a family potluck here at our house. Sharon and Chris brought a tender beef pot roast with onions, carrots and fresh savory herbs, Jeremy and Carolyn brought a Caesar salad with her yummy homemade dressing and some rosemary rolls, I made my Stuffed Baked Potatoes, and we also had raspberry bars for dessert. Later the kids played outside in the snow after dinner and got soaked, so when they came back inside, their wet socks and jeans went into the dryer while the whole brood ran around in their underwear.  🙂
5.  I just finished a beautifully written book.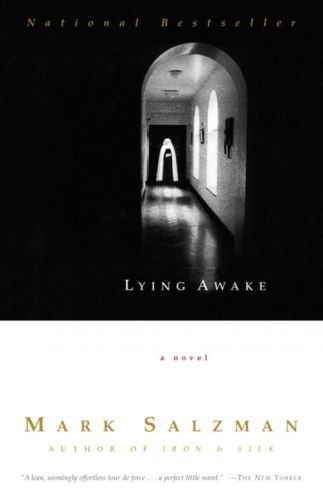 It's called Lying Awake by Mark Salzman and I didn't want it to end. I love it when I find an author whose writing is so fantastic, and then I learn that he/she has other books to try. What are you reading these days? I'd love for you all to leave a comment with any recommendations.
6.  My sister-in-law Christy is coming to visit us in March, and I'm so looking forward to seeing her. She and I will be spending two days at Pacem in Terris. It will be the first time Christy has been there, and my fourth. I've never been in the winter, however, so I'm excited to experience my little hermitage with snow and silence all around.
7.  The older I get, the greater my desire to pray grows. Maybe this is the Lord pressing on my heart, or maybe it's because I see how limited human influence can sometimes be, and how powerful prayer really is. Or maybe it's both. Anyway, over the years I've tried many ways to make prayer a part of my daily life, and I have felt mostly a failure at it. Not that I don't pray — I do. But I've desired to have an extended prayer time every single day, and while it's not a challenge for me to read my Bible and find a feast there, sometimes prayer has been hard for me. So I started praying about prayer. And I realized that I think better when I write something out. I used to write out my prayers years ago, and am not sure why I laid that practice aside, but I'm going back to it now. Except now I have something new I'm very happy about. I started thinking about what kind of prayer journal I wanted, to suit my needs and the way I think, and I realized there probably wasn't one out there exactly like the one I want. So I gradually designed my own and I love it. I'll take pictures and share about it here soon. I'm finding that I'm so irresistibly drawn to spend time in prayer, which of course is just time spent talking to (and hopefully listening to) my Savior, and this is such a miracle to me. Thank you Lord.
8.  Yesterday Sara came a bit late to our potluck because she had a prior engagement — she was a princess for a day. A Fairy Princess Ball was held in our city to raise funds for families of children with cancer who come to our medical center for treatment. The little girls came with their mommies, all dressed up, and there were several fairy princesses helping. Sara was Cinderella.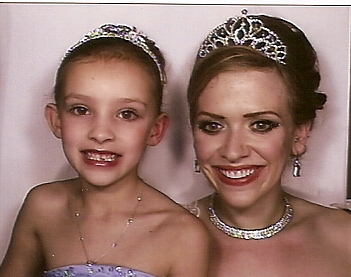 One sweet little girl with an adorable dimple (I can't remember her name) asked Sara if they could have their picture taken together, and after they were done she asked Sara questions that sounded like she might have really believed Sara was Cinderella. 🙂
9.  Today we have a monthly Foster care provider meeting we must attend. We learn about the latest news with Foster care licensing changes, potential documentation requirements that affect how we keep track of the things the state requires of us, and upcoming events and activities that our Foster gals might enjoying being a part of. It's wonderful to have a group of people to gather with who understand the varied blessings and challenges of Foster care. Michael always likes to go out to lunch at an Indian restaurant downtown after our monthly meetings. We eat lentils and garbanzos and eggplant in multi-colored curried sauces that are so mouth-watering, we try to sit in a corner each time we dine there, so our eye-rolling and moaning isn't a spectacle. (Not really, but almost….)
10.  As part of my efforts to donate one thing each day during 2012, here are my seven things for this week.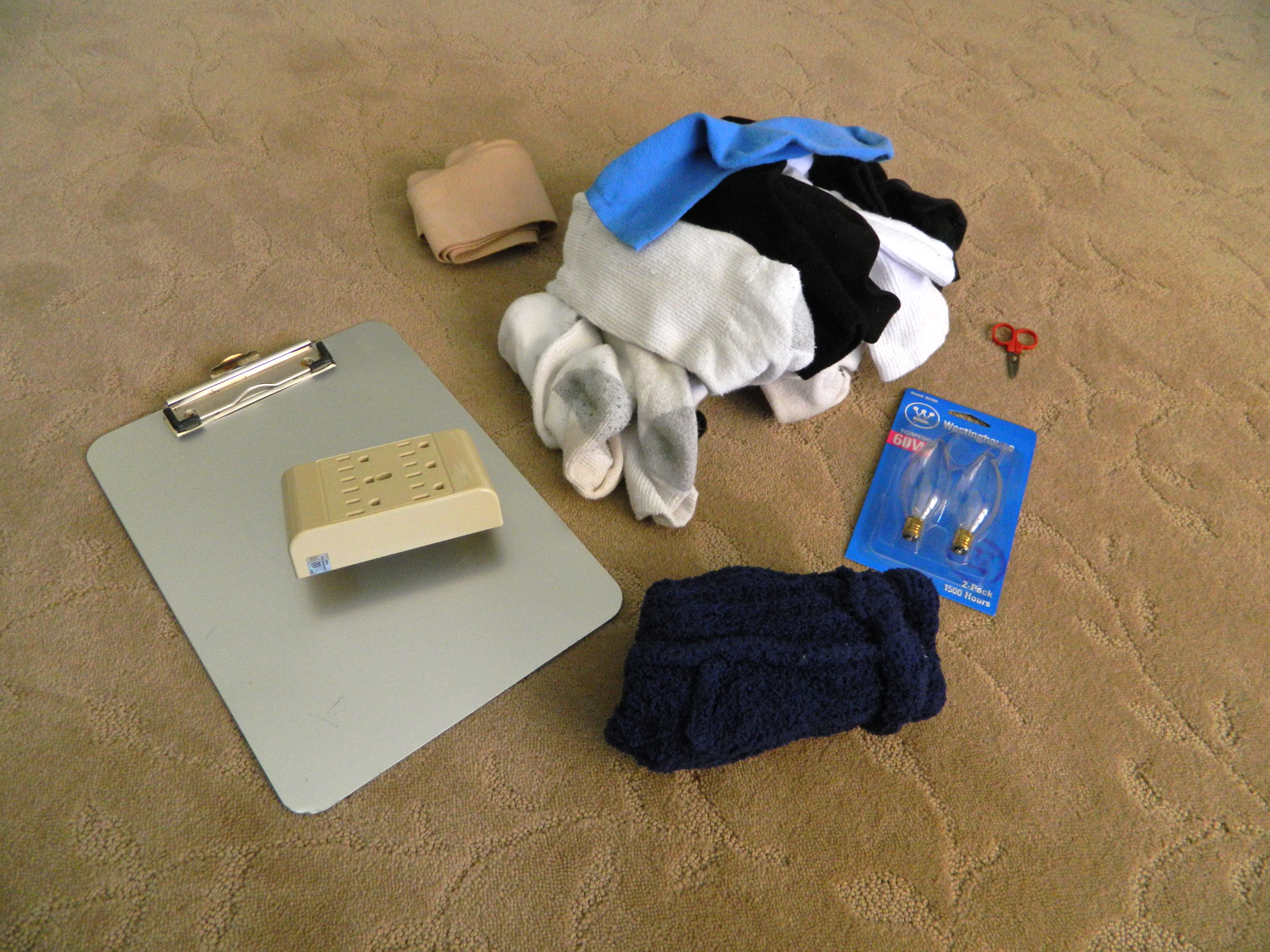 A clipboard, a large multi-outlet plug, a pair of fuzzy blue socks with non-slip rubber strips on the soles, a pile of unmatched-for-years socks, an ace bandage, some chandelier lightbulbs, and a teeny pair of dull scissors. Anyone out there doing the same? I know my friend Pen (who got me started on this project) has diligently kept up with her plan too. It's quite nice to see kitchen cupboards, bedroom drawers and linen closet shelves slowly become emptier and more organized. And there isn't one thing I've donated or tossed that I've missed or been sorry about. My daughter Carolyn mentioned that recently she was taking part in a "47-thing fling" and went around her house with a large plastic bag and was able to find 50 things to donate!
11.  The cold and snowy weather seems to call for a pot of soup, so I'm thinking about making that for dinner. I think I could live on soup, salad and crusty whole grain bread.
12.  In early March I'll be giving away a new book on the blog, and I'll bet it might take some of you by surprise. It was written and recently published by my dear friend Denel's husband Jerry, and it's called A Sack Half Full, a touching and hysterical account of his brave journey through testicular cancer. It's a first here on the blog — I've never written the word, uh, testicle in any of my posts before and it feels like some kind of watershed moment, don't you think?
13.  So what are some of your Monday matters? What do you have going on this week? What is the weather like where you are? What book have you been reading? What have you donated? What's for dinner at your house?
Thank you so much for reading, and I hope your week is woven with hope, joy and peace.