Christy
I have a friend in Tennessee. She is one of the people I love most in the world, yet we've only had the opportunity to be together six times.
The first time we met was in 1994 at her and my brother's home in Southern California, a horse ranch on the high desert at the base of the San Gabriel Mountains. The next time we saw each other was just a year ago, when my husband Michael and I traveled to their current home near the banks of the Tennessee River in the eastern part of that state. The last time I got to spend time with her was in August of 2010, when she and her daughter (my beloved niece) came to visit us in Minnesota.
I'm not sure how someone can have a close and devoted relationship with someone they've only seen in person for three periods of time, but I know it's possible.
I'm talking about my sister-in-law Christy. Christy married my oldest brother Larry a couple of decades ago, and introduced herself to me through a letter in the mail. I knew we were kindred spirits as soon as I set the letter down, but I had no idea that we would be dear friends someday.
Christy loves knitting, books, animals, long vigorous walks, quiet times in a hammock in their fruit orchard, canning the bounty of what they grow, crafting, her family and the Lord. Even though she loves her alone and quiet times, she's one of the hardest working people I've ever known.
Christy is a woman of deep, solid faith in Christ, and we pray for each other and for our loved ones. I would trust her with my life.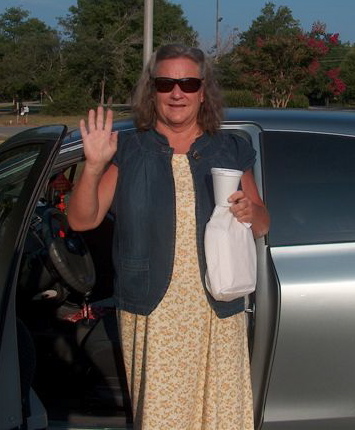 She is an educated woman who gave up her secure and lucrative ob/gyn nurse practitioner job in order to school her daughter Savannah at home for twelve years. Christy and Savannah did a lot of their homeschooling in a tent that they moved around on their five acres of land, so they could be outside while they read and learned and drank in the beauty of the land around them. Christy has told me of those golden days when she and her daughter would take pillows and blankets to the tent and read and study for hours while the breezes blew the tent flaps and the bees buzzed and the birds sang and the river just over the edge of their property streamed slowly by. As the years passed, Christy and her only child grew very close, and the result of Christy and Larry's sacrifice took firm root, grew tall and bloomed. Savannah is a lovely young woman who went on to graduate from college with honors, and is now getting ready to enter grad school. She is a daughter any mother would be thankful for.
When Christy and I occasionally talk on the phone, it's entirely possible for an hour or two to go by and still not be enough time to cover all that we could in conversation. Christy is a wonderful, compassionate listener. She's hysterically funny, which in my opinion is largely wasted because "she's not a people person but is a person person," so her ability to make people laugh is only revealed in small, infrequent measures.
Christy has a slightly warped sense of humor that I absolutely love. When Savannah was a young girl she was saying her own name out loud one day, "Savannah Kate," and Christy sat down and looked into her eyes with great concern and said to her innocent little daughter, "Savannah…did you think your name was Savannah Kate? Oh, honey I'm so sorry. Your name is Savannah Gate." Can you imagine what must have gone through Savannah's mind? A small child's world must have shifted right then. Savannah Gate? My name is Savannah Gate and not Savannah Kate? Think of the bewilderment and the sudden reorienting it must have taken for Savannah to realize her name wasn't at all what she had thought for her entire young life! When I asked Christy how long she allowed Savannah to think her real name was Savannah Gate she answered "About three or four days."
I must confess that when I heard this story I was practically pounding the table and could hardly catch my breath from laughing so hard. Here was a woman after my own heart! I never told my daughter Sharon Lindsay that she had heard me wrong and was really Sharon Whimsy, or my Carolyn Beth that she was really Carolyn Bath, or my Sara Yvonne that she was Sara Beyond, but after hearing Christy and Savannah's story I almost wished I had!
One might think that this was not a particularly kind trick to play on a child, but you would have to meet Christy to understand. No one loves her daughter more than she does. It's just a quirky way of hers that I love and that she and Savannah giggle over years later. There are other stories of theirs that I always crave hearing because they make me laugh so hard…maybe I'll share about them someday.
Here is a photo taken of Christy and me last August…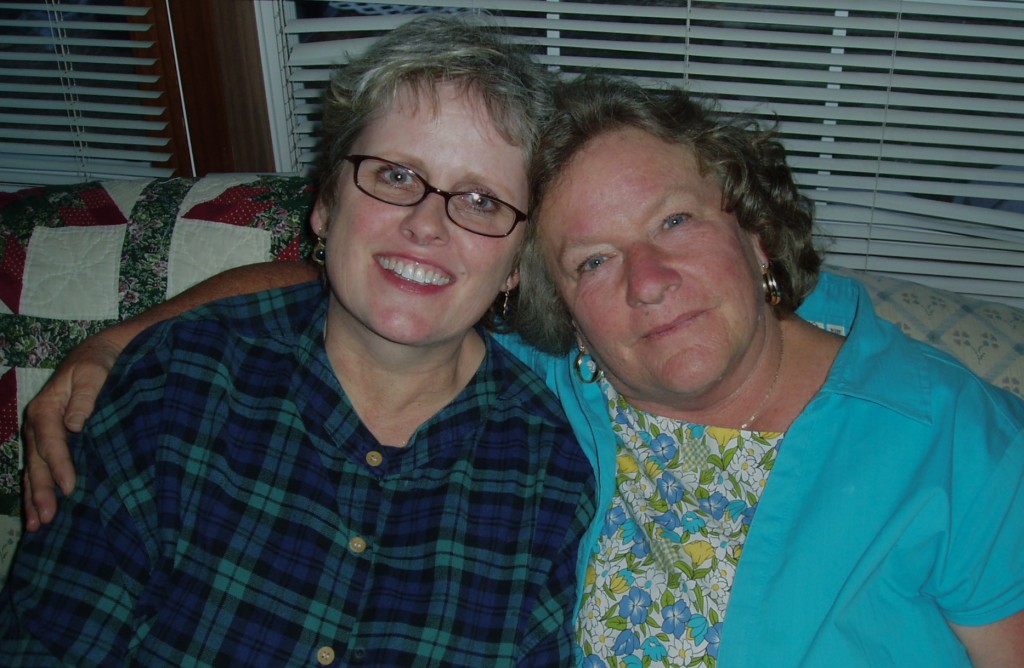 Now that I'm a grandmother, my thoughts sometimes meander ahead to what my later years might look like. I realize that today could be my last day on this earth and do not presume upon any time the Lord gives me. But if I should ever outlive my husband, I've always known that I would like to live alone in those later years. I don't want to remarry, don't want to share a house with anyone, and I know I would fill up my days with my children and their families, books, times with friends, possible travel, and blessed quiet and solitude.
One of the last times I talked with Christy on the phone, I told her all of the above. And then I also paid her the highest compliment I could ever give to someone. I told her that if there was one person on this earth that I could live with in my retired years (aside from Michael, of course), I think it's her.
I don't know if she thought that was much of a tribute, but it was.
She is the sister I've never had, a friend I completely trust and adore, a fellow believer who radiates beauty and grace, and a woman I can never spend too much time with. I thank God for blessing my life with Christy.