Copying My Daughter
Yesterday Sharon listed some "true facts" on her blog and as usual, she made me laugh. I have so many posts for my own blog in the works, but can't seem to finish them. I've had a couple of posts started about close loved ones for a long time now, but can't finish them without sobbing (in a good way), so I keep putting them off so I don't get snot on my fancy Mac keyboard.
I thought I would share some "true facts" as well, copying Sharon's idea and keeping the keyboard clean and dry. By the way, aren't facts supposed to be true? Could there be such a thing as "false facts?" If pieces of information were false, would they then be facts? Maybe someone can answer this question for me.
True Fact #1 — Yes, indeed, my daughters did know all the words to Dolly Parton's song "9 to 5" when they were very young, and were called upon on occasion to stand up and sing it. For about three years during the early 1980s I had a couple of Dolly's albums and when I saw that the girls could sing along with many of the songs I encouraged it. Chalk this up to one of the 647 things I did as I mom and still have no idea why. Do you think having my daughters sing Dolly Parton songs when they were still preschool aged was odd? Really? I did use some discretion, however, and drew the line at them learning "Jolene."
True Fact #2 — Sharon hasn't seen any of the Pirates of the Caribbean movies, and I have never seen a Star Wars movie. Not even three minutes of one. I hope to never break this habit of not watching any Star Wars movies. If I fall off the I Refuse to Watch Star Wars Movies wagon, I will share about it here.
True Fact #3 — I am a slave to Cappuccino Coolers, my own concoction I make every morning from cold milk, instant coffee granules, Hershey's chocolate syrup and hazelnut creamer. Sometimes I get a little daring and put my coffee cup in the freezer at night before I go to bed. Then when I wake up at 5:15 a.m. the next day, guess what my mind goes to? Thank you Lord, for another day? Sadly, no. The first thing I think of is how I'm going to quietly go downstairs and whip up my Cappuccino Cooler in that frosty coffee cup the minute my feet touch the kitchen floor. Things have gotten dire. I know I should stop drinking Cappuccino Coolers and have resolved to quit, but have not been able to forgo them with any long term success. I have thought about going to Betty Ford, but I am needed at home and can't spare the time away right now. If you're smiling at True Fact #3, stop it right now. I'm not kidding. :O
True Fact #4 — When I was very young I used to sit on upholstered gliders while wearing pleated skirts, red patent leather shoes and graciously buttoned sweaters draped over my little shoulders. My hair was a shoulder-length cascade of curls held back with a headband, and I liked to sit with both hands placed over to the right of my legs in order to strike a more genteel pose. For those of you having difficulty believing True Fact #4 is a true fact, I introduce into evidence the photograph below.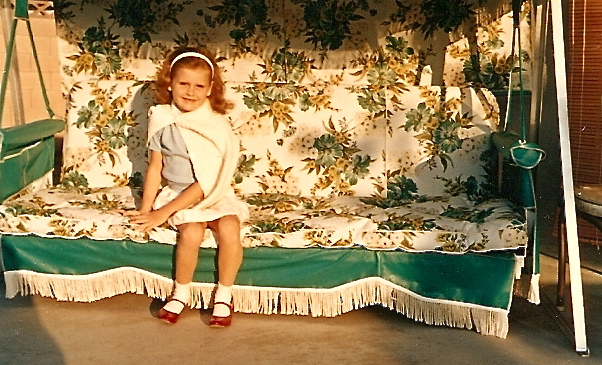 I was two months shy of seven years old.
True Fact #4B — In spite of the picture above, my hair was not red. It was a dirty dishwater blonde.
True Fact #5 — I no longer own any red patent leather shoes, pleated skirts or flowered gliders, and I don't have cascading curls either. And if you should find me one day just benignly smiling and sitting with both hands placed to my right side, you should probably contact my nearest relative.
True Fact #6 — We have decided to put our house up for sale in June. If you know anyone who wants a large home with a large kitchen and a large master bedroom and a large yard near a large lake in a largely unpopulated state, please e-mail me.
True Fact #7 — God is on His throne, is slow to anger, full of mercy and grace, knows your name and mine and how many hairs we have on our heads (whether of the cascading or the moth-eaten variety) and loves us with an everlasting love. What would our lives look like if we really believed this?
True Fact #8 — I wear makeup now only a few times a year, so thought I would document one of those rare times this morning, for posterity's sake. I hope posterity appreciates it.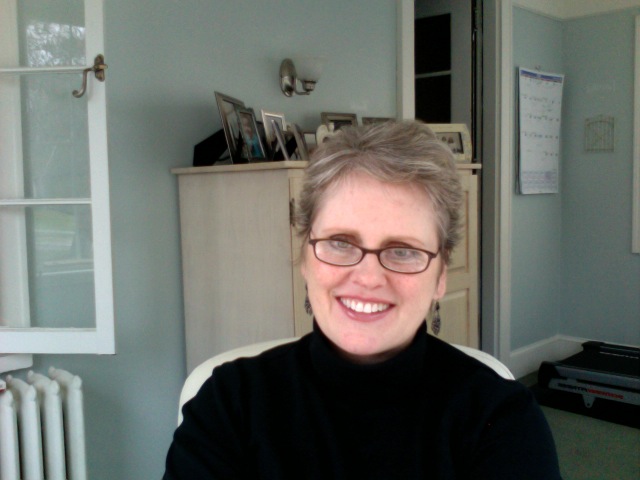 Except perhaps you can't tell in this photo anyway. But I'm smiling at you and greeting you today, and I hope your Thursday is thoughtful, thankful and therapeutic.
Blessings,