The Empty Mantel
I knew when we moved into our new house that I didn't want to do the same things I'd always done to decorate the mantel on our fireplace, or the space above it. Here's a picture of our old fireplace, which I loved, and the way it was decorated last December.
Now we're in a house with a more modern feel to it, and the fireplace is in the dining room, which is in between the kitchen and the living room. In fact, all three of these rooms sort of flow and open up into each other, so the colors need to do the same. I think
At our old house, we had a huge kitchen with blue and white accents everywhere. If you haven't seen that kitchen, you can click here and scroll down to the final photos in that post. You might be able to see some of the blue and white cup/mug collection on the far wall.
In this house, I'm not sure the blue and white things I have really look like they belong, but I don't care enough to change all that. I like blue and white, so blue and white we will keep, even if it looks a little out of place with our modern cherry cabinets and black granite counter tops.
So recently I took a bunch of our black and red transferware plates that used to hang in our old bedroom (again, click here to see if you like), along with some of the blue transferware plates that we used to use in our old kitchen, and started thinking about hanging them above the fireplace. Black, red and blue. Not a combination I would ever think of.
I also didn't want to hang them symmetrically. So I searched online for a few inspiration photos and decided I liked these two examples below of asymmetrical plate hanging the best: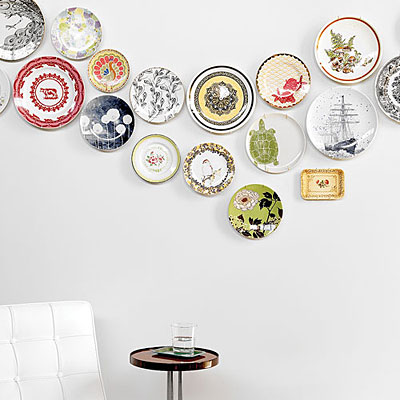 Then I started arranging my blue, red and black plates on the carpet, taking pictures and moving them around and considering how they looked. Sara helped me one afternoon and we both agreed that to place different sized plates like this is not as random as it appears! It was challenging. Once we settled on a swirly, flowing design I liked, I took a picture, piled up the plates and let them sit on the book case for at least three weeks before I felt up to the task of hanging them.
Carolyn came over yesterday and helped me hang them. She laid them out on the table first, and we measured and rearranged and fiddled and peered and adjusted.
Here is what the space above our fireplace and mantel looks like this morning: (you can click to enlarge it if you like.)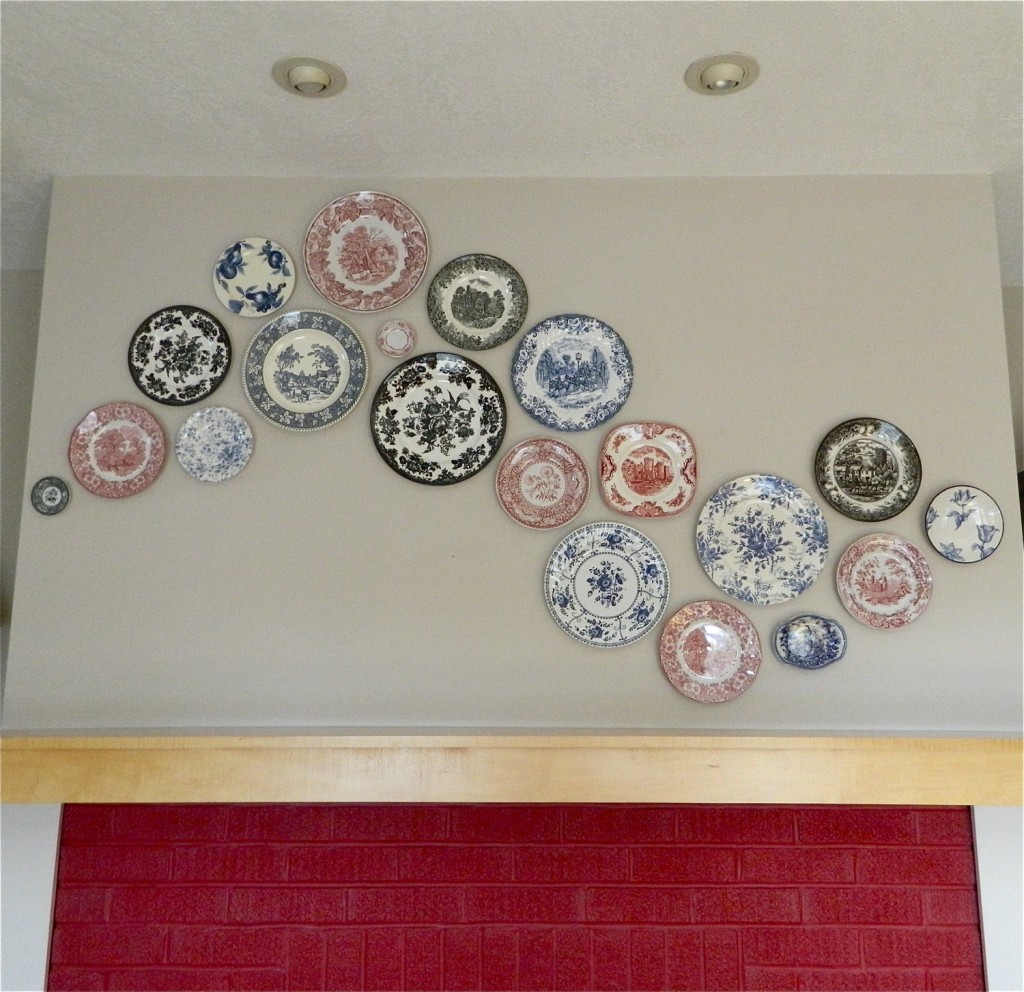 I'm fairly pleased with how it turned out. I think it combines the traditional look of transferware with an unexpected, more modern or whimsical look. Now I have a new issue. (I assure you I know this is not really a true problem considering what life can throw at people). What in the world will I put on the mantel?  This morning I put a few things there to see how they looked, but none of the old items look like they belong. I wonder if one large black and white framed photo of my family, placed on the mantel where the largest empty space is on the left, would be a good choice.
If any of you have ideas or links to ideas you like, please leave a comment — I'd love to see what you think!
In the meantime, I hope your week is filled with good things…