Wonder-ing
I wonder why God does some of the things He does. I wonder about how He seems to take His time answering prayer sometimes, and how hard it can be to trust Him to bring the deepest things in our hearts to pass.
And I wonder about some of His wonders. Why did He make nudibranchs so colorful and unique, when hardly anyone was going to see them?
Why does He allow some of the things He does, when He could so easily fix them?
Why do my dogs bark so much? Why?
I wonder.
I've also wondered why God has preserved a friendship that began 48 years ago, when my friend Denel and I were seven years old, and met in Mrs. Lokken's second grade class. I've wondered why, and I've come to this conclusion: it's a wonder. And it's wonderful.
Denel and I flew to Colorado for our First Annual Lupi-Soo Reunion two weeks ago, and it was all I'd hoped for. Beautiful scenery. Restful. Comfortable sharing and equally comfortable silences. Good food. Laughter. Reminiscing. Praying together for those we love the most. And we experienced a few wonders in our almost five days together too.
Here's the A-frame cabin we stayed in, which was called The Secluded Chalet at Fawn Trail Junction. Doesn't it look terrific? Doesn't it sound like it would be secluded, with a name like The Secluded Chalet at Fawn Trail Junction? We thought so too. (You can click to enlarge the photos if you like.)
In the photo below, you can see the inside of our secluded chalet. We were sort of led to believe that there would be this big wood-burning stove and we could build crackling blazes and warm our feet while we read and talked. Evergreen, Colorado is 7500 feet above sea level, and our cabin was 9000 feet above sea level, so there were some chilly nights, and that roaring fire sounded so inviting. Except that the stove was a gas stove, and the gas flames didn't roar or blaze; they sort of twinkled. And it took a while for the secluded chalet to warm up. Have you ever tried to warm your toes in front of a twinkling fire?
But the furniture and the light coming in through the windows and the trees and the breeze? Wonderful.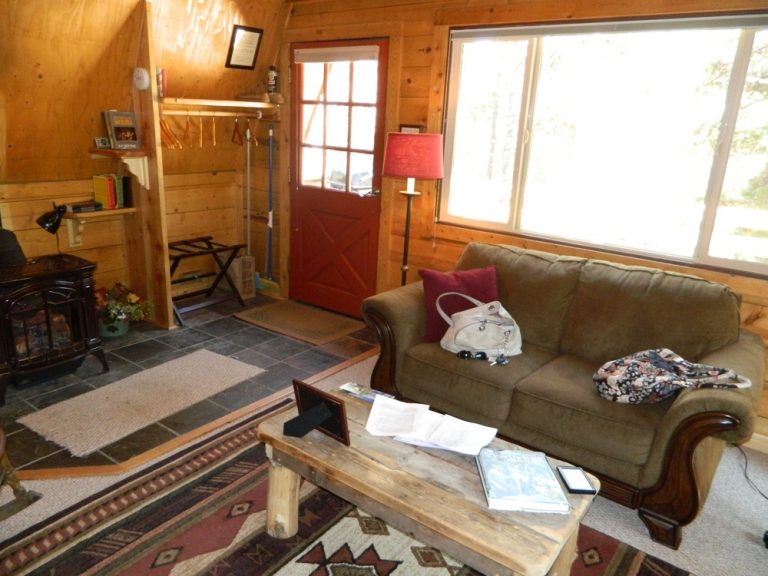 Below is a view from the living room, looking into the kitchen area. It was nice to have a washer and dryer. Washers and dryers are especially necessary if the owner of the cabin leaves you a note and tells you that when it's time to check out, you must strip your beds, wash your sheets and towels, remake your bed and replace the towels "with the same housekeeping care you would your own home."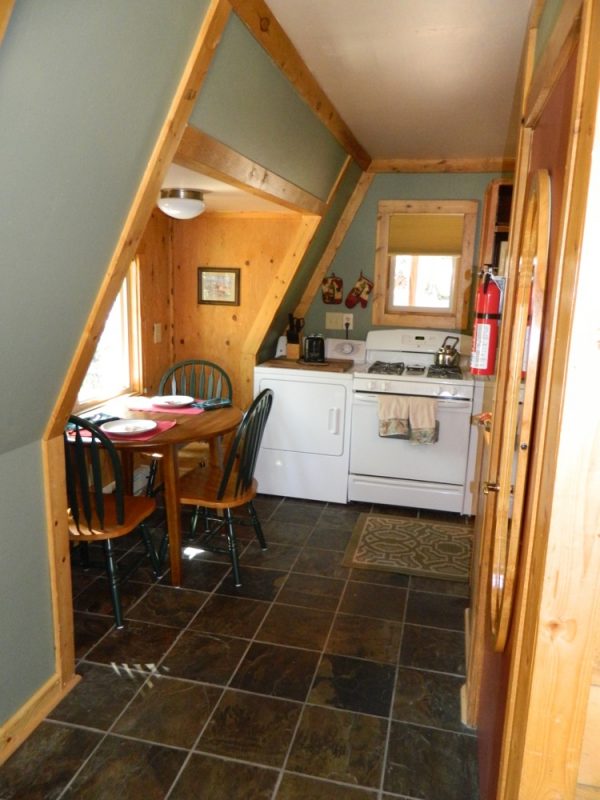 The Secluded Chalet at Fawn Trail Junction was billed as a two bedroom cabin. Denel and I used to sleep in each other's beds when we were little girls and spent the night at each other's houses, but we're old now. We like our own beds to toss and snore in, so two bedrooms was definitely the way to go.
Here's a picture of Denel getting ready to tote her suitcase up the stairs. This shot doesn't come close to showing how steep these stairs really were — they were literally like a ladder of steps.
I wonder….why the owner decided to decorate with unfinished plywood on all the walls?  🙂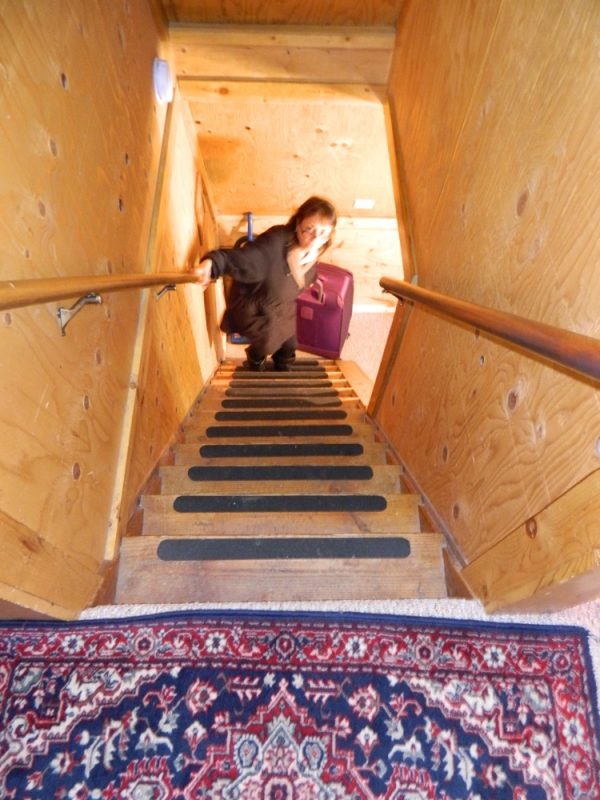 Here is Denel's bedroom, which has a nice deck that looks out over the forest at the back of the cabin.
And here is my bedroom, which faces the front. One thing the owner neglected to mention in his online advertising, is that this is not really a two bedroom cabin. It's a cabin with one large room on the second floor, slightly separated by the ladder-like steps. If two couples had decided to rent this place for a romantic skiing vacation and hoped for some privacy, they would have been disappointed. I think the owner should provide earplugs for all his guests.
The beds were super-comfortable, however! I slept so well while I was there. Going down the steep steps in the middle of the night to visit the bathroom was an interesting experience.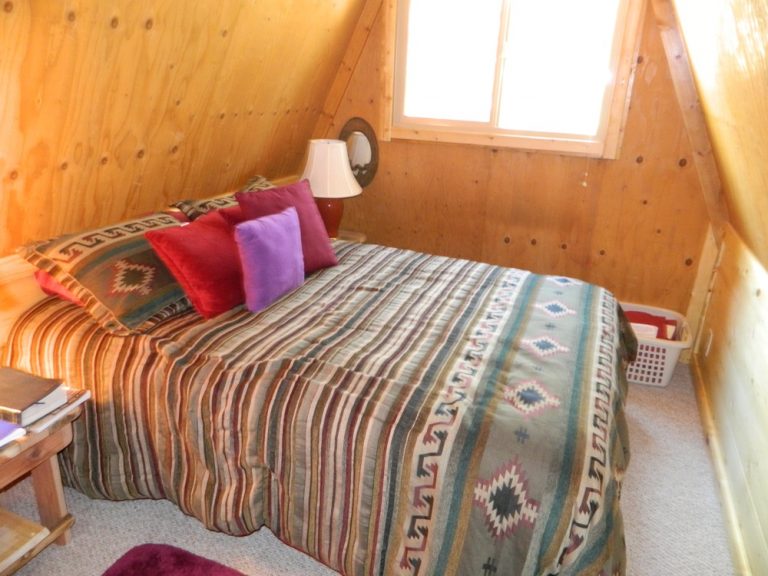 Denel and I visited Evergreen Lake, which is so beautiful. There's a great trail that circles it, and it looked like the locals used it a lot — we saw young moms with babies in strollers, joggers, and seniors ambling.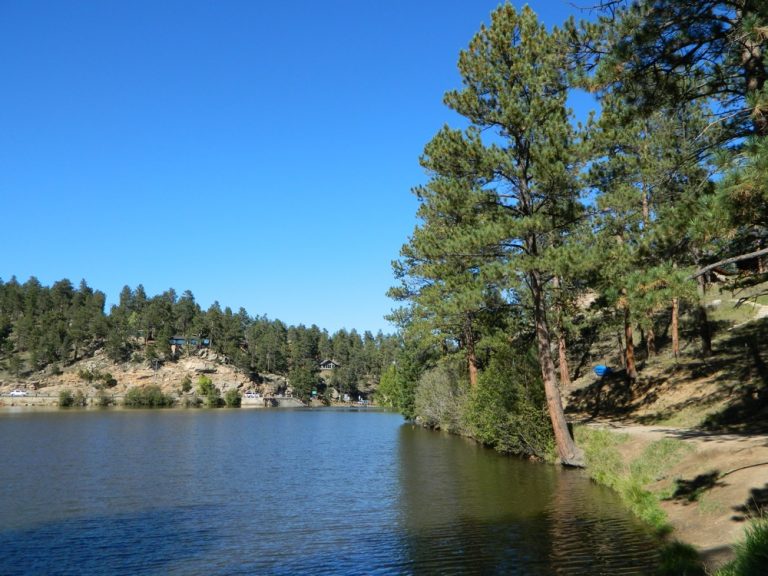 We had heard about this great place to eat in downtown Evergreen, called Creekside Cellars, so we had lunch there one day.
Isn't Denel beautiful? She looks the same to me as she ever did. And she's lovely inside and out.
The antipasto salad is one of the specialties at Creekside Cellars, so we ordered it. I have never had an antipasto salad before, not being one who usually craves assorted olives or Italian meats. But I was game to try it, and when it was placed in front of us we just had to take pictures — such a feast for the eyes!
There's a red pepper paste, some herbed olive oil and pesto there in the middle for dipping the warm, crusty bread in. There were different kinds of cheeses, baby red potatoes, different salamis and stuffed peppers and grape leaves. We ate about half of this and took it back to The Secluded Chalet's refrigerator in case we wanted to snack later.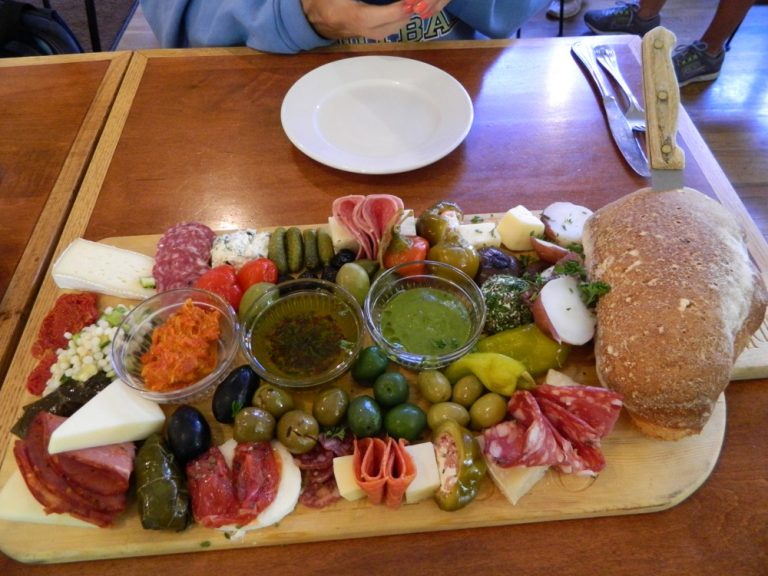 While Denel and I were enjoying our lunch, some movement caught my eye through the windows of the restaurant. The photo below isn't that great, but I wanted you to see my initial view. Remember you can click on any of these photos to enlarge them if you like.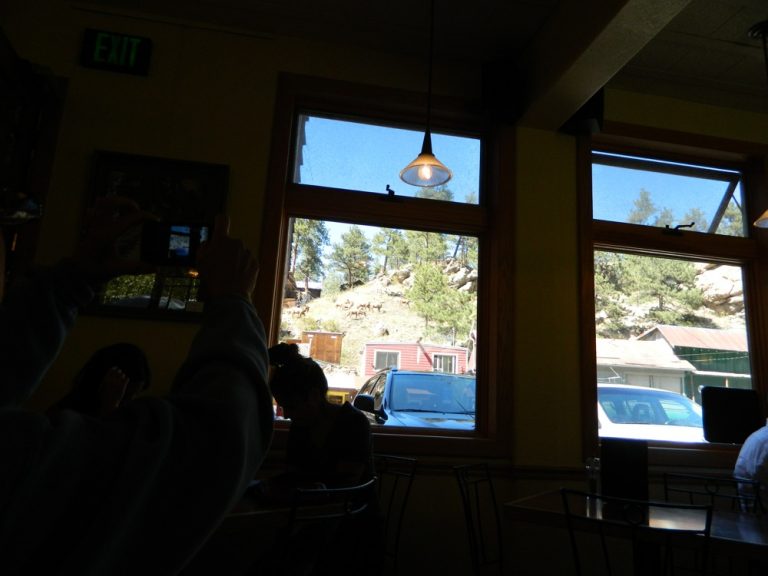 It was a herd of elk, walking on a craggy hillside just above some of the downtown businesses! How many elk herds have you seen in the city center where you live?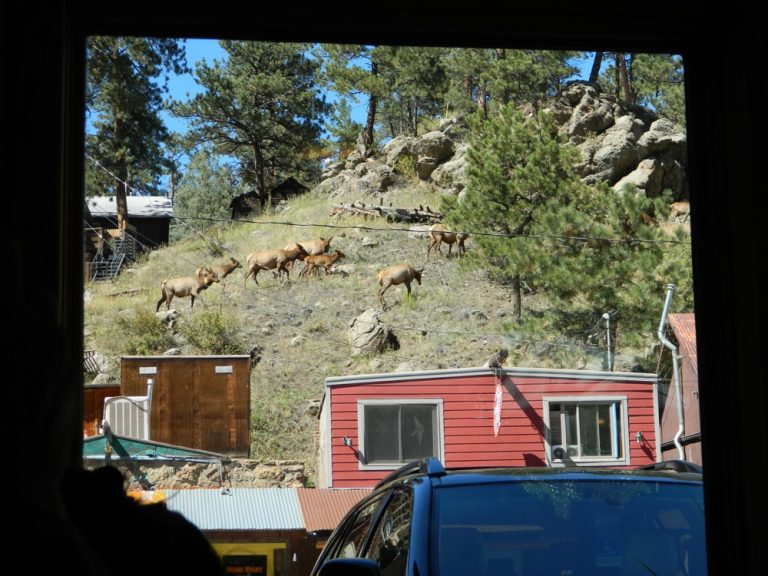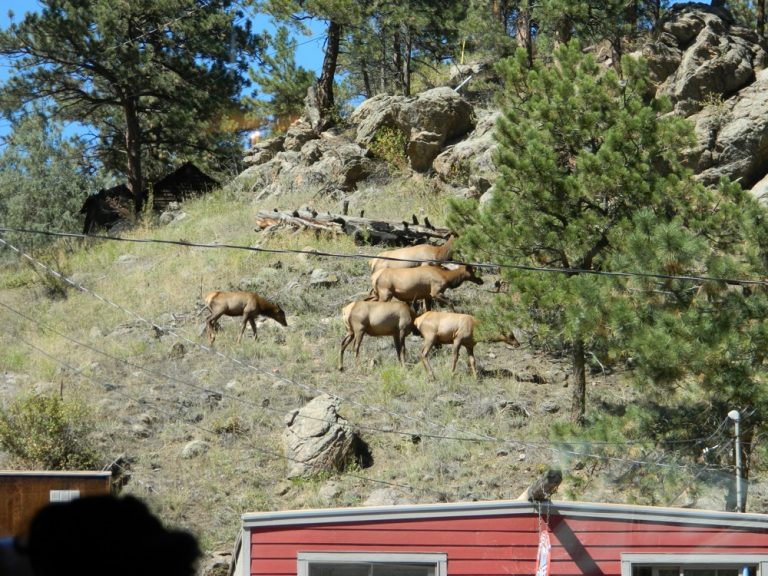 Denel and I were so excited by the prospect of seeing wildlife in Colorado while we were there, so seeing the elk like this was a wonder to us. We kept praying as we walked and drove that God would show us more wild animals.
I found it fascinating to see how many houses were built high up on the rocky cliffs above downtown Evergreen. I wondered why people would live in houses supported by thin little stilts like this.
I loved the early mornings, when I would get up, turn on the gas stove so I could have a teensy twinkling fire, light a candle so things would smell nice, and sit in the dawning light and read my Bible, and consider what a wonder it was to be there at all.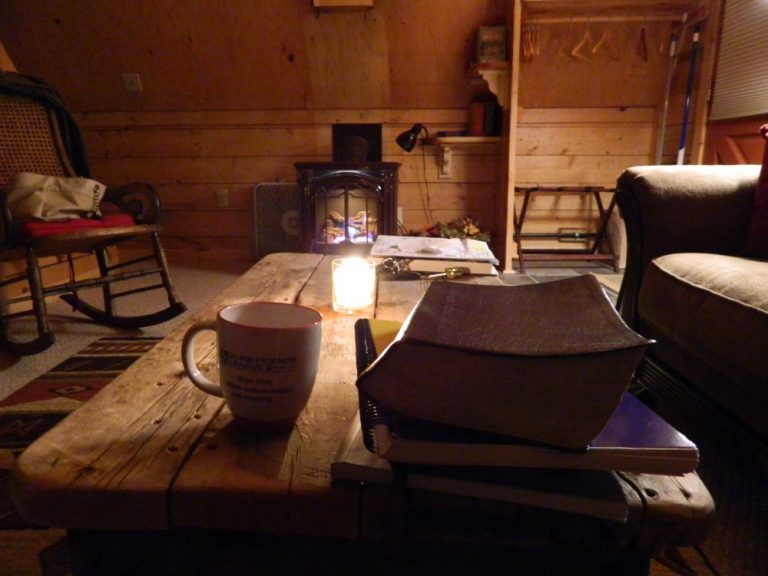 We wondered what in the world we were going to do when we saw this little sign right next to the toilet: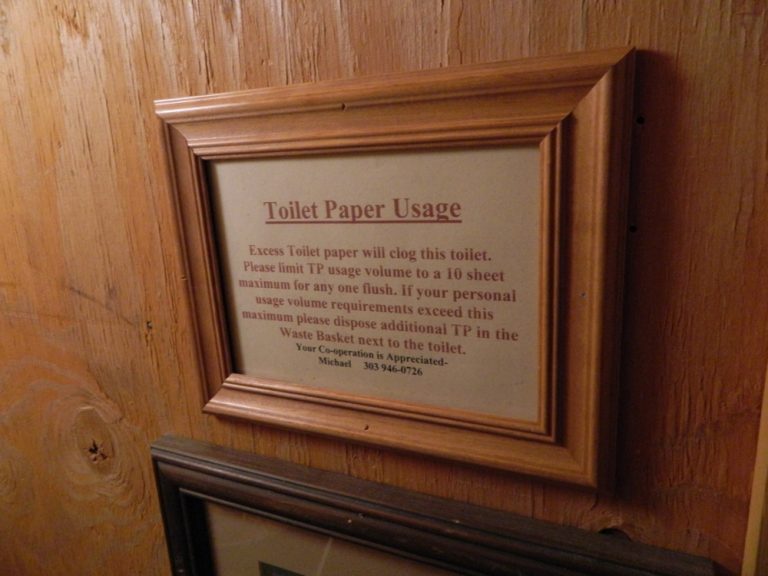 This photo below is a view from The Secluded Chalet's living room window, and we wondered why the owner called it The Secluded Chalet when this other cabin was a mere stone's throw away.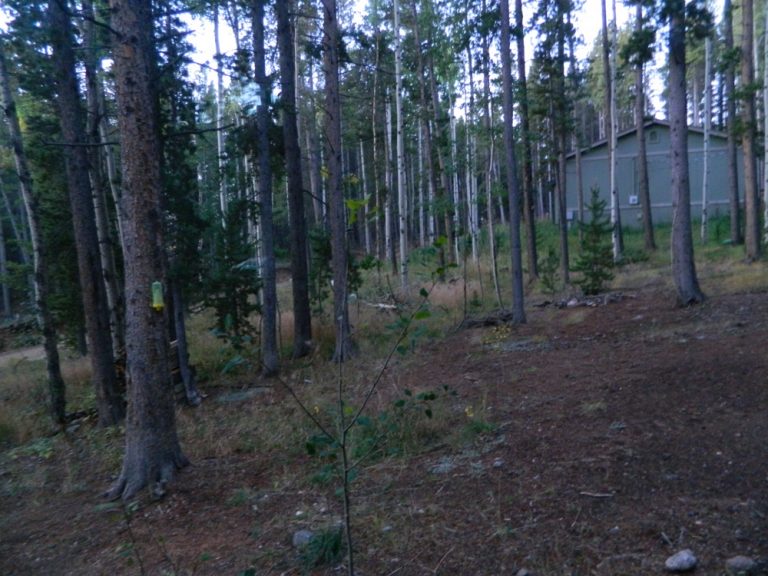 There were signs throughout the cabin warning us not to put any of our garbage outside in the bins, because many trash-thieving bears had been in the area lately. Well, Denel and I wanted to see some bears, so while we didn't put our garbage out, she did go outside and spread some berries here and there. We wondered if we could attract a bear or two. Alas, we never spied any bears.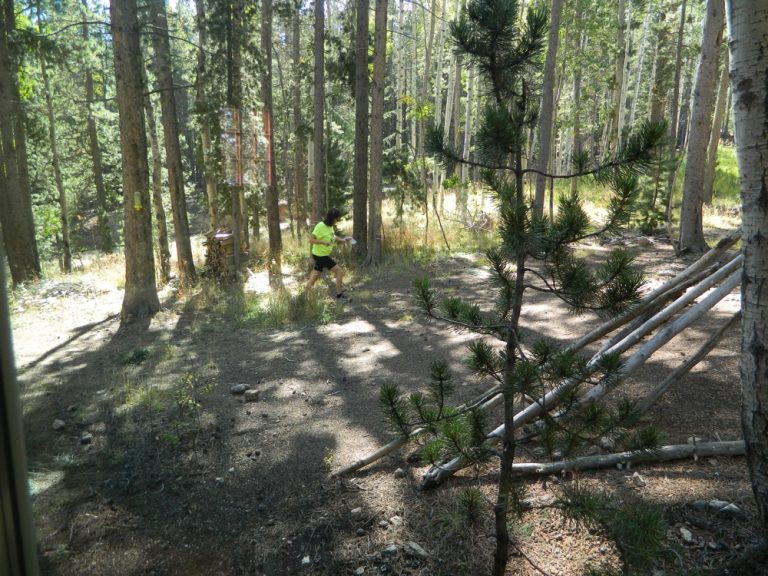 One morning as we were driving from our cabin down into Evergreen, Denel said out loud when we'd gone about 1/10 mile down the road, "Lord, show us some more animals!"  Within five seconds of that prayer, this is what we saw on the side of the road. Of course we had to pull over, roll down our windows and talk in high-pitched voices to these beautiful, graceful deer.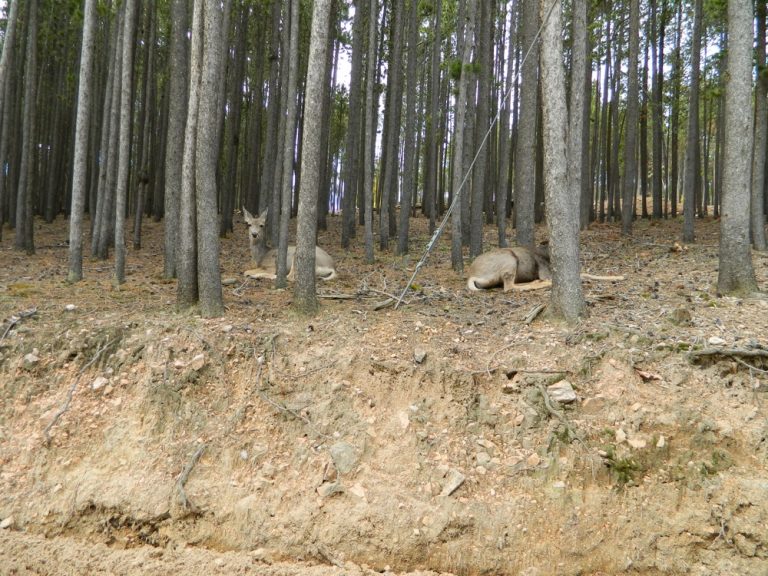 When Michael (The Mighty Deer Hunter) saw these pictures he said, "Oh, those are Mule Deer." We have White-Tailed Deer in Minnesota.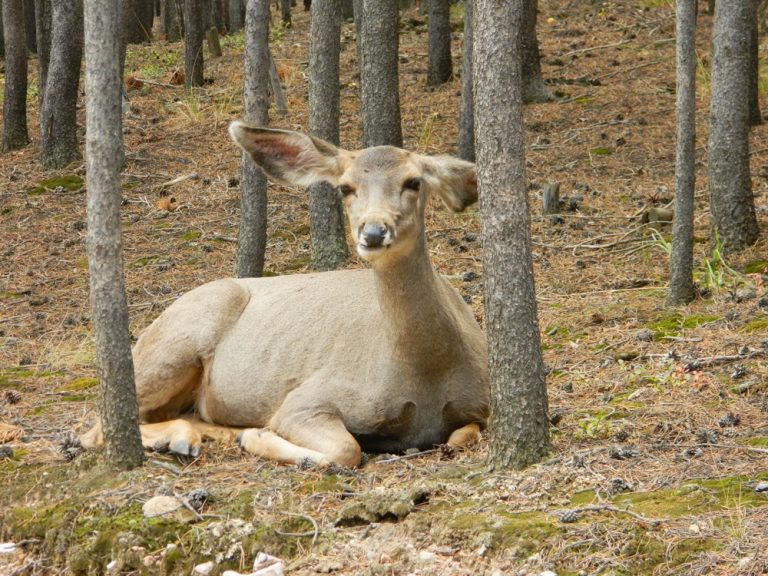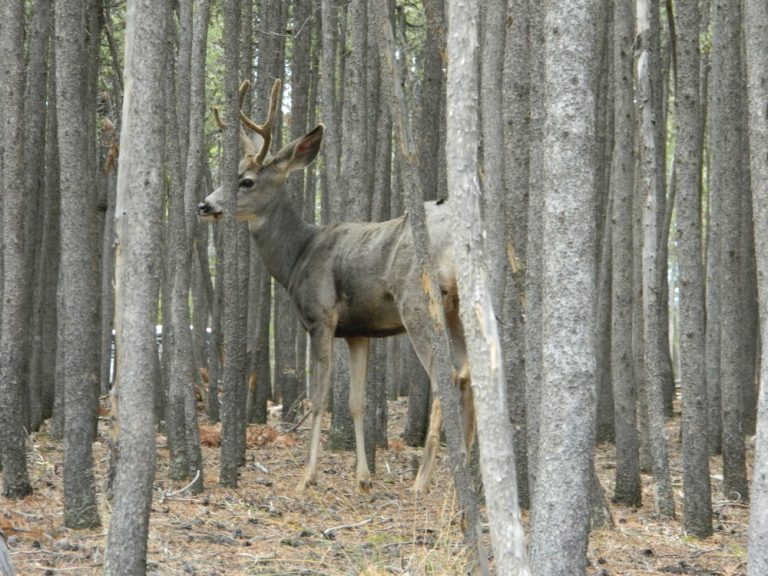 Seeing these deer at such close range was a wonder and a joy to us.
We strolled, we shopped a little, we oohed and aahed over the beauty. Evergreen is aptly named, because it's hard to find a square yard that isn't full of some kind of pine or spruce tree.
One morning we walked to a local park.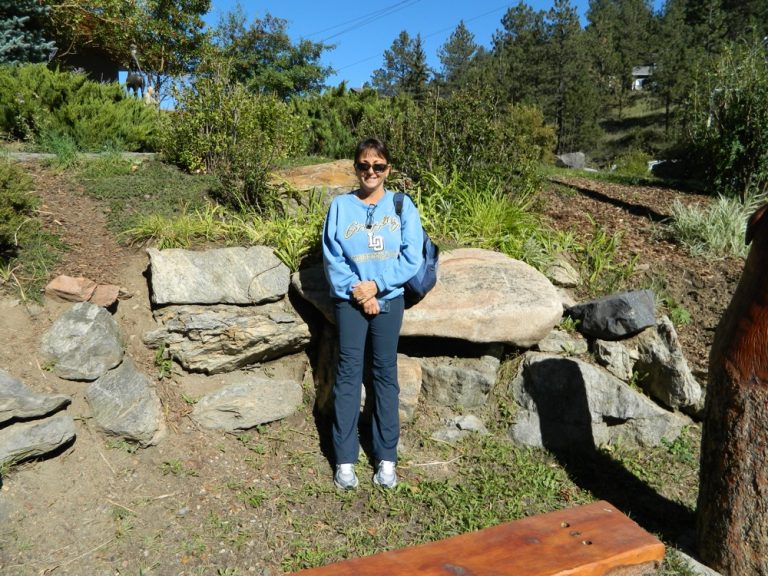 This is where Evergreen Lake spills into a small, rocky river whose name escapes me at this moment.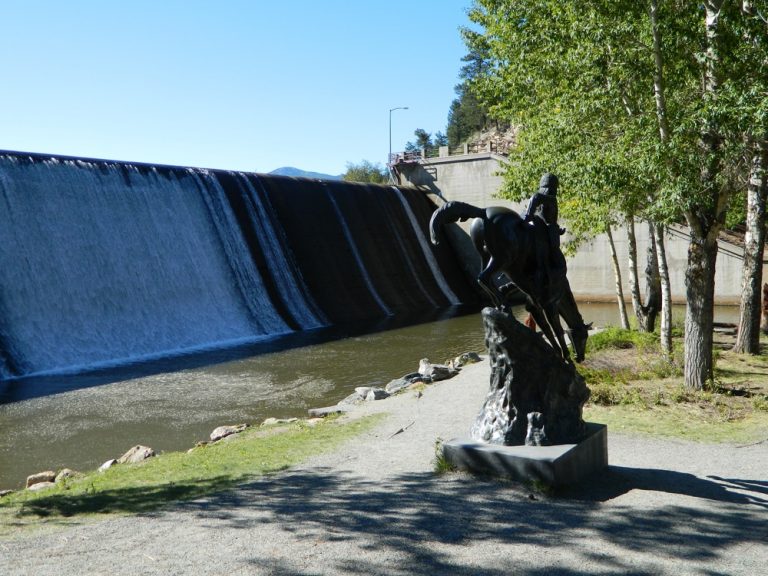 As we wandered through this little park I saw two good-sized birds on top of the dam, or whatever it was. One was clearly a female (on the left) and the other a male, trying to get her attention. He kept spreading his wings and wishing she would cast a glance his way, and as long as we stood there and watched, she never did. Ho-hum, she seemed to squawk. I thought they looked like Cormorants, and we later found out they were.
This isn't the best picture below, but I zoomed my camera lens to get a better shot of Mr. Ardent Cormorant trying to impress Ms. Aloof Cormorant.
She was having none of it.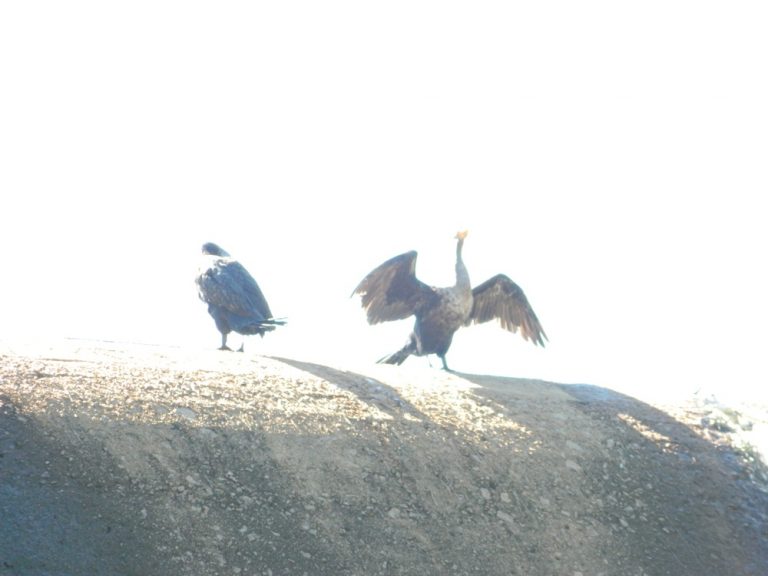 Rocky Mountain wildflowers in our cabin: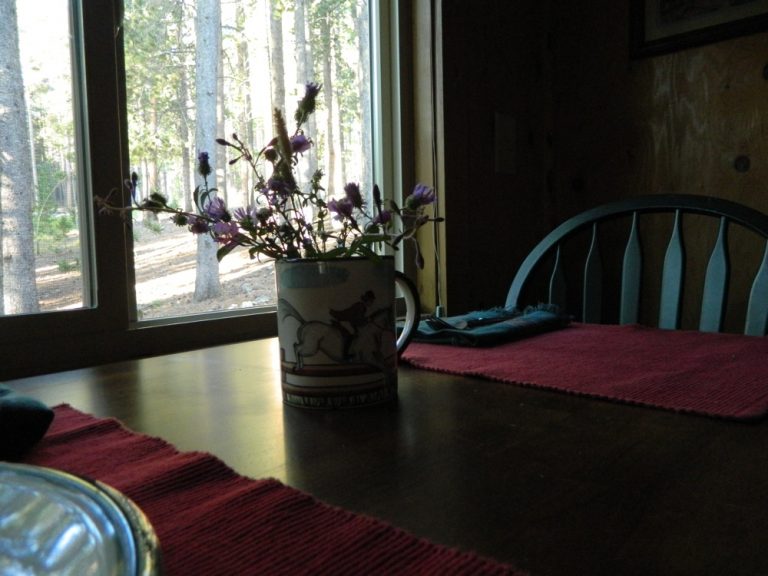 We sat outside as the sun went down, on the back deck off of Denel's bedroom. We talked over old times, and we shared about current times, and we wondered how God was going to answer some of our deepest heart's desires. That's the wonderful thing about having an old Christian friend — when you are short on faith, she can come along side and pray for you. When she is needing a faith boost of her own, there you are, ready to pray and believe for her.
We had such perfect, wondrous weather while we were there. It was very cool in the evenings, and in the 60s and 70s during the day. The air is so dry at that elevation you can feel it in your skin in just a few hours. We were lizard-like and kept wanting lotion for our hands. We were also informed that at over 6500 feet above sea level, one should drink twice the usual amount of water. Would you like to live in a place where you never sweat? Move to Evergreen.
I wondered if we would be affected by altitude sickness, and the first morning there we both had headaches. So we drank and drank and drank our H2O, and felt better in no time.
I love it when I learn or see something new. While in Evergreen, Denel and I saw majestic Ponderosa Pines everywhere we looked. Did you know that the bark of the Ponderosa Pine smells like vanilla? Truly! The shaggy bark is sort of cinnamon colored, and now and then we put our noses right up to the sides of the trees to inhale that wonderful smell.
I wonder why God made some pine trees smell like pine, and others smell like vanilla?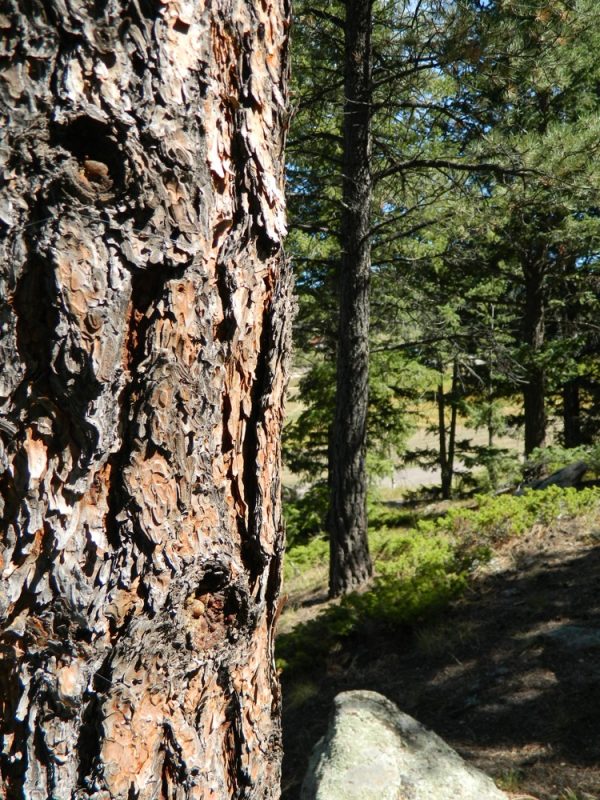 This elk was standing on the side of the road and when I saw him I ordered Denel, "Pull over!" so I could get a picture. He was huge, and we were praising God for the beauty of His creation.
Here's our coffee table in The Secluded Chalet. Bibles, Kleenex, keys, journals, iPad, cell phones, and the workbook for a Beth Moore Bible study (I just finished doing James and Denel is just starting it.)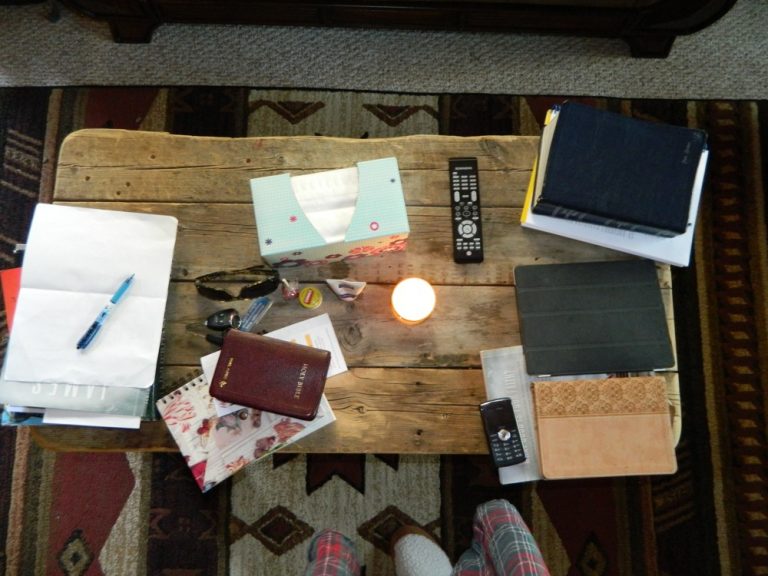 Enjoying my first ever Soy Latte. Denel likes Starbuck's Soy Lattes and has one every day. I had never tried one, so I ordered a medium soy latte with a shot of hazelnut at a rustic and quaint establishment we liked in downtown Evergreen.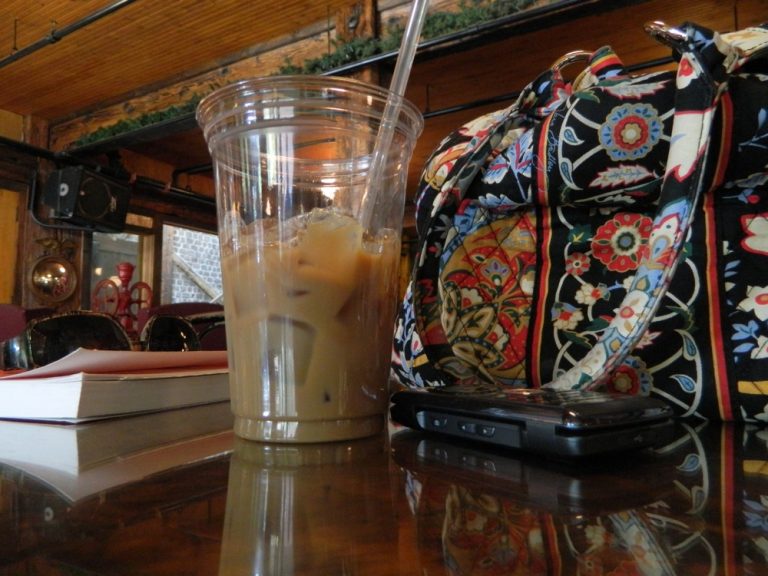 The photo below was taken in a park where we stopped to inspect true-to-life replicas of old western chuck wagons. We wrinkled our noses as we imagined what it would have been like to travel in them years ago, especially as women. We wondered how anyone could possibly have crossed the Rockies in a chuck wagon. Not wonderful.
One late afternoon as we were driving back to our cabin, I caught a flash of black out of the corner of my eye.
Wonder of wonders, it was a black fox! We had never seen a black fox before…have you? (Click to enlarge if you like…)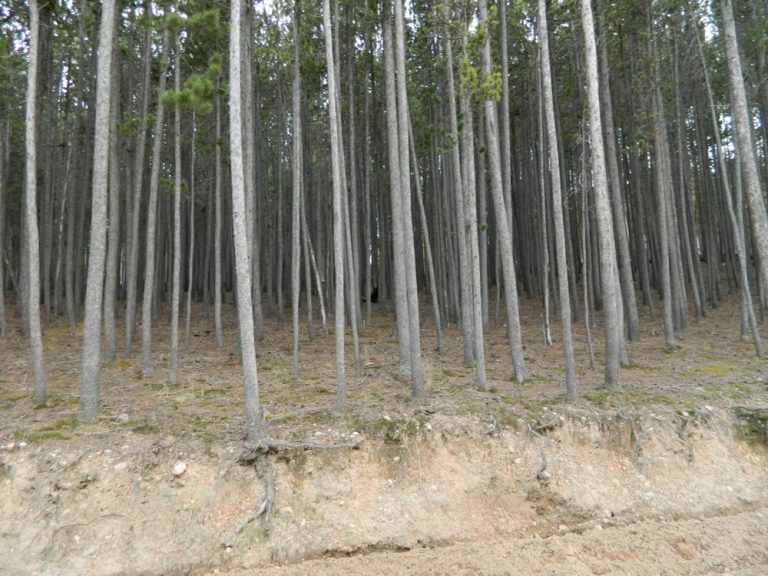 He was smacking his foxy lips and licking his foxy chops as if he'd just enjoyed a juicy fox meal.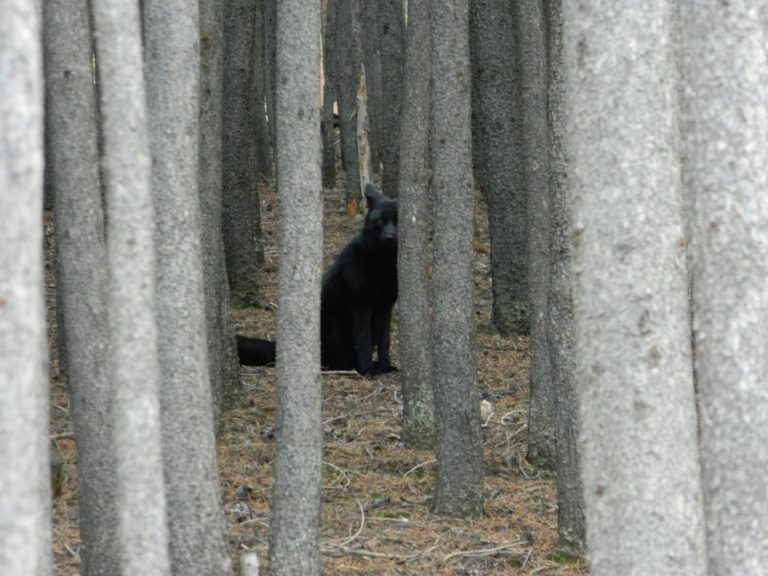 I included this picture below so you can see his white-tipped tail. "Thank you Lord!" we crowed….we kept marveling over the wonderful wild life we were seeing.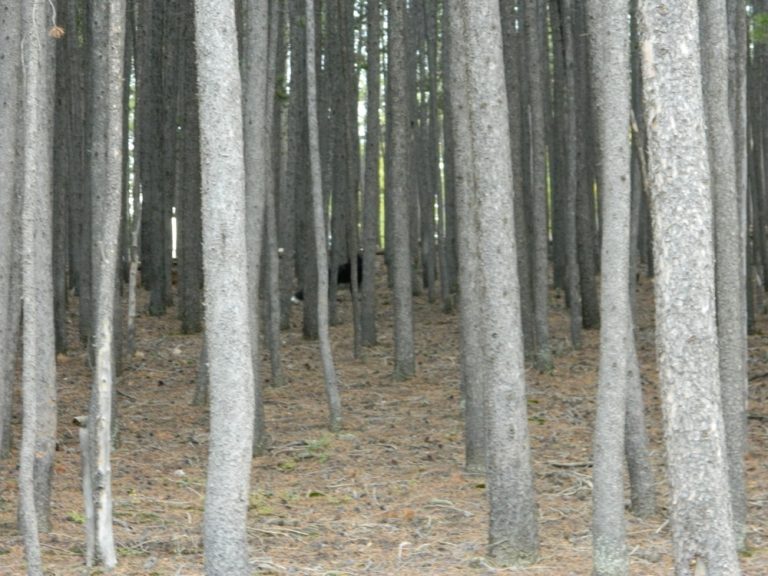 For our last dinner together on Sunday night, we decided to drive to Idaho Springs, about fifteen miles away. We ate at a highly recommended Italian restaurant called Mangia, and it took a while for me to learn to pronounce it correctly. I kept saying MON-jee-a, with three syllables, and finally with Denel's help (she's Italian) I got it: MON-ja!  Only two syllables, Julie. Javol.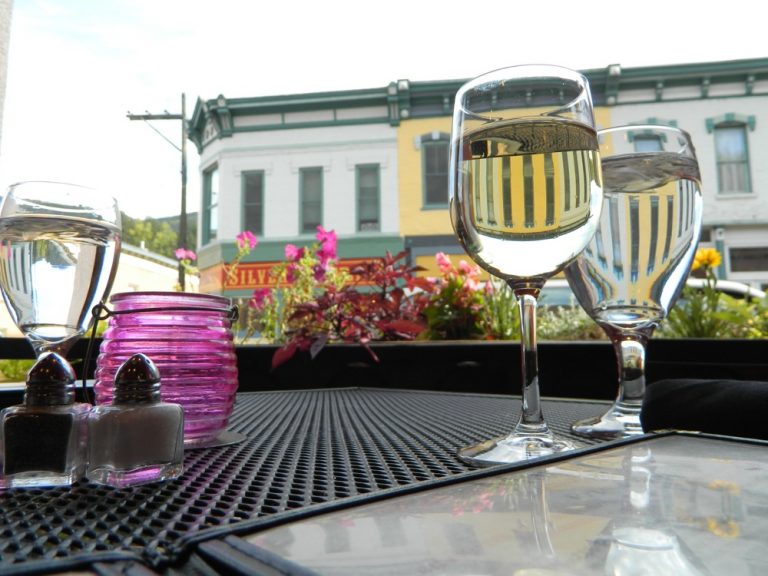 We wondered if there was any loaf of warm bread anywhere that smelled as fragrant and wonderful as this one, paired with olive oil, fresh garlic and herbs for dipping.
And here is my oldest friend.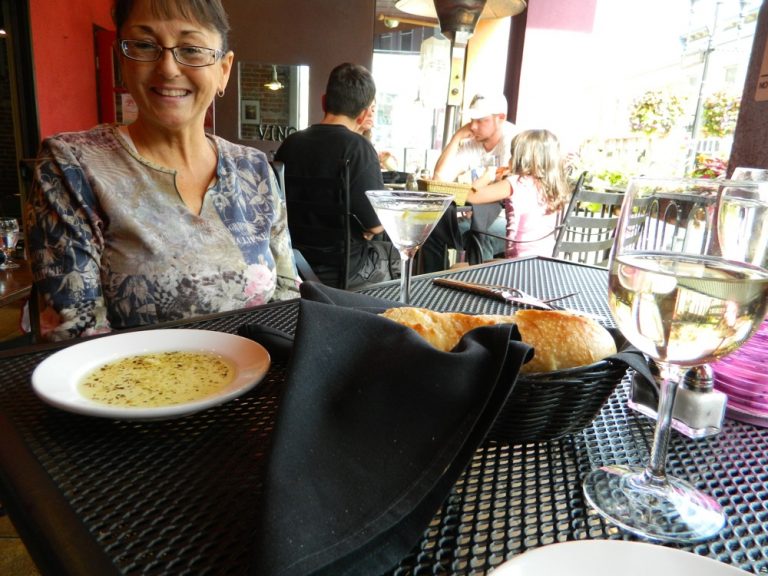 Part of my dinner was a salad of mixed baby field greens with roasted pistachios, sun-dried cranberries, and feta cheese tossed in a light raspberry vinaigrette.
Yum. Absolutely yum.
After our fabulous dinner we walked across the street to have an ice cream cone for dessert. Denel had Green Tea ice cream and I had (what else?) Peanut Butter and Chocolate. We smiled as we recalled having Baskin-Robbins ice cream cones almost every Sunday when we went to Sunday School as young girls in Covina, CA. The ice cream shop was across the street from the First Baptist Church.
Still with our wild life radar always on alert, on our last evening together we saw one last wonder. The streets of Idaho Springs had lush, colorful baskets of flowers hanging from almost every lamp post, and as we came out of the shop, I was holding my ice cream cone with one hand and aiming the camera with the other.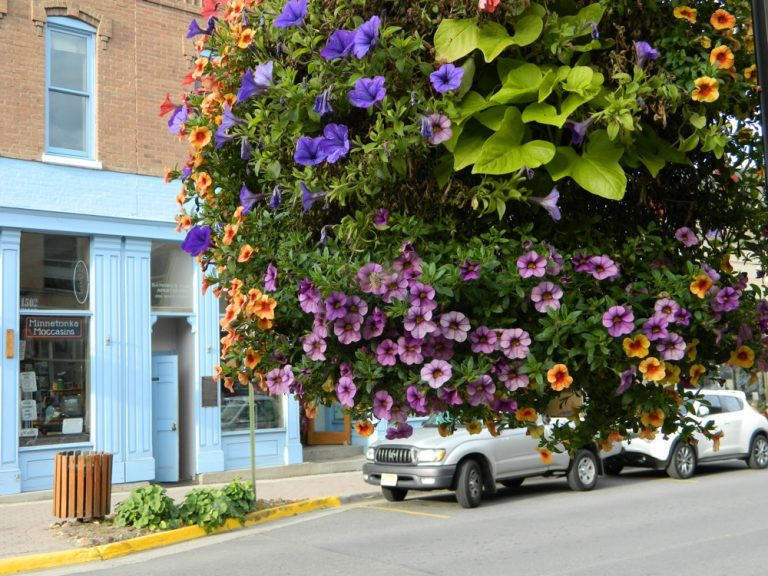 Do you see it below? A huge Hummingbird Moth, with its spirally curved proboscis reaching into one of the blooms! We stood and watched it in amazement for a few minutes before walking to our rental car to drive back to our cabin.
Next year, for the Second Annual Lupi-Soo Reunion, we will meet at the place of Denel's choice. I have a feeling the ocean will be involved, and I can't wait to see what she decides.
Anywhere would be okay with me, as long as we could have a couple of days together. Pacific Northwest? Outer Banks of North Carolina? SoCal? We don't know yet.
What a wonderful gift from the Lord it was to have two relatively smooth flights. I am not always a happy flyer. After Denel and I turned in our rental car in Denver, we hugged long and hard and said how much we loved each other. I walked toward the Delta Airlines counter and she headed toward Southwest. After my packed flight landed in Minneapolis, I took the shuttle from the airport to the large carpark where I'd left our Highlander days before, and happily headed home.
The farther north I drove, the more excited I was to be with my family again. Look at our gorgeous Minnesota sky: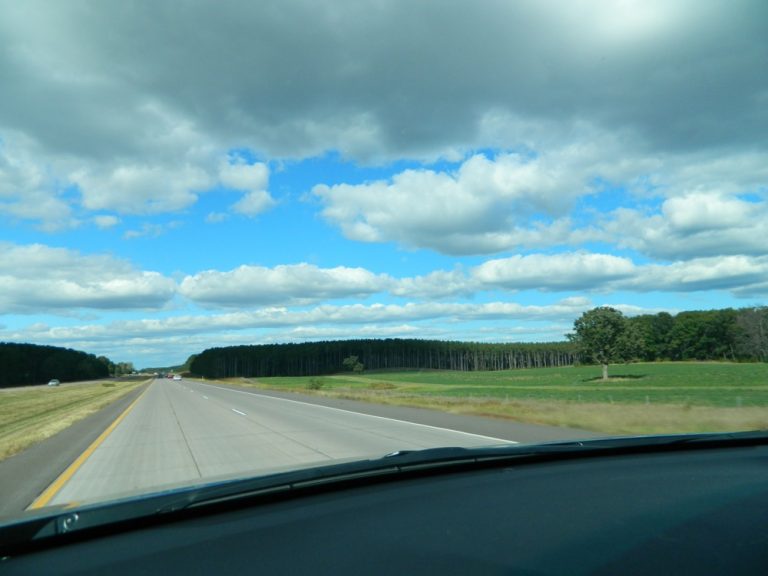 And as I've said more than a few times on this blog, I never tire of the wonder of autumn, and all the breathtakingly beautiful leaf colors.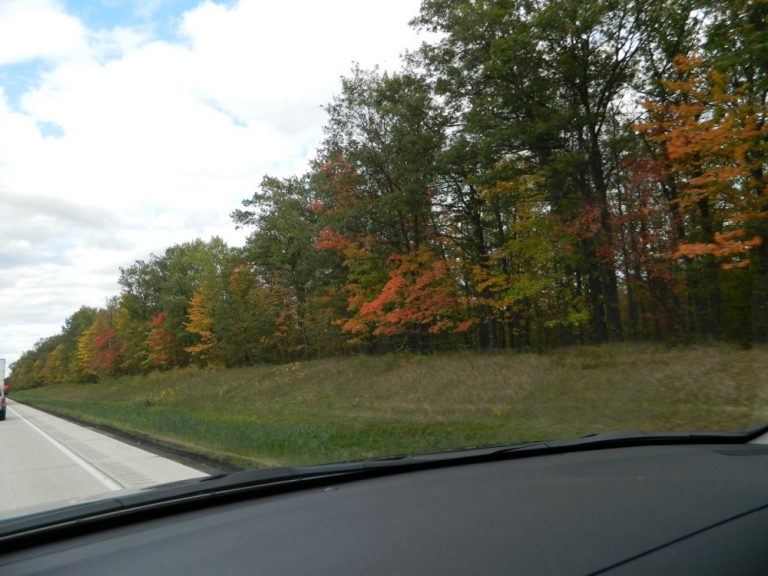 I am so thankful for the Lord's provision in my life. He has blessed me with Himself, and He has blessed me with the most amazing people to do life with.
In the picture below, Denel and I were two teenagers reaching out toward the camera. I'm not sure why we did that. I don't think either one of us had any idea what would be ahead. Life has not been easy for either one of us, even though we've both been so blessed. I look at this photo and like to think that we were reaching out to the wondrous future God would carry us to.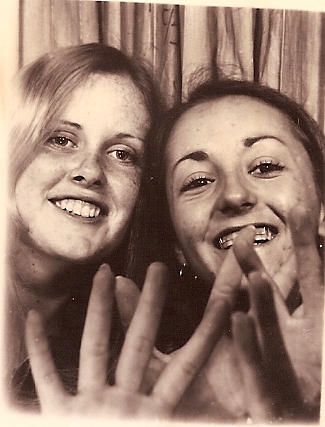 We are both still reaching out to Jesus. And to each other.
And I think that is….
…wonderful.