Mutual Admiration Society
Becoming a grandmother is wonderful.
One moment you're just a mother.
The next you are all-wise and prehistoric.
~Pam Brown
*          *          *          *          *          *
I've been watching my granddaughter Louisa a day or two a week lately, and yesterday we had so much fun together. She's ten months old now and is the happiest baby I've ever known.
Sometimes I wonder why the Lord takes a good long time in answering my fervent prayers, but with Louiser I see an answer to prayer every day. Last summer a wonderful group of women joined me for Bible study again. We always pray for each other, and one of my prayer requests was that God would give Chris and Sharon (who was still pregnant then) a good natured baby. He not only answered that one, He did above and beyond what we could have imagined.
Every adjective you'd hope would apply to your child or grandchild, Louiser is. Sweet. Healthy. Content. Cuddly. Giggly. Tender. And while I didn't pray for cuteness, she's pretty cute if I do say so myself.
Recently I asked for a sling of some sort so I can carry Louisa with me as I'm doing things in the house, and these photos are of her in the sling, taken by Sharon in her studio. I think I look a little wild eyed. 🙂
Now can I tell you a secret my friends? Shhhhhh, don't tell Louiser's mom, dad or siblings, okay?
(I'm her favorite person.)
Pleeease don't let that get around because I don't want to hurt anyone's feelings. This little girl loves everyone she lays eyes on and has smiles and waves and hugs for all.
But look at this picture below and tell me you can't see it.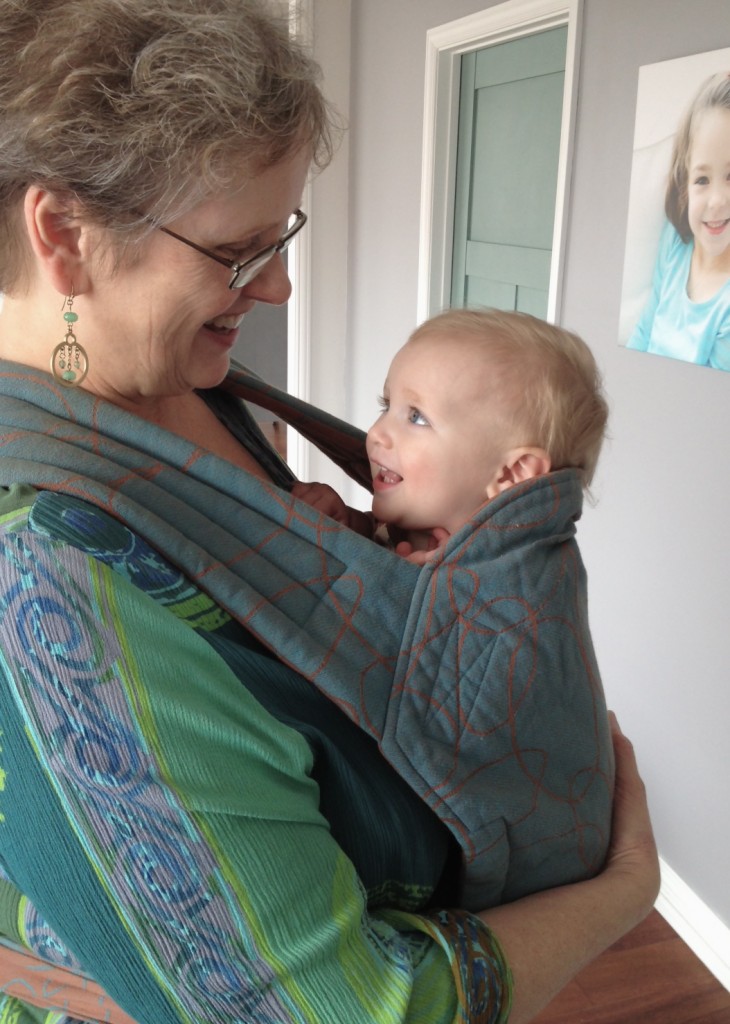 She loves her grandma. And her grandma loves her. Do you see the two-person Mutual Admiration Society that has begun? I'm the President and Louisa is the Vice-President.
I hope seeing that bundle of sweetness makes you smile as much as it does me.
Have a blessed weekend!