Lupi-Soo Number Two
A few weeks ago The Second Annual Lupi-Soo Convention Convened. Or maybe I could say The Second Annual Lupi-Soo Reunion Reunited. Whatever we call it, it's a tradition my oldest friend Denel and I have begun and are loving. We have vowed to each other (well, vow is a strong word now that I think about it—it's not like under pain of death or disembowelment that we've made this promise to each other) that for as long as we can, we'll meet together somewhere each year for a long weekend. To catch up, to be thankful in and for our 49 year-long friendship, to reminisce, to listen, to laugh, to sit, to sightsee, to rest.
Last year for our first Lupi-Soo, I chose our destination. Denel lives in Southern California where we both grew up, and I've made Northern Minnesota my home for almost 33 years now. So I envisioned a cabin in the Rocky Mountains somewhere, and we met in Denver and drove 9000 above sea level to our, ahem, cough-cough, cabin in the Rockies, and had a wonderful time together. If you never saw those photos, you can click here to see them if you like.
This year Denel chose Seattle and Bainbridge Island, and below are probably too many pictures for you to enjoy of our recent Lupi-Soo. (For those who are new here, our maiden names of Lupiani and Sooter are the roots for the goofy conglomerate title we use for our trips.)
I have been a less than happy flyer since early 1981, but I keep flying. Here's my plane in Minneapolis as I waited to board on an overcast Thursday morning. Did I pray and ask the Lord to keep that thing in the air and to also keep the flight smooth if He didn't mind? Oh, yes I did.
I had a window seat and these are what clouds look like in Montana.
I had only seen photos before of majestic Mt. Rainier, but I couldn't resist my own shot when we were still 30 minutes outside of Seattle and it loomed on the horizon. I say loomed because it should be a slightly dangerous word…Mt. Rainier is not a dormant volcano. When I learned that bit of trivia I blinked more than a few times.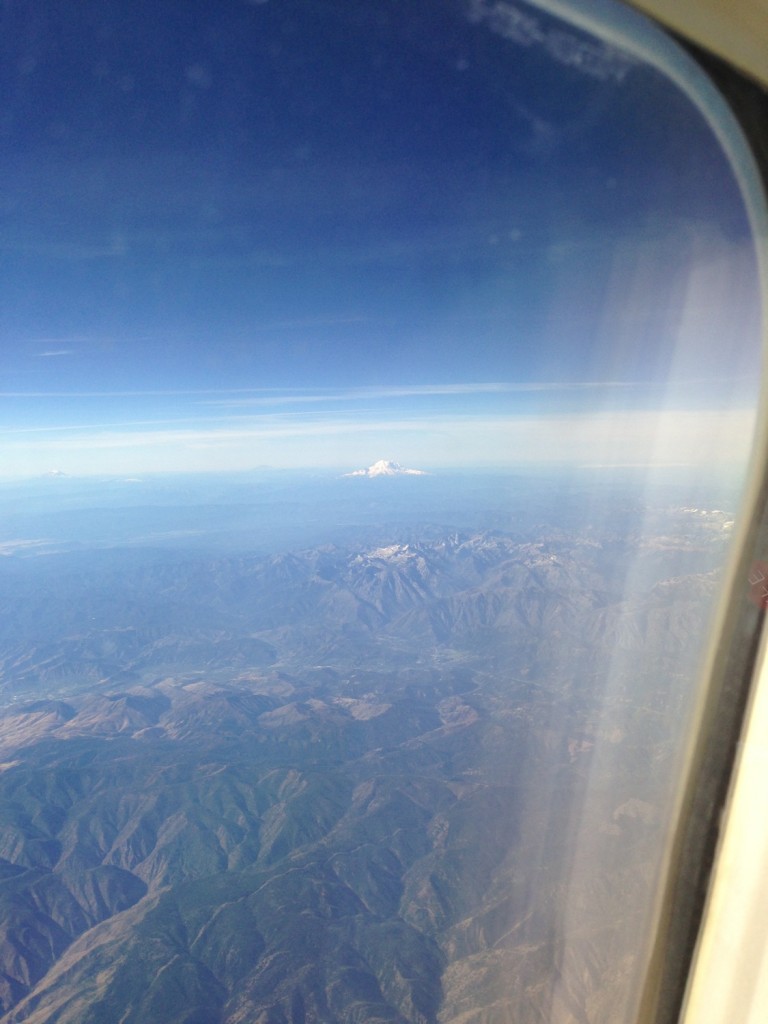 After Denel and I met in the Seattle airport and rented our car, we dropped our bags off at our hotel. Of course Denel and I visited the Farmers Market, and I think we could have spent a lot more time there. The fresh flowers for $5 a bunch! The lemon juice infused balsamic vinegar samples on fresh bread! The musical buskers! The amazing produce! I would visit the Pike Place Market quite a bit if I lived in Seattle.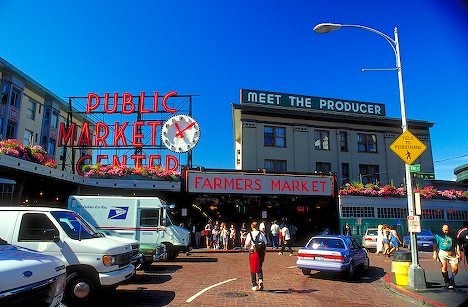 Here's a picture of Denel at The Athenian Inn at the Pike Place Market. We enjoyed a baked goat cheese, artichoke and tomato on crusty bread appetizer. (Apparently Rob Reiner and Tom Hanks made this place famous when a scene from the movie Sleepless in Seattle was filmed inside.)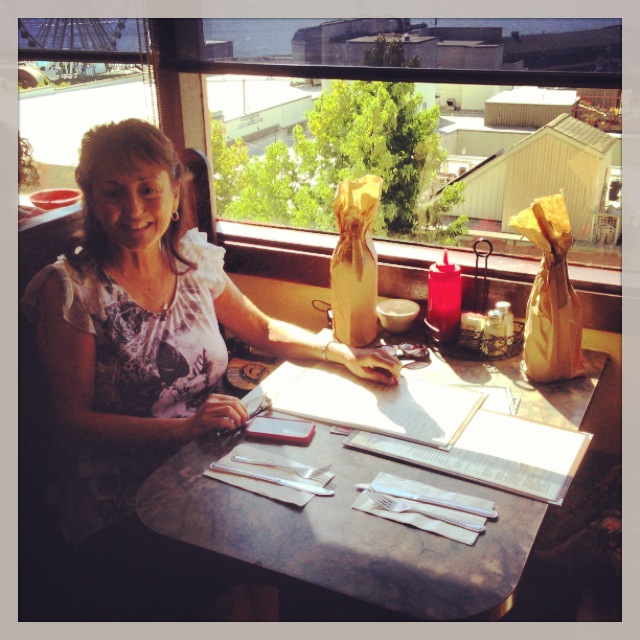 So moanworthy….
We were delighted with our hotel room, which was right on the water, facing west, and had a little corner gas fireplace too.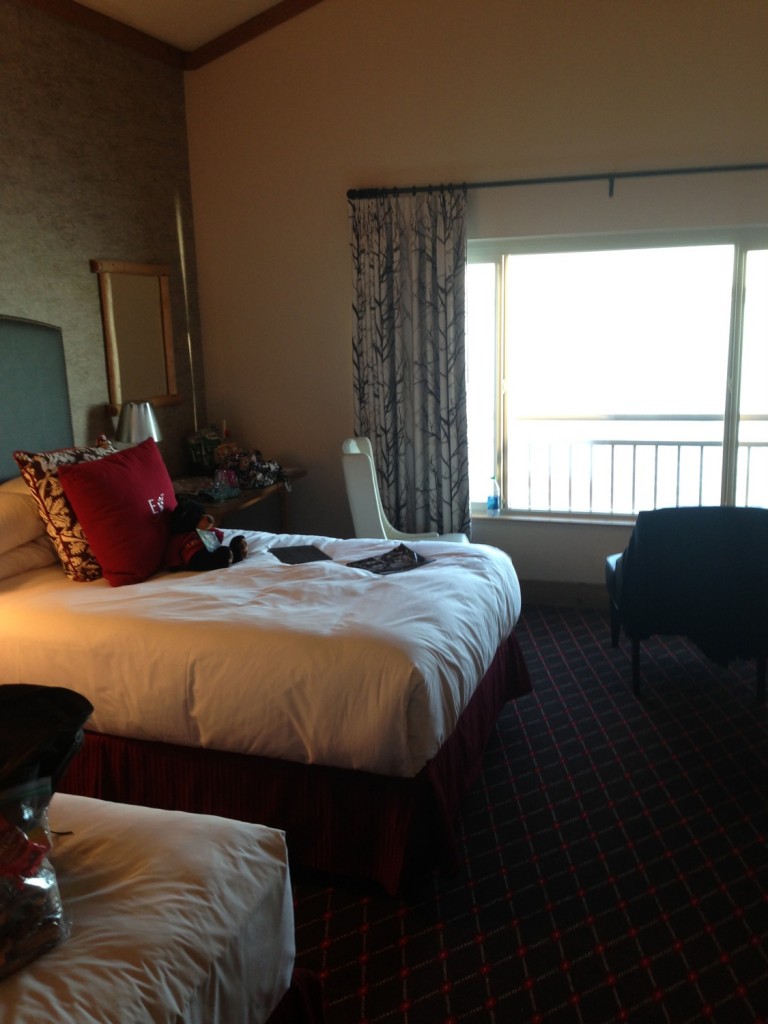 The view from my bed:
This was looking out our hotel room window, toward the Seattle skyline: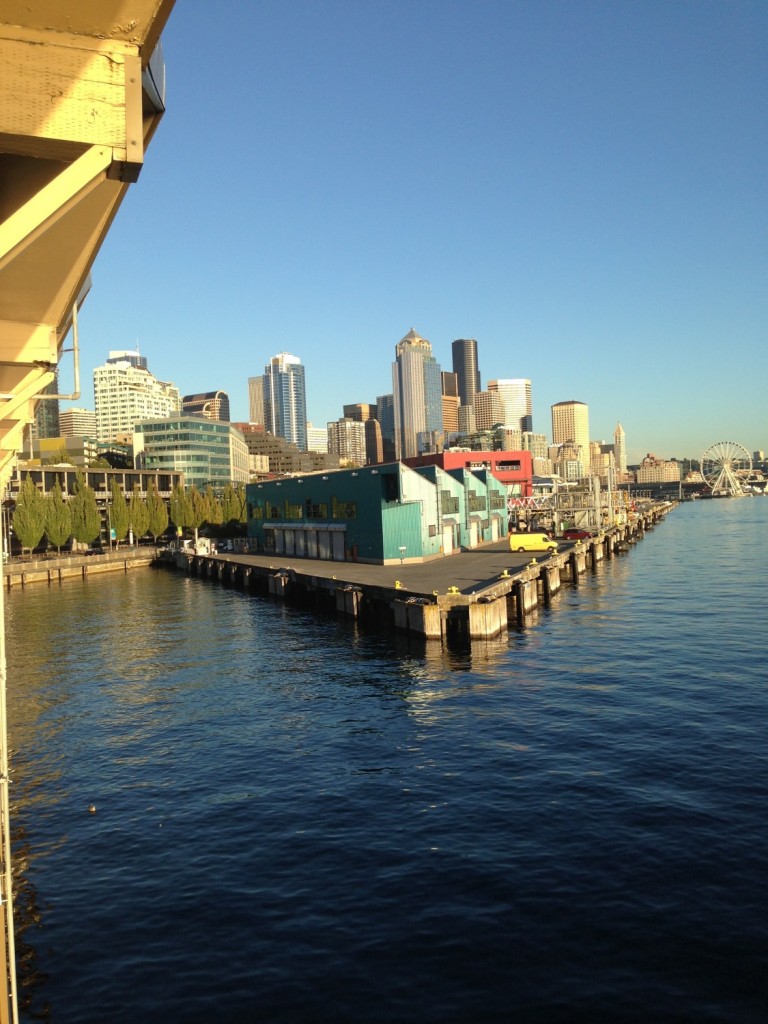 And the same view at night:
Beautiful Denel in the fancy elevator which had landscapes of twinkly lights and a movie screen inside featuring all kinds of undulating sea creatures…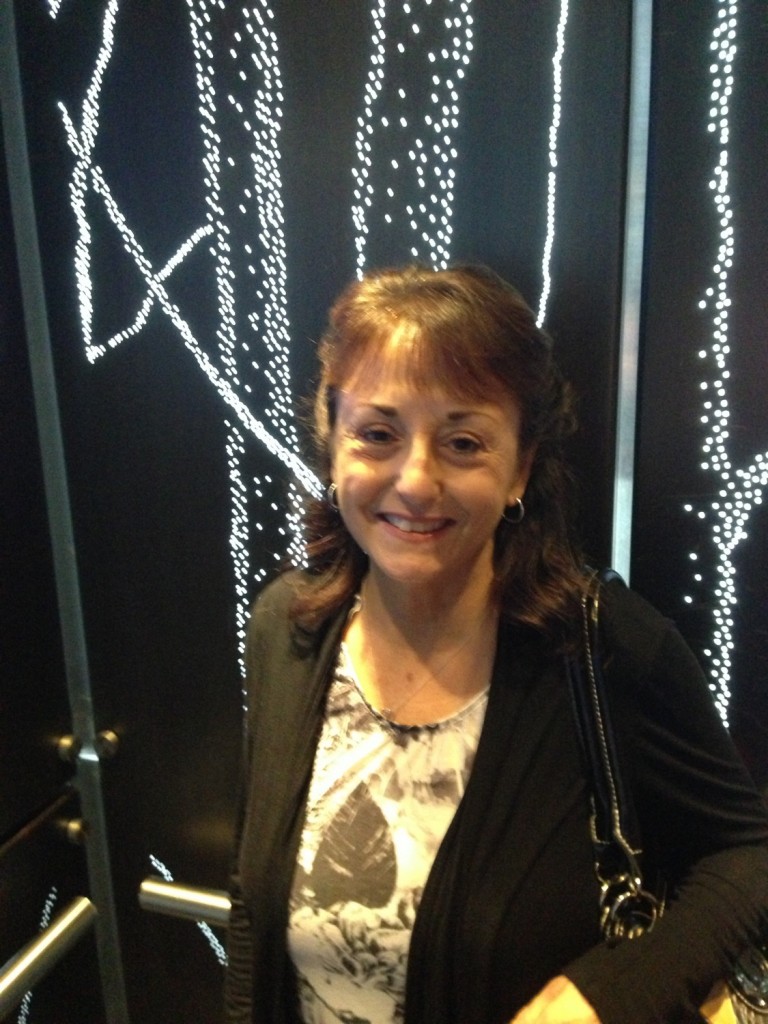 My dear friend Shari lives in Seattle and I was so excited to be able to see her for the first time since 1975, back when we graduated from Covina High School. We've kept in touch through letters and emails all these years, but the last time we saw each other in person was when we were 17 years old. Shari met us at our hotel's restaurant for breakfast Friday morning and we spent the day together. Shari is on the left and Denel is behind us.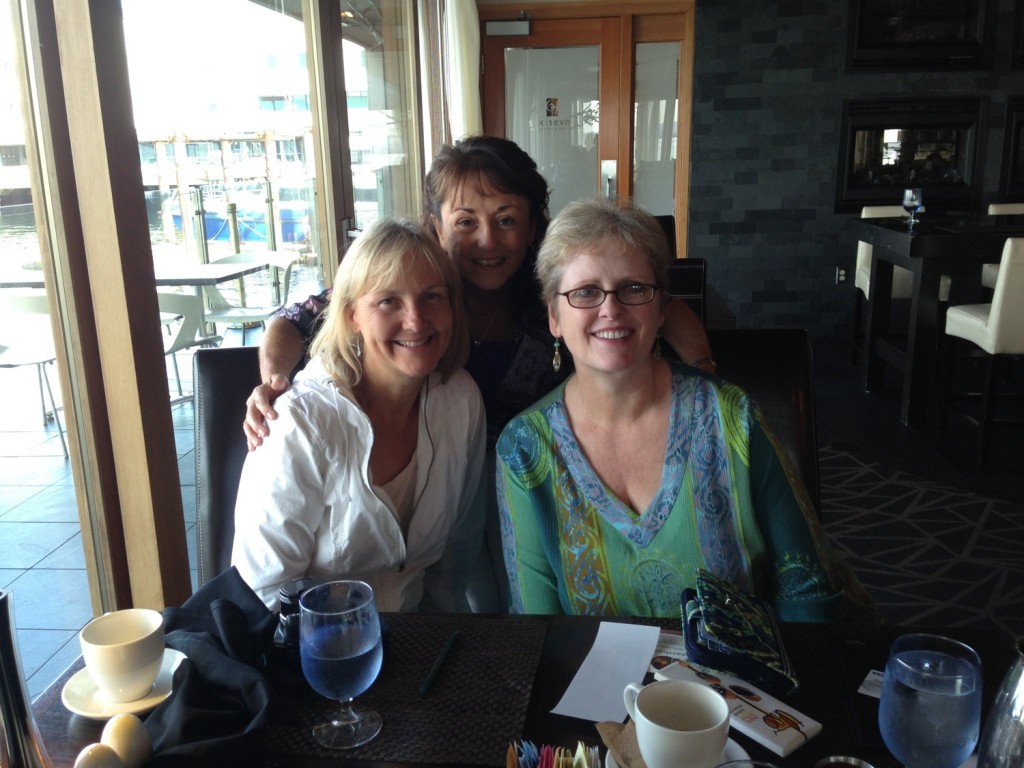 She went to the Space Needle with us, because you have to take the elevator up 605 feet to see the Space Needle if you visit Seattle, right?
The stunning view of Seattle from the top observation deck of the Space Needle, and the non-dormant volcano Mt. Rainier in the background right: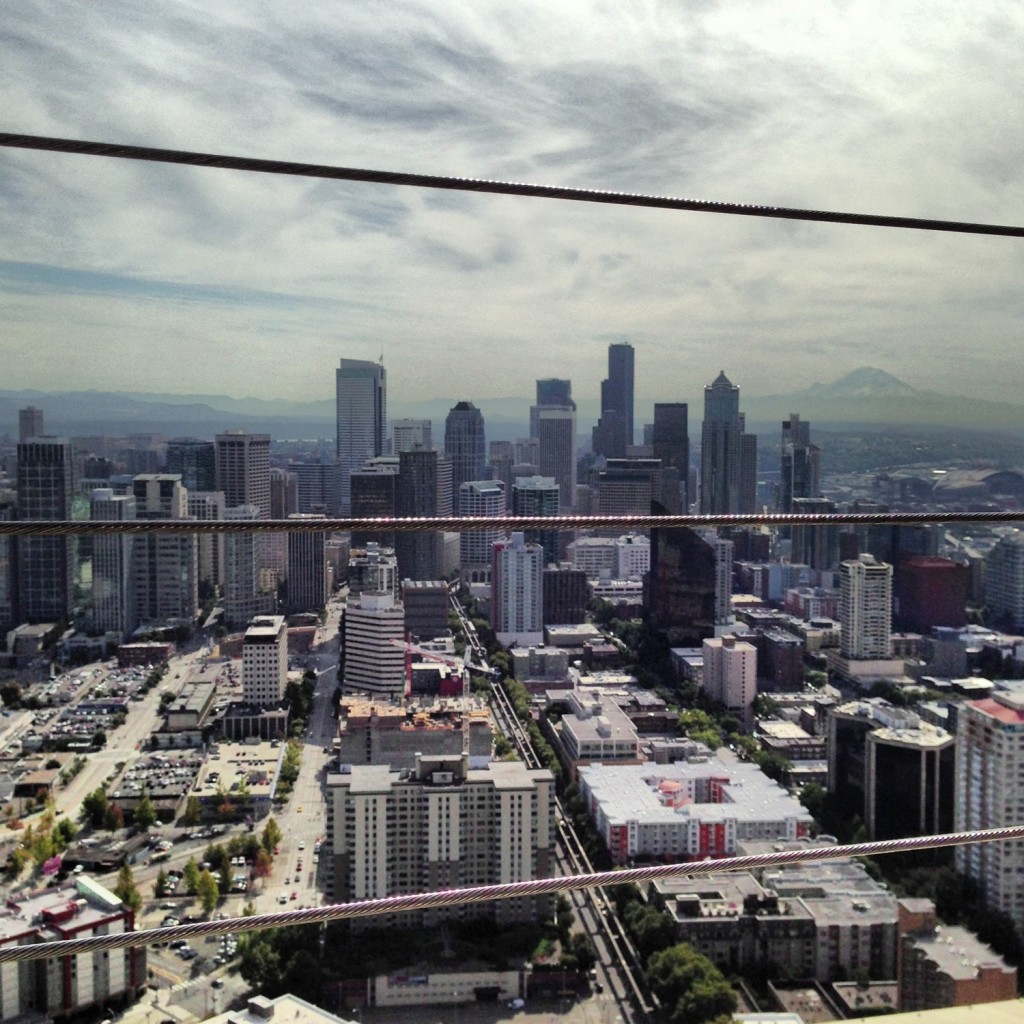 And I included this photo because on top of one of the buildings under the Space Needle, you can see huge, long-legged spiders. Yikes! Click to enlarge if you want a better view:
Denel and Julie, quite calm even though we were dozens of stories in the air…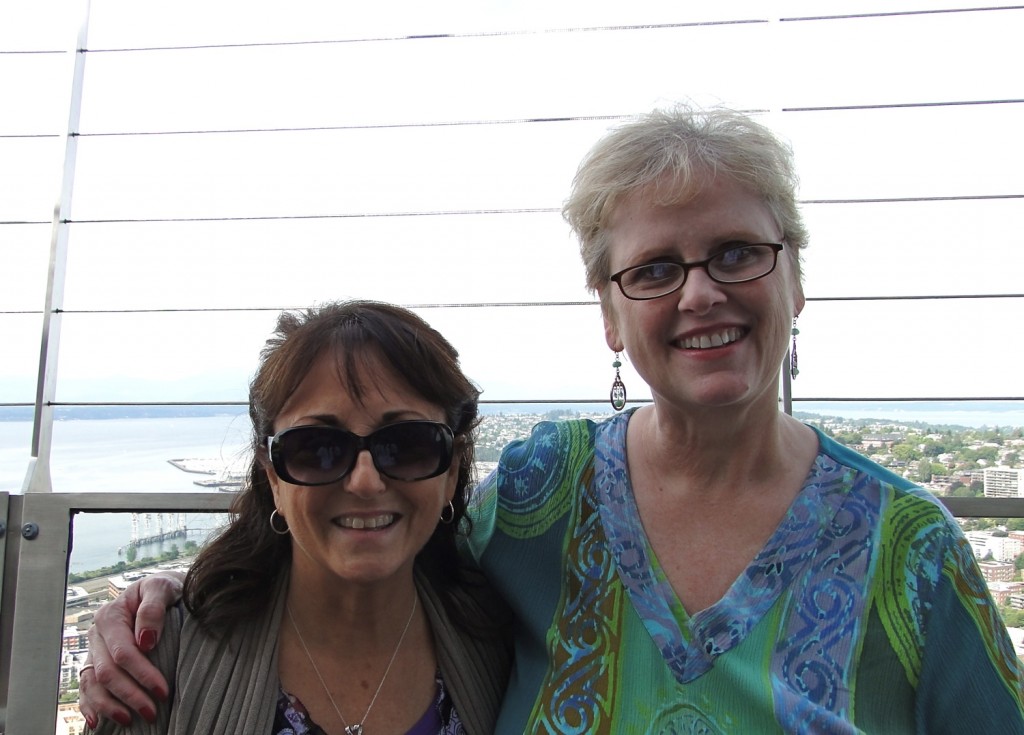 We also went on the Seattle Ducks, which my friend Ginny recommended to us. I confess I probably wouldn't have thought to take this land/sea truck/boat tour had Ginny not been so enthusiastic (I think she texted "one of the highlights of my life"), but it was fantastic! Such a great way to see the city without having to drive all over and find the highlights on our own. We learned fun and interesting things about this beautiful city, and the tour guide played appropriate and sometimes crazy music and wore strange hats that really added to our enjoyment.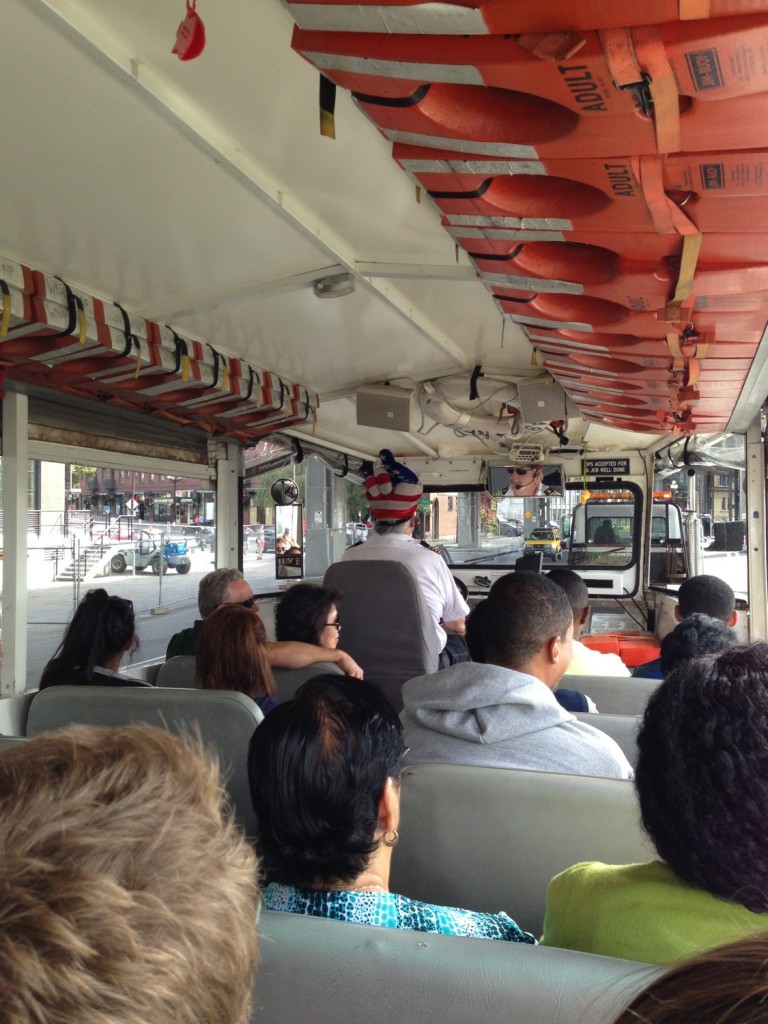 Shari and Denel on our Duck Boat tour…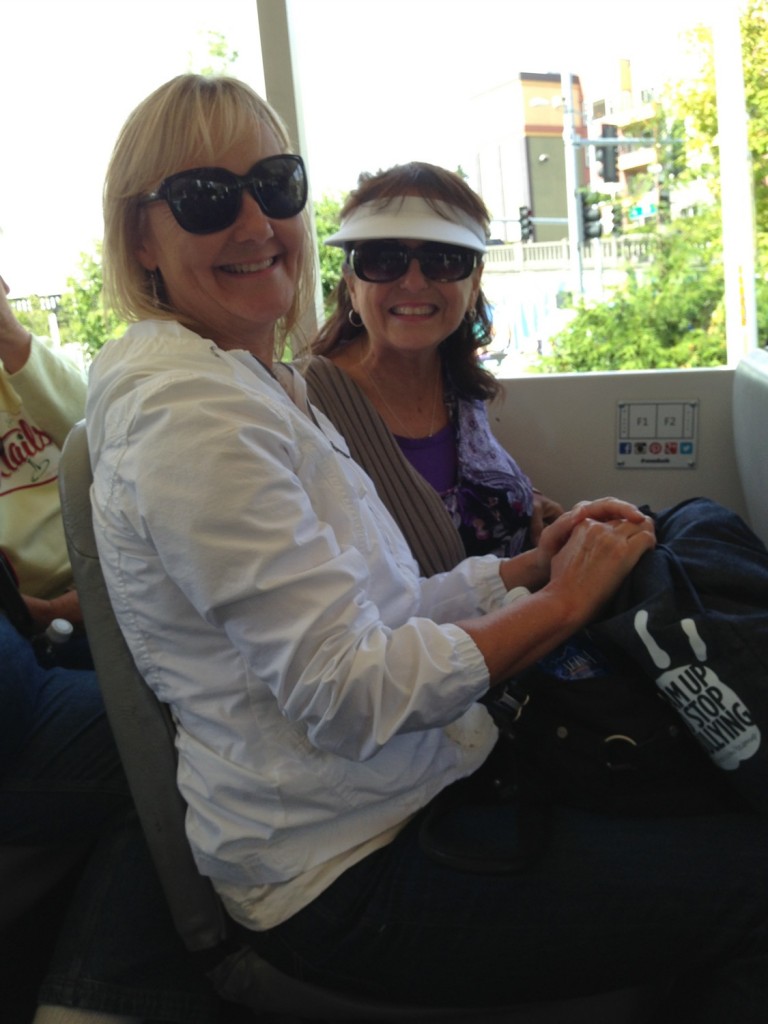 We were so glad Shari was free to spend the day with us, because she's one of the truest, sweetest people I know, and because she knew the city and suggested we have a late lunch/early dinner at Ray's. 🙂
Once again we were right on the water, and we ate outside and had these delicious fruity beverages…
Later that night after we said goodbye to Shari, Denel and I weren't hungry enough for dinner. So we went downstairs in our hotel to this beautiful fireplaced lobby (right on the water) and had appetizers.
Mine was a melted blue cheese and blackberry crostini appetizer, and I couldn't help but notice that Washington blackberries are almost as big as ping pong balls. We have berries in abundance in Minnesota, but they're not this size!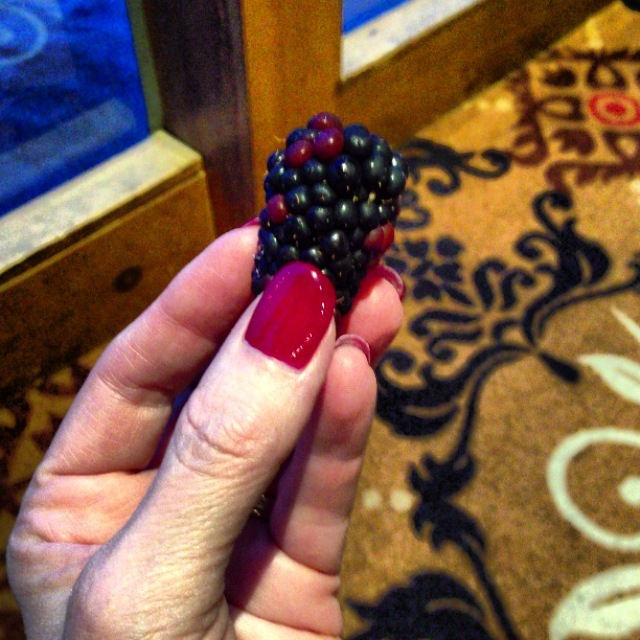 After a restful night's sleep we decided to order room service for breakfast, and I chose something I'd never had before. Steel cut oats with toasted walnuts, grated candied ginger, chopped dates and strawberries drizzled with a maple cream sauce. I wonder what the folks in my house would do if one morning when asked what's for breakfast, instead of mumbling "Toast and eggs" or "Fruit and cereal" I answered liltingly, "Steel cut oats with toasted walnuts, grated candied ginger, chopped dates and strawberries drizzled with a maple cream sauce!" They'd probably fall over. Then they'd get up and dig in.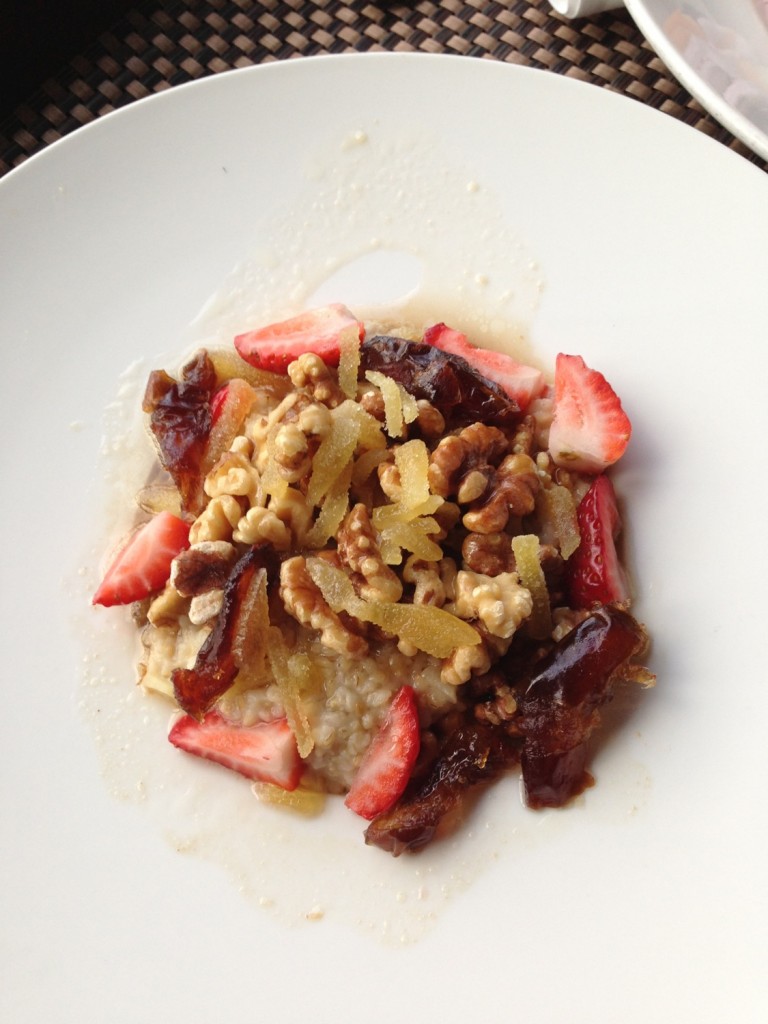 Denel ordered the fruit salad with homemade granola, yogurt and mint. Another wow and another yum.
After two nights in Seattle, we took the Bainbridge Island Ferry across Puget Sound, and drove to our beautiful beach house. Here's a link if you'd like to see photos of the rooms, views, yard, etc. This little friend was waiting for me in the kitchen window:
Here's a view from the kitchen of the very modern and airy decor: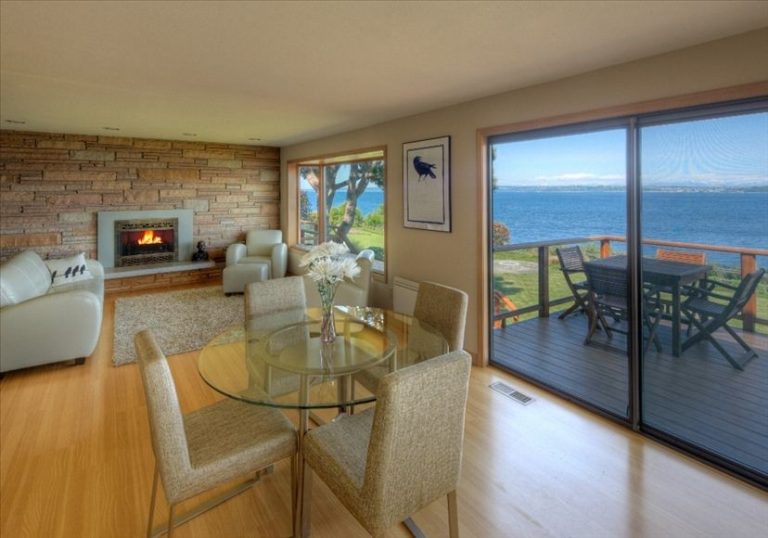 The back yard was lovely, and views of Seattle can be seen from almost anyplace in or near the house: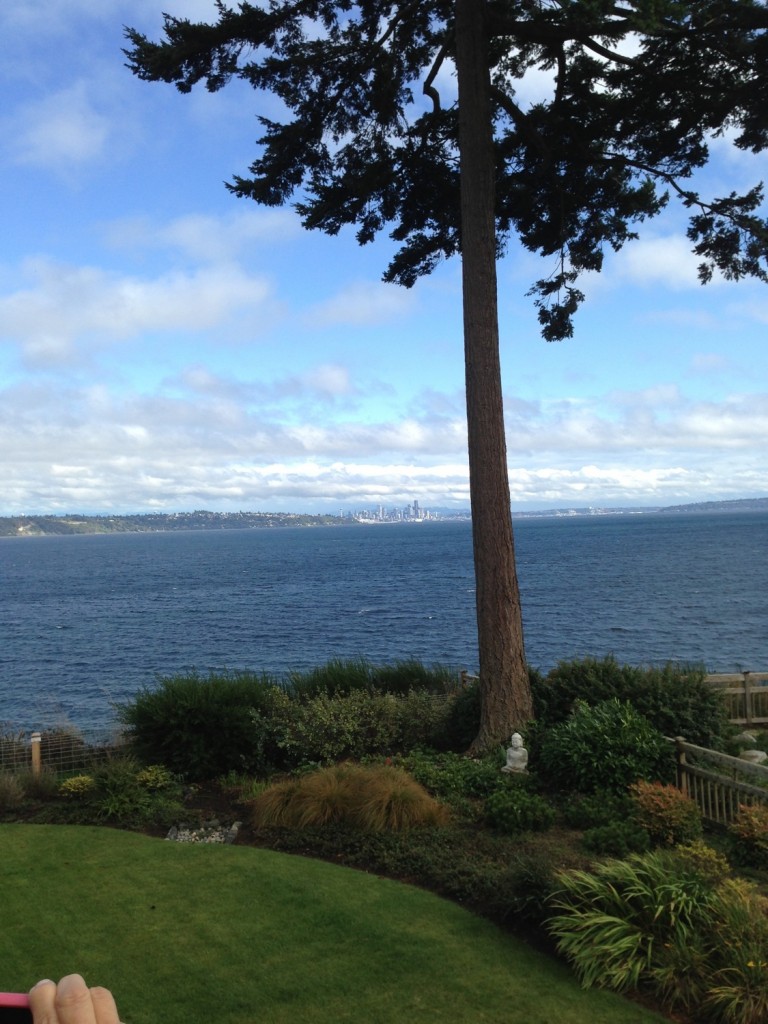 The nighttime Seattle skyline from the deck of our beach house:

Even though rain was forecasted for most of the time we were there (Hello? It's Seattle!), Denel kept asking the Lord for sunny weather. We had beautiful sunny days for the most part, and after one period of rain we saw a double rainbow over Puget Sound, as a cruise ship was heading out to sea. You might be able to see the fainter rainbow just to the left of the tree if you enlarge the photo…
There was a cozy window seat in the living room and we sat near there to enjoy the beauty. Denel and I also read three books before our Lupi-Soo, all either set in Seattle or on Bainbridge Island, and we had ourselves a little book club discussion on one of the grayer days. We both thought this book was quirky, unique, funny and like nothing else we'd ever read.
Bainbridge Island has giant pine trees and beautiful flowers almost everywhere:
We ate at a great place called Doc's Marina and Grill, where we wanted to try a drink called a Gordon Green. It was in the Bernadette book. Because it has lime juice in it, and cucumber juice and sugar, I thought I might love it. Alas, I have never developed a taste for strong alcohol and I wasn't a fan. We had a nice dinner though, and talked about our families and our prayers and dreams for those we love. Denel and I will always pray for each others' children and we don't hesitate to text each other if prayer is needed.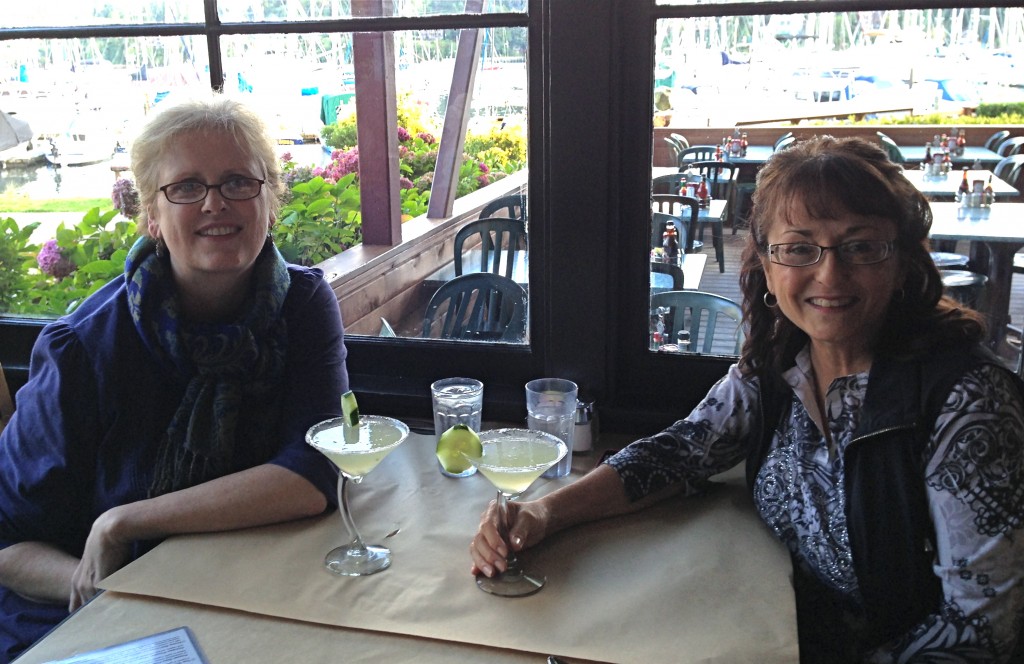 Since my father's name was Doc, I had Denel take a picture of me in front of the sign to I could send it to my dad's wife Dorothy:
Lined up with dozens of cars on Monday morning, sailing on the ferry back to Seattle on Puget Sound.
Denel and I turned in our rented Subaru at the airport, and then found that we were departing from separate concourses and had to take different buses to our respective terminals. We quickly took a picture of ourselves together, hugged and prayed for each other, and waved goodbye until next time. The picture below on the left was in a photo booth at Long's Drug Store in the Eastland Shopping Center in Covina, CA. Denel and I were almost 13 years old. The photo on the right was right before we said goodbye in Seattle, 43 years later.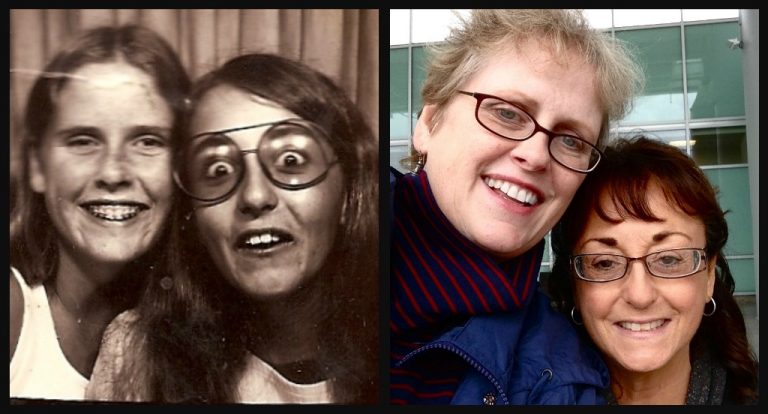 Next fall when we meet somewhere for our 3rd Lupi-Soo Convention, it will be my turn to choose. I've never been to the Outer Banks of North Carolina and I hear it's beautiful there. I also wouldn't mind some place in New England — maybe a cabin in the woods of Maine, with a view of the grey Atlantic will do. On our next Lupi-Soo we'll be celebrating 50 years of friendship. We know each others' histories, the family stuff that shaped (and hindered) us, we loved each others' parents, traded each others' books, shared vacations, school, giggles and heartaches, and because of God's goodness to us, we've made more memories than either of our brains can bring to mind anymore.
Today I'm thinking of my cherished, oldest friend Denel, and thanking God for all He's given us…