From Hearth and Heart
Since we of the frozen north are totally weather obsessed and I jumped right on that bandwagon when I moved to Minnesota in 1981, I will open this post by telling you that it has been in the low twenties recently, and not long ago our high temp during the day was a mere 29 degrees (minus 1.6 Celsius). So imagine my happiness when two men arrived the day before yesterday with our new gas insert and installed it into our dining room fireplace! It took them about four hours, and right before they left one of them gave me the tutorial on how to use the remote control.
I love that we can set the thermostat at, say, 65 degrees, and then if the house gets cool during the night (IF the house gets cool during the night? IF? In Minnesota I'm asking IF?) the flames jump to life and the kitchen and dining room are cheery and warm when I get up at pitch black-forty-five to start breakfasts.
Our oldest Schnauzer Edith figured out within a few minutes that standing about 18 inches in front of the double doors below would bring comfort to her old Schnauzer bones, and it was sweet to see her just standing there soaking in the heat in a place she'd never lounged before.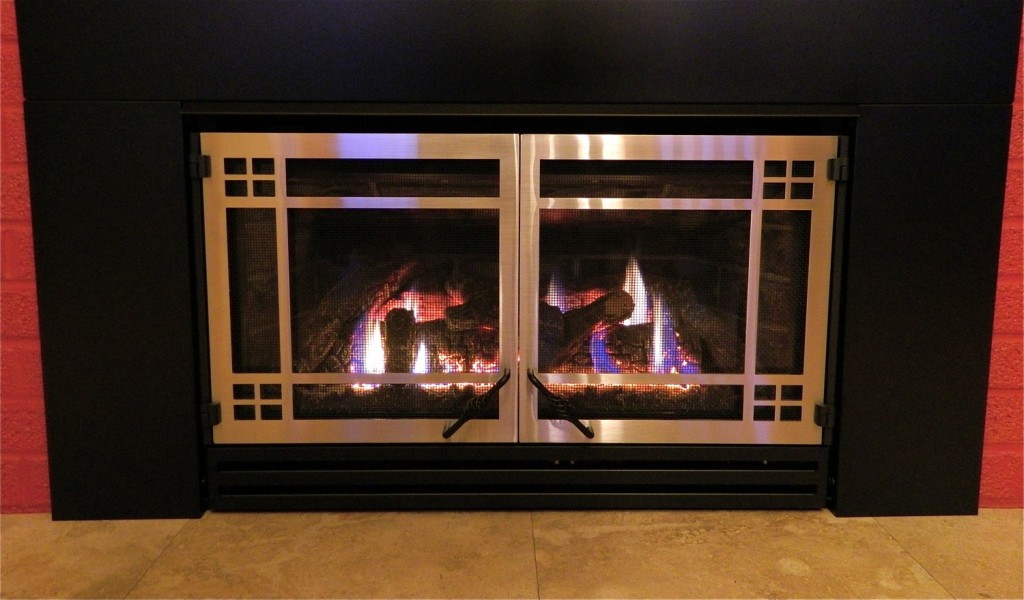 In early November it will be daylight savings time and we'll have to set our clocks back one hour. This will mean yippee for those of us who get up early since we'll get an extra hour to sleep. But it will mean that by Christmas it will be dark by 4:30 p.m., and I'm already thinking how lovely it will be to have our dinners by firelight. Snowflakes falling outside, savory smells wafting from the kitchen, dancing firelight within arm's reach while we eat….ahhhh. Now if I could only get someone in here to take care of making sure those savory smells waft.
Michael has a doctor's appointment today, and I'm hoping this will be the time when an in-home evaluation is ordered, and someone knowledgeable comes in to assess things and advise us on what other things to attend to. I'm hoping that occasional respite care can be arranged. I emailed my CBS core leader this week to tell her that things had taken such a turn with Michael that I wasn't sure I could leave him for two hours anymore. I realize that unless I have someone come in on Tuesday mornings, I may not be able to return to Community Bible Study this year. I will not be content with just anyone coming in to be with Michael, and I pray that the right person/s is out there. An indifferent college student who took a home care job just to get a paycheck while studying for her degree probably won't work. An overzealous, seemingly perfect young man who talks too much and acts like Michael's new best friend would set my radar on high alert immediately. Gahh… I need to just release this to the Lord.
My dear friend Carey and I were going to meet for lunch yesterday but it began to be apparent that I shouldn't leave, so I asked her if she could pick the food up and bring it to our house. She graciously agreed and acted like that was a better idea to begin with, because that's the kind of encouraging and wonderful friend she is. We sat at the table and had good food from Burrito Union, and talked about our families and how our perceptions of our heavenly Father are changing and coming more into alignment (I hope) with who He really is and what He wants in our lives.
The other night as I was taking a bath and listening to Pandora, an old (beloved) song by Jennifer Knapp came on, and I experienced one of those rare moments when I knew the Truth was resounding into my spirit and I was receptive enough to fully take it in. The words to the song are:
When it rains or it shines on this pillow of mine
I will lift up my head to the sky
So I have a chance to see
Where my hope has come from
Know there's nothing that I can't abide
When nothing satisfies you
When nothing satisfies you
When nothing satisfies you
Hold my hand

Send forth Your light Lord,
And send forth Your Truth
Let them guide me to Your Holy Place
Then will I go to the Altar of God
To my Joy, my Delight and my Strength
When nothing satisfies you
When nothing satisfies you
When nothing satisfies you
Hold my hand
Why are you so downcast o my soul?
Why so disturbed within me?
Put your hope in God
My Savior, my King
My Savior, my King
When nothing satisfies you
When nothing satisfies you
When nothing satisfies you
Hold my hand
I cried as I listened to the words and wished that somehow I could really, physically reach out and find the hand of Jesus to hold onto. I told the Lord that. I know most of the spiritual answers to this longing, how He resides in those who've called out to Him to save them and we find Him through them, how people all over the world are His hands and feet, how the Holy Spirit often comforts us and prays for us in times of grief and trouble, and how we don't hold onto Him, because He is already holding onto us. I believe all that, and I'm so thankful for it. And I have experienced the wonder of finding Him in another yielded person. But I still would like to be able to hold onto the nail-scarred hand of the Savior and feel that infusion of strength and hope and joy that would surely come.
Well, little Louisa will be arriving for some grandma time today, so I must close this for now. Thank you for stopping by here, and for leaving your comments. I hope your weekend is sweet and that the Lord helps us all to love and bear with and encourage the people in our lives….