Just some stuff
It's so wonderful to have a blissfully unscheduled morning on a below zero day with sunshine pouring in my bedroom windows. Lake Superior has huge, glittering shards of ice floating on its surface, but there's enough open water to allow the shipping traffic to continue moving in and out of Duluth. The 1000-foot ore boats that leave our port are spectacular to see.
I am propped up against three pillows on my high bed, listening to old Mildred snore beside me, with my books and journals scattered on the blankets, a prayer shawl my daughter Sharon dyed and knitted for me wrapped around my perpetually cold neck, and I have the David Nevue station on Pandora playing softly. A dark brown rectangular plaque which was a wedding gift from Lloyd's son Paul and his wife Selena rests on one of my window sills, and it reads, "Above all else, love each other deeply/1 Peter 4:8/Lloyd and Julie/10.05.19"
Some people seem to be able to almost effortlessly love others deeply. It's a joy to be in their presence. I would assume that the admonition to love each other deeply means that it's possible to love each other shallowly. I might fit into that category, and that thought troubles me. It's not completely true, because there are young people in my family (my grands) who I love so deeply it sometimes pains me, gives me an ache I can't explain. I would give my lives for them in a second, suffer for them if it were necessary and possible, and care more about their well-being than about my own.
But as they get older, I see them not desiring to spend as much time with me as they did when they were little, and I fear this is because I don't love as deeply as I should. Or is it because I'm too chatty? Or because I'm a grandma "who's really into Jesus and God," because I'm too busy, or because I'm a little dull. I own all of the above, and pray often that God will change me. And that He will give me added grace to cooperate with Him.
I read a lot about how we are all supposed to freely accept ourselves as we are, and not work to change ourselves, and I see the value in "you're beautiful exactly how you are," but I don't think I'll ever want to stop growing and changing. I wake up each morning acutely aware of the new mercies I need, and ask for them. The fruits of the Holy Spirit, love, joy, peace, patience, kindness, goodness, faithfulness, gentleness and self-control, are still not worked out in my life to the degree I would hope. I pray this prayer quite a bit, "Lord, THANK YOU for not giving up on me!"
I have seen the movie "A Beautiful Day in the Neighborhood" twice now, and will buy the DVD when it's released. Have you seen it? It was not at all what I expected, and I actually feel it was life-changing. Tom Hanks did a superb job playing Fred Rogers. There were three or four things I saw in the movie that made me sob into my turtleneck, and I have been running them around in my head ever since. The first time I saw it was with my friend Barb, and it was so good I asked Lloyd if he'd like to go with me. Being a kind and agreeable husband, he said without hesitation, "Of course I would!" He too, was surprised by the movie, and said it was way more than he expected. He texted his children before we even left the parking lot and encouraged them to see it. I could do a whole blog post of how Mr. Rogers dealt with his anger, how he valued children, how he gave everyone his undivided attention and how that made them feel, how he prayed for people, and the riches that came from his very small investments into peoples' lives. It was so remarkable. I think every person should see this movie.
Next month it will be five years since Michael died. Five years. I have no idea how five years passes in what feels like eighteen months, but it has. Lloyd's wife Rosemarie has been gone for five years as well. At least once a week Lloyd pauses, looks at me with a look of wonder on his face and says, "Did you know we're married?" We laugh, but I know what he's saying. It seems surreal. He was with Rose for 51 years, I was with Michael for 33; to be married to someone new at this late age has an illusory feel to it. I think it might pass as the years do, but for now we both feel the strangeness. It's a pleasant strangeness, but there's so much to shift in our brains. A new last name for me? I'm still not accustomed to that at all. A shared savings account? Whoa.
The margin I cherished in my life before remarrying is tiny now, and I feel the pull to be a wife who is a blessing, a better mom and grandma, friend, foster care provider, CBS class member, etc. And there's so much I want to do! I want to travel. I want to read and read and read, I want to write so purely in my journal that God actually shows me stuff I never knew, I want to study, I want so much to take classes and learn and challenge my brain. I want to meet with people I care about and listen and connect. I want to exercise more than I do in winter. I want to serve in some capacity but don't because I'm afraid that margin will disappear completely.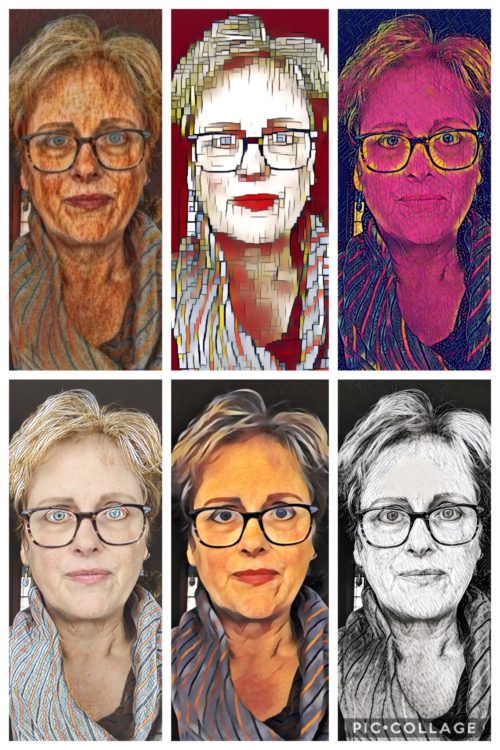 I also saw "Little Women" with my three daughters right after Christmas and loved it. I sort of expected to be disappointed, because I love the 1994 version so much, but I wasn't disappointed in the least.
And speaking of screens, Lloyd and I like to settle in to a series on Netflix or Acorn that we can look forward to in the evenings when he is here. (He still has his cabin in the woods fifty miles south of me, with pet cats, chores to do, things to maintain, so we are together 3-4 days a week right now.) We finished Season Nine of "Doc Martin" and loved it, watched quite a few episodes of "Stranger Things" and didn't love it, marveled at Season Three of "The Crown" and now we have started "Poldark" because so many people have insisted it's worth watching. Have you watched "Poldark?" What are some of your favorite series?
I have also slowly begun to retire. I have been doing adult foster care in my home for women with developmental disabilities for 19 years. What a wonderful blessing it has been. Not without its challenges of course, but I thank God for how He has provided for me, and for the women in my care. One of my two women, someone who has lived with me for almost 17 years, moved to another foster home last week. I was reluctant to get things going on this because we have a huge shortage of good family foster homes in our area, and because she is diabetic and needs very specialized care that isn't easy to learn. The place she has gone is a gift from God to me and to her, and things have gone beautifully. So things are quieter here, which my other foster gal says she loves. She is happy to be the only person I'm caring for now, and comments on that every day. She's anxious to plan a trip, so sometime in the spring she and I will go someplace special.
Speaking of trips, Lloyd and I are going to the place of my birth and raising — Southern California. We'll be leaving in March, and will visit Denel and her family in Solana Beach, Diane and her man in Palm Desert, Disneyland (I am so excited about this I can't stand it), Sequoia National Park, Morro Bay on the Central Coast, Covina (I want to show Lloyd the houses I lived in, my high school, all my old haunts and views), and Tauni in San Diego.
Our next trip must be to England, Ireland and Scotland. 🙂
Well, this is getting long and I haven't even shared about our After Wedding Trip to The Bearskin Lodge on the Gunflint Trail of Northern Minnesota. I have pictures I'll post next time. We had no wi-fi, no television, no phone service, and it was glorious. We hiked, boated, sat on our cabin's dock and counted the stars, searched for moose, read to each other, and declared, "Did you know we're married?"
I am meeting Lloyd tonight in Mahtowa, MN for his annual snowmobile club banquet, so should get a few Saturday things done before it's time to get ready.
I hope your weekend has enough margin in it for a good book, a lovely connection with someone you love, and for some rest.