Grands, Goodies and Geegaws
Happy Thursday to you! Before I show you a few pictures and share some of our happenings of late, I would just like to say that I have never in my life used the word geegaw. Until now, that is. It's amazing what some people will do to make a little alliteration work! I had to find a G-word that could represent doodads or decorations, and lo, the Thesaurus handed me the word geegaw. 
We have most of our Christmas decorations up/out, but there are still a couple of boxes in the basement that I'll bring up this weekend to complete the festive touches in our home. Is your decorating all done?
When in doubt, I fill a cardinal bowl up with gold ornaments and put it on the dining room table. The grandchildren think it's beautiful.
I haven't done any Christmas baking in years, mainly because when I do any Christmas baking, I eat the Christmas baking, and my knees really would prefer that I not do that anymore. But this year, Carolyn suggested that my three daughters and I do a cookie exchange just between the four of us. Always game for anything that binds mother's and daughters' hearts together, I agreed, and we each picked two recipes. We gave one dozen of each recipe we made to each person, so we all came away with eight dozen cookies/bars.
I knew I would make my much loved Spicy Molasses cookies, but I wanted to try something different this year too. I found this recipe called Rosemary Scented Evergreen Cookies and since I love rosemary, these were my second choice.
Here's a pan of them all ready to go in the oven: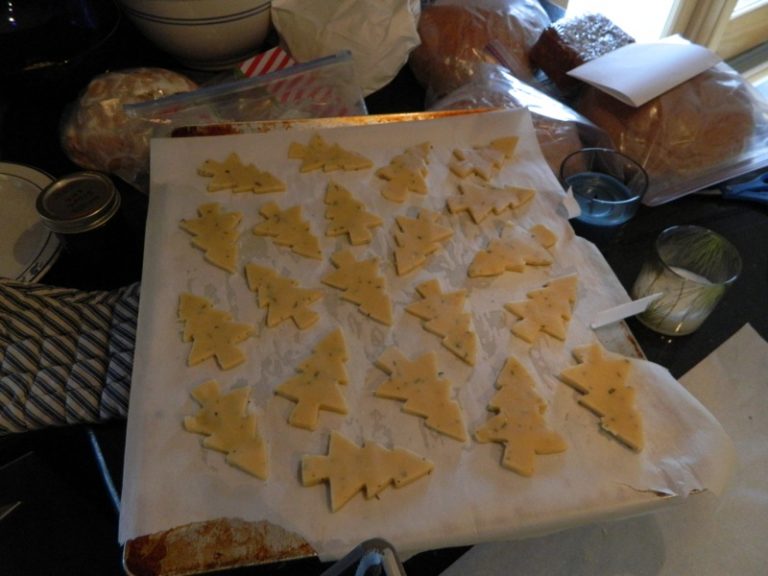 Those little dark bits are finely chopped rosemary needles.
I have a friend named Carlene who bakes a lot. She effortlessly cleans up her kitchen and bowls as she goes along, and by the time her bread or cookies are in the oven, the kitchen is spotless and you'd never know she had baked a thing, except for the marvelous aroma wafting through her house.
Clearly, I am not Carlene.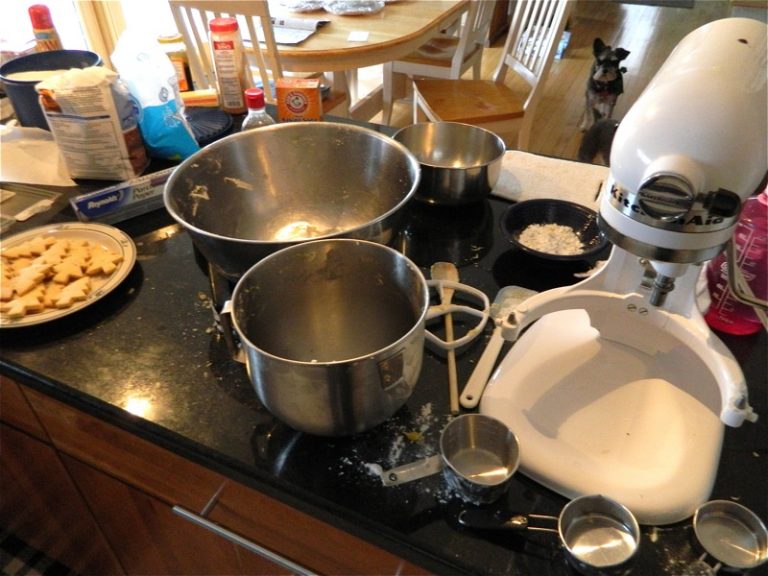 I thought I would give her clean-as-you-go method a try, and then gave up after the first batch of cookie dough was mixed. Sara and I made all our cookies in the same day, and it looked like a flour bomb had gone off in the kitchen by the time we were done!
Sara's two offerings were Spicy Gingerbread Twigs and Mounds Balls. I helped her roll out the coconut balls before she rolled them in melted chocolate, and instead of making them a more manageable size, I got carried away and made them as big as golf balls. This means that when you eat one, you feel the need to immediately consult an endocrinologist about incorporating an insulin pump into your life. Or you just have to go lie down until the coma passes.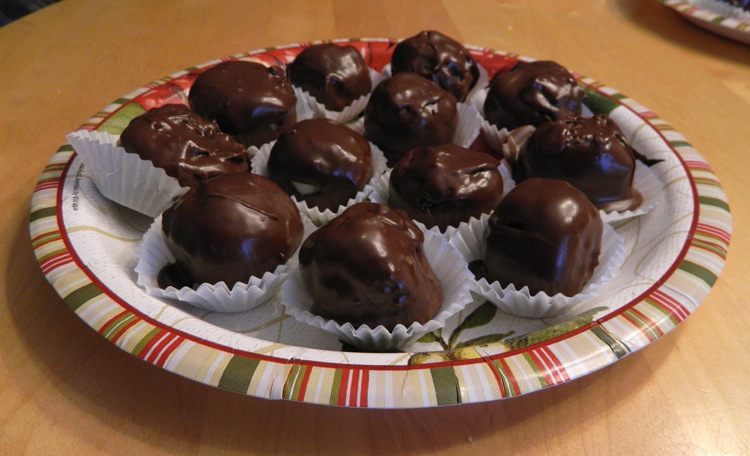 Sharon made Peanut Butter Fudge — so yummy. And she made scrumptious Toffee Cookies that are both chewy and crispy.
Carolyn made rich Chocolate Gingerbread Cookies, and classic, chewy Peanut Blossoms, the latter of which lasted less than two days in this house.
Here's a dozen of my completed Rosemary Scented Evergreen Cookies. I didn't make them as large as the recipe called for because I didn't want to triple the recipe, so I just used a regular tree-shaped cookie cutter.
Part of what made them special was the lemon glaze on top of the sprigs of rosemary, and the gold sugar glitter. In my opinion they may not have been the best tasting, but they were pretty to look at!
Every year I try to add one or two ornaments to our collection, and this year a dear friend at CBS gave me this lovely cardinal ornament: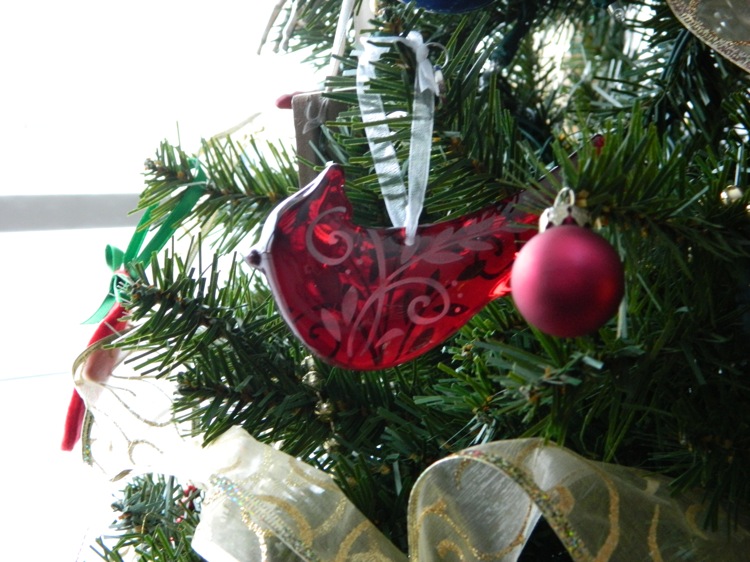 Aside from the swags of glass beads we hang on the tree, we wind and twist some wired, gold-colored French ribbon around the branches too.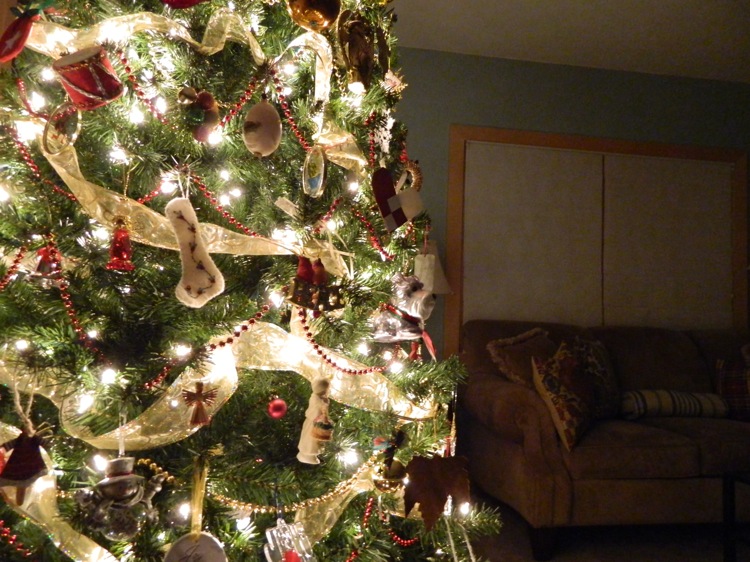 I love this baby bird sculpture that usually sits on our coffee table in the living room. Sara put a festive ribbon around his neck and now his open cheeping mouth makes him look pathetically like he's being choked.  🙁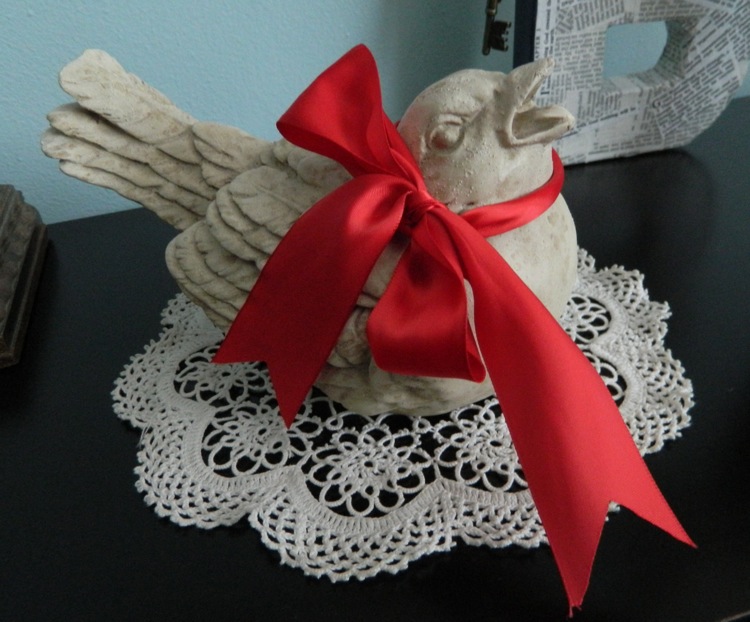 Sara's Spicy Gingerbread Twigs: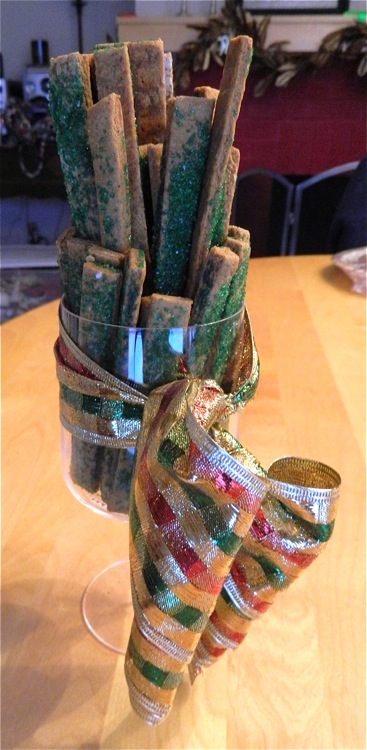 Do you have some Christmas decorations (I can't bring myself to say geegaws again) from your childhood? These green letters that spell out the word NOEL are from my growing up years. My mother owned these long before I was born, so I'm guessing they're about 60-65 years old. I remember placing these letters carefully in a windowsill each December in our Southern California home.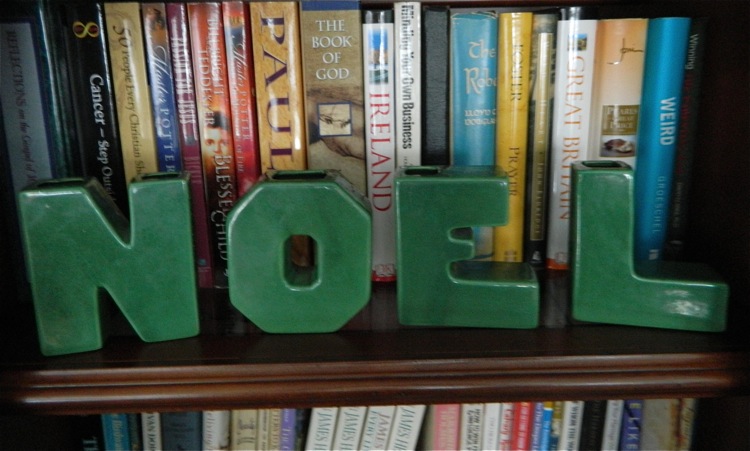 A couple of days ago Sara was feeling like her Daddy needed some pampering, and knowing how much he loves breakfast, she made him a bit of a feast. French toast with real whipped cream and Minnesota blueberries, eggs fried over-easy, thinly sliced ham and a California orange. That's a lot of food there, and Michael had no trouble eating every bite.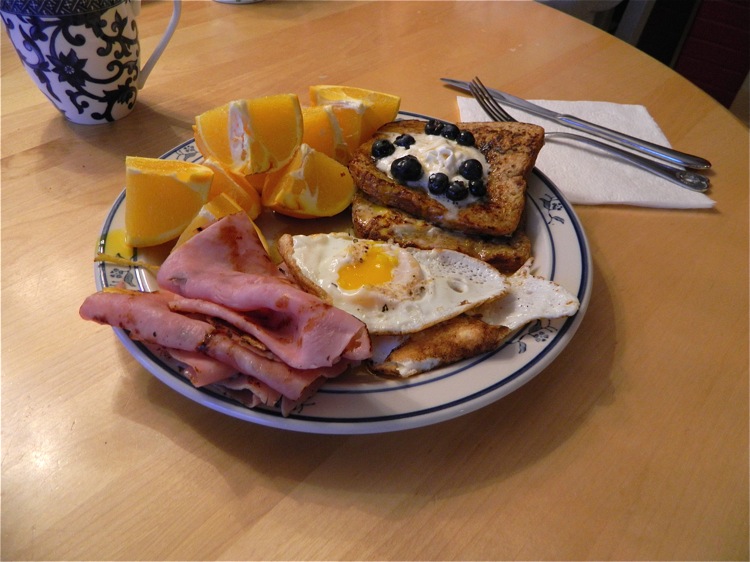 Later that evening we decided to watch a Tim Hawkins DVD, since our grandson Elijah was spending the night and he loves Tim's comedy. Here's a short video of Tim performing our national anthem as he envisions Bob Marley, Neil Young, Dave Mathews and Bob Dylan would sing them. Michael laughed out loud at the Dylan version.  🙂
This was a view of two things at my feet which bring me much warmth and comfort in life — Edith the Schnauzer and my Acorn slippers: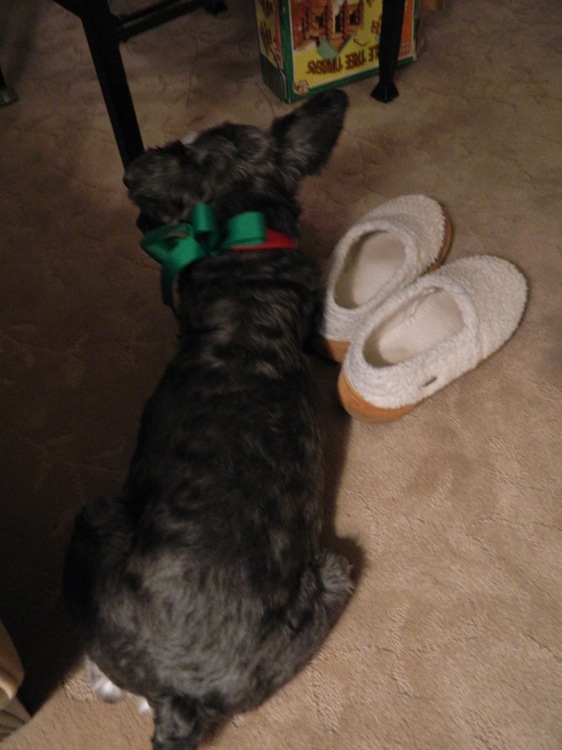 Mildred was looking at me as if to say, "And may I ask why you're disturbing me with that camera? I'm busy resting here on your couch."
Elijah loves to build with Lincoln Logs. Look at that smile: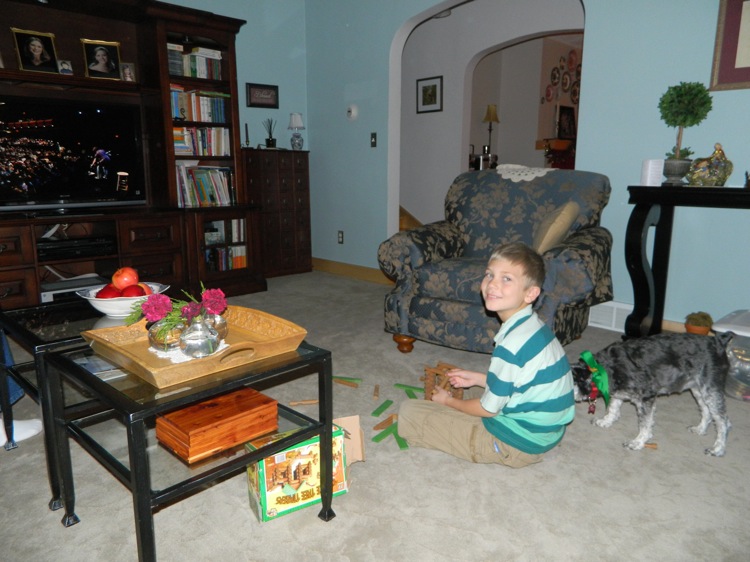 And he found Tim Hawkins so hilarious he rolled on the floor in laughter!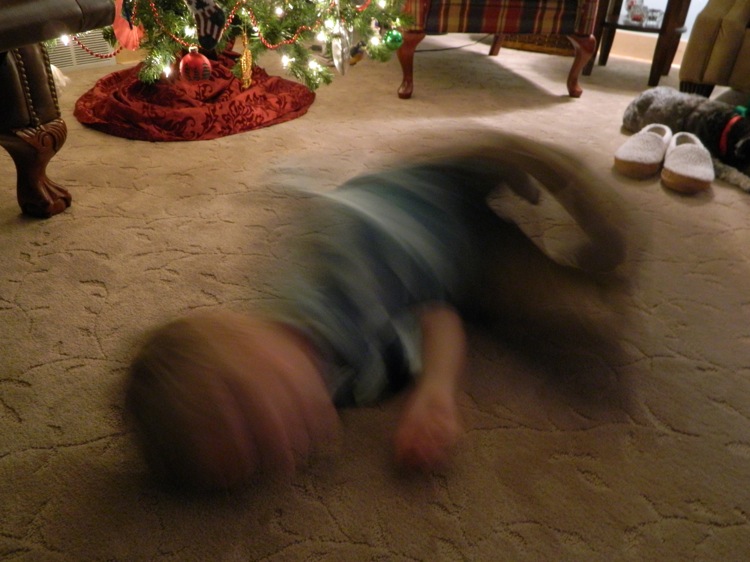 Be careful when you buy artificial fruit for your transferware bowls! They could look so real one of your grandchildren might boldly take a bite of one and find the styrofoam inside!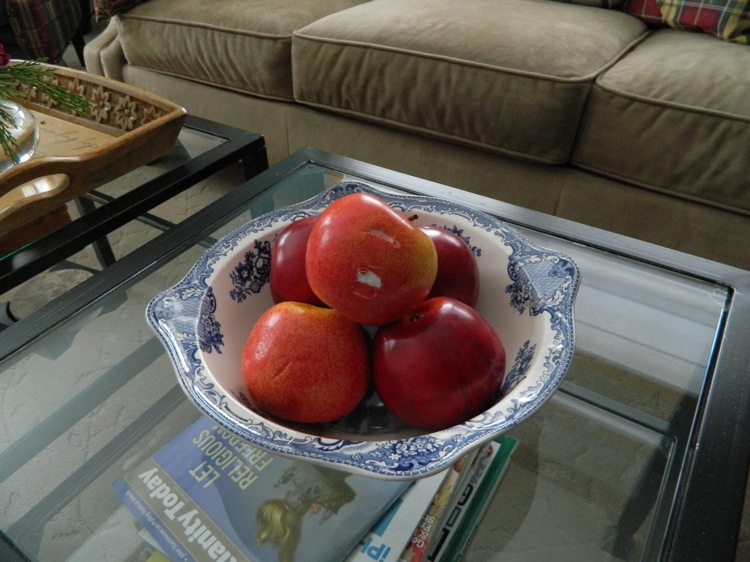 Last weekend my oldest daughter Sharon, her three Irish girls and I went out to dinner, and then to the Minnesota Ballet's annual production of The Nutcracker. I realize that I have taken pictures of goodies and grands, but did not take one of my daughters. I guess I thought there would be more time and then I forgot.  🙁
I did get a picture of Sharon's hands, however. She and I both had tasty Cobb Salads that neither of us could quite finish. Below you can see five month-old Louisa, engrossed in her first book, and five year-old Lil' Gleegirl enjoying her homemade macaroni and cheese.
Eight year-old Mrs. Nisky loves salad and pasta! She has the most beautiful auburn hair and a heart full of love for her new baby sister.
As we sat together in the balcony later and watched the wonderful ballet, I thought to myself, "I need Cliff Notes for The Nutcracker! What exactly is going on here? Mean dancing mice? Asian dancers? Fairies in the snowy Forest? Clara and Fritz and their parents' party and her beloved Nutcracker? How does all this fit together?" I came home and looked up the story online and still had a blank look on my face. But I would watch a Minnesota Vikings game with my grandchildren if it meant being with them.
Mr. McBoy also came to spend the night with Grandpa and Grandma recently. I picked him up after school and he and I sat in the car talking for a while. He is such a great conversationalist for a ten year-old boy, and so loving. I wish my parents were still alive to see how much this boy looks like my side of the family. My father would also be so proud of Mr. McBoy's basketball aspirations. 😉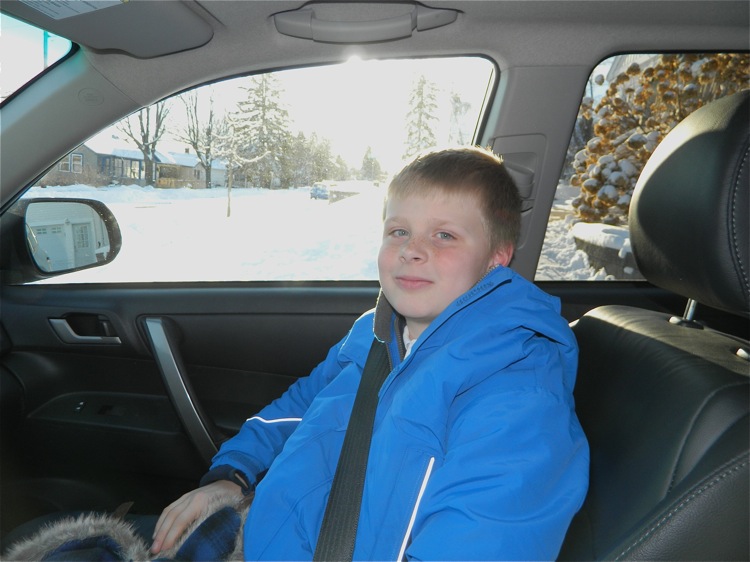 What you see below is the door to the sauna in our basement. There is no light in the sauna, just this old-fashioned porch light on the left of the door that makes things sort of visible inside.
The photo below is not blurry — it was taken through a thick cloud of steam in the sauna. If you look carefully you can see a ten year-old boy and a sixty-three year-old grandpa smiling and sweating and bonding together: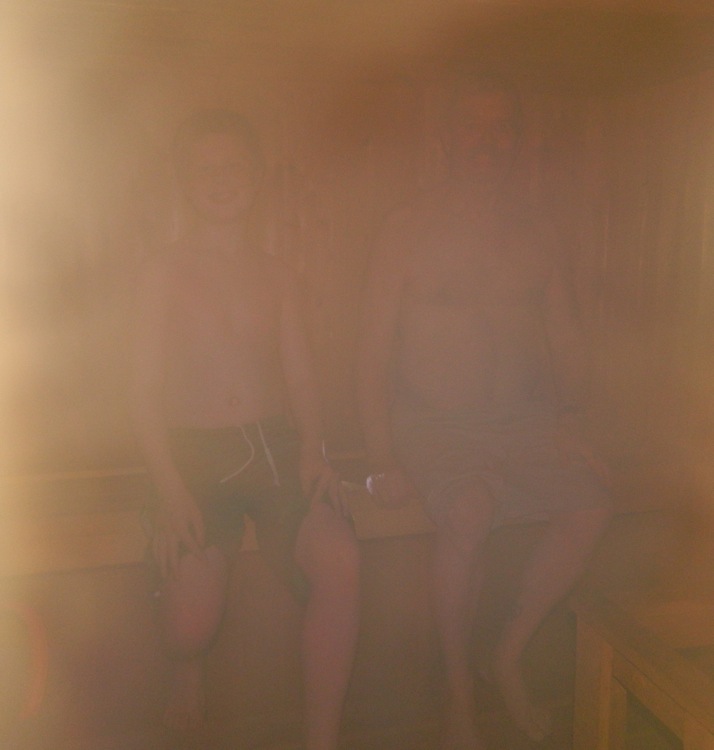 And this picture was in our newspaper recently and I had to share. Apparently Snowy Owls like to stay mostly in Canada, Greenland and Iceland, and are not commonly seen as far south as Minnesota, if you can actually call Minnesota "south." This beautiful bird was resting on the roof of a local business last week. (Photo credit: Daniel Oyinloye.)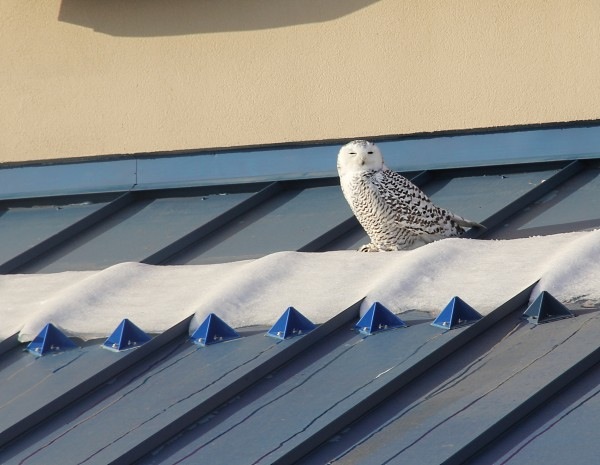 In other news, our furnace stopped heating the other night and I was up past midnight while the repairman tried to fix it. "Confusing" and "complicated" are not words one wants to hear from the person working on your furnace when it's eighteen degrees (minus eight Celsius) outside. He was able to get it to heat by doing something temporary to it, and then told me to call someone who specializes in furnace zones. The company I called is sending out their repairman today and I'm praying that "confusing" and "complicated" are not words I hear him utter. "No problem" and "all fixed for free" would be good, don't you think?
So, what are your favorite Christmas goodies? Do you have any very old decorations? How is your furnace working? What kinds of birds are in your neighborhood these days?
And what is The Nutcracker all about anyway?