Words that inspire me
Happy Memorial Day! We had a gorgeous weekend and woke to a steady, needed rain, but I'm sure this dampens (hahaha) the plans of many campers who've come north to enjoy the lakes and trees of our great north woods. I can picture many families either sitting in their tents or cabins hoping this passes, or packing up a day early to return home.
In our house, the gray day makes us feel cozy and content, and we have a cheering fire in the dining room fireplace, soft Irish music playing, and a full day ahead to do whatever we like. I plan on wearing my terribly ugly but wonderfully comfortable sweat pants and sweat shirt, will write a letter, fold some laundry, write in my gratitude journal, and pray for those I love. And sip tea. And for dinner we will have the last of some delicious curry-filled Mulligatawny soup my friend Carey made.
I thought I'd show you a picture of something new that hangs on our kitchen wall. It's a gift Sharon gave me for Mother's Day. Recently I coerced her into listening to (on CD) one of my favorite books ever, Les Miserables by Victor Hugo. I'm not sure she has found the book as breathtaking as I did, but she had a beautiful quote from the book put on canvas, and I love it.
"Oh, Thou who art! Ecclesiastes names you the Almighty; the Maccabees name you the Creator; the Epistle to the Ephesians names you Liberty; Baruch names you Immensity; the Psalms name you Wisdom and Truth; John names you Light; the Book of Kings names you Lord; Exodus calls you Providence; Leviticus, Holiness; Esdras, Justice; Creation names you God; mankind names you Father; but Solomon names you Mercy, and of all your names, that is the most beautiful."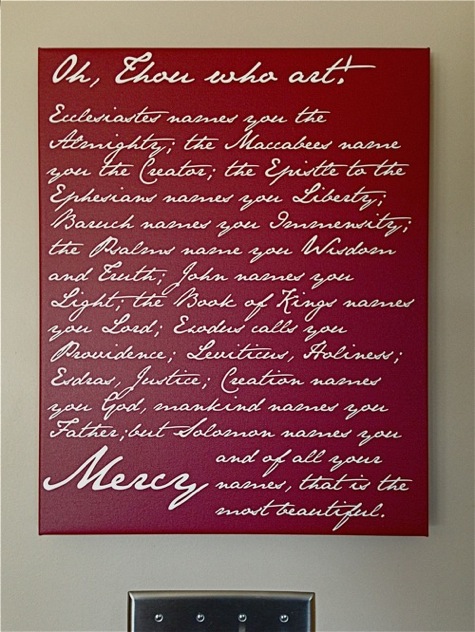 (Note: I am a Protestant, so am assuming a couple of the books listed above are from the Apocrypha.)
I have been pondering the attributes of God for several months now, and even have a chalkboard wall in our dining room listing the ones I can think of, preaching to myself every single day. Whenever I see a new facet of God in Scripture or within my own experiences, I write it down. Our chalkboard wall currently looks like this, and you can also see a past drawing here.
I have to agree with Mr. Hugo. Out of all of God's magnificent names and traits, the one most dear to me is His Mercy. I could not have lived without it then, cannot be without it today, and could not possibly face the future without His mercy.
How about you? Out of the names of God listed above, which one means the most to you today?