Gratitude and Happiness
Yesterday I took a couple of hours and updated our dining room chalkboard wall. If you've never seen the first drawing I did, you can click here to take a peek.
I wanted to draw something that would be appropriate for Thanksgiving, and later next month if I can get it together I plan on doing a drawing with a Christmas theme. I searched around the web for a few minutes and found what I wanted to do on this blog.
I'm fairly satisfied with how it turned out: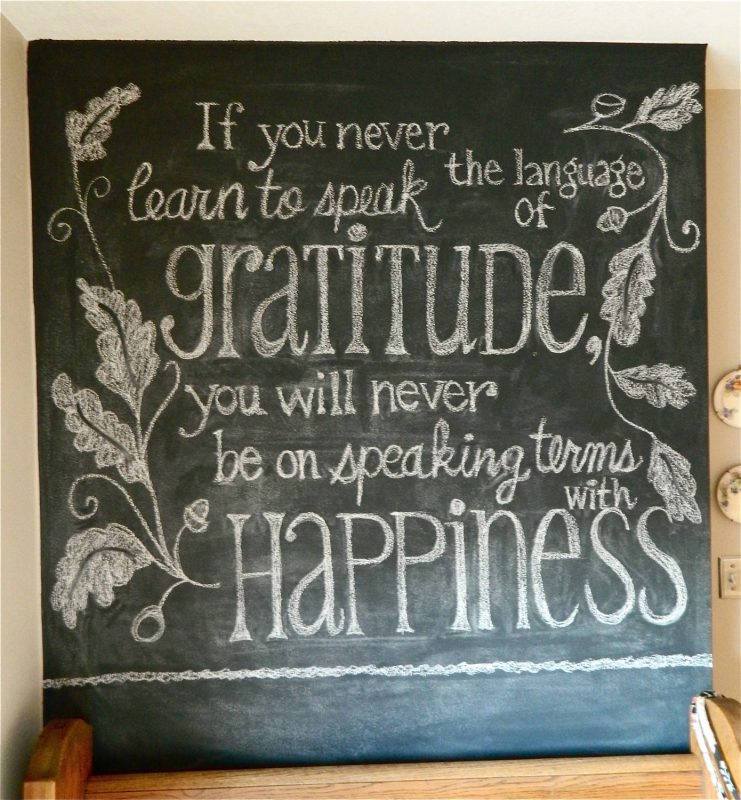 I'm preaching to myself with this message, you know?
And we also have a beautiful centerpiece on the table, ready for our Thanksgiving meal tomorrow. I love the feathers Sara put in this year's creation! All photos can be enlarged by clicking on them. Can you find the turnip in the arrangement? 🙂
We will have fifteen people here, and we'll enjoy all the traditional fixings — turkey and stuffing, mashed potatoes and gravy, cranberry sauce, roasted asparagus, rolls, pies and more. My favorite part of the day is always when we go around the table to say what we're thankful for. The only one who won't be able to share tomorrow is the newest member of our family, little Louisa, who is 16 months old. When it's her turn she'll probably say, "Uh? Uh?" and we'll all get a kick out of that. But all of us are thankful to the very bottom of our hearts for her, and I know she'll be mentioned.
I hope no matter what you're going through, you'll be able to give thanks tomorrow.
Every good and perfect gift is from above, coming down from the Father of the heavenly lights, who does not change like shifting shadows.  James 1:17
What are your Thanksgiving plans?
With much love and prayers for you, my friends and family…