Won't you please come in?
In ten days it will be Christmas, and during the remainder of Advent I want to be at home and as quiet as I possibly can. I want to hear the choral voices and orchestral strings of "O Holy Night" and "O Come, O Come Emmanuel" over and over. I want to sit in the evenings in our darkened living room and look at the lights on our tree, thinking about Isaiah, chapter 9,
The people walking in darkness
   have seen a great light;
on those living in the land of deep darkness
   a light has dawned.
And from 1 Peter, chapter 2:
But you are a chosen people, a royal priesthood, a holy nation, God's special possession, that you may declare the praises of him who called you out of darkness into his wonderful light. Once you were not a people, but now you are the people of God; once you had not received mercy, but now you have received mercy.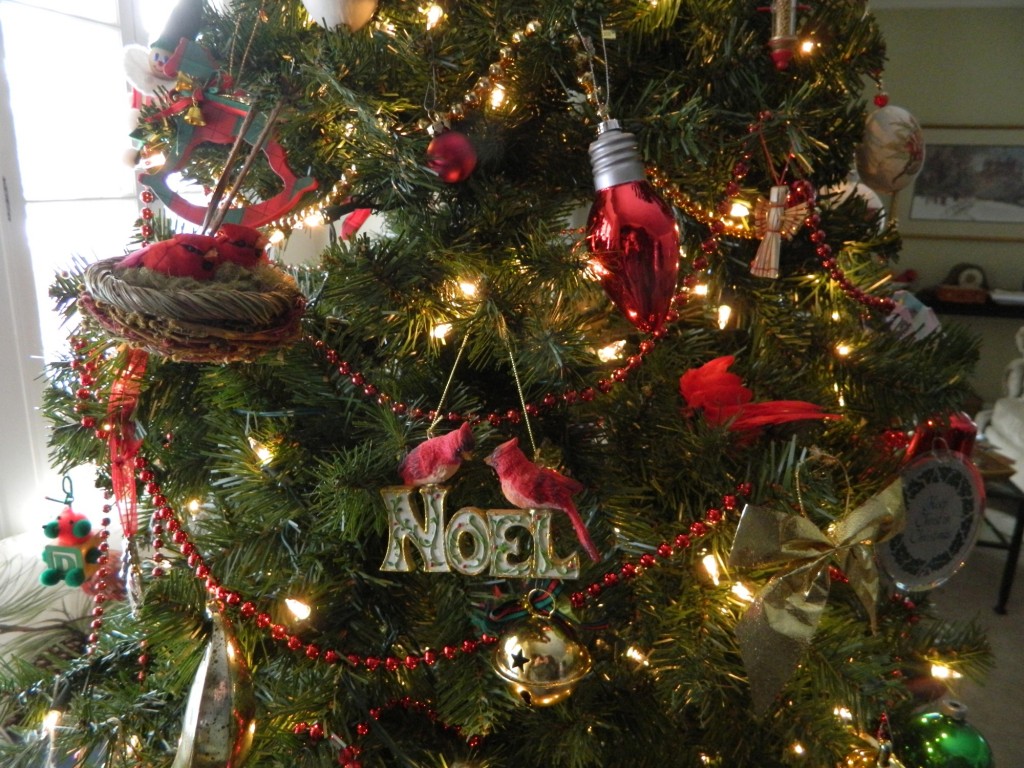 A decade ago we didn't have any cardinals on our tree or in our house. Now we have dozens. Each one reminds me to take hope, to believe in the things I know more than the things I see. (As always, feel free to click on the photos to enlarge them.)

Putting a bowl of ornaments out on an accessible table when there are often grandchildren galloping around could be risky. Unless you have plastic ornaments that look exactly like glass ornaments, as these are: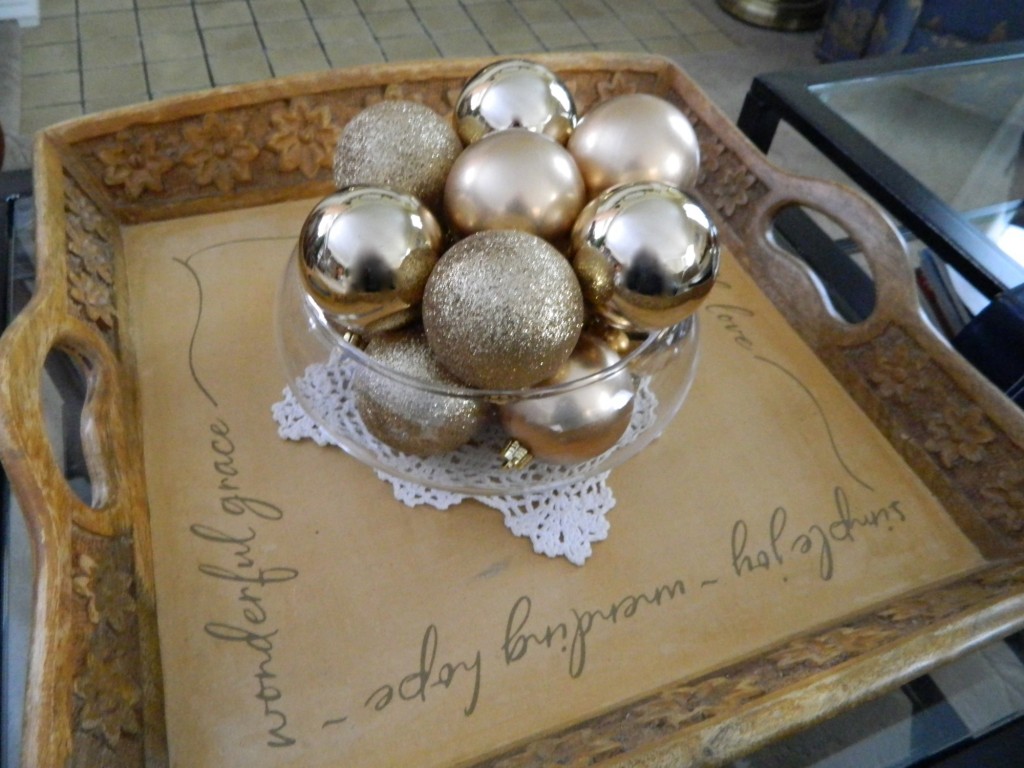 The German-made straw wreath below was a gift from a German friend. The disco ball was a gift from a friend who participated in a New Year's Eve event with me at our church years ago – we were Gladys Light and the Hips and we danced and sang "I Will Follow Him" while most of the people in the audience either rolled on the floor laughing, or sat in stunned silence. The picture of my three beloveds always makes me cry….how did 28 years pass in a blink?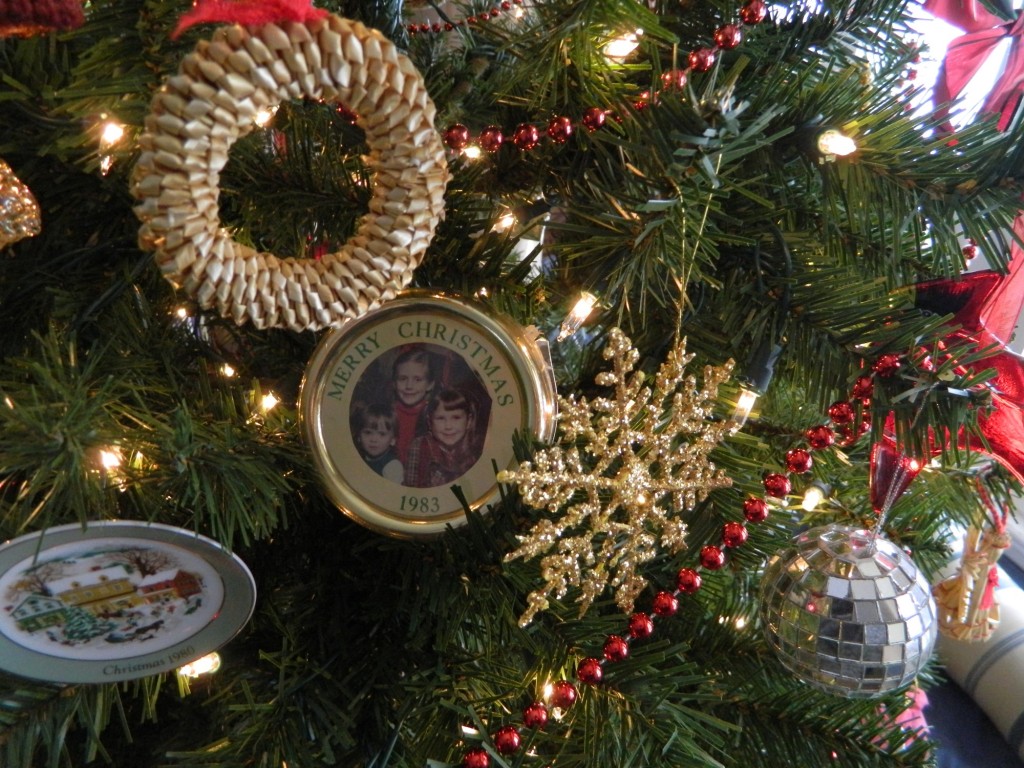 This was a gift from a cherished friend and hangs by our back door year round. It is my true prayer.
Sara always scouts around the yard for bits of nature to bring in, and I love the greenery she puts all over the house. This is in our kitchen window.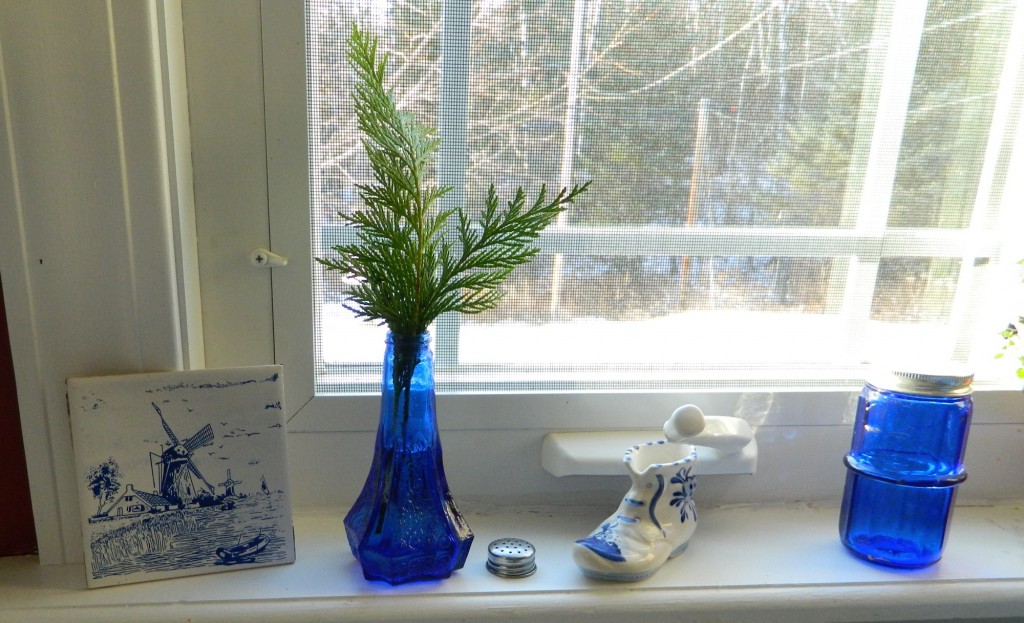 Almost every cardinal we have was a gift from sweet friends who have heard me tell this story.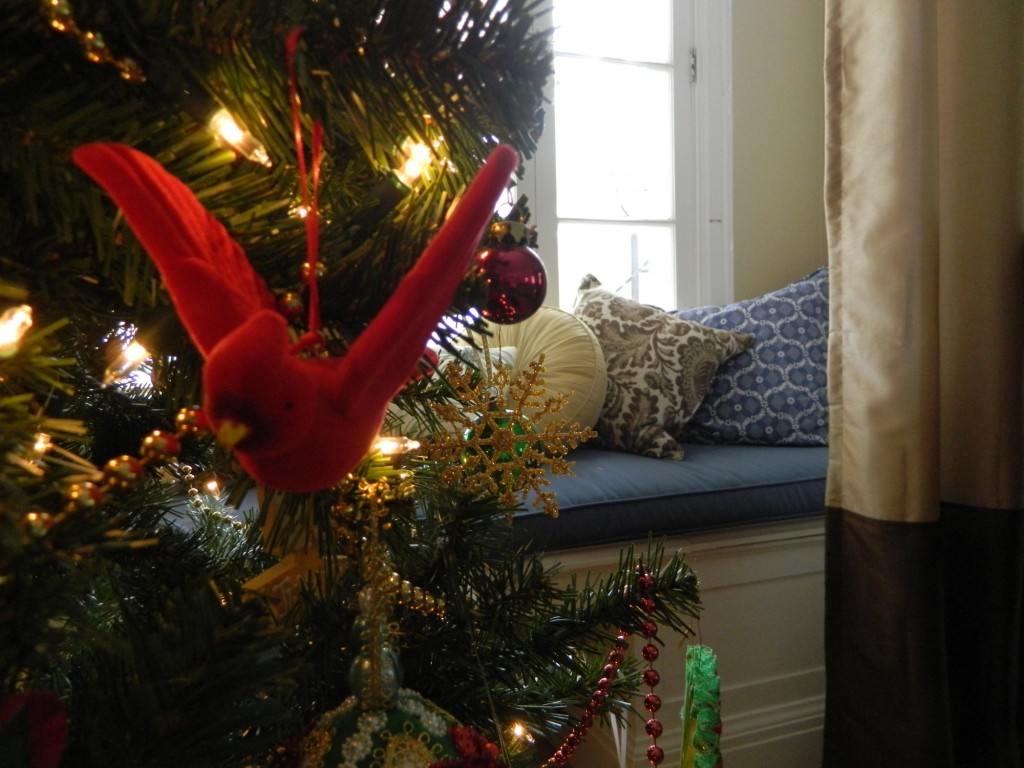 Because we have such a full mantel this year, the stockings were hung near the staircase with care. The one that says "Virginia" is at least 60 years old and was my mother's. Oh, how I miss my mother these days. Isn't it a terrible truth sometimes that you don't realize how much you desperately need something or someone until they're gone?
Will you allow me to whisper a gentle truth into your heart today? Look around you and ask God to help you truly love and appreciate the people in your life, no matter how much they've hurt or disappointed you. They might be gone tomorrow, and the sorrow of not loving them would be too great a burden for you to bear.
This sits on our mantel:
The orange ornament below is one of three I have left from my childhood Christmas trees.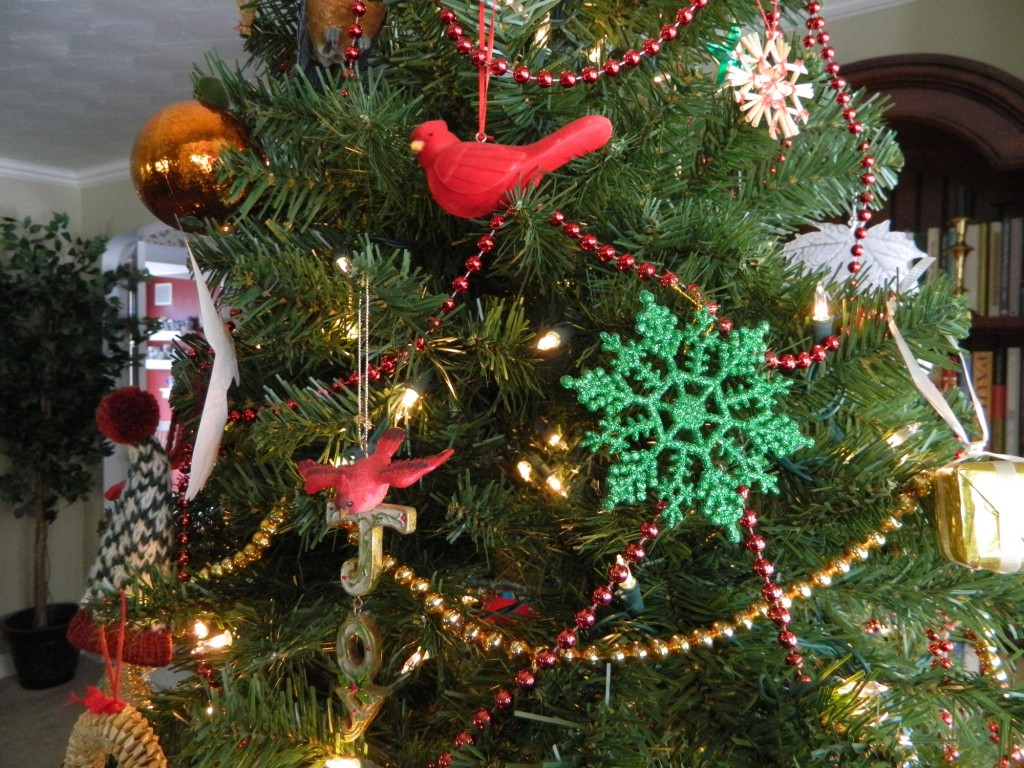 I bought a roll of inexpensive silver-tinged blue ribbon at Menard's, and this is part of what Sara did with it in our kitchen. These are the lights that hang over our island. I love it!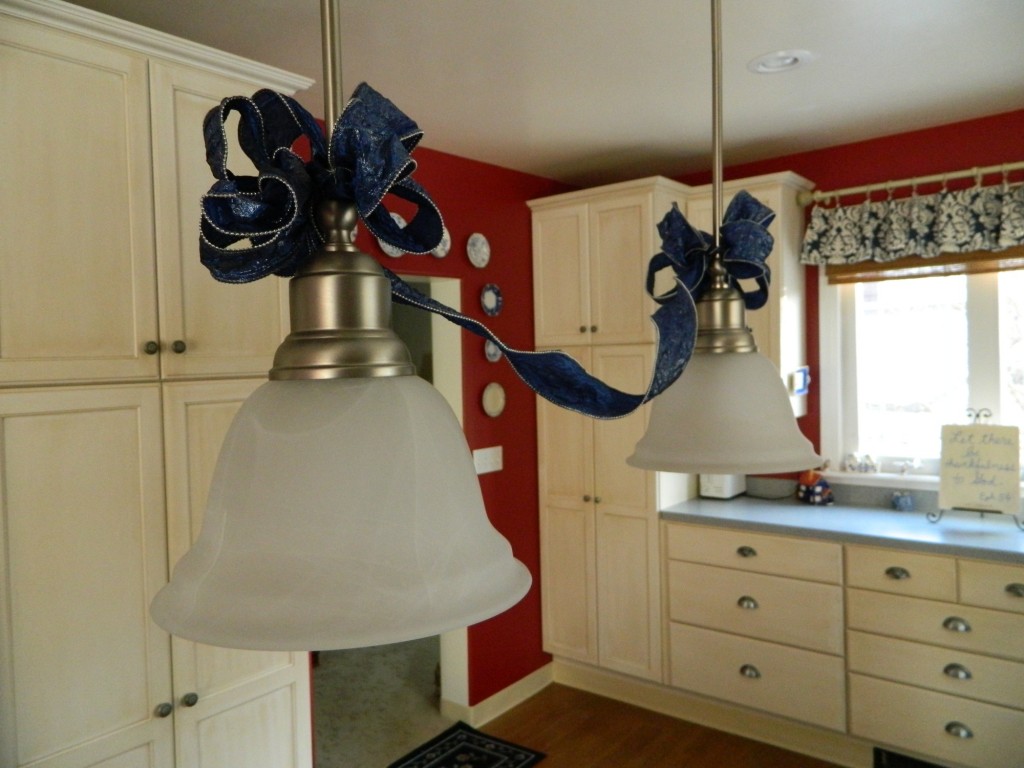 This is the holiday season view of the inside of our microwave. I was trying to think of something to share that was a little out of the ordinary. You can see trees and ribbons and stockings in a million places out there in blogland right now. But I ask you – where else can you see a blog photo of the inside of a splattery microwave? Nowhere.
The microwave can get pretty messy, pretty fast. Sort of like life.
No presents under the tree yet. 🙂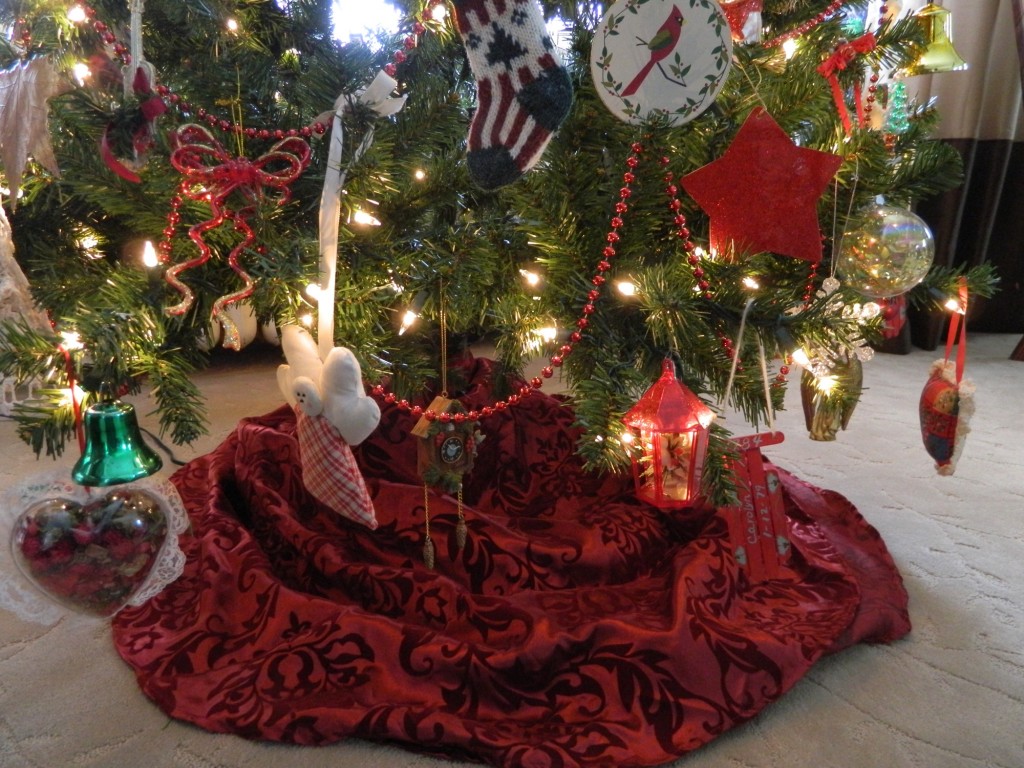 Part of our nativity scene. Joseph, Mary, the wise men with their gifts, and the Christ Child. (I am the little lamb who dares to stand close and gaze upon the scene with wonder and awe…)
Today I will go to the elementary school four of my grandchildren attend to see their Christmas program. One of the songs Mrs. Nisky's class will be singing is "Go Tell It On The Mountain" and I intend to engrave it on my memory as I watch and smile and wave at her. I wonder if in my lifetime we will see the complete banishment of sacred Christmas songs in public places. It has begun already. But here in my corner of the world there are still places where the music is allowed to reflect the real meaning of the season.
Late this afternoon we will be taking our Foster gals out for an exciting Christmas treat – a huge display of lights and music and cookies and roasted marshmallows they've been talking about for days.
Then this evening I will head to a local church to watch Lil' Gleegirl sing for her preschool Christmas program. I will be waving and smiling hugely at her too, hoping she sees the joy on my face, all for her. Her class will sing this:
Come on, ring those bells,
Light the Christmas tree,
Jesus is the king
Born for you and me.

Come on, ring those bells,
Everybody say,
Jesus, we remember
This your birthday.
Thank you so much for coming into our home for a few minutes today!
I hope as we all prepare for Christmas over these next ten days, we will never lose sight of the fact that Jesus is the King, born for you and me.