Wind chimes in early autumn
Today feels like fall, even though astronomically it's still summer. Last night was the first night in months that we've slept with our windows wide open instead of keeping the central air conditioner on. It was glorious. The sun is lower in the sky these days and the light coming in the windows has that tell-tale golden glow I love. Why, oh why, does autumn seem to last six weeks, and a Minnesota winter can sometimes last six months?
I attended a foster care meeting this morning, and since my original late morning/early afternoon plans were rescheduled, I came home to work on something quite daunting that I'm trying not to be daunted about.
I've been praying and reading, journaling and praying, avoiding prayer and study altogether, eating peanuts, studying hard and pleading-praying….all in preparation for my speaking at our local Community Bible Study retreat in October. I have never spoken at a retreat before. I really wonder how in the world I am going to teach on Corrie ten Boom's life for three sessions to a group of very spiritually mature women. But I keep going back to the comforting knowledge that if God has something He would like to impart to these ones He loves so deeply, I can trust Him to help me know what that is. I do trust Him, I just don't trust my own ears and heart and eyes to catch it all sometimes.
After some study time in my comfy plaid bedroom chair, I moved to my office to start pecking away at the thoughts and notes I have. I opened the sliding glass door in my office so I can hear the lovely deep wind chimes that hang on a bird feeder pole right outside, and I can also hear soft strains of Bob Bennett's CD "Lord of the Past" playing in the dining room. Millie the Schnauzer is schnoozing on my bed, someone in the neighborhood is mowing their lawn for possibly the last time this year, and I have no idea what's for dinner.
Here's a distorted panoramic picture of what I see in my office right now. You can click to enlarge it if you'd like.
I took my foster gals to the Minnesota State Fair a few days ago. It's about a 2.5 hour drive south, and the fair is said to be one of the best in America. We spent the night in a hotel the night before, so we could arrive at the massive fairgrounds when the gates opened and before the heat became mean and punishing. I think my gals had a good time; one had never been to our famous fair before and the other hadn't been in decades.
There are a zillion foods on a stick there. Corn on the cob, deep-fried Snickers candy bars, pork chops, peach-glazed pig cheeks, teriyaki chicken, stuffed Italian meatloaf, and cheesecake, to name a few. All on a stick.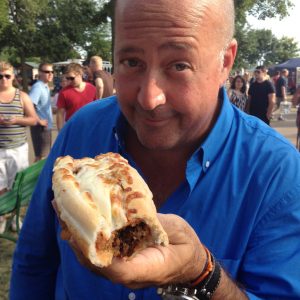 I had a Gizmo Sandwich because crazy food man Andrew Zimmern said it was the best sandwich of the fair, and it was pretty good. I also had some fresh squeezed lemonade.
Throughout the day, my fosters had mini-doughnuts, Gizmos, foot-long hot dogs, pork chops on a stick, cheese curds, cotton candy flavored blue ice cream (gah!), and more.
We walked what felt like seventeen miles in the sauna-like heat to the Pet Building on the f-a-a-a-r side of the fair, so we could pet the dogs of the day, which were Samoyeds, German Shepherds, and Schnauzers. My gals got their caricatures drawn, drove go-carts around a track while the theme song to "Happy Days" played, rode in round, twirling water rafts, went down the undulating giant slide, and bought shockingly priced souvenirs. We loved The Miracle of Birth Building, and were able to see chicks hatching, gently pet newborn pigs, sheep and goats, and stand around a huge pen full of straw while a poor, straining Holstein mama tried to bring her calf into the world with hundreds of people watching.
We spent five hours at the fair, and if my knees had been better behaved and the temperature not 90 degrees, we would have stayed longer. We ended up missing the sculptures of the State Fair Queen and her court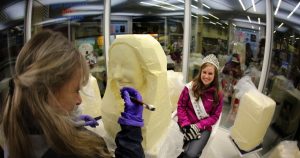 (sculpted out of huge blocks of butter), didn't go to the building with the quilts and cakes, nor the one with the newest innovative household tools and gadgets. In the late 1990s I bought the best broom I've ever owned at the state fair. Had we stayed later we could have heard the Lovin' Spoonful perform too, but when one is approaching sixty and has screaming knees, concessions must be made.
And we'll be heading down to the Twin Cities again soon, to see our favorite comedian, Tim Hawkins. Michael and I have seen him before, and I'm taking my foster gals and three of my grandchildren this time. I so look forward to seeing Tim in concert. I don't laugh at his jokes and antics merely because it's a comedy show; I laugh because I can't help myself. I think he's hysterically funny, and I need the medicine that laughter is. If you're not familiar with Tim Hawkins, here's a link to initiate you.
Well, the wind chimes are still softly sounding outside my office here. The curtains are moving the slightest little bit with each whispering breeze that brings the lovely cool fall air into our home. There are a few leaves here and there that are turning orange.
I hope your Labor Day weekend is a peaceful one…