What does July mean to you?
Over the past few years I've published a few posts asking you all how you feel about certain months, what those months elicit in your memories, feelings and expectations. I think I've asked you to tell me what September means to you, along with October, November, December and January. I've never asked about July.
July is one of those months that just seems very ho-hummish to me. One of my daughters even teases me a bit about it. Sharon usually asks at the end of each June, "So what are you going to do for the 4th, seeing as it's your favorite holiday?" NOT! And she knows it's not, so she mocks me. Can you believe a grown daughter who owes her very life to me, making fun of me about my least favorite holiday? The nerve.  🙂
I have no idea why the month of July doesn't make my heart go pitter patter. I don't have any bad memories from this particular month. Growing up in Southern California we always had fireworks and as I child I supposed I liked them well enough. I liked to write cursive words in the dark night sky with a sparkler, I remember hearing Piccolo Petes scream way past midnight back then, and we went to Disneyland a time or two to see their 4th of July fireworks show.
When my girls were little, I thought I was making a gigantic sacrifice to stay up late enough (10:00 p.m.) on the 4th of July to see our city's fairly nice fireworks display. A few times over the years, we bundled and trundled and rumbled and mumbled and stumbled. We bundled the girls into their jammies and brought blankets in case the night air turned cool. We trundled them out to the car, which was always a station wagon. We rumbled off to a high place in the city for optimal viewing, then parked, and turned on the radio to the local station that played John Phillips Sousa music just for this occasion. I mumbled about how tired I was and wanted to go home. And then after the grand booming finale, we drove home and stumbled into our beds so we could get up the next day and talk about how beautiful the fireworks were.
One of those last sentences is false. I hope you can guess which one.
July seems to be a picnic month too. And I like the idea of picnics, but I'm not sure I appreciate actually planning and carrying out a picnic. The thought of languishing on a soft blanket under a huge, spreading tree on the banks of a beautiful river while a cool breeze ruffles the leaves, with the air full of birdsong, paired with really good food in a basket that I don't have to tote or prepare? Throw in a good book and a season where all the spiders in that vicinity have mysteriously died, and that would be a nice picnic. Those are my conditions, and if a July picnic isn't going to be just like that, I'm uninterested.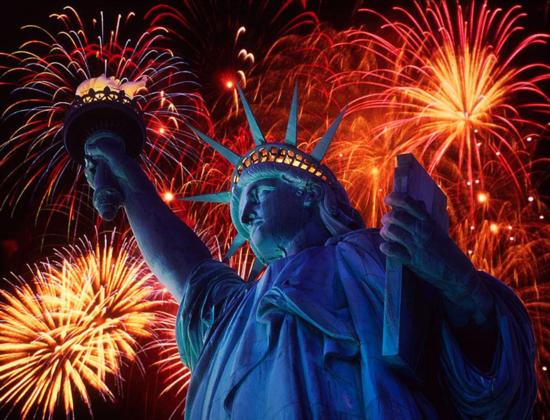 I guess everyone knows that Independence Day is a federal holiday commemorating my country's adoption of the Declaration of Independence on July 4, 1776, declaring independence from the Kingdom of Great Britain. People in the U.S. usually celebrate with fireworks, barbecues, parades, family gatherings, carnivals and picnics.
When I think of 4th of July food fare, I think of potato salad, watermelon, any kind of barbecued meat, but especially hot dogs and hamburgers, baked beans, fresh-squeezed lemonade, and some kind of red, white and blue dessert. Like this. Or this.
But mostly what I think about in July is that I want August to hurry up and arrive. Isn't that the silliest thing? I have the same thoughts about January. January and July are my least favorite months and I cannot explain it. If I didn't know better, I'd suspect that years ago during the months of January and July I was kidnapped, drugged and taken into slavery, and forced to dig mines by hand deep into the earth, and finally released both times in February and August. And I've repressed these memories all these years, and what's left over is that I consistently feel ambivalent (at best) about the months of January and July.
I wrote about January awhile back and how dangerous it feels to me. Don't click on the above link if you're afraid of icicles.
What are your thoughts about July? Do you love the month? Do you have lots of family get-togethers and food and fireworks? Is it when you celebrate your birthday? Do you revel in the hot weather? Do you work in your garden? Do you swim? Fish? If you celebrate the 4th, what kinds of things do you do?
What does July mean to you?