Ten SAGgy Years
Ten years ago when my friend Pat read a book called The Saving Graces, inspiration struck. What if she could gather a few women together so they could meet monthly over a meal, talk through their troubles, rejoice in each others' joys and triumphs, pray for each other, and see each other through life? She asked three of us if we would be The Saving Graces with her, and it was unanimous–we all said yes and held our first meeting. That was in 2002, and the way we remember that year is because the birth of The SAGs happened right around the birth of my granddaughter Clara.
The acronym SAGs made us all chuckle. Not only did we all need saving, need loads of grace, and have a few sags of our own, but God knew how much we would come to mean to each other.
To celebrate ten SAGgy years together, Pat, Gail, Lorna and I recently drove a couple hours north to Grand Marais, MN, and stayed at one of my favorite places, Croftville Road Cottages. We went up on a Thursday night and stayed until Sunday.
We ate candy. And kept a fragrant Frazier Fir candle burning. (Pictures can be enlarged by clicking on them.)
You would never know by looking that such a little cottage is quite spacious inside, has two bedrooms, a good sized kitchen, living room and bath.
Pat and I drove up together on Thursday afternoon, and after dinner at My Sister's Place, we drove up to an overlook on the Gunflint Trail. Even though it was dusk, we could still see the autumn reds and oranges all around us, and the ocean-like grandeur of Lake Superior on the horizon.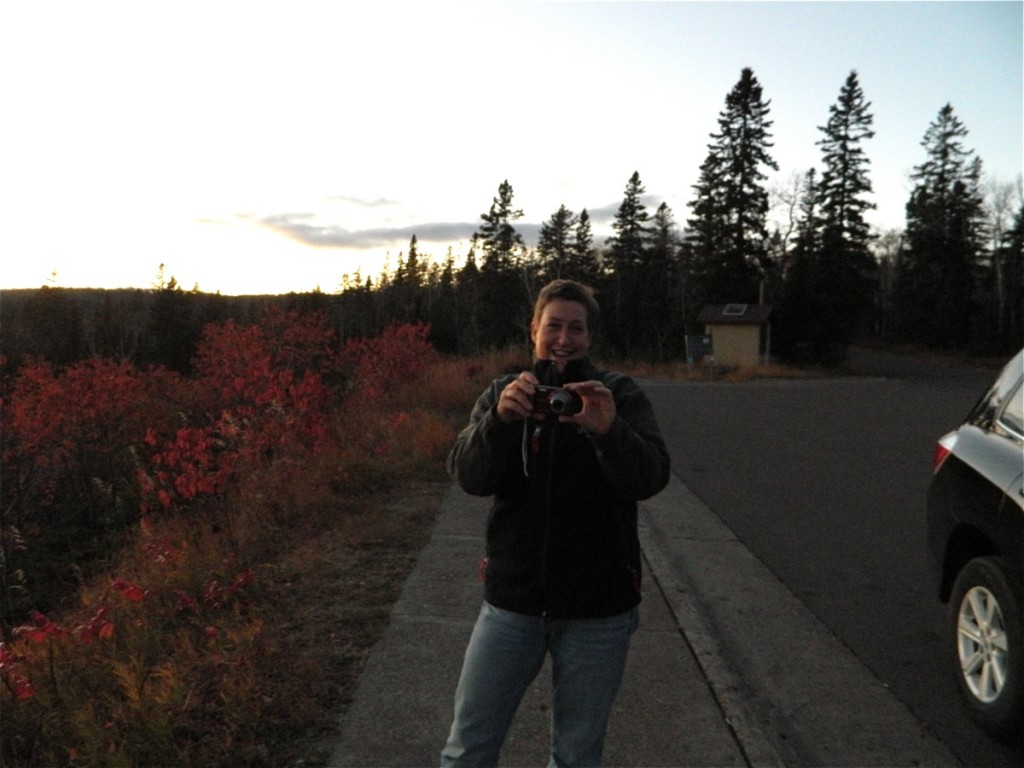 Gail and Lorna drove up later, and below you can see Gail getting the first look at her bedroom. A nice little stove kept things toasty, and just outside that sliding glass window at the foot of her bed we could hear Lake Superior pounding.
After a good night's sleep, we woke to a beautiful sunrise the next morning. This is Lorna with her chair turned toward the view, spending some time in God's Word.
A distant view of Lake Superior: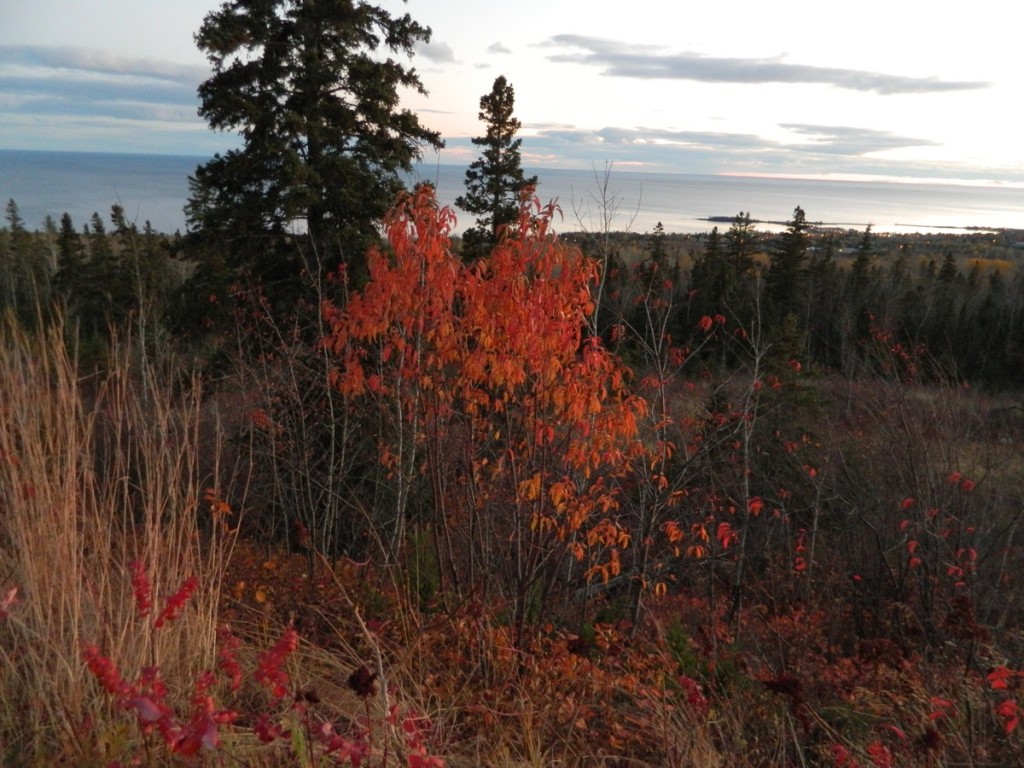 A close view of Lake Superior, taken from our cottage living room window: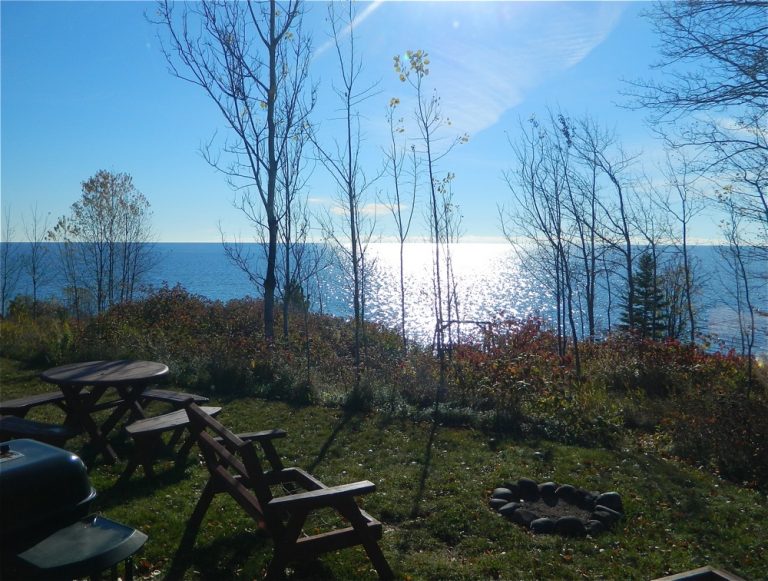 We each had our own bed to sleep in. I set up my queen-sized inflatable mattress each night, and put it away during the day.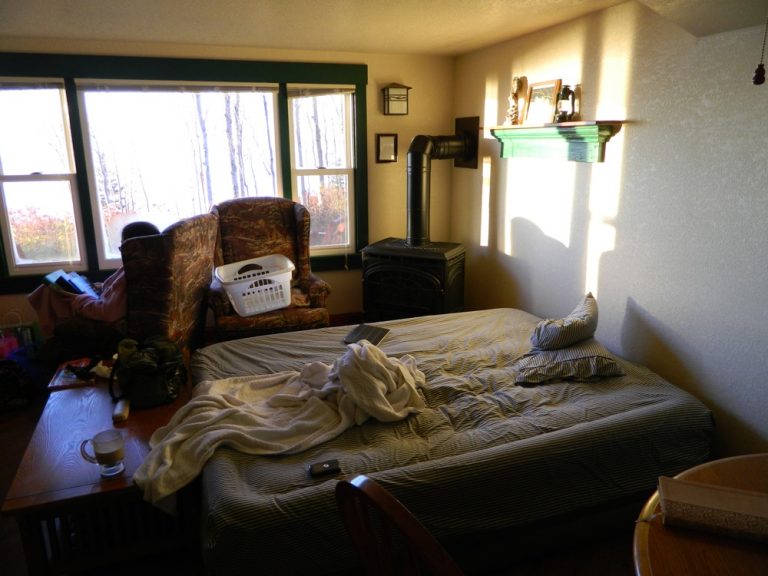 When the SAGs get together, we never lack for things to talk about, and we never feel uncomfortable with silence or tears. We were all looking forward to three days of just hanging out.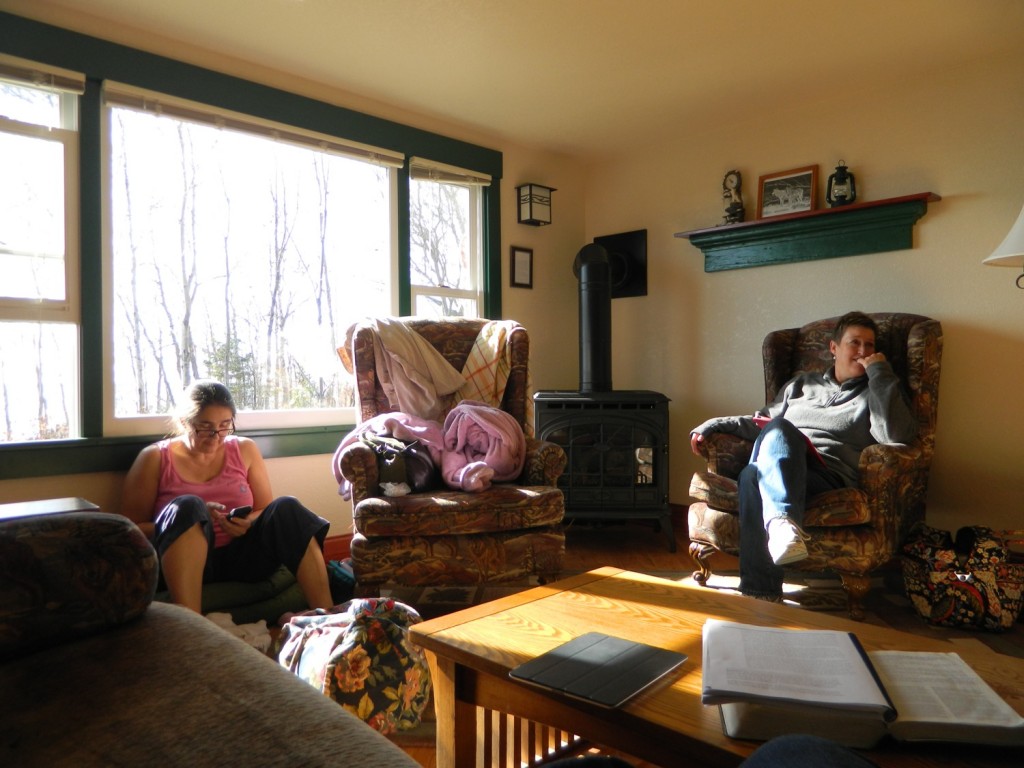 Pat and Gail spent some time on the swing, right on the edge of the Lake.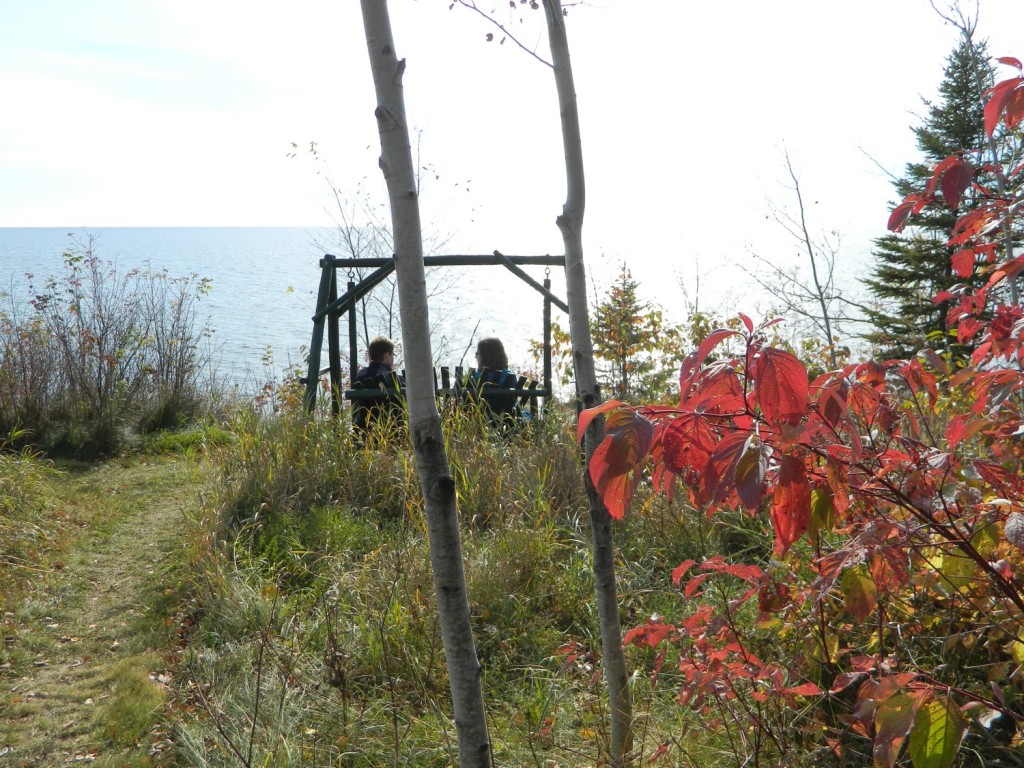 We brought our own food for the most part, but one night we ate dinner at The Crooked Spoon. Pat and Gail were happily anticipating their French onion soup.
Lorna and I had garden salads along with our soup.
We never grew tired of the Lake. One day it was grey and restless, another day it was deep blue and glistening. I don't think I'll ever get over living so close to such a treasure.
Our last dinner together was a treat. Lorna made a mouth-watering quiche, with bacon and all sorts of vegetables in it. We had Great Harvest bread, fresh cherry tomatoes from Lorna's garden, a green salad. I can't remember what we had for dessert.
Probably more candy.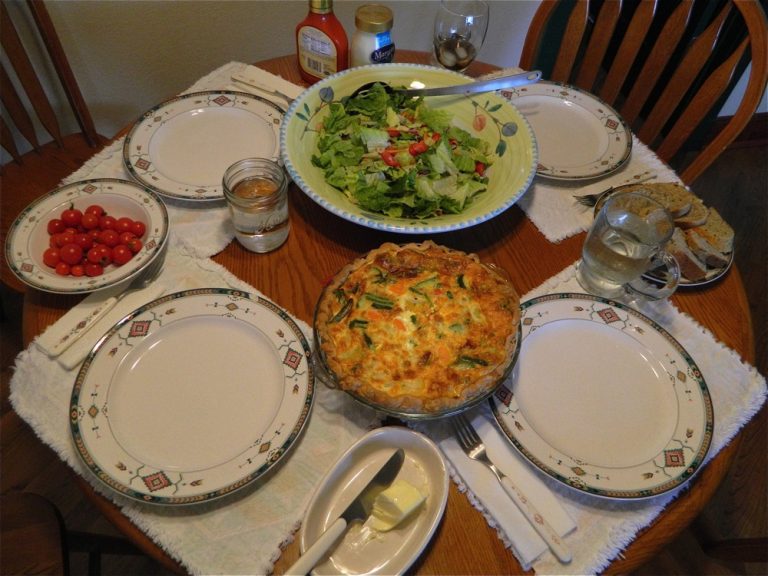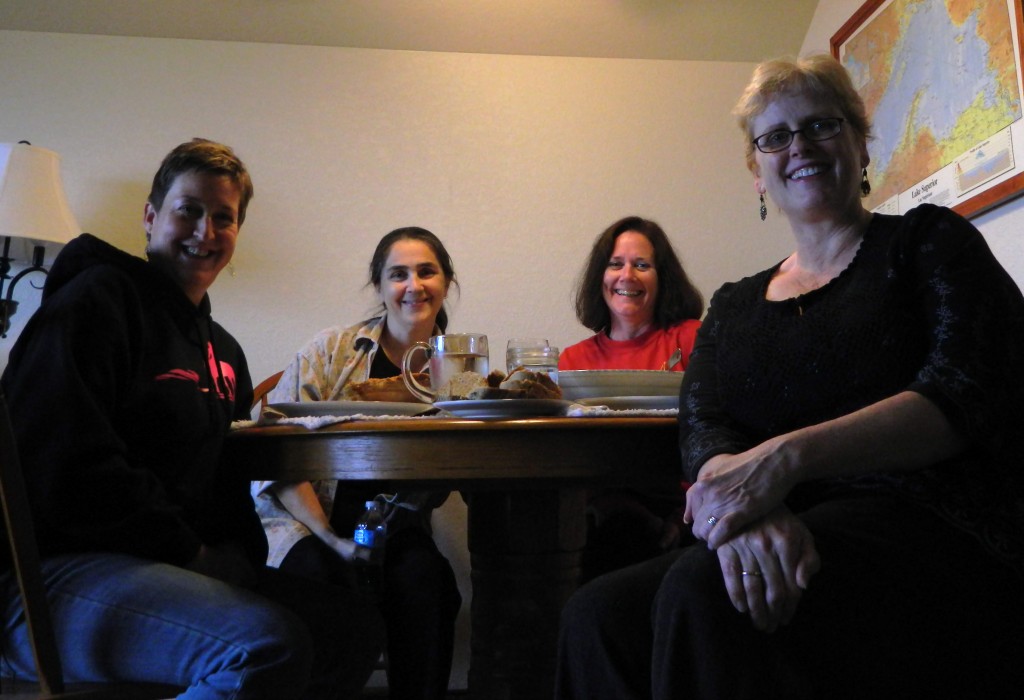 We played Farkle. We read. We did our Bible studies. We watched a movie. We talked. We encouraged each other. We recounted some of our best SAGgy memories.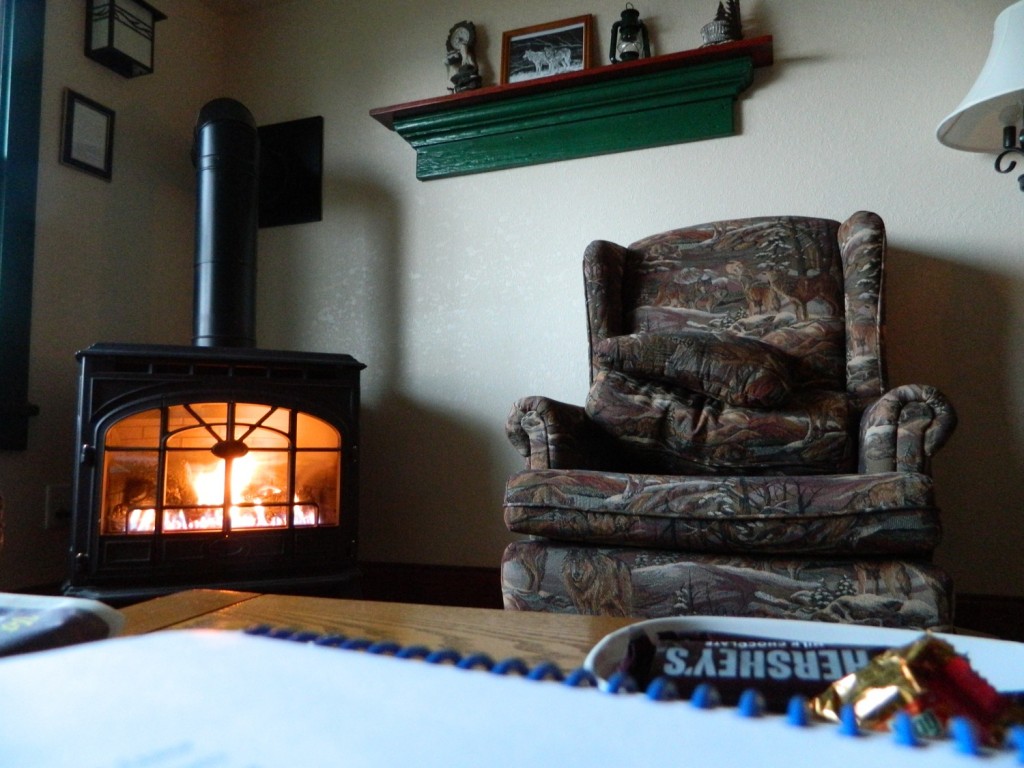 And we wondered if we will all be here to celebrate our 20th SAGgy anniversary. If we are, we'll all be in our mid-sixties by then.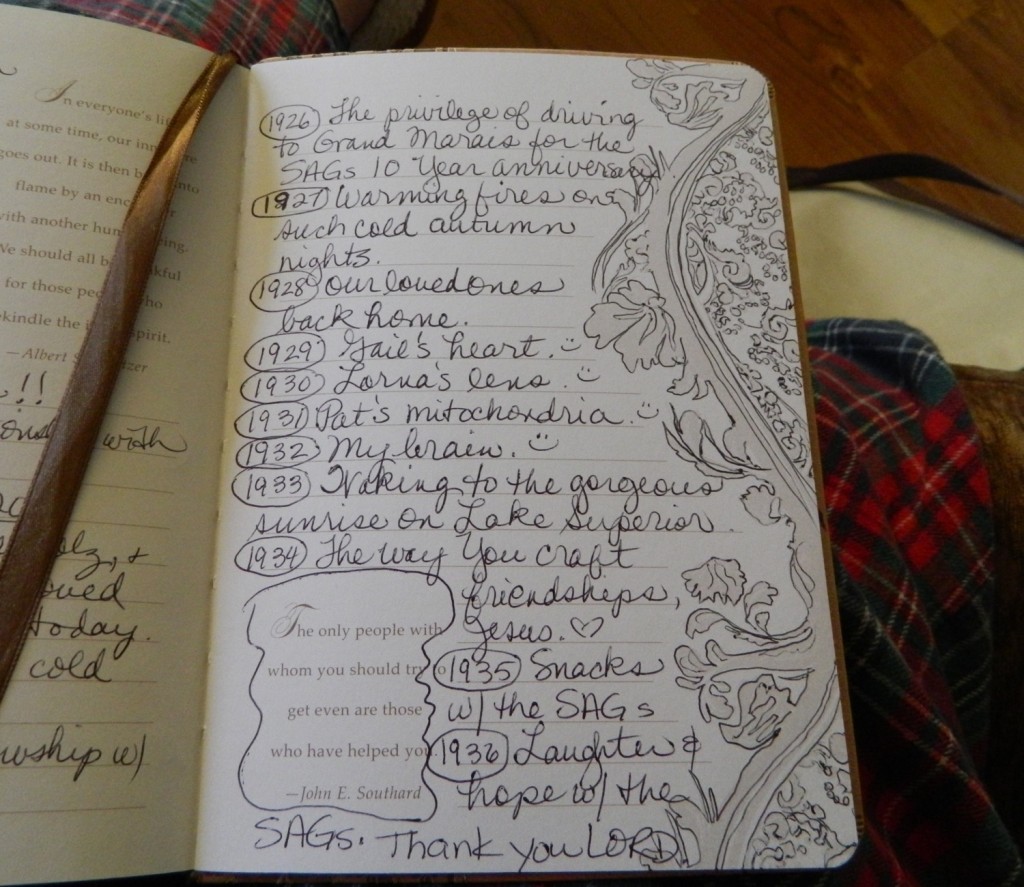 I took my gratitude journal along, and devoted a couple of pages to our weekend together, thanking the Lord for bringing us together ten years ago, and for the fellowship and friendship we share.