Preparing for a guest
Ever since we moved into this big house, we've had lots of company. We have a third floor guest suite than can sleep five, and we have enjoyed hosting friends and family every chance we get. As a matter of fact, I just extended an invitation to a dear Scottish friend who may be coming to our continent soon, and we're hoping that she and her husband will take us up on our offer.
I like preparing for guests. I don't buy pricey sheets for our bedroom, but for our guest suite I like having expensive, lush-feeling sheets on the beds. We have a little fridge up there that I try to fill with things I know our guests will like. I put piles of books and magazines around, have a boom box with soft classical music playing for their arrival, there's a rocking recliner overlooking our woodsy back yard with a creek, and a puffy goose-down comforter on the queen bed for fall and winter visitors. In the summer we put in a window air conditioner with a remote control. For a Minnesota north woods touch, on the wall of the sitting room is a bird clock that sounds a real recording of an owl at noon, a cardinal at three and a chickadee at six.
The decor in the guest suite is a bit plain. Taupe-colored carpet. White chenille bedspreads on the queen and two twin beds, like my grandmother used to have, and a few yellow and green Waverly throw pillows. Dark olive green walls. Angled ceilings, since it's on our third floor. A couple of very old floral needlepoint pictures hanging on the walls, that my maternal Grandma Oma stitched years ago. Some bookcases, a dresser, an old maple desk, a white crib, a television, a nightstand.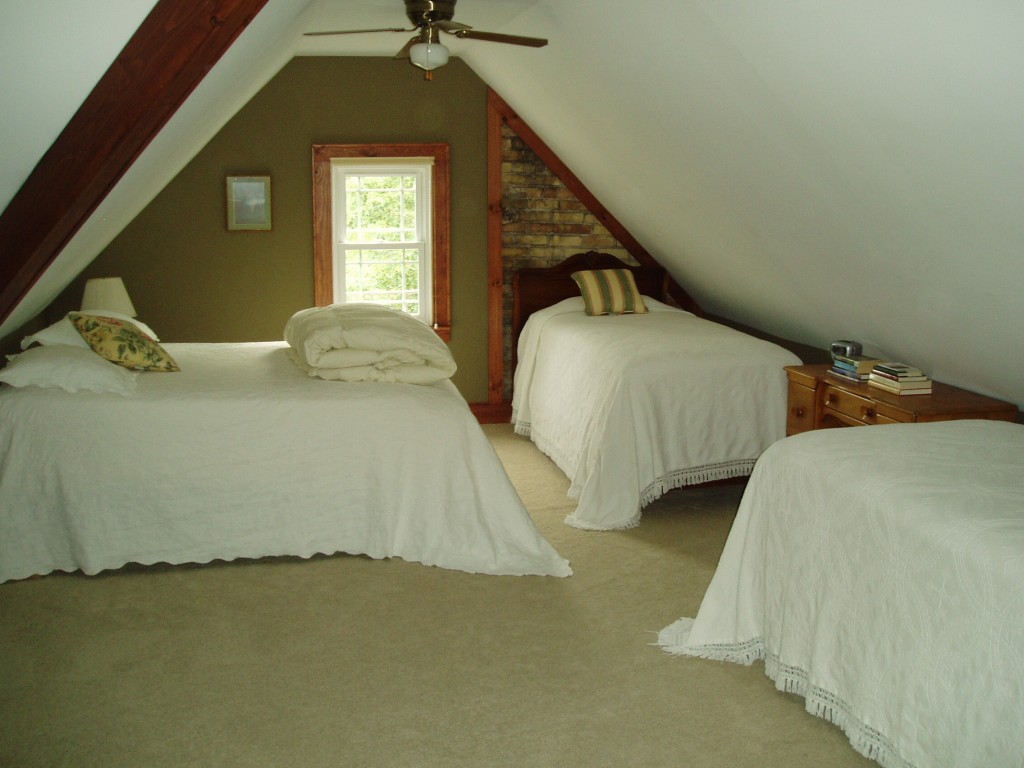 The view above looks out toward the front of our house.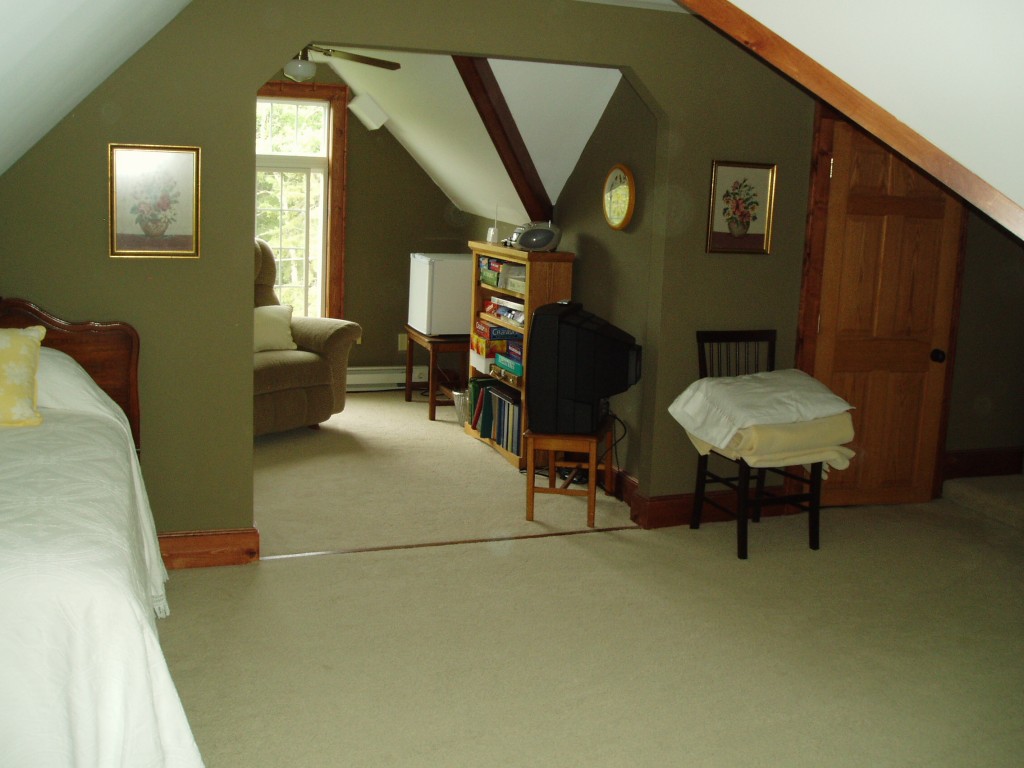 This one above looks out over the back yard and Birdinal Creek. Our next visitor will be able to see that just a few maple leaves have begun to turn red and orange. See the little white fridge? If this were your space and you were preparing for my visit, you would put Golden Delicious apples in there, along with bottles of water, tiny Reese's miniature peanut butter cups, and some fresh pineapple. You would also put a box of Carr's rosemary crackers on top of the fridge and maybe a bit of cheese to go with them. 🙂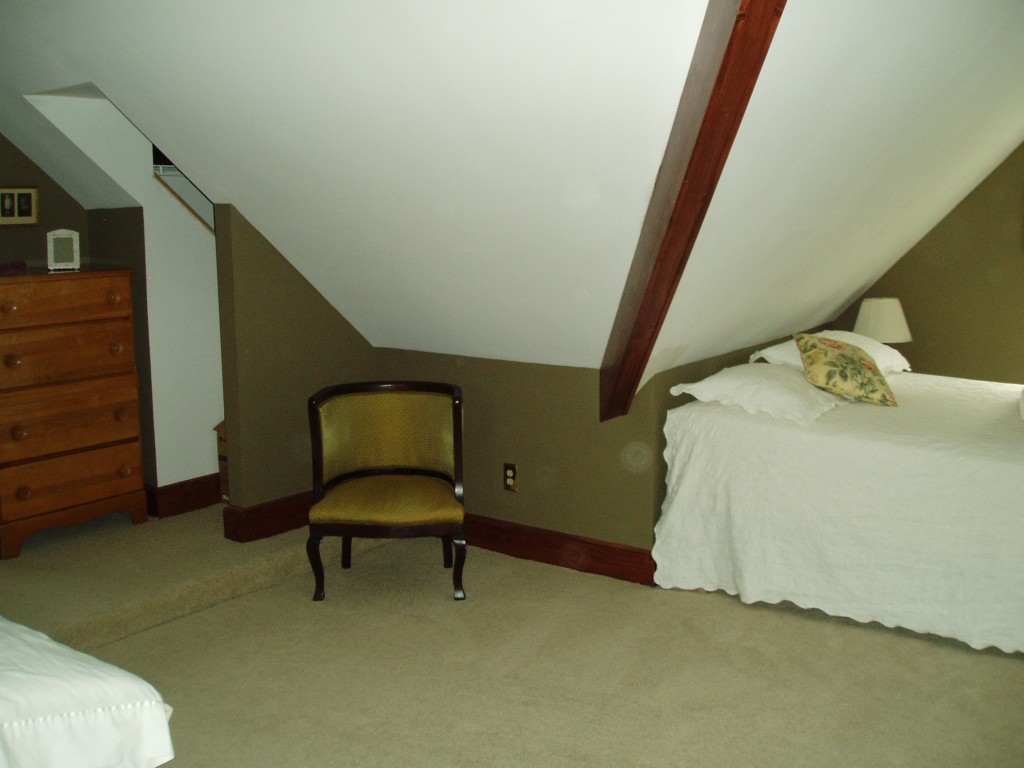 What do you (or what would you) put in your guest room in anticipation of visitors? I would love a new idea or three. Or is there someplace you go where nice things are done in preparation for your stay? What would you appreciate?
In less than a week, one of my dearest friends will wing her way across the country to come for a visit. Tauni and I grew up right over the fence from each other in West Covina, California. We've been friends for over forty-something years now, kept in touch, infrequently visited each other, and prayed for each others' families.
It's wonderful how when you share a deep faith in Christ with a friend, nothing really separates you. You can live thousands of miles apart, see each other once a decade, and not really be part of each others' day-to-day living. But still there's a bond that is so strong and steady, the passing of years and the distance of miles doesn't weaken it at all. If anything, I think my friendships built on Jesus just get stronger and more satisfying as the years fly by. Tauni is that kind of friend for me.
We're both grandmas now. We've both seen really hard times, and found God faithful in all of them.
I'm so excited to see her, and I'm happily getting the guest suite ready for her arrival.