O Christmas Tree and O Holy Night
We usually put up a pretty tall Christmas tree, but this year I wasn't in the mood to do so much. So Sara put up our small tree and we love it. It sits on a desk to the left of our fireplace in the dining room, and can be seen from the living room, kitchen, and even from the street outside. We used only a third of our ornaments, but every possible space was covered. I told Sara, "We don't decorate our trees, we festoon our trees!" There's something about heavily trimming a tree that makes it look beautiful to me.
This year we didn't put our usual tree topper on either. Sara hung a crown at the top that makes me think of this song that we sang in church years ago. And you might have to click to see the "believe" ornament there, along with the feathery cardinal in flight. Three themes that will forever be important to me: Jesus is the King of the universe and all things are in His control, and the appearance of every cardinal (live or not) helps me to believe in all His promises even if I have to wait for them.
You can click on these pictures to enlarge them if you like.
Over the years friends and family have given me many cardinal ornaments — how many can you count below? 🙂 There's an older ornament roughly in the middle of the picture that is precious to me — when Sharon was a little girl she made it by taking the top of an orange juice can, pounding holes with nail and hammer to make an angel with outspread wings, and then she glued green eyelet around the edge.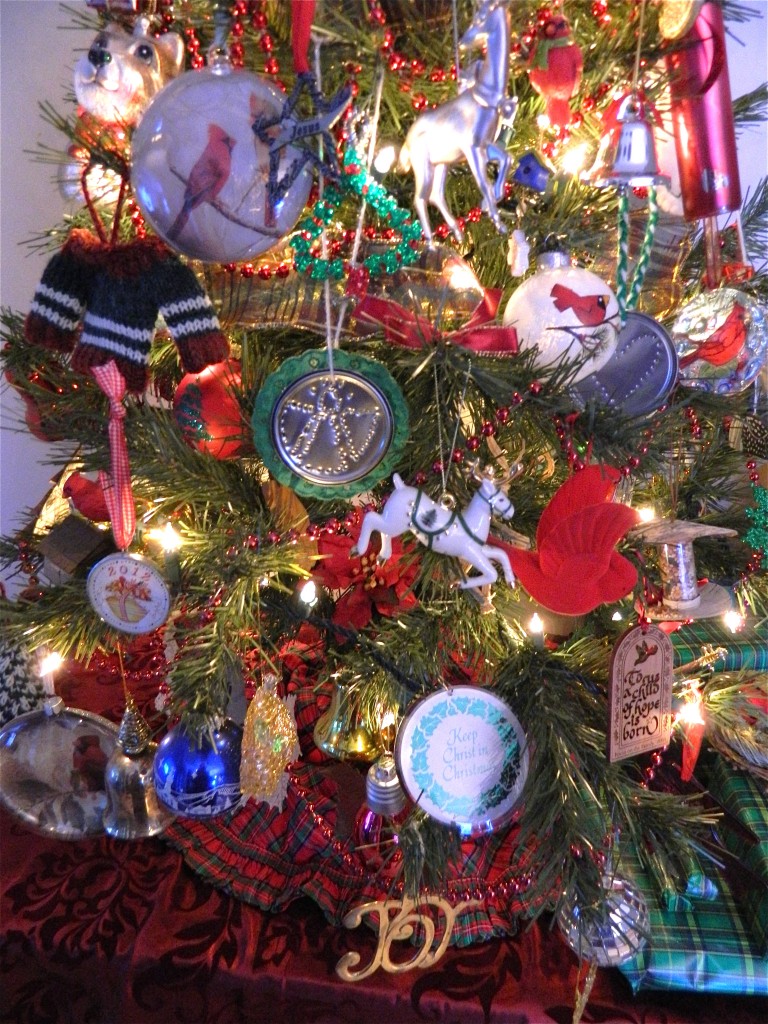 We have carols playing every day. What have you been listening to? My favorite Christmas Carol, "O Holy Night" always makes me cry. The words below are where I usually lose it when we sing this carol.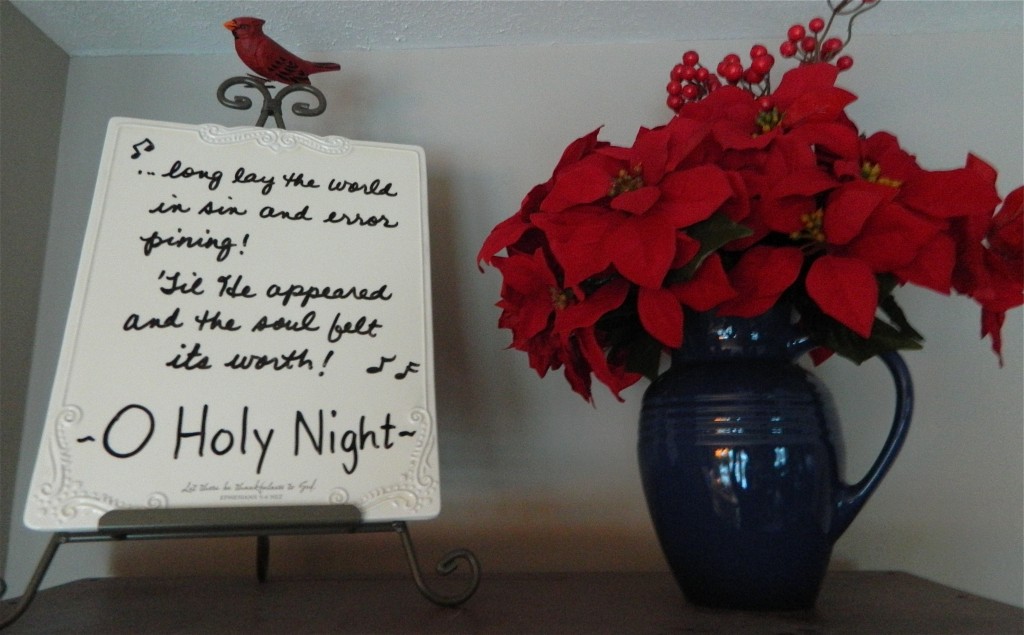 On Christmas Eve our family will be coming over and we'll have a meal together. Everyone brings something just like we did on Thanksgiving, so the labor is shared. We'll have Beef Burgundy, Stuffed-baked Potatoes (recipe with photos here), roasted vegetables, panzanella, rolls and butter, and French silk pie for dessert. We'll sing carols and maybe watch a Christmas movie too.
On Christmas morning everyone will return later in the morning after they've opened gifts with their families at home, and we'll have a brunch that we'll snack from probably all the live-long day.
I am always thinking, trying, praying about how to keep worshipful and focused at Christmastime…about how Jesus willingly and humbly left His place in heaven, came into this world as a helpless baby and then died on the cross, hated and misunderstood by most, to save people like me, who are hopeless without Him.
I pray that your Christmas is full of His peace and His joy….