Winter Snow
Here in the Great Frozen North it feels like Narnia to me, like winter will always be. It would be so much nicer if the animals would talk and I could find a lamppost in a wood, and if Aslan was on the move. And it would also be nice if our forecast for tonight wasn't for 40-50 degrees below zero wind chills.
According to those who keep such records, we have experienced our third snowiest December on record, with just under 40 inches having fallen in the past 28 days. Snow is again predicted for tonight and tomorrow, so we could actually break the record and then it would give we weather-obsessed Minnesotans something to talk about.
This is a picture I took by leaning out the sliding glass double door in my office, looking out to our back yard. The snow is almost three feet deep.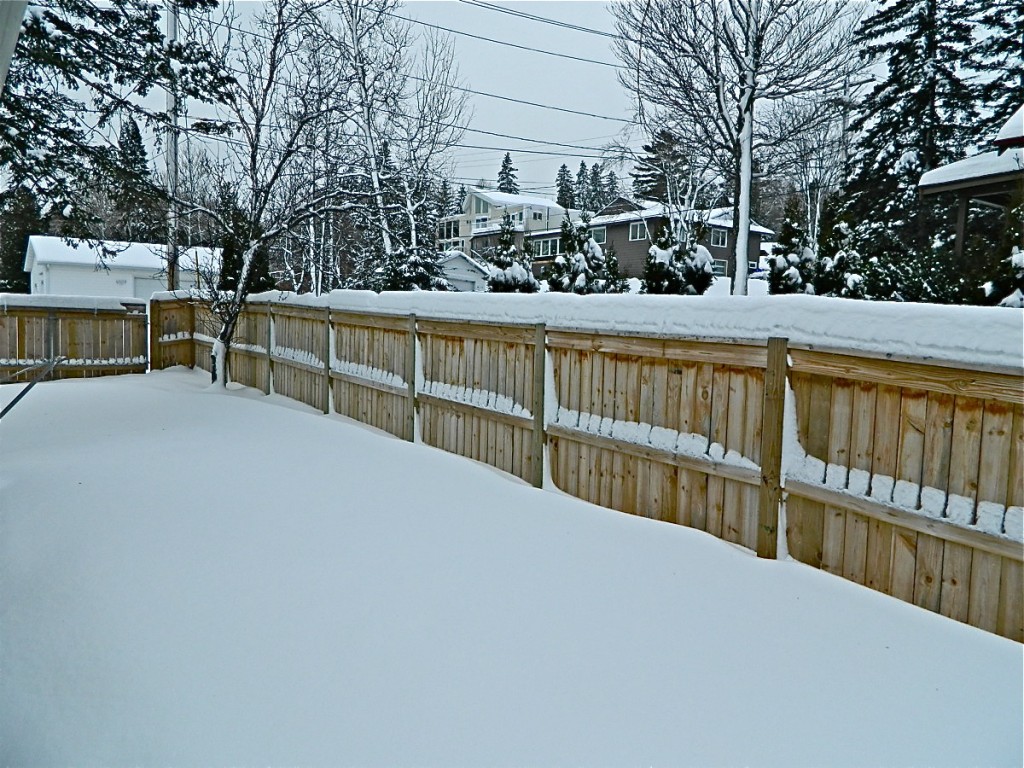 And since I'm not done listening to Audrey Assad music, I thought I would share this music video called "Winter Snow" by Audrey Assad and Chris Tomlin. So beautiful to me. Have you heard this one?
A couple of days ago Michael and I had some free time before one of his latest doctor's appointments, and we decided to go see the movie, "Saving Mr. Banks." I absolutely loved it. I would see it again. Have any of you seen it? If so, what did you think? It was very melancholy at times, but I'm one of those people who never minds that kind of movie. I have friends who won't see movies because they know they might cry while watching, but I'm not deterred by that. I wonder why that is? Is it because our days have become so numbed that I welcome the chance to cry about someone else's sad story or misfortune? I don't know. I would never want to see a movie like "Twelve Years a Slave" because I think it would do me in — seeing cruelty and such venomous hatred does me in. So I guess there are movies I avoid.
I made an easy dinner in our crockpot, with no recipe. I think it could be called Mexican Lasagna, because I layered corn tortillas, diced tomatoes, green chiles, cooked lean ground beef, grated cheese and enchilada sauce several times, and cooked it on low all day long. Everyone loved it and I served it with a green salad. I'm in a soup mood too, and since for Christmas Sharon gave me some neat white individual soup crocks for serving French onion soup, I'll be scouting for the best recipe I can find online. Unless you have one, then you could share it with me!
Today I downloaded a read-the-Bible-in-two years program and Michael and I will be starting together on January 1st. This morning before we got out of bed I read two Psalms of his request to him, and we sang this song together as best we could. What an amazing thing it is to wake up with the darkness of Parkinson's always in our home, only to have hope and peace settle over us as we read His Word and sing His truth. There is power in God's Word and I thank Him for making His presence known to us through it. I certainly understand why the enemy of our souls does everything he can to prevent couples from reading and praying together. I'm so thankful for a good start this morning and how it set the course for the rest of the day, even and especially though sadness is a constant door-knocker since Michael's ability to walk has deteriorated so drastically.
Here are two quotes that inspired me today: "As oil lubricates an engine, so meditation facilitates the diligent use of means of grace (reading of Scripture, hearing sermons, prayer, and all other ordinances of Christ), deepens the marks of grace (repentance, faith, humility), and strengthens one's relationships to others (love to God, to fellow Christians, to one's neighbors at large)." — Joel Beeke.
And from Thomas Watson: "A Christian without meditation is like a solider without arms, or a workman without tools. Without meditation the truths of God will not stay with us; the heart is hard, and the memory is slippery, and without meditation all is lost."
Oh, how I identify with the last quote. I've often marveled at my ability to quickly flip-flop from having a heart full of trust and peace to one giving way to despair, flippancy and hopelessness. I have seen a correlation to those latter beasts with my neglect of daily prayer time and slow meditation on the scriptures.
I could share more, but it has gotten dark and my husband is waiting for me in the living room so we can watch some TV together. The Netflix DVDs we have to choose from tonight are the British crime drama called "Silk," the movie "Lincoln," and disc one of the series "The Barchester Chronicles." I'd love to know if some of you have seen any of these and liked them or not.
I'm thinking and praying about my one word for 2014. Last year my word was "honor" and I almost believe I should repeat it since I failed at it so frequently. Sort of like repeating a grade in elementary school, I might need to repeat the year of honor. Another word that seems to be a divine nudge is "gentle." In my family of origin we had many good things passed down, along with many not so good things. But the gentleness gene faded from our family line years ago, I think. I've always wanted to be a kind and gentle woman. Perhaps the Lord will work gentleness into my life in 2014. Perhaps I will humble myself and cooperate with Him.
How about you? What might your one word be for the coming year?