New names and a New Year
I hope you all had a nice Christmas. Our Christmas was absent of conflict, full of food and laughter and gratitude, so when I pulled the covers up to my chin that night I was sleepily rejoicing. (If those last two words aren't oxymoronic, anyway.)
On Christmas Eve we usually gather at my house for a meal and some carols, but because Jeremy and Carolyn have recently moved into a new old house, they invited us to have dinner there. It was delightful. The house they bought is one street up from their former home, and they bought it with the intention of fixing it up and selling it, but as Jeremy worked on it all summer, they grew to love it and decided to move there themselves. It's not quite completed yet, but it was far enough in the remodeling process for them to move in just a couple of weeks ago.
I took pictures of the huge, lovely table as soon as I came in toting my pan of melty stuffed baked potatoes, and then as the night wore on, and we listened to carols on an old fashioned record player and I engaged in conversation with grandchildren, I forgot to take pictures of my actual people. Gah. So here are a couple shots of the table.
That is my oldest daughter Sharon, and Carolyn's husband Jeremy in the background. Our silverware was placed in darling little Santa hats, and there were little chalkboard names for our seat assignments.
And it is wonderful to have a resident florist in the family, because Sara always whips up something spectacular in no time at all, to add to the beauty in the room. This year she used pine boughs, pine cones, and whole and sliced fruit.
That is little Miriam by the window.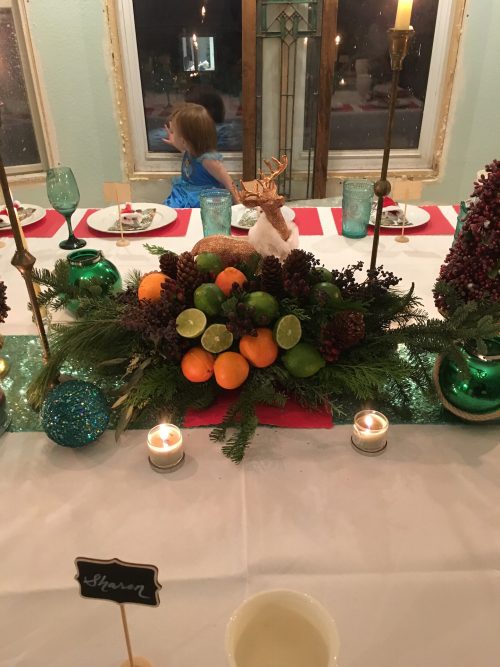 Carolyn did such a lovely job — there was candle light everywhere, heavenly smells, the chatter of young ones, and a side buffet full of baked goods that made my blood sugar spike just to look upon it.
Here's a view from the kitchen looking over the table where my fourteen beloveds eventually gathered. In the living room are Sara (on the couch), Audrey standing near her, Louisa in the pink dress, and Sharon taking pictures of the table. We were so surprised Jeremy and Carolyn could rig up something that would fit us all, I guess we had to document it.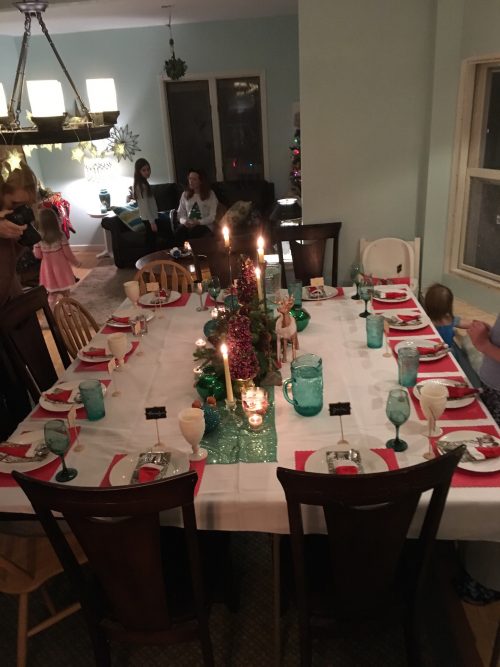 On Christmas Day everyone gathered at my house, which I used to think was a spacious home, but has somehow shrunk over the last couple of years. We had this breakfast casserole, which is easy and delicious, along with baked French toast, homemade cinnamon rolls, smoked fish and many European cheeses, and so much more I can't even remember. The grands all came over in their new Christmas pajamas, even the teenagers, and after gift opening we all just hung out. We played Guesstures, I saw a game of chess going on, there was ukulele music, drawing and knitting happening, and there was a Christmas movie on in the background too. Toward the end of the evening we played the silliest game which had everyone laughing so hard. I guess the title of the made-up game would be, If Your Name Had to Be. The kids took turns making up two horrible names, and we'd go around the living room circle and each of us had to choose which name we'd want if we HAD to choose one, and go by that moniker for the rest of our lives. It went like this: "If you HAD to be called by this name every day, sign your name this way, with no explanation or variation, which one would you choose? Malalacahcah Amickdosnot, or Peep Stinkyface?" And as soon as the two names were uttered, there would be an eruption of laughter. The funniest part was to see the adults HAVE to pick their forever names, and the kids thought it was hilarious when their straight-laced daddy chose a name that was the lesser of two evils but still so ridiculous it could hardly be spoken.
Let me ask you this. If you HAD to choose one of these names, and it HAD to be on your driver's license and you HAD to sign your checks with it, and hear your friends and loved ones call you this, which would you choose? Poodilot Hobblebutt or Tramuckledump Zeeblatherkook?
After everyone left on Christmas night, Sara helped me pick up, and the first step toward restoring the house to order began. We took our time and really didn't finish until the next day, and then I drove Sara to the shuttle that takes travelers from Duluth to the Minneapolis/St. Paul airport, so she could catch her plane to Paris. She has the travel bug, and will be driving around France and Portugal for a couple of weeks, before flying to Tel Aviv where she will tour Israel. Yesterday when I woke I saw that she had texted several photos to me, one of which was this: 
As 2017 approaches I thought about prayerfully choosing one word to mark the coming year, as has been a trend for the last several years. I have never had great success in that, no matter how high my hopes. One year I felt like my word should be "honor," and that was the year I felt I had dishonored God and my husband more than I ever had. Relinquishing the last seven months of Michael's care to a nursing facility seemed like my only option, but I will always carry with me how devastating that choice was to both of us. Only caregivers would truly understand the grief and pain I'm talking about.
So in 2017 I hope to walk through each day with the grace to trust Jesus in deeper ways, I will keep praising the Lord and gathering around His Word in Community Bible Study, and will ask Him to help me to grow in my prayer life. Oh, and I would also like to be a more loving person. So maybe my one word would be multi-hyphenated: trust-praise-study-pray-love. But isn't that what the Christian walk is anyway? If anyone has something to add to that, I would like to know your thoughts.
On this Friday morning as I get ready to publish this post, I wish you all a new year full of the peace of God and the love of Jesus!
Blessings,