Names that could have been
I really think a lot of people grow into the meaning of their names. I can't prove this of course, but I've observed it a lot, especially in my own grandchildren.
I am Julie Ann, but I was almost named Sharon Oma; Oma was my maternal grandmother's first name. When my parents considered that calling me Sharon Oma would make my initials S.O.S., they thought better of it and fell back on their pick #2, Julie Ann. Julie means "youthful," and I'm trying not to smirk at that thought right now, considering my knees.
Sharon Lindsay is my first daughter and she was almost named (I'm embarrassed to say this now, and immeasurably grateful it didn't happen) Jessica Julie. There was also a time before I was even pregnant with her, that I thought I would name my first daughter Farrah Fawn. Yikes. If she were a he, she would have been Nathaniel.
Carolyn Beth is my second daughter and I never considered another girl's name. Had she been a boy she would have been Jeffrey Alan. I'm not sure what I was thinking.
Sara Yvonne is my third daughter and up until about two days before she was born she was going to be Katie Yvonne. Had she been a boy we would have called her Steven Michael (no cringe there — I still like it).
A man I didn't know walked up to me once and asked, "Is your name Sandy?" I took a wary step back and said, "Ah, nooo…"  He said earnestly, "You look like a Sandy! I've never seen anyone else who looks more like their name should be Sandy than you."
I recently told that story to Sara and asked her if she thought I looked like a Sandy. After some deep thought she shook her head and said, "No, I think your name would have to be stronger than Sandy. Something like Kay. Or Mavis."
Pause, and solemnly think of that.
Here's a picture of Mavis, waving at you.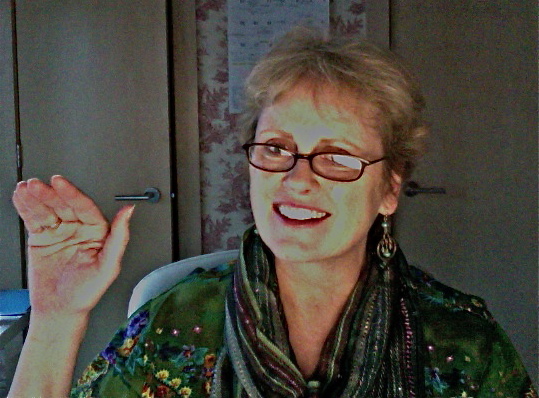 Waving Mavis.
Sounds good to me.
Do you know if you were almost named something else? Or did you almost name your children other names?