My Favorite Holiday
The turkey is in the oven and the smell of sage and onion is already wafting to every room. This music is playing softly. Sara is getting ready to run the Gobble Gallop 5K. I'm sure Sharon and Carolyn are working on their contributions to the meal before they all come over in a few hours. And Michael just finished picking up Edith and Mildred's yard contributions.
We are ready to give thanks.
Here is our lush centerpiece this year, which Sara whipped up last night in about ten minutes. Can you see the eggplant, pears, pomegranate, grapes and artichoke? And the mums, cedar, dead hydrangea blooms from our yard, and bi-colored magnolia leaves? Gorgeous!
Here's the other side. She made little place setting "cards" on the leftover magnolia leaves…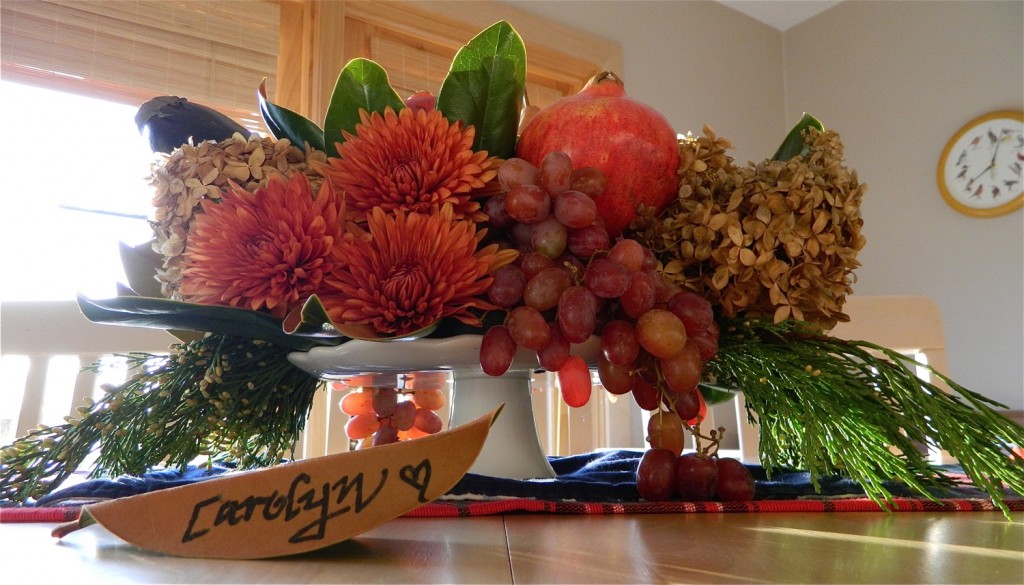 Come, let us sing for joy to the Lord;
    let us shout aloud to the Rock of our salvation.
Let us come before him with thanksgiving
    and extol him with music and song.
For the Lord is the great God,
    the great King above all gods.
In his hand are the depths of the earth,
    and the mountain peaks belong to him.
The sea is his, for he made it,
    and his hands formed the dry land.
Come, let us bow down in worship,
    let us kneel before the Lord our Maker
Psalm 95:1-6
*         *         *         *         *         *         *         *
From our home to yours, we wish you a happy Thanksgiving!