Getting Ready…
I have the house to myself for about three hours, and it's a little bit of heaven. Tomorrow is Thanksgiving and I'm puttering around, getting a few things ready. I thought I'd show you what I'm up to! First, I'm going to give you a little music to listen to while you read. A couple of my favorite blogs always do this, and I love it! Click here and you can hear some of what we're listening to today.
I've got our 20 pound turkey defrosting in the kitchen sink, in cold water. I'll change out the water a few times, and then when it's thawed, I'll stick it in the fridge overnight. I'll bet a few million households are doing the same thing today!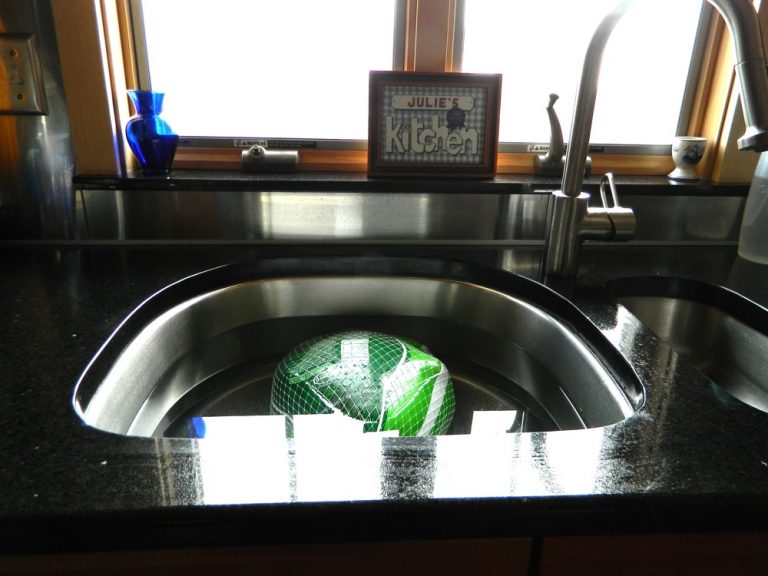 Everyone's bringing something tomorrow, so it won't be too much for any one person. I love that. Sharon is bringing the pies and a relish tray, and Nisky's Biscuits, the latter mostly made by Eleanor Julia. Carolyn will make mashed potatoes and gravy, and will bring a sweet potato dish. Sara will make the most beautiful centerpiece for us, and will help me wherever needed. I'm doing the turkey, the stuffing, the roasted asparagus, the cranberry sauce, and I'm trying a new dish this year, Broccoli Rice Casserole. It's Beth Moore's retro recipe on her website, and I just finished cooking the rice for it.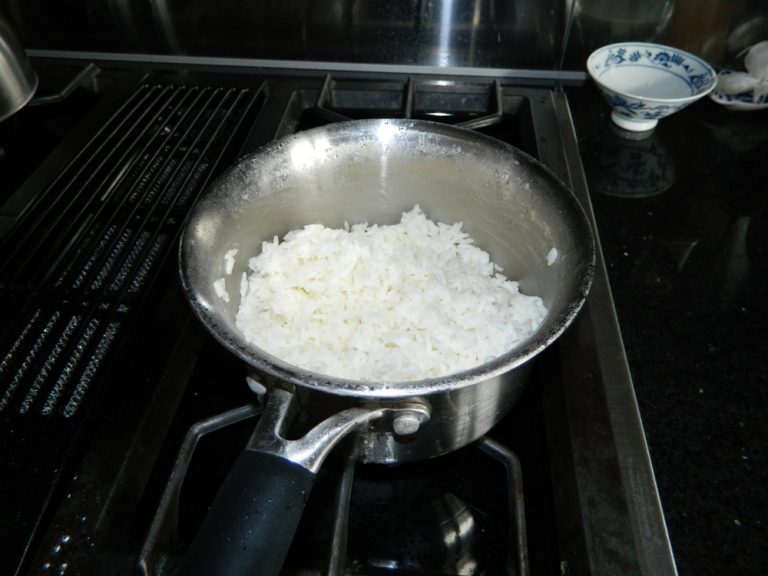 It will have broccoli, cheese, mushrooms, onions and water chestnuts in it, then will bake in a casserole pan.
Our new kitchen is much smaller now, so I had to traipse down to the basement to carry up a few things from our storage shelves. One thing is this turkey roaster, which only gets used once or twice a year. It belonged to my mama.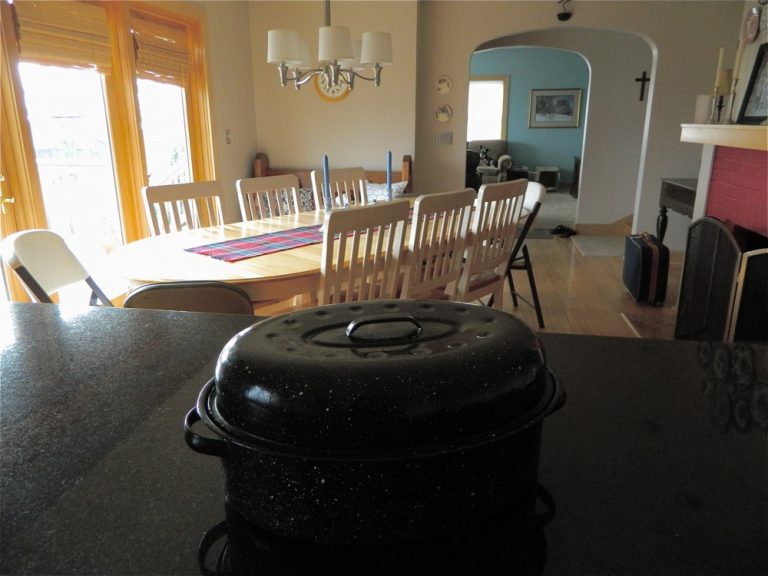 I carried up the leaf for the table and inserted it, then angled the table so we'd have more room for seating tomorrow. I brought up our four folding chairs too. And there will be two children at the deacon's bench in the corner, with a folding table for their meal. And there are three counter stools as well. We'll fit everyone in!
See the suitcase over by the fireplace? Our Fosters will be going home tonight to stay with their families for Thanksgiving. We'll be driving them as soon as they're both home from their jobs, and they're excited to be with their clans.
I get all their medications ready so things will be just a bit easier for their families.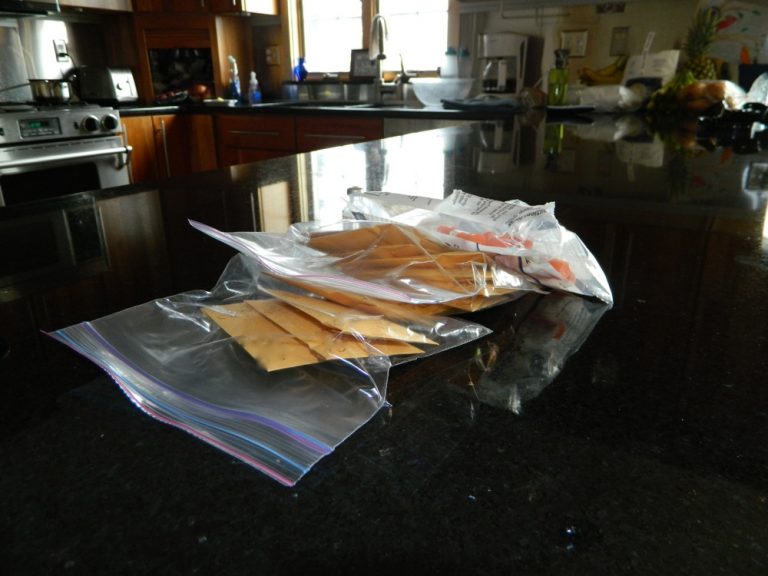 Remember how I love plaid? You can see the plaid table runner if you look carefully (and these photos will enlarge if you click them.) Well, I have two new black and white plaid kitchen rugs. I have no idea why plaid makes me happy, but it does.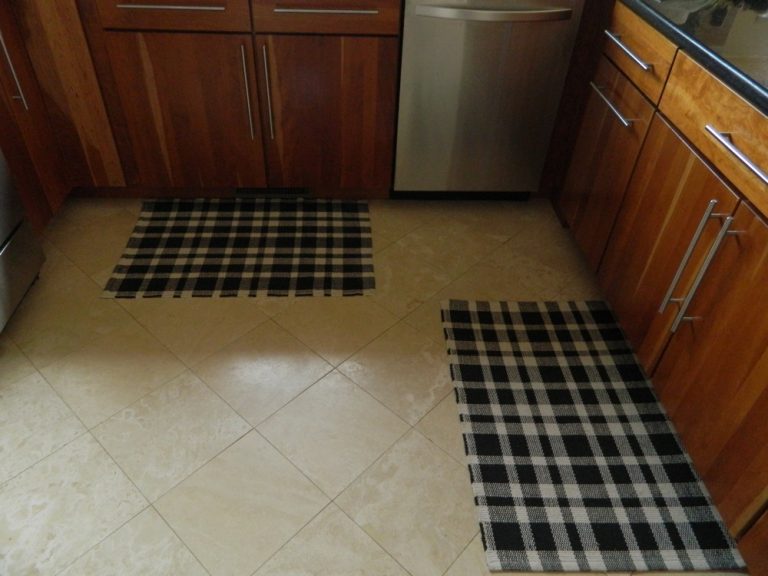 This morning when Michael and I shopped early for groceries, his eyes locked onto this, and he put it in our cart with a grin. My husband LOVES birds.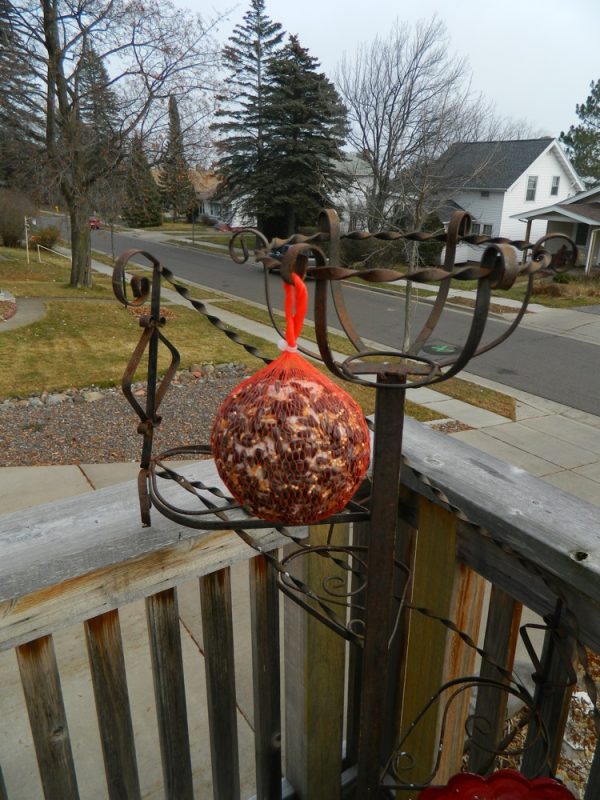 For now we just hung the Suet and Seed Ball on an empty planter on our front deck, but guess what? Within five minutes the chickadees had lined up to start tasting the suet and pick for the seeds. We were so happy to see them.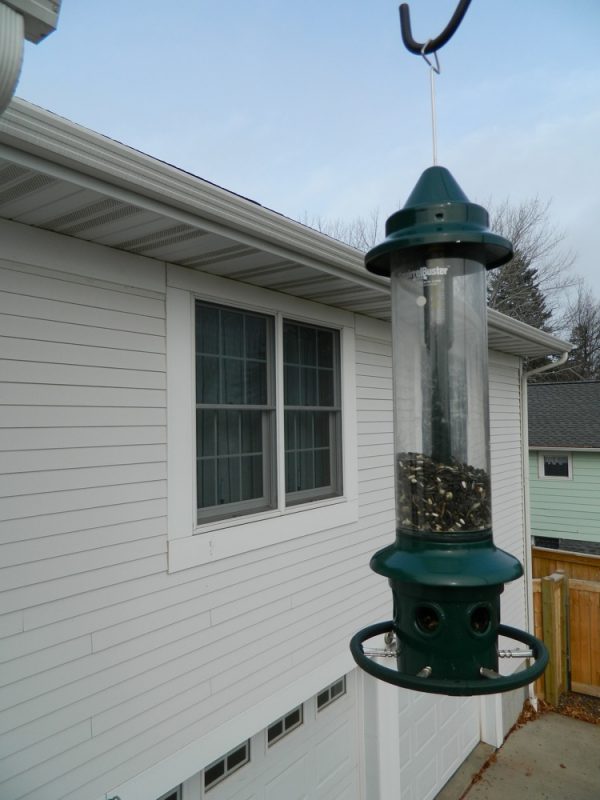 And this feeder above hangs right outside our kitchen window. This is a squirrel-proof feeder, and Michael and I filled it to the brim about two weeks ago. The sparrows, juncos and chickadees love it. I've been saying for a while that our house is now known as Chickadee Grand Central.
We also put this little feeder up recently, and we watch the birds eat their dinner while we're eating ours.
Most exciting of all in the bird department was the arrival yesterday of two cardinal pairs to our feeders. I had missed seeing any (rare) cardinals in our new neighborhood, and kept asking the Lord to help some redbirds find our house. Yesterday morning it happened, and I called Michael to come and watch with me from our bedroom window. Two males and two females, singing their beautiful ("wi-cheer wi-cheer!" songs) and partaking from the black seeds we bought just for them. I said out loud over and over, "Thank you Lord! I see them! You answered! Thank you!" Most of you know why cardinals are so meaningful to me.
Speaking of cardinals, my grandchildren know how much I love them too. Vivienne Irene drew this beautiful bird last time she was here, so I had to put it on the backsplash with a little cardinal magnet!
Isn't she a fantastic artist for a little girl who just turned seven last week?
Next, I decided it was time to take Glenn Miller and Celtic Woman off our stereo, and break out the Christmas music today. We have dozens of Christmas CDs, and it's a tradition to buy one or two new ones each year to add to the joy. Here's what I took out today, so I can have them at hand: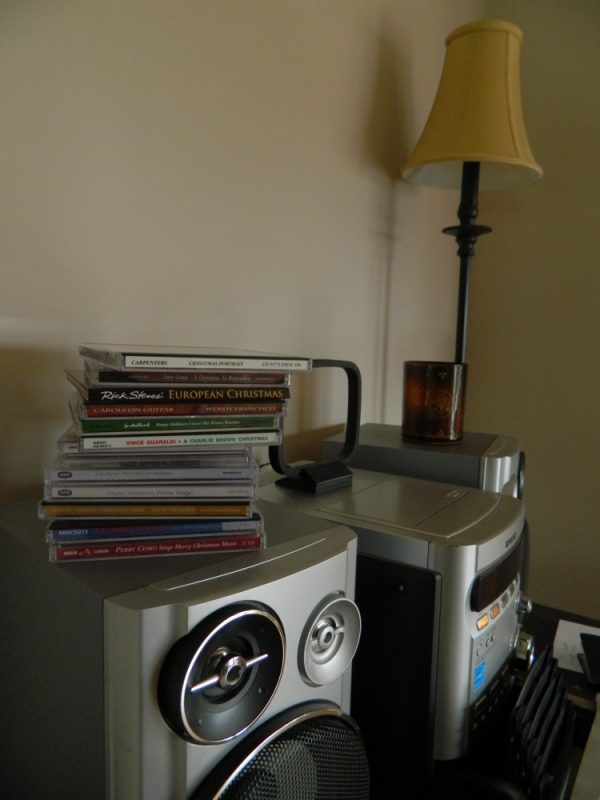 And here are the four I chose to put on first. I can hear them playing as I sit here and type this.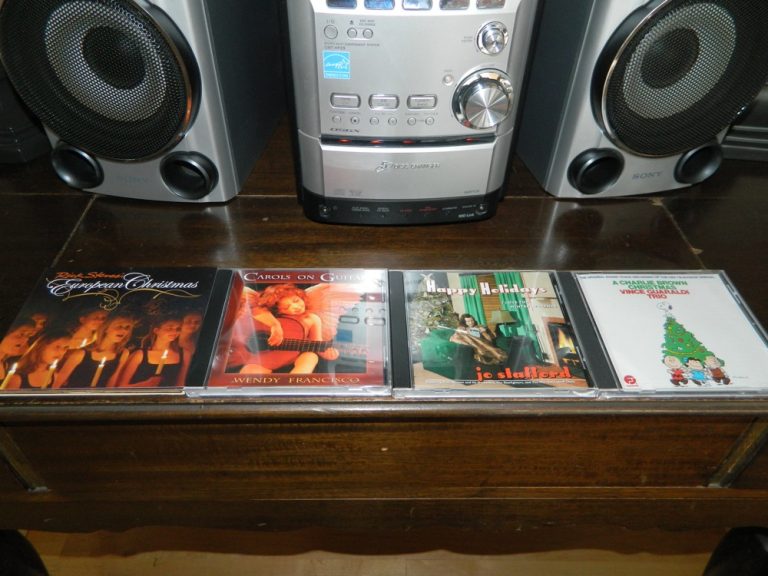 Rick Steves' "European Christmas" (thank you Shari!), "Carols on Guitar" by Wendy Francisco, "Happy Holidays" by Jo Stafford (who has a voice like hers anymore? No one!), and "A Charlie Brown Christmas" by Vince Guaraldi. Michael loves the jazzy sound of that one. Do you have any Christmas music playing around your house yet? What are you listening to?
I received one Thanksgiving card this year and it made me laugh. My friend Su and I have shared a few laughs together over the years. And a few tears. And like all good friends do, we talk about our butts. But never in person, only through cards, like the one below. Ha. Right.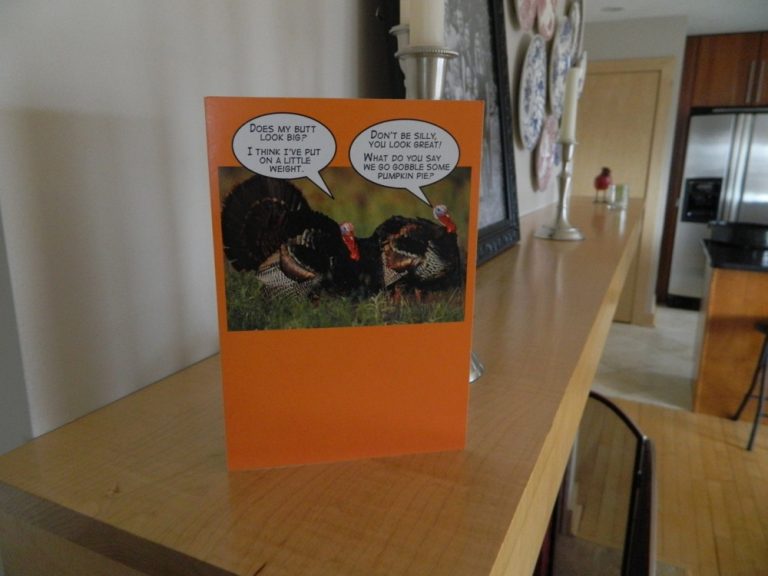 And of course I always include Edith and Mildred as I'm getting our Thanksgiving preparations underway. They love to help. Edith helps by messing up all the pillows on the couch. She thinks it looks more comfy, more lived-in, this way:
And Millie helps by, uh, by, well, she helps by showing me her obsequious Schnauzer Smirk when I get out the camera to take her picture.
See that little black lower lip? See how guilty she looks? That's because she is guilty. She has a guilty conscience and it shows in her little black Schnauzer Smirk.
Well, in a little while I'll try to finish the Broccoli Rice dish so it can go in the fridge, then I'll bake it tomorrow when the turkey is finished roasting and is ready to be carved. Next, I'll go and pick up Michael who is bowling for a few hours today, which he loves. Then I'll drive our Fosters to their family's houses and wish them all a Happy Thanksgiving. Then I'll come home and make sure the bird is thawed before I put it in the fridge. (I'll be up at the crack of dawn to stuff it and get it in the oven.) Then, Michael and I (and Sara, if she can stand our company) will finish this DVD on TV before bed tonight…something so transporting for me I could almost cry.
I am so happy and excited that my daughters, sons-in-law, and grandchildren will be coming over tomorrow to feast with us, and give thanks with us. We have so many blessings to count.
What kinds of things are you doing to prepare for Thanksgiving?