My Birthday Gift
I am fifty-seven years old today. When you get to be at this stage of life, birthdays don't mean what they used to. I'm usually tickled to get a few cards from those I love, and that's about all I want or need.
Well, this morning at the crack of dawn God gave me a beautiful birthday gift, and He wrapped it all in red.
I had gotten up early when it was still almost dark, made breakfast and set out meds for our Fosters, let the dogs out after they ate, and turned on some soft music. There was a yellowish cast to the light outside, distant rumbling thunder, and black clouds in the sky ready to unleash a torrent of rain. After a few minutes I walked down the hallway toward our bedroom, and just as I was passing my office I saw it through the sliding glass door — a little red cardinal sitting atop a fence post in our back yard! I haven't seen a cardinal in years. I know others in our area see them, but they are still extremely rare this far north in Minnesota.
I watched him sit there for over a minute, whispering thank you Lord, praise you Jesus! again and again, then quickly went to get my camera, but by that time he'd flown off to another part of the fence and I couldn't get a good shot.
Here's the view of the fence I saw when I was walking by. I wish I had been quick enough to photograph the cardinal. The fence post in the right window pane, right above my office chair, was where Mr. Cardinal was perched. It's not the greatest picture, but you can click twice to enlarge if you like.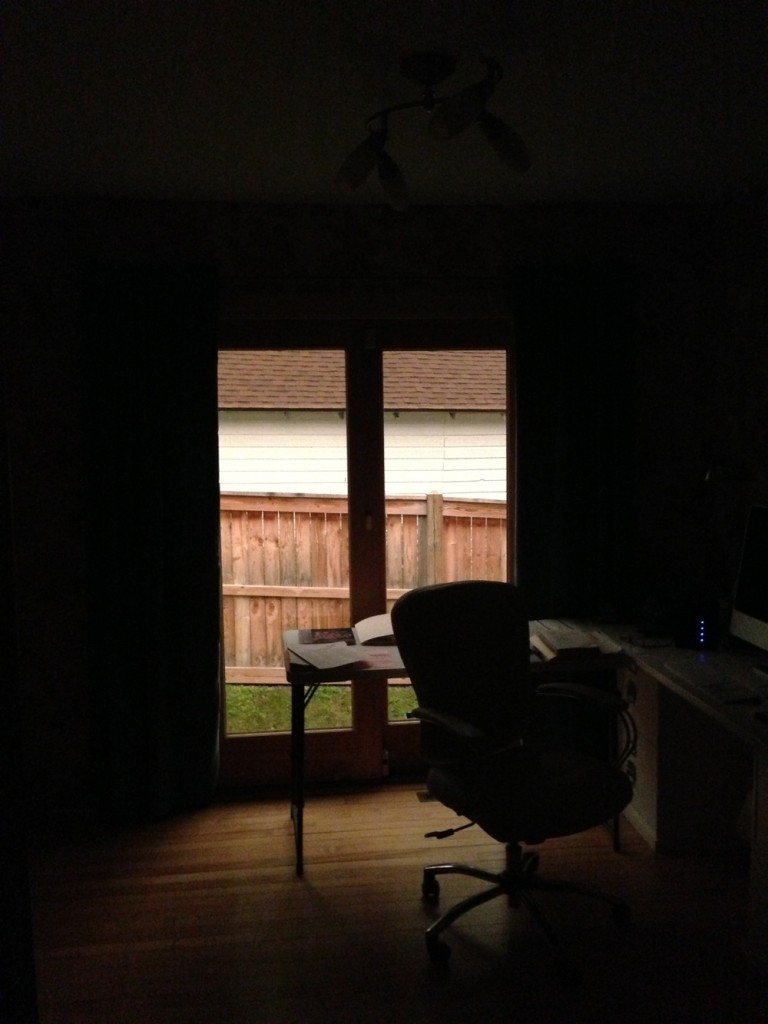 When I came back with my camera and he had moved out of range, he was sitting on another fence post looking at his wife, just like in the picture below, but of course the picture below isn't my picture. Durn.
I've mentioned this before, but it bears repeating. Cardinals are common in many states in our country, but rare in our state. As a matter of fact, The Bird Powers that Be estimate that there are .05 – 1 cardinals per square mile in our northern part of the state. (Does that mean that some square miles have a half a cardinal in them?) And if you look at Minnesota on the cardinal territory map below, you'll see there are areas of the state with no cardinals at all.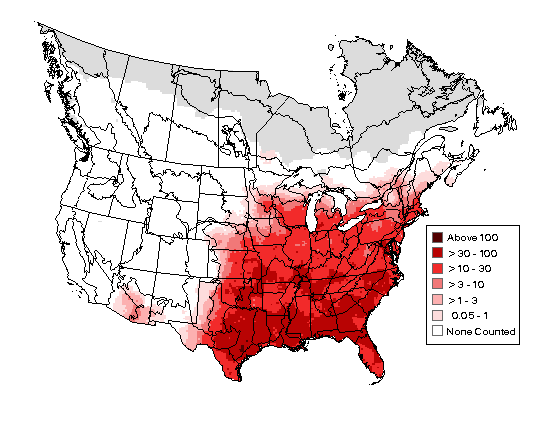 So for a beautiful and very rare little cardinal pair to show up on my fencepost, at the very moment I was walking by as the dawn broke, on my birthday, well….I'm thinking that was God reminding me how much He loves me and is watching over our family. That's a very welcome reminder during this part of our lives, and I am so touched at how personal He is.
If you don't know the cardinal story and why I'm talking about this, you can click here. It's a short children's story I wrote. The names and places have been changed, but all details are true for our family.
Thank you all for your kind and uplifting comments on my last post. What a difference you all made for me.
I'm headed north today, to spend my 57th with someone I love who's 65.