Meibomian Glands and Other Matters
Good Tuesday morning everyone…I hope you are safe and warm and snug wherever you are. Winter walloped us yesterday and the most slippery eight inches of snow I've ever driven in fell all the livelong day. Tiny flakes are falling as I sit in my toile wallpapered office and type this, and the temperature on our deck is twelve degrees.
Anyone who has been in our home knows that I love toile (pronounced TWALL) and plaid. I have both everywhere in my house. They don't exactly make the best combination in the decorating world I guess, one being French and the other Scottish. But I don't have any professional decorators scheduled to visit, so I just keep toile-ing and plaid-ing away to my heart's content. Actually, my heart is struggling with that contentment issue, but I'll get to that in another post.
Here is the latest addition of toile in our home: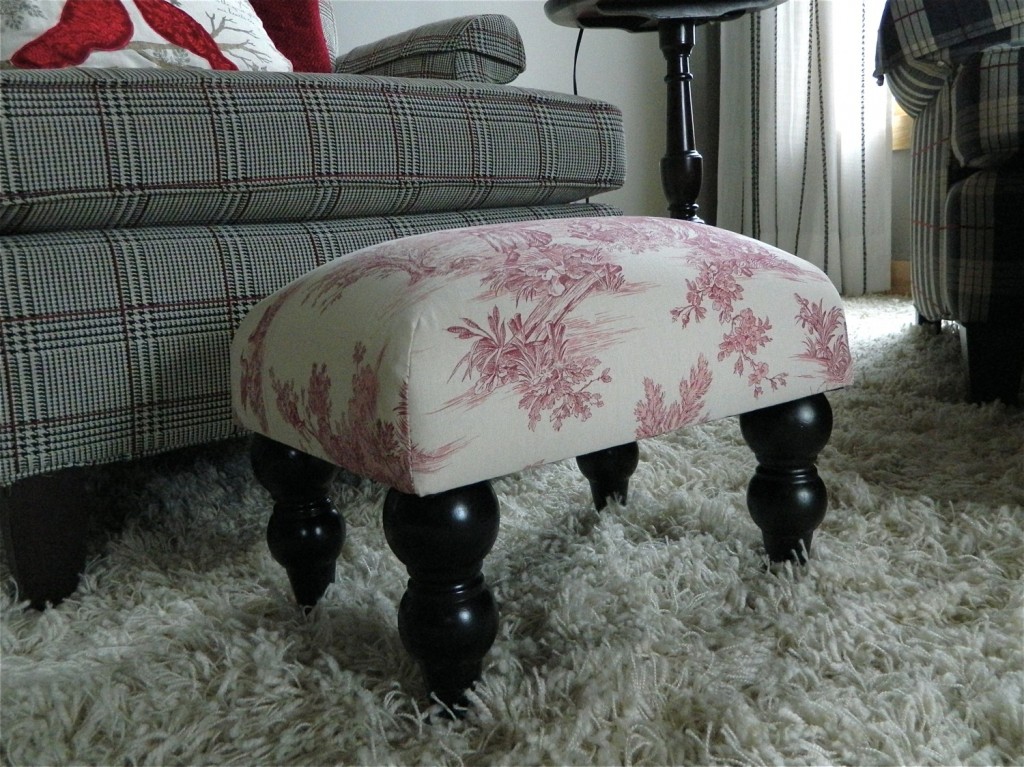 It's a delightful little footstool I decided to put in front of the Glen plaid chair in our bedroom. The larger plaid chair has its own ottoman so I thought a dainty little something to rest one's feet while sitting in the smaller chair was the next logical choice. I always think toile (or plaid) is the next logical choice.
The wreath behind the chairs was a gift from my friend Su, and it's made from the pages of a hymnal. I love it. It's a little too high, because a tall dresser used to sit against that wall and the wreath was right above it. I changed things around without moving the wreath. I might just leave it where it is because as I said, no professional decorators will be visiting my house in the near future (at least none to my knowledge).
You can click these photos to enlarge them if you like.
This little spot in the corner of our bedroom is where I sit and write in my gratitude journal, where I often do my CBS Bible study, and it's where I do a lot of praying and crying.
And speaking of crying, I just learned that I have some major issues going on with my eyes. If you're the type who doesn't like to read endless details about middle-aged women's maladies, here's your warning to click away now. I've shared in graphic detail before about my wart-ectomy, my knee replacement surgery (with x-rays!), and now I guess it's time to share about these faulty eyes of mine.
For about five years I've had exceedingly dry eyes, and the condition has only gotten worse. I'm never one to try medicines very willingly, and I know about Restasis for dry eyes but haven't tried it. Instead I use Systane, my favorite eyedrops (I've tried many), and I'm very adept at quickly leaning my head back and getting one drop expertly into each eye. Days are okay, but at night when I sleep my eyes are absolutely terrible. They wake me up they're so dry. My upper lids feel plastered to my eyeballs and I can hardly open my eyes, so about four to five times a night I wake up from the discomfort, reach to my nightstand to grab my Systane, lubricate my eyes and then go back to sleep.
Well, it has been five years since I've gotten new glasses. Remember them? I decided recently to have my eyes checked and pick out some new, larger, clunkier, decidedly ugly frames. I'm not even kidding. After the exam, my eye doctor wrote out the new lens prescription and then pulled his little rolling stool up close to me to have a compassionate doctor-patient chat about his findings. His findings are that I have blepharitis, Meibomian Gland Dysfunction (known as MGD), collarettes, and the beginnings of cataracts. (Are you sure you don't want to click away now while you have the chance? No?)
Okay, here's a picture of the Meibomian Glands each of us have on our eyelids. You can just barely see them but the arrows help. They produce the oil and mucus that help make up healthy tears (I learned there is such a thing as unhealthy, damaging tears too). Some people's Meibomian Glands get clogged, some just malfunction and don't keep the eyes moist for other reasons. I have an appointment now with an ophthalmologist for further assessment and perhaps he'll tell me what the deal is with my Meibomian Glands. I didn't even know I had Meibomian Glands until a few days ago and now I'm all Meibomian Glands this, Meibomian Glands that…
Anyway, what can happen is that icky Meibomian matter can collect cylindrically around the base of the eyelashes, and I guess my eye doctor saw some of this, and these delightful blobs are called collarettes. Here's a photo of some. Gah. There are worse pictures but I didn't want to ruin your day, so I linked to a mild one. Now, I can't see my collarettes at all no matter how hard I try, so maybe (please Lord) mine are tiny. My doctor noticed them when he was peering into my eyes with a blinding light one-half inch from my face.
Here's what should be known about this condition:
It's incurable.
And I have to apply hot compresses to my lashes twice a day and gently scrub my lash-line with baby shampoo on a sanitized washcloth with warm water once a day, every day for the rest of my life.
What?
The hot compresses aren't bad at all. It's the gentle scrubbing with the supposedly non-toxic (ha) baby shampoo that isn't working out well. I'm doing it, but it's leaving my eyelids feeling like the Sahara desert. And I'm a little nervous that my eyelashes aren't going to withstand even the gentlest treatments, day after day, year after year. I don't feel like I'm particularly vain (being fifty-seven and hefty helps with this), but I have to be honest: the thought of losing some or a lot of my eyelashes makes me almost want to cry. I have never once aspired to the reptilian look.
And the reason all this is so important? It's not just for Collarette Clearing. It's because evidently collarettes can be tiny, wonderfully hospitable breeding grounds for staphylococcus, which likes to invade the closed eyes during sleep each night.
Many things can cause dry eyes. Menopause, immune system issues, certain eye surgeries. I hope to learn more at the upcoming appointment with the ophthalmologist. I've been reading online and decided I'd seen my quota there. Maybe I'll end up trying Restasis after all, and all these conditions will go away. I can hope.
Back to the weather.
Here's what happened yesterday as I was inching down a steep, snow-covered street not far from our house.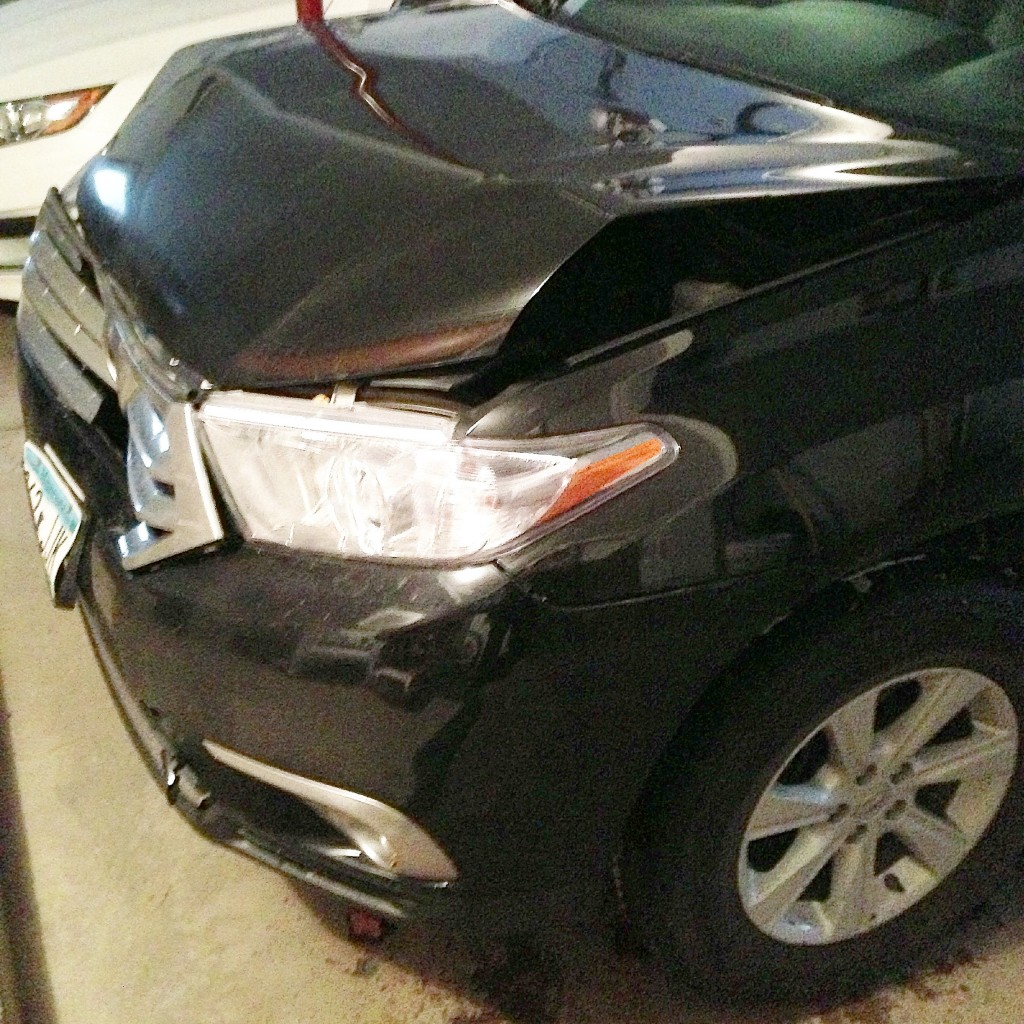 There were over 100 accidents in our city yesterday and I was in one of them. There was a pileup of crashed cars at the bottom of the street we were on, and I was going about three miles an hour, trying to ease down the incline as slowly as possible in order to get home. About half way down the street my car just took off and my brakes were useless. The folks standing around their already crashed cars at the bottom of the hill saw me sledding toward them and high-stepped and scampered out of the way, and BOOM, I hit the back of a Honda CR-V, which had plowed into a Toyota 4-Runner minutes before. Thank the Lord, no one was hurt! And no one was cranky, and the police were already there and saw it happen and cheerfully gave us all our accident reports to submit to our insurance companies. I was the only car that didn't need to be towed.
I drove the half mile home going about one mile per hour and with the hood bent in half, and I didn't care. There were still two steep streets to drive down before getting to our street, and I wanted to make it home without another collision. My grandson and one of our Fosters were in the car with me and when we finally parked the car in the garage and walked into the house we raised our hands and cheered and thanked God out loud over and over. Safe at home.
Then I turned on the soundtrack to Little Women, lit the fire in the dining room fireplace, hung up my coat and put my slippers on, poured a cup of tea, and gave thanks again.
I have more to share, but the tow truck will be here soon, and then the rental car company after that, to pick me up and take me to their office so I can rent a car while mine is being fixed.
I hope your week is blessed,