I Stole This Picture
As you can see by the logo, my daughter Sharon took this sweet picture of her four children, four-eighths of my grandchild treasure chest.
I loved the picture so much I stole it from her. I didn't even ask permission…payback for all the times she didn't ask for my permission when she was growing up!  🙂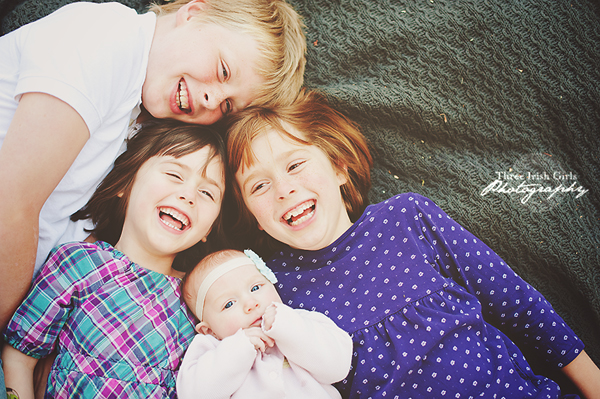 Mr. McBoy is 10 1/2, Mrs. Nisky is 8, Li'l Gleegirl is 5 1/2, and Louisa (yes, her real name) is 10 weeks.
Intentionally giving thanks, and taking pictures — these two things seem to slow down the passage of time for me.
Recently I told Mr. McBoy that in just a few blinks of an eye he would be 6′ 8″ tall, but that I would still want him to sit on my lap when he's all grown. He looked at me funny and said, "But Grandma, I might crush you." I assured him I could withstand it and he seemed to believe me.
Little does he know I'm already being crushed, in a sense, just to know the love of these grandbabies.