I bought a bird.
Our family had several pet birds during the years our girls were growing up. First we had Rosie the yellow cockatiel. Her last name was Shackadorum and she was hand-fed, so was quite tame and loved to sit on our hands and shoulders. She breeped when we came in the back door and each time the toilet was flushed.
We thought Rosie would like a boyfriend so we bought another hand-fed cockatiel, a grey guy we named Chester Pondaleeky. Chester was mean and domineering to easy-going, cheerful Rosie, and one morning we came downstairs and found her cowering in the bottom of their cage, her wing bloodied. We gave Chester the Molester to a couple right away, who promised to never put him in a cage with another bird.
Then we tried again with a meeker male, another grey cockatiel we named Walter Whomperwhacker. Walter and Rosie liked each other enough to need a clutch box, and over the next couple of years she laid several eggs, three of which had baby cockatiels in them. Rosie and Walter were very intrigued by their newly hatched and helpless offspring, but didn't know how to feed them, so the poor little ones never survived. Then Walter turned into an angry bird and took his frustrations out on Rosie, and we gave him away too. Rosie lived in cockatiel peace for a good long time, and we were truly sad when we found her dead at the bottom of her cage one winter morning.
Next we acquired a canary with a bad toupee. I think these kinds of canaries are called Gloster Canaries, and you can see what I mean by a toupee here. She first belonged to our friend Carl, but she didn't thrive in his house because he had over a dozen cats who paced the floor beneath her cage and plotted her feather-exploding death. It was perhaps no puzzle why Carl's canary began to lose her little yellow feathers, one by one, until she looked like the most pathetic miniature plucked chicken, all pink flesh with an occasional pin feather here and there. Except for her head, where she had retained an odd cap of dark brown feathers I always said looked like a tiny fountain. Carl gave his canary to us and we named her Harriet the Canary with the Bad Toupee. As soon as Harriet came to our cat-less home, her yellow feathers grew back and she was a sweet, trilling pet for a few years.
Here are a couple of drawings my talented son-in-law Jeremy drew of Carl and some of his cats, considering what to do about Harriet, and one of Carolyn and our old Schnauzer Winnie, peering at Harriet once she came to our house.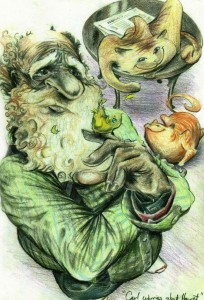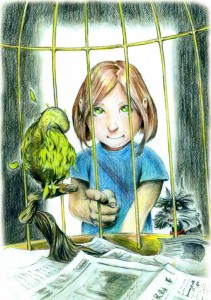 Then life happened. And dogs were what we could handle. I didn't want to clean cages and vacuum bird dander anymore, so when Harriet flew to canary heaven I decided to take a bird break.
But now that break is over, and we have a new little parakeet. I've never had a parakeet before. She's quite young, and the way you can tell is that the rows of stripes (or bars) in her head feathers come almost all the way down to her beak. As she grows, these stripes will fade. Here's a photo of a young parakeet with the stripes, and a mature parakeet who has lost his stripes.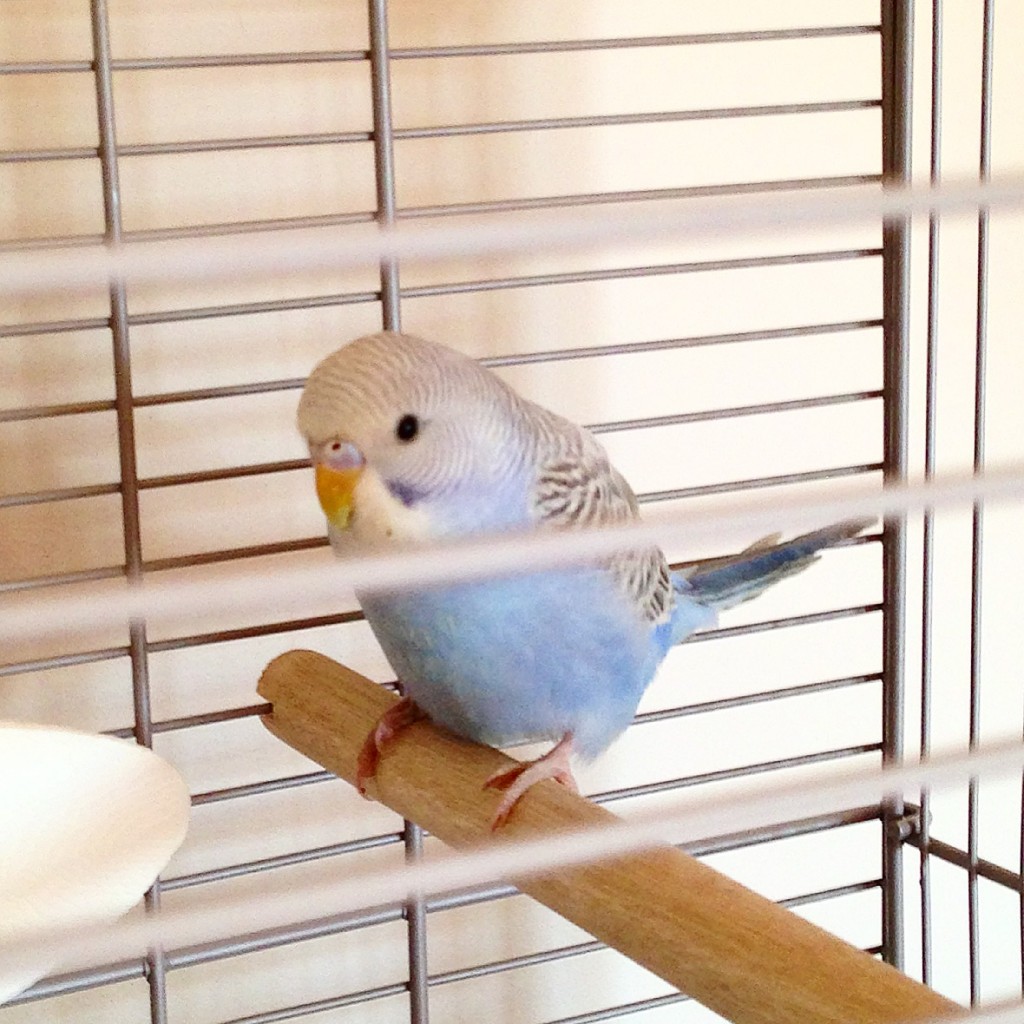 Here's Phoebe in her cage in our dining room. She is being very quiet, but will squawk once in a while when she hears me turn on the kitchen faucet.
I've been relieved to see her eating her seed, and I hope she'll take a bit of the apple slice I've affixed to the side of her cage. I haven't seen her drinking from her water container yet and that concerns me a little. I hope she's sipping when I'm not around.
I hope to hand tame her a bit so she'll enjoy sitting on my shoulder and having her head stroked. But I'll have to shut Edith and Mildred the Schnauzers away in another room when I try. One doggy chomp could bring about a very sad ending. I'm feeling stirrings of affection for little Phoebe already so don't think I could bear that.
Michael taught me to love birds. He had a way with animals, and birds were always sidling up to him and were never afraid of him.
How about you? Have you ever had a pet bird? If so, what kind, and what was its name?