Apparently We Are Filth Folk
Hi everyone! I've been back from Seattle and Bainbridge Island for a little over a week now. I took quite a few average quality photos while I was there, and I'll be posting them sometime soon so you can see what a great time Denel and I had at The Second Annual Lupi-Soo Convention.
It seems like so much can happen in a couple of weeks. First of all, my recovering right knee has decided I was getting a tad too smug in my progress, and has been sore and swollen for two weeks now. Secondly, Community Bible Study has begun, and in the book of Daniel we're learning about and being encouraged by the completely trustworthy and loving sovereignty of God. Thirdly, autumn has arrived in full color in northeastern Minnesota, and I'll put up a picture or two of the gorgeousness soon. Fourth, we have a new vacuum. And I'm in a state of disbelief at the state of our carpets.
For those of you who don't know, we have lived in this house for about a year and two months. We had brand new carpet installed in the living room on the day we moved in. We immerse ourselves in the Minnesota tradition of taking our shoes off as soon as we come in the door, and usually wear either clean socks or slippers when inside. I'm kind of picky about carpet. I don't like dirty carpet. I usually steam clean my carpets every other year myself, because I'm not entirely satisfied with the quick way some of the professional carpet cleaning companies do the job.
In addition, I wasn't thrilled with the Hoover vacuum we had in the old house. I then bought a Kenmore that was highly rated by Consumer Reports Magazine and never really loved that one either. It bit the dust after five years, and recently I started reading up on vacuums. I decided, very reluctantly, to get a much too expensive Dyson. This one.
Dyson makes claims about their vacuums that not every owner and reviewer agrees with, but 90% of the reviews I read were very positive. There are no disposable vacuum bags with these machines, just a transparent container with a handle on it that snaps out of place for easy emptying when the gag factor climbs too high.
Here's what came out of our fairly small living room carpet which is only fourteen months old, and one half of our bedroom carpet, both of which have been cared for meticulously and vacuumed frequently: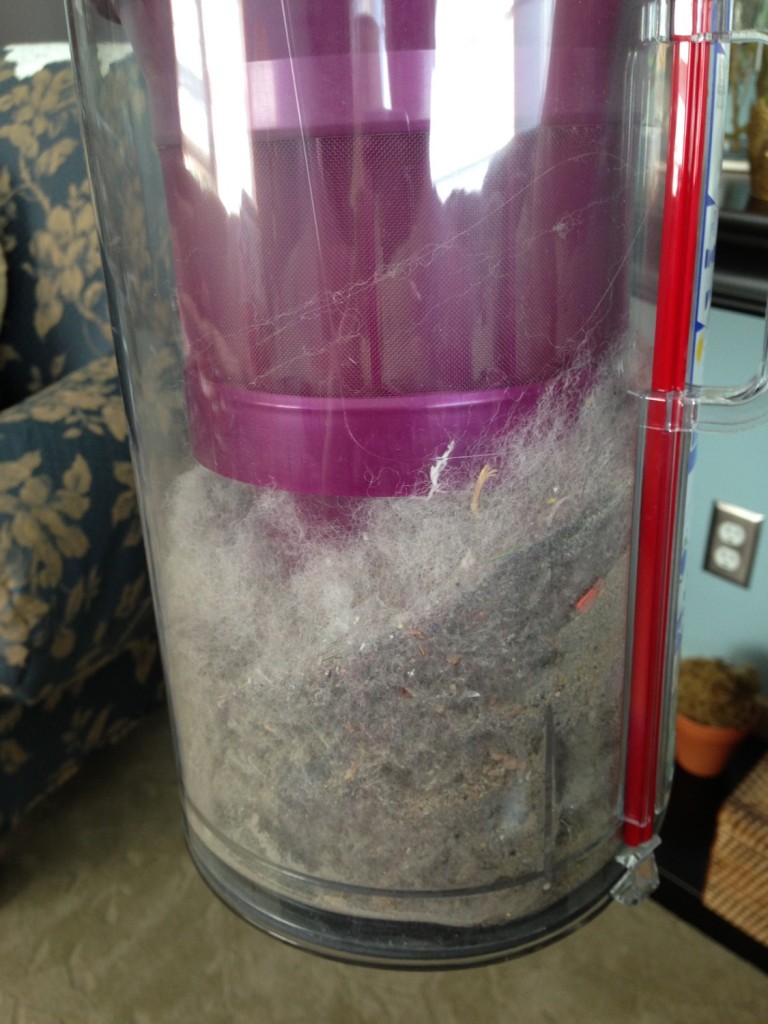 I didn't know whether to laugh or cry. Laugh, because HA HA HA! that dirt is no longer in our carpet! Or cry, because OH MY GOSH! that dirt was in our carpet!
I could have told you what I think God is doing in my life these days (and I'm so grateful He hasn't given up on me), or regale you with cute sayings uttered by my grandchildren, or share about the new television series Michael loves, but instead I thought I'd show you our dirt.
Coming soon: Seattle, Shari, the Space Needle, some swell sea views, scrumptious sustenance, and snacks…