A sweet memory
Recently, as Sara and I were looking through some old scrapbooks, I came across the photograph below, and was instantly transported back to September of 1981, when I turned 24 years old.
Two months earlier in late June of 1981, I had left the warm state where I was born and raised, and moved to northeastern Minnesota. I was concerned about the coming winter, since I knew it would be cold and snowy and I had never known cold and snowy.
Two months earlier I had married a man I'd only spent time with once. To see a poem I wrote about all of that, you can click here.
Two months earlier I was not pregnant. In September of 1981, on my 24th birthday, I was.
My first year in Minnesota was glorious and horrible. I was so happy to be married to Michael, but I was so sad to have left all the friends and family I had known. I was hopeful about owning our own home someday since Minnesota's real estate prices were more affordable than SoCal's, but a little leery about renting a house in an "interesting" part of town. I was so grateful to be able to stay home with my two little girls instead of working full time, but I wondered how we'd make it if Michael's work was often seasonal. It was the best of times, it was the worst of times, I guess you (or Dickens) could say.
On my 24th birthday I was in the kitchen making dinner, with music playing on our stereo and my little girls playing in our side yard. It took me a while to register that a horn was honking outside, and I went to the living room to look out of our large front window.
This is what I saw: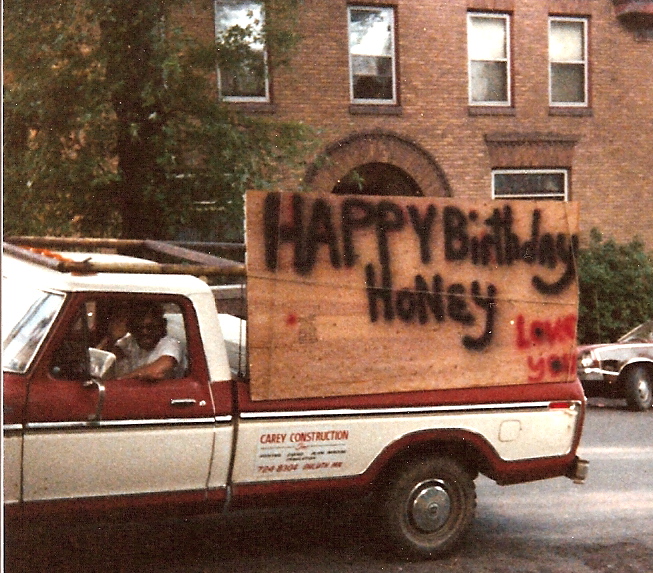 Michael, my husband of two months, in his work truck, just coming home at the end of the day from his carpentry job.
When I saw the spray-painted sign he had made and tied to his ladder rack, and when I envisioned him driving several miles home with that message attached to his truck for all to see, I laughed and smiled from ear to ear. I asked him to stay put while I ran inside to find a camera.
Thirty years have passed. We no longer live in that rented house where our daughter was born. I'm not afraid of Minnesota winters anymore. I am blessed with wonderful family and friends. And of course that truck bit the dust long ago, and it has been several years since Michael has done that kind of work.
But…he still calls me Honey.