A Mounted Moose
Moose are very Alaska, very Maine, very Canada, and very Minnesota. I've seen one live moose in my lifetime, and it was on an autumn walk Michael and I were taking in the north woods of the Gunflint Trail in Northern Minnesota. We rounded a bend in the path and the moose, which was about 30 yards distant, lifted his head to peer at us out of his poorly sighted eyes, then turned and trotted off on his stilt-like legs. Have you ever seen a moose trot? You can click here to see.
Sara gave me a decorative plate and a canvas with a red bird painted on it for my birthday recently, and I've been thinking about where and how to hang them. I subscribe to the decorating rule/idea that odd numbers are visually better for groupings, so the plate and the canvas seemed like they needed a third item to go with them. I like moose. So I decided to buy a whimsical yet very anatomically accurate moose head to go with them. What do an aqua plate, a red bird and a white faux moose have in common? Nothing that I know of except that a quirky woman needing distraction likes all three of them and isn't worried about what the Pottery Barn folks would say.
Here's a picture taken from a distance, so you can see that the grouping hangs on a narrow-ish patch of wall in between our living room window and a tree we have in the corner.
And here's a closer shot: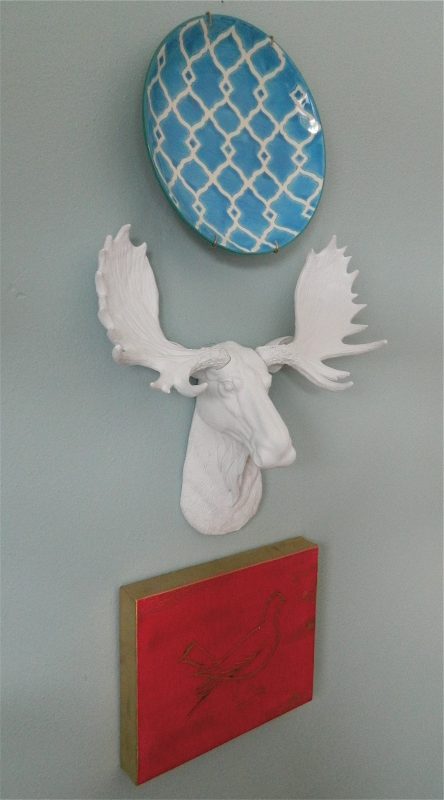 If you'd like to check out the other animal heads this business offers, click here.
I can envision his antlers being a good place to hang a few Christmas ornaments this December, too.
Now I'd like for him to have a name. You might already know I like alliteration, so I'm leaning toward an M name. This is obviously a manly mounted moose, so a man's M name would be good.
Any ideas? If I choose your suggestion, I'll send you a gift. You can list as many names as you like.
Have a blessed week!