A Cottage Repose
Last summer Michael and I went away for a much needed weekend of rest and play in Bayfield, Wisconsin. I wrote about it and posted a lot of strange photos here. We enjoyed ourselves so much we vowed to start taking more weekend trips whenever possible. We aren't taking as much time off as some people in our profession do, but recently we went away for a quiet weekend to Grand Marais, MN and once again it was just what we had hoped: restorative, restful and fun.
Grand Marais is a sleepy little town on the north shore of Lake Superior, and through an internet search I found a place with three tiny cottages right on the edge of the big Lake. We stayed at Croftville Road Cottages, and we loved it so much we plan to return someday. Our little two-bedroom cottage was clean and bright, and the owners were friendly and helpful.
Here's Cottage #2, the one we stayed in. It actually was much larger inside than it looks on the outside.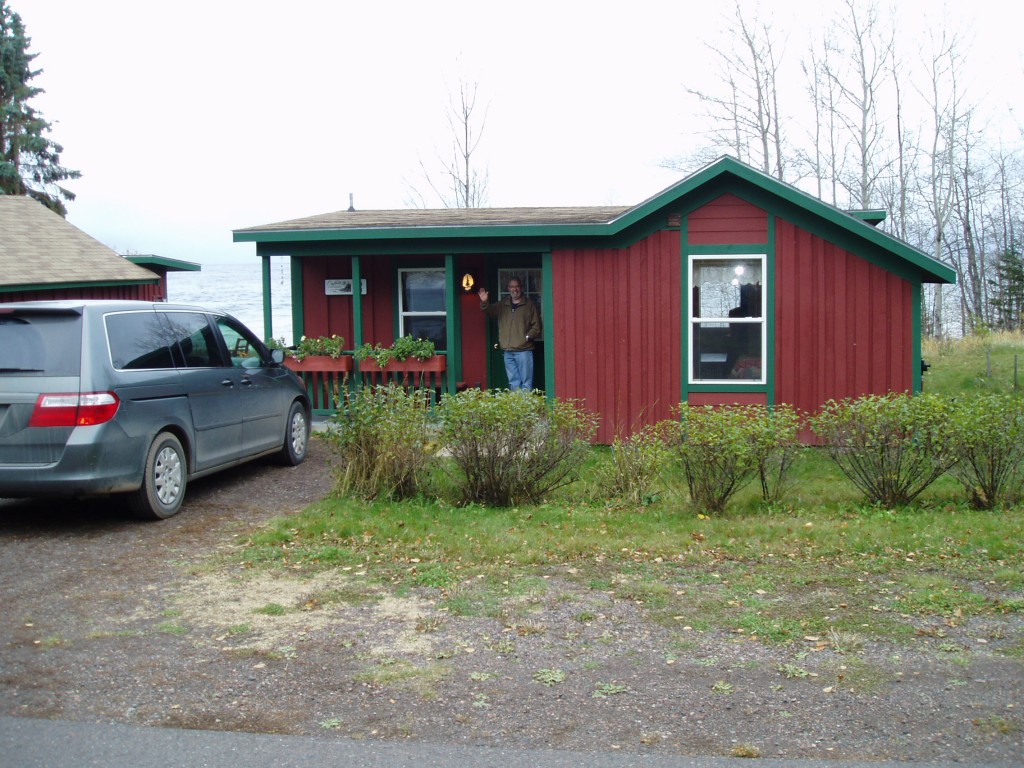 It had a great kitchen, a living room with a wolf theme, a spotless bathroom, and the main bedroom had a small stove for heat. Through the sliding glass door was an up close and personal view of the Lake. So yes, one can lay in bed and read while the cozy fire literally warms your feet, and the waves of Lake Superior pound rhythmically just yards away. The wooden muscles in my neck seemed to loosen within minutes.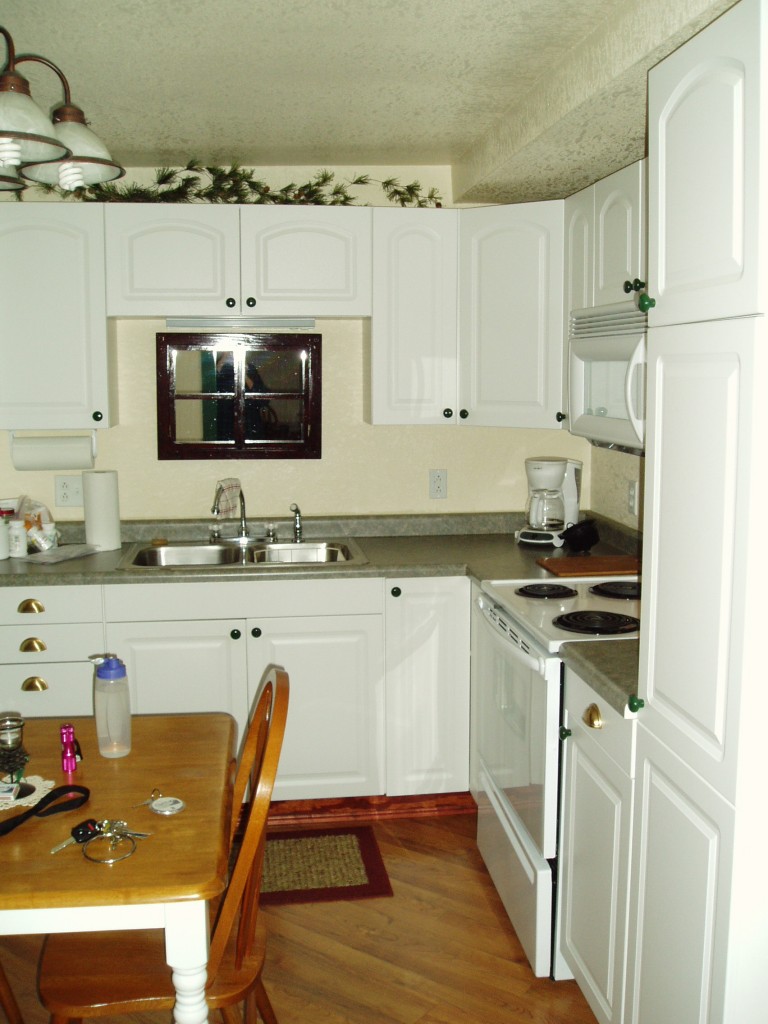 We didn't do any cooking, but I can definitely picture us coming back for a longer stay and bringing some groceries to make simple meals.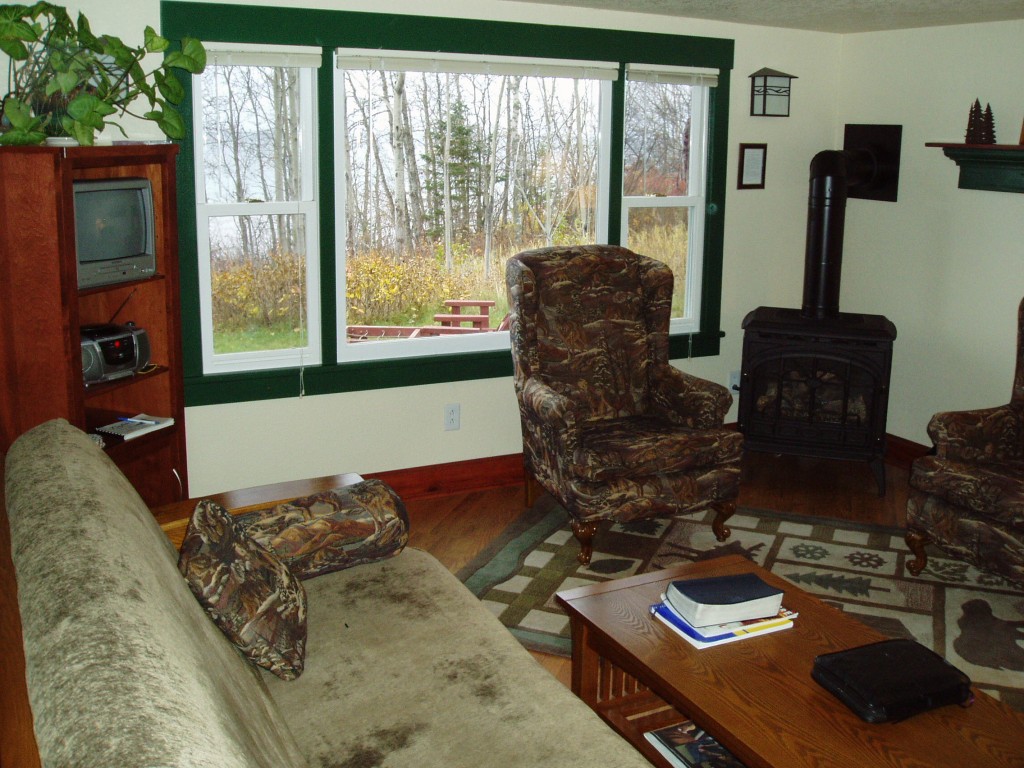 The stove in the living room heated up the cottage in minutes, and we sat in companionable silence and read, watched the Lake, and listened to a CD I bought in a gift shop downtown.
Celtic Loon was the incongruous name of the CD – are there loons in Ireland? Loons are the Minnesota state bird and I love their haunting call, but pairing the softly yodeling sound of loons with instrumental Celtic music and the sound of lapping waves seemed a little odd. Nonetheless, the music was soothing and we listened to it a lot while playing cribbage, reading and resting. There was a television in the cottage, but no TV reception (thank you God) and we didn't bring a movie to watch, so in my opinion this just added to the peace.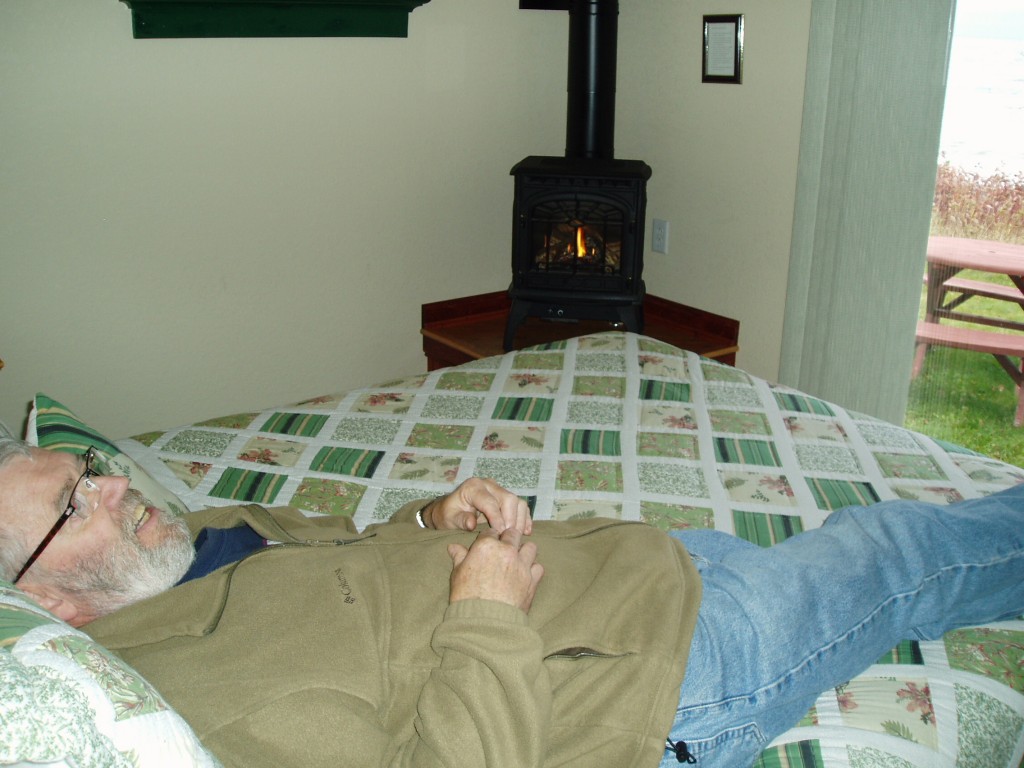 As a matter of habit Michael always tries out the bed first thing, anywhere we go. So don't invite us over to your house anytime soon, or he might just quietly disappear from view and be found minutes later testing the comfort of your bed. Take a close look at this photo. Here you find a dependable equation: Michael + comfy bed + warm fire + pounding Lake outside = smiling face.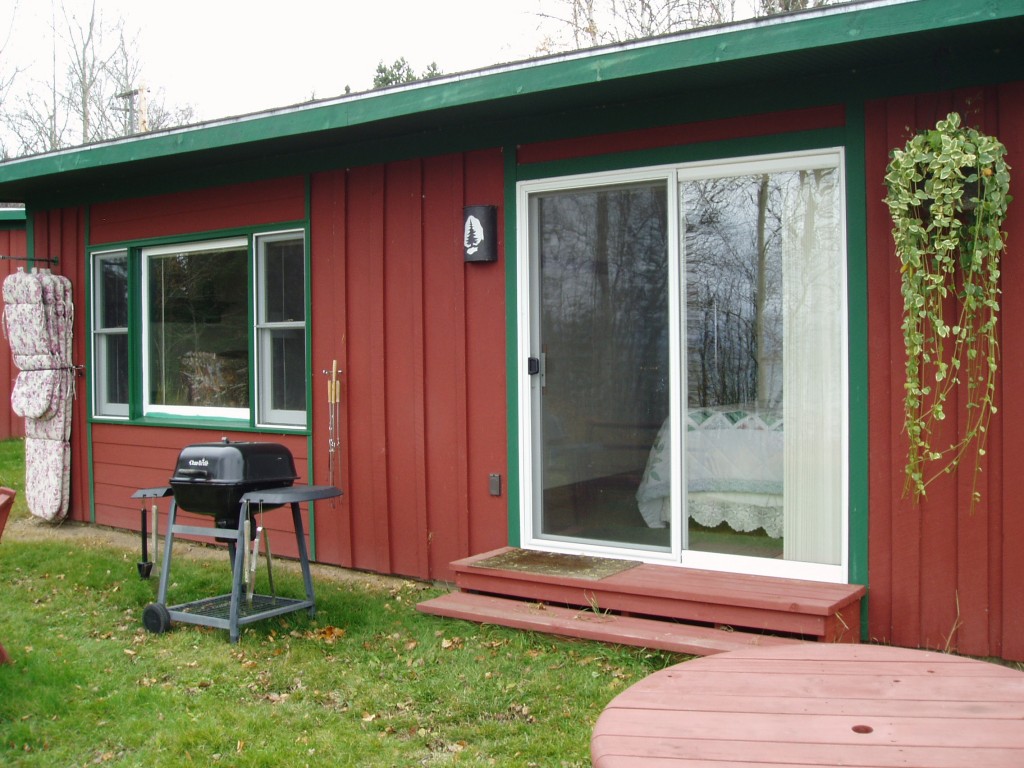 Here's the back of our cottage – there's a picnic table, a BBQ and several chairs to pull up around the fire-pit. The nice folks at Croftville Road Cottages replenish the firewood on your porch anytime they see it's needed. It was too late in the year to spend a lot of time outside, but we did have a wonderful fire late the first night we were there.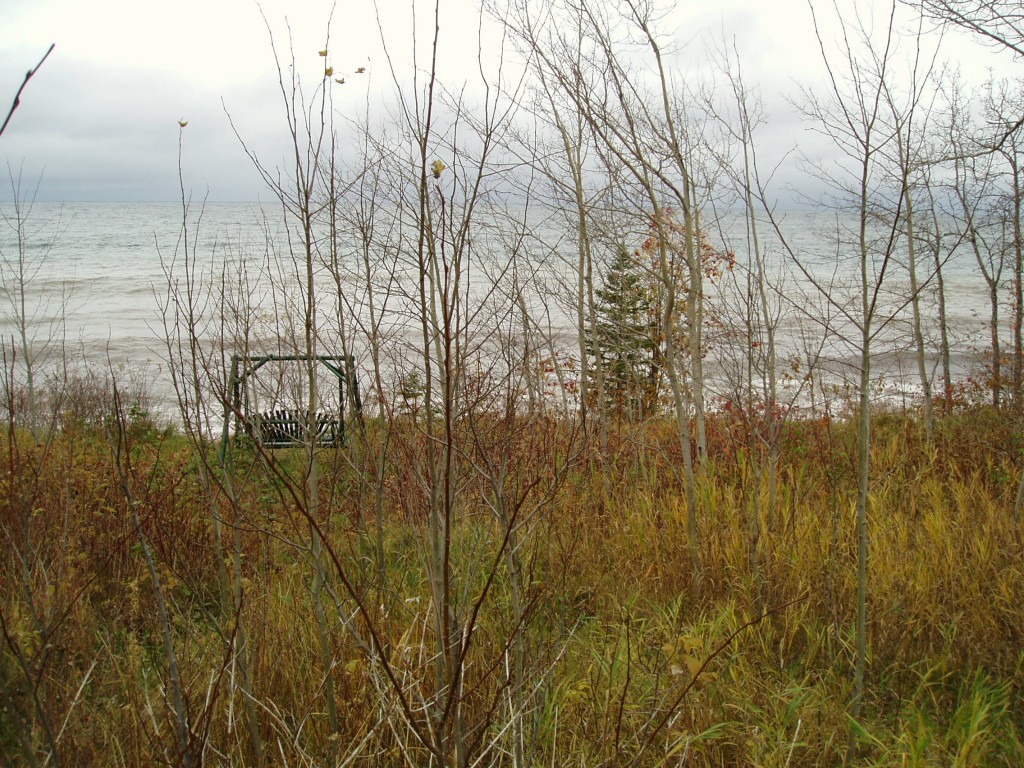 The leaves had fallen and the low gray clouds were a portent of winter, but we still ventured outside several times to sit at the edge of Lake Superior in this swing a little ways from our cottage. When was the last time you bundled up and sat on an old swing on the edge of a huge lake in the waning days of autumn? I highly recommend it.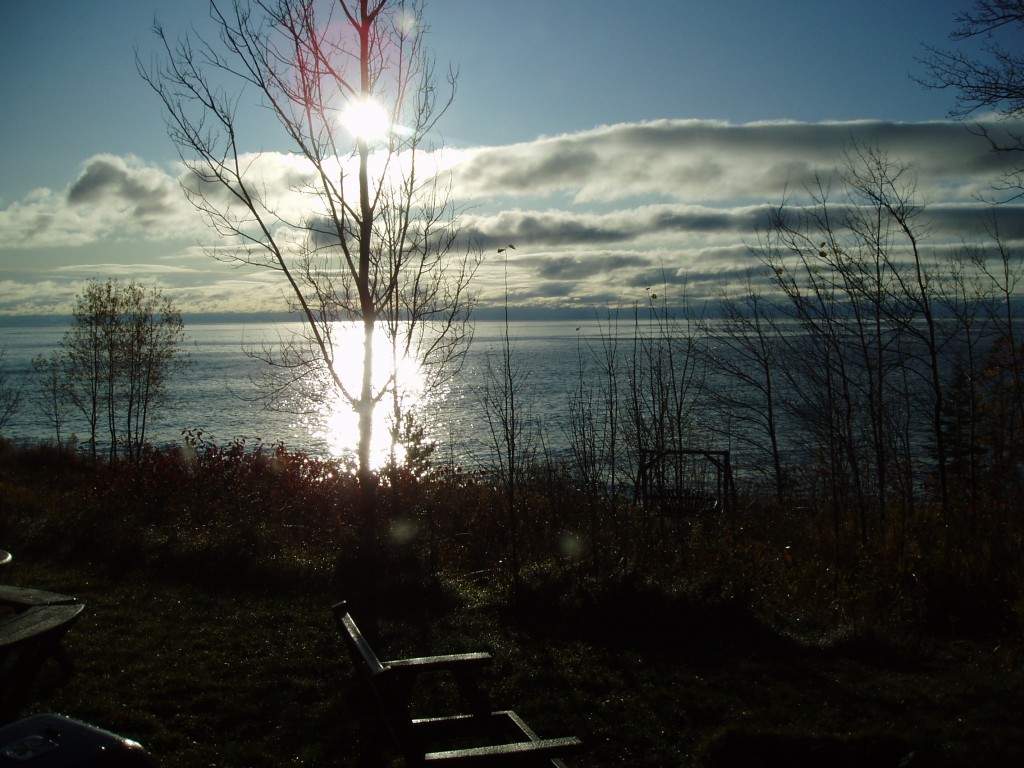 We woke on Saturday morning to this view. The gray skies gave way to blue, and the sunrise over the Lake was lovely. We decided to drive into town for breakfast. We visited so late in the season that many of the eateries were closed down for the winter. We ended up going to the most crowded place, which can sometimes be a good sign. I'm not sure it was in this case. 🙂 I had an okay wild rice omelet and Michael had the meal he would live on three times a day if he had no wife to cook for him: two eggs over-easy, hash browns, link sausage and whole wheat toast with peanut butter.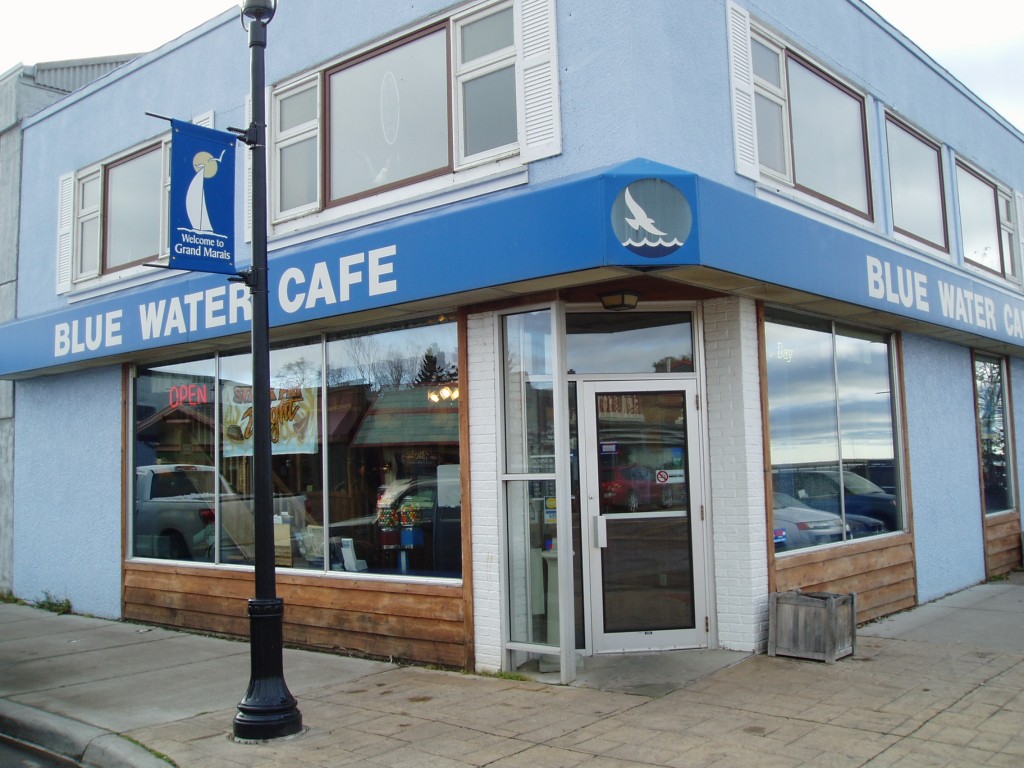 One of the landmarks of tiny Grand Marais is the Ben Franklin store, which is cram-packed with almost every item you would ever need for life in the great north woods. I remember when I moved from Southern California to Northern Minnesota in 1981. Michael brought me to Grand Marais and this store completely reinforced the culture shock I'd experienced over and over. Woolrich, Pendleton, Sorrell, Minnetonka, Carhartt, Acorn, Hudson Bay – these were all brands that I'd never heard about before moving to American Siberia.
The aisles in the Ben Franklin are overflowing not only with shoes, boots and suitable clothing for the bitter cold, but if you need a Lefse, venison or wild rice cookbook, a hula hoop, some Wigwam socks, some art supplies and a pound box of chocolates, this is the store for you.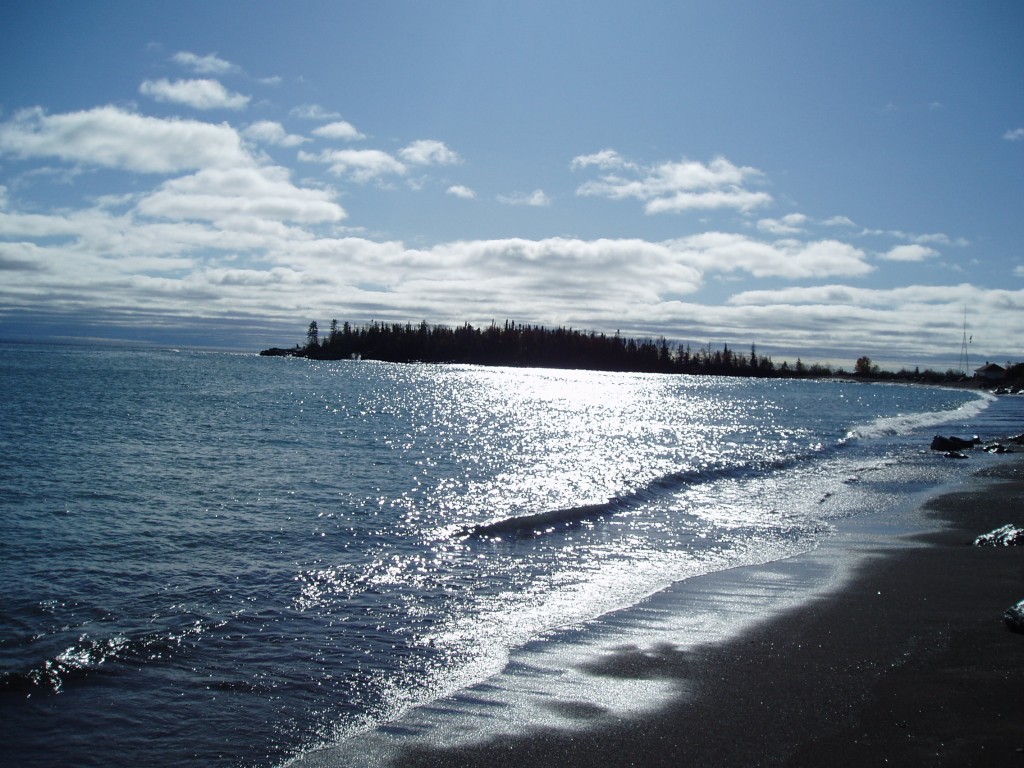 After breakfast and browsing we strolled down the the lake shore and breathed in and breathed out. What a luxury to have nothing special to do for an entire weekend! We knew how blessed we were and said so many times.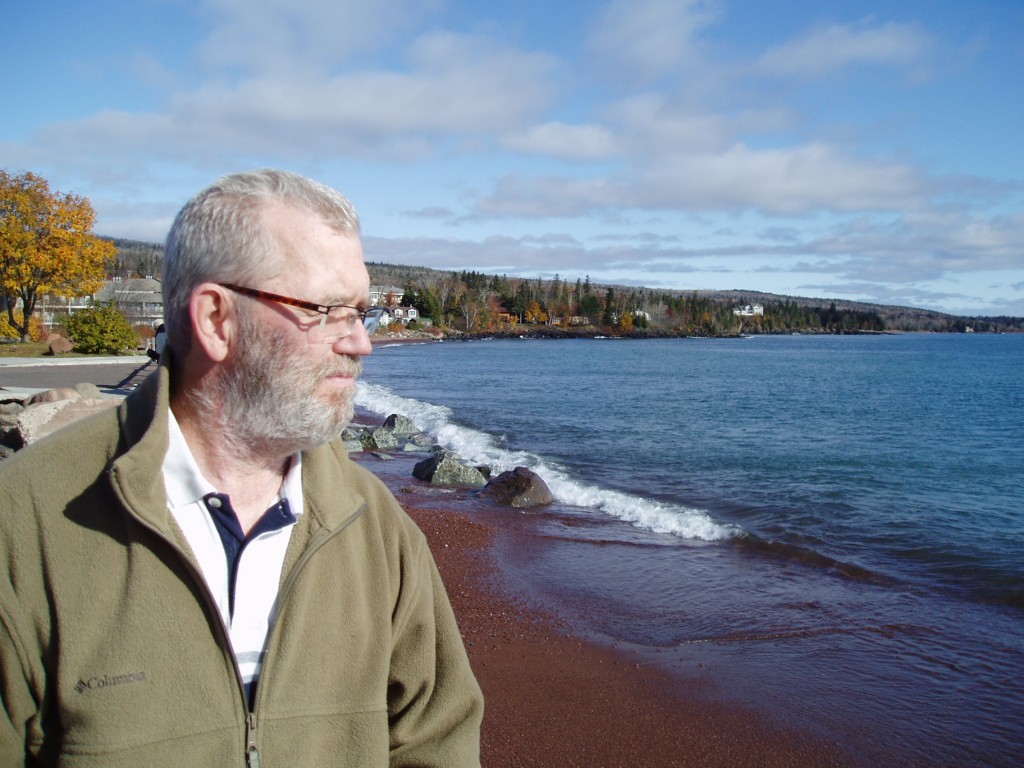 Here's Michael, who is a true north woods man at heart. See the longing expression on his face as he looks out across the morning horizon and the fish lake calls his name?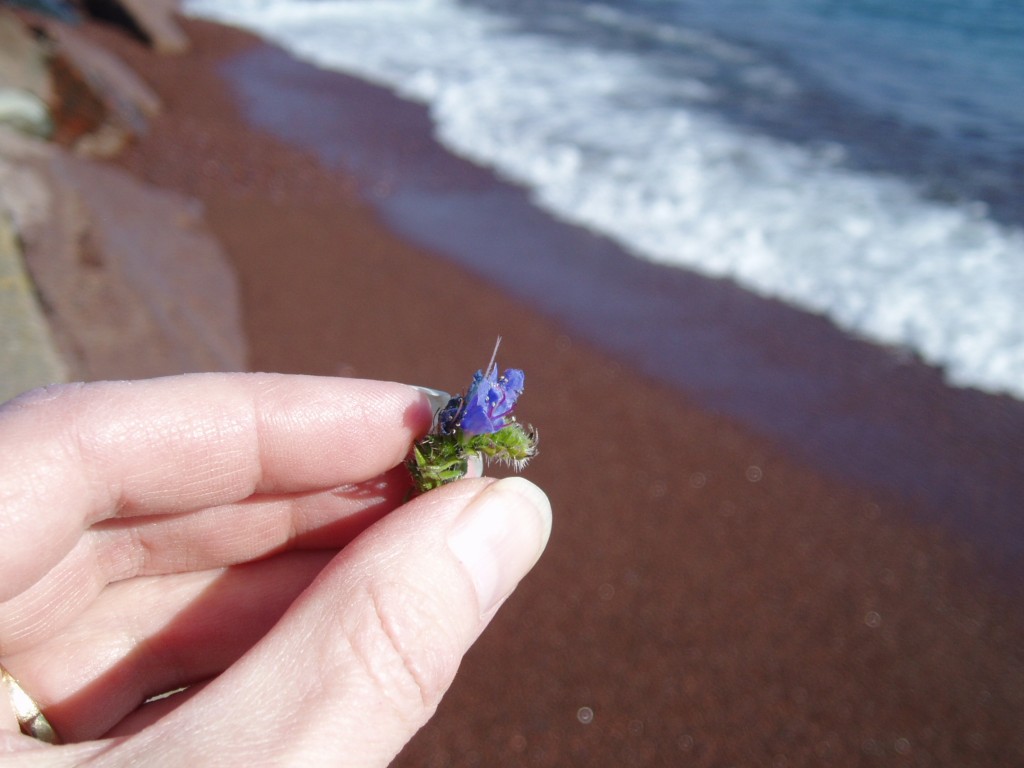 I have no idea what this little flower is, but they were blooming in abundance even though I thought blooming season was finished.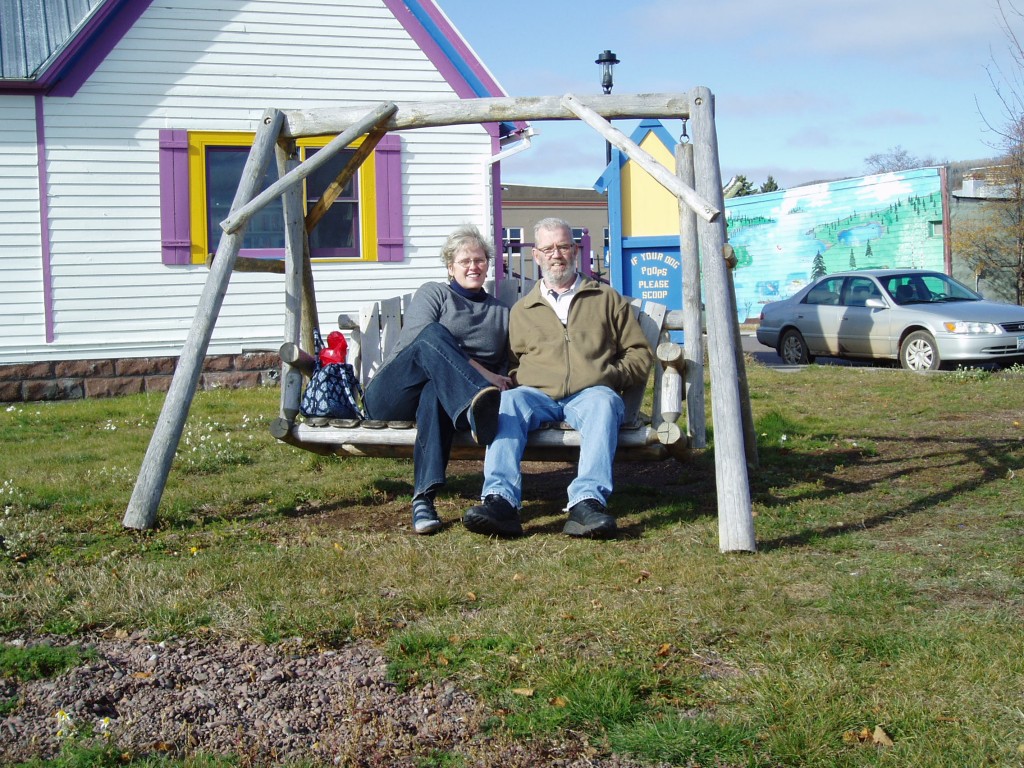 Yet another swing to sit on. This was right at the edge of Lake Superior.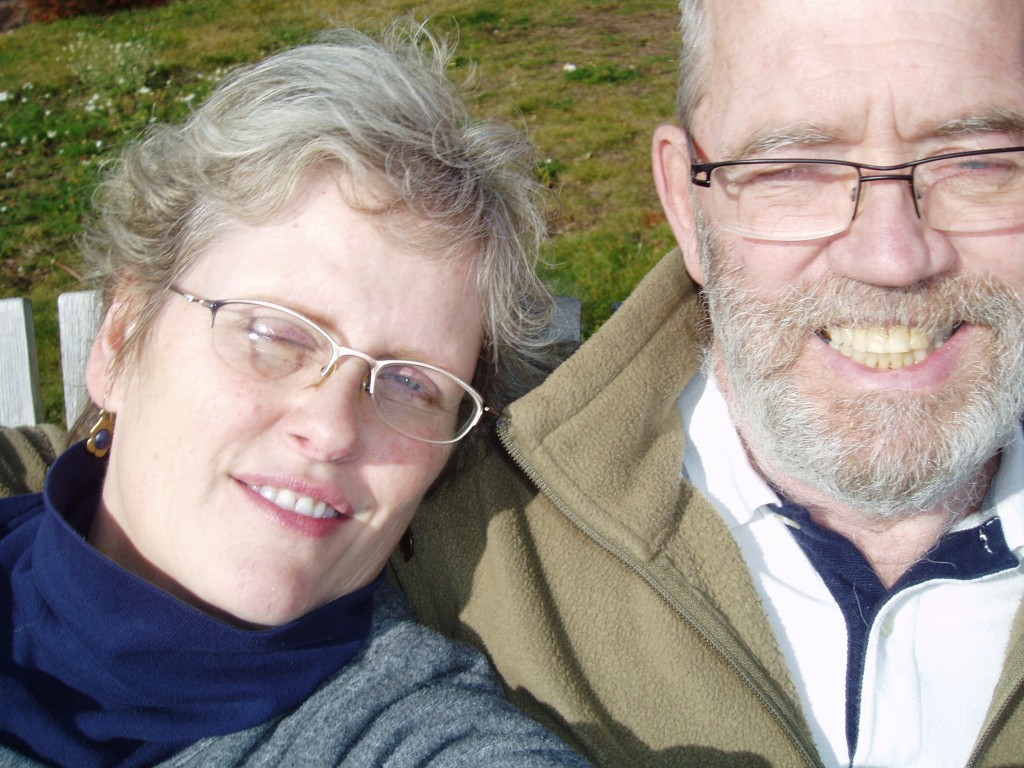 The morning sun was bright and we were so aware of the blessings God has given us. Each other. Our family. His presence. Short trips away. Peace in our home. And of course, so much more.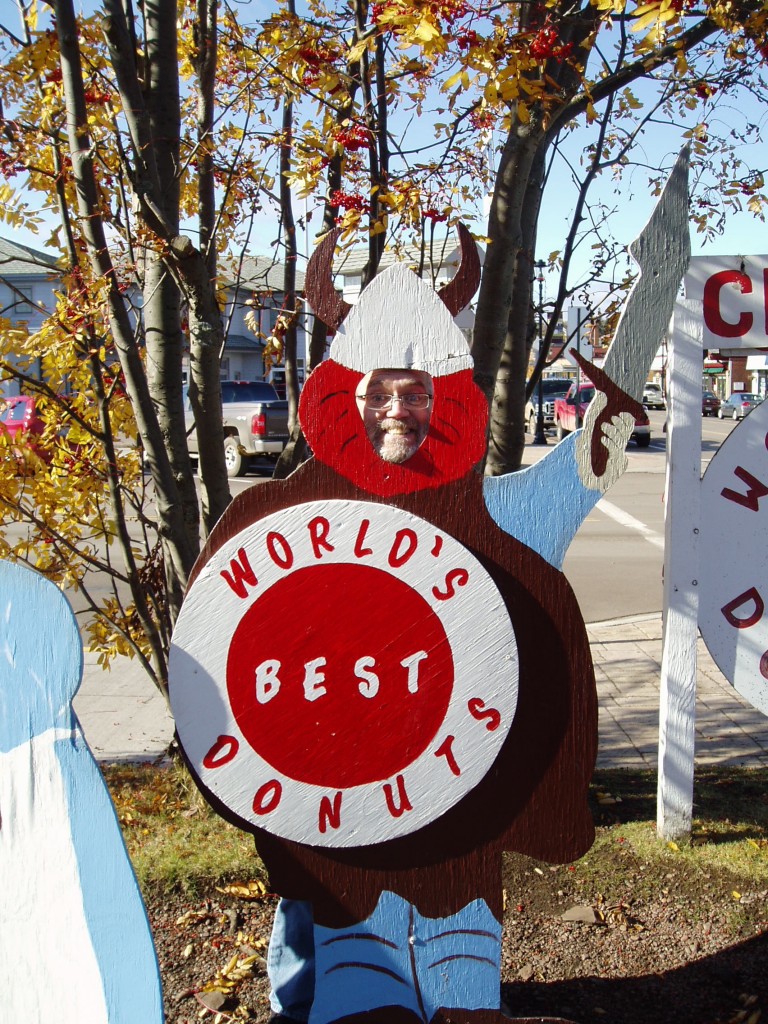 I personally think this sign is a blatant example of false advertising. Why would the world's best donuts be available in Grand Marais, MN? We weren't able to ascertain this for ourselves, because like eighty per cent of the other restaurants, the donut stand was closed for the season.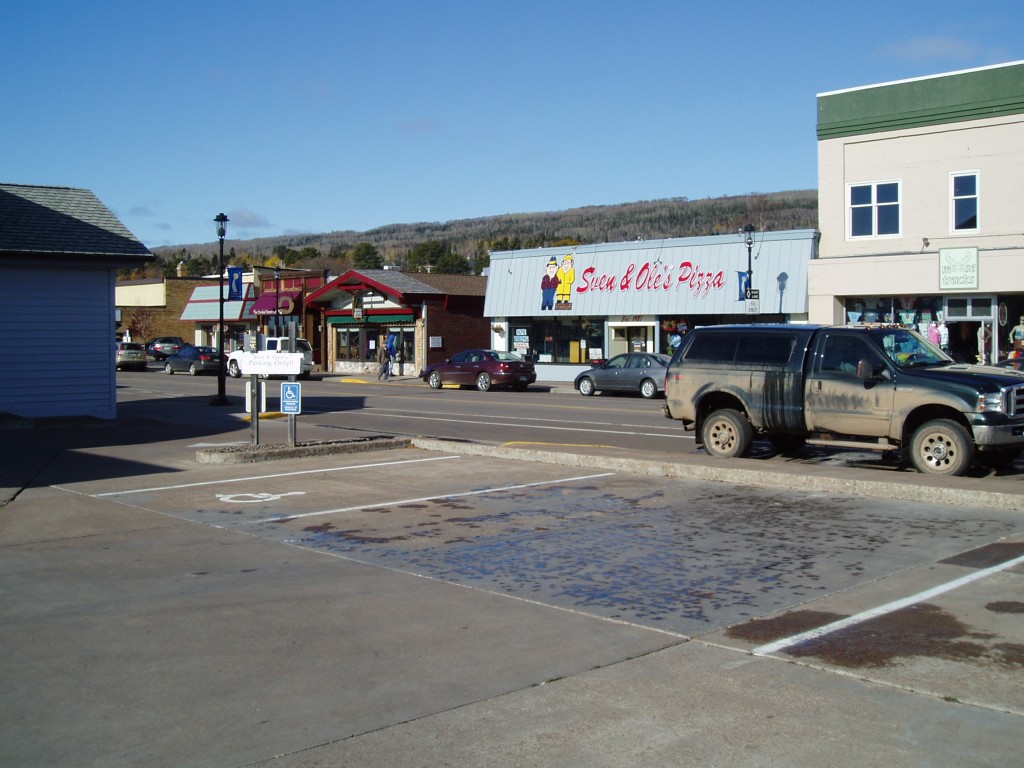 Most people in Minnesota have heard of Sven and Ole's Pizza. It stays open all year and is the place where people hang out during the long dark winters when the moose come out of the woods and stroll around downtown. As Dave Barry says, I am not making this up. Grand Marais claims to be the Moose Capital of Minnesota.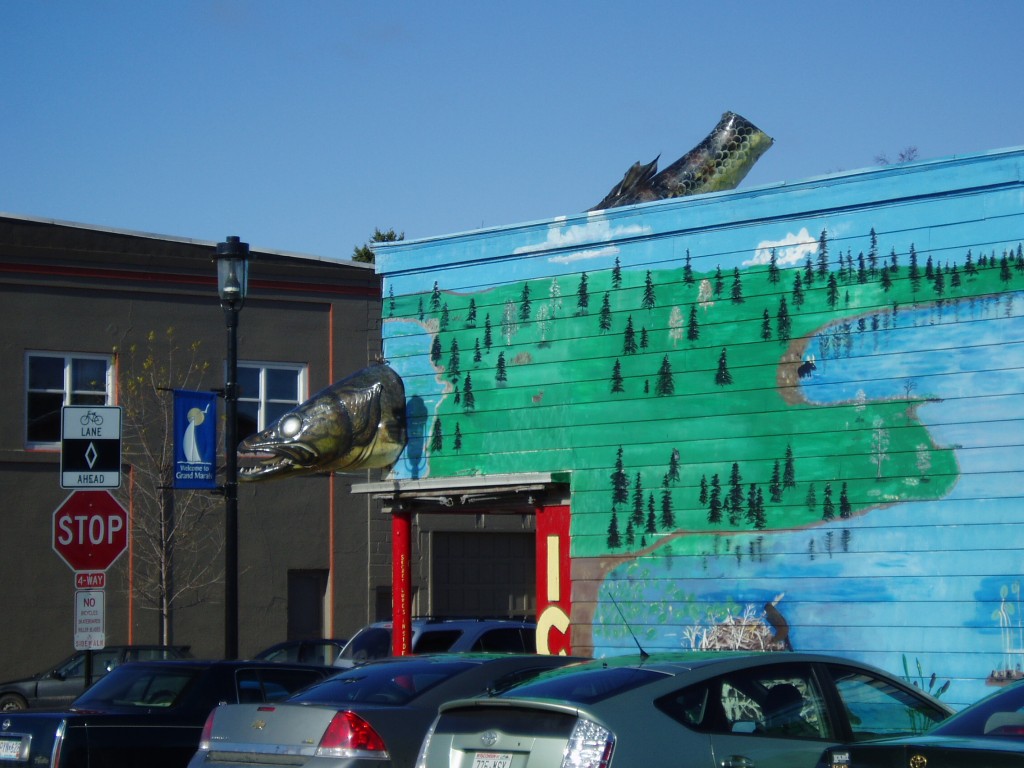 This is a giant walleye (I think) stuck in the corner of a building.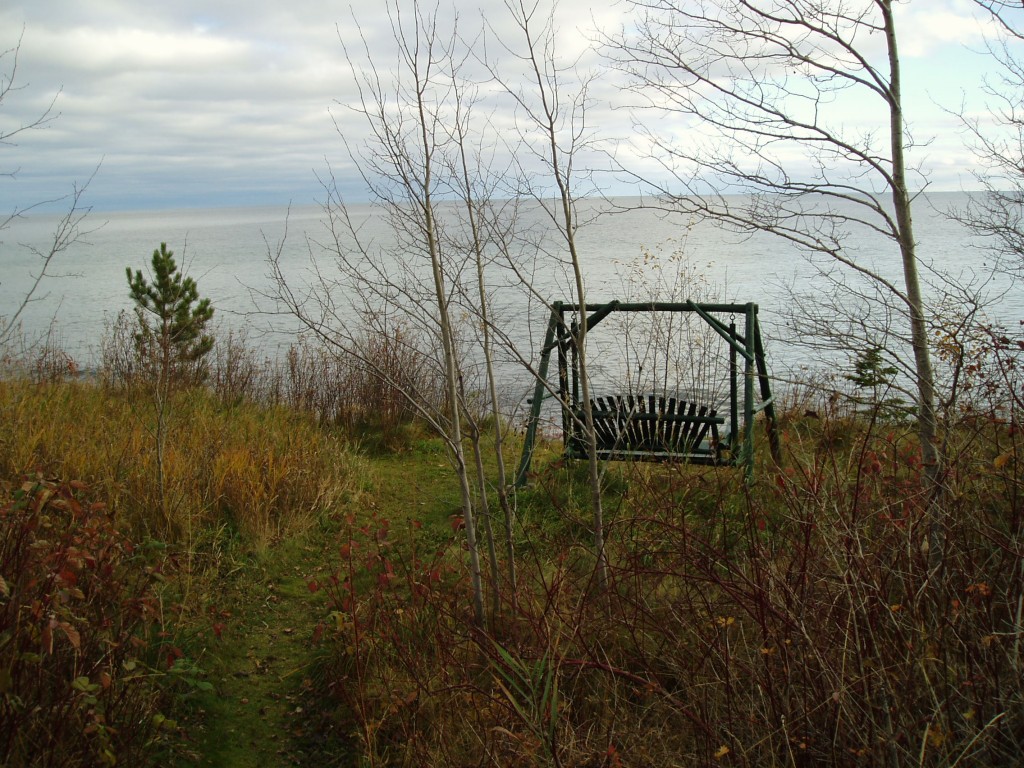 After breakfast and some shopping and strolling, we headed back to our cottage for a nap. I ended up not being able to sleep –  I have never been a napper even though I'd earnestly like to take up this hobby soon – so I read. It started to get cloudy and windy again, so it was time for another fire in the stove. After Michael woke up we walked down to the Lake and sat together in the swing.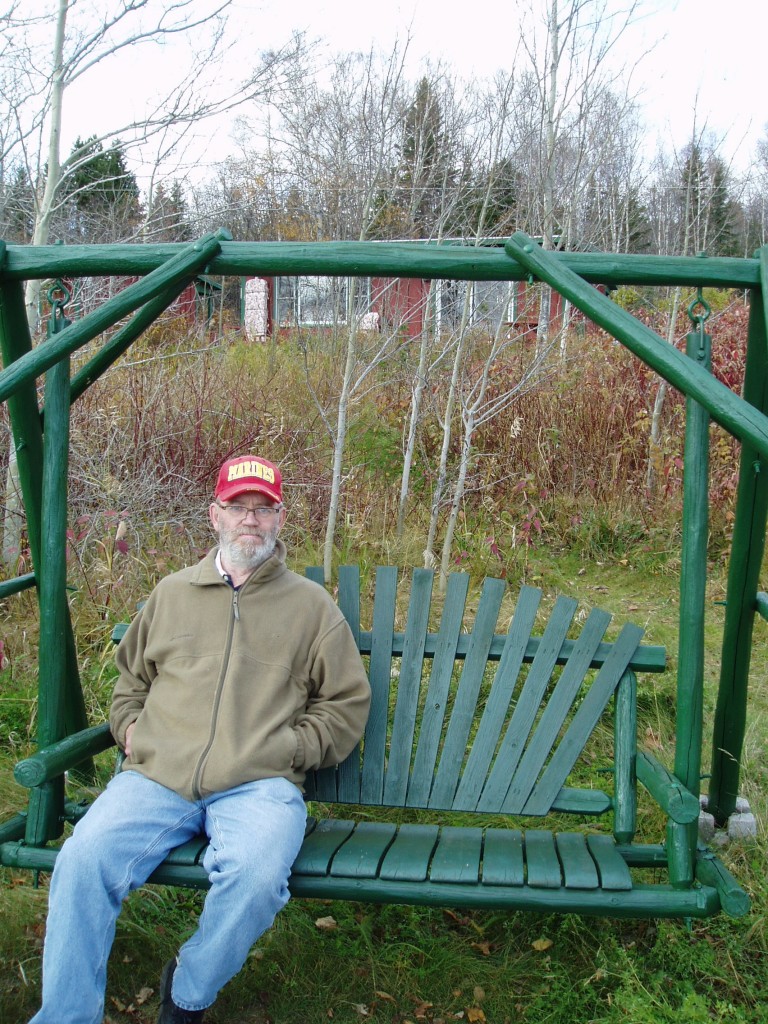 We found that a rustic but well-maintained swing on the rocky shore of Lake Superior is a perfect place to hold hands and to praise God out loud together, and to pray for our children.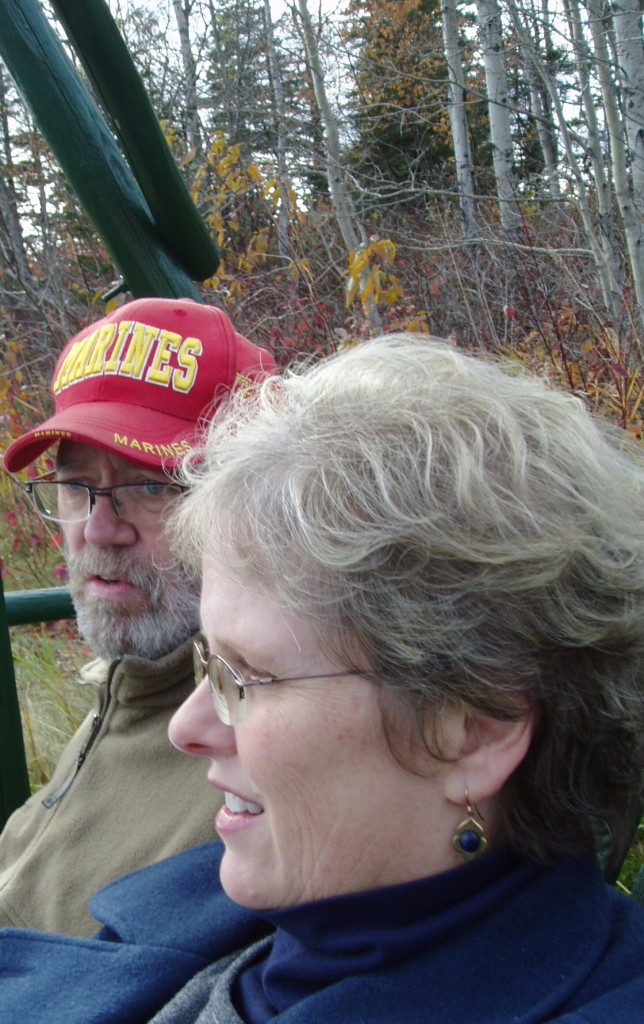 When did my handsome groom (whom I'd met only once before marrying) turn so gray? When did my face become an epidermal grid? It must have happened while we were busy living these past twenty-eight years. *Sigh*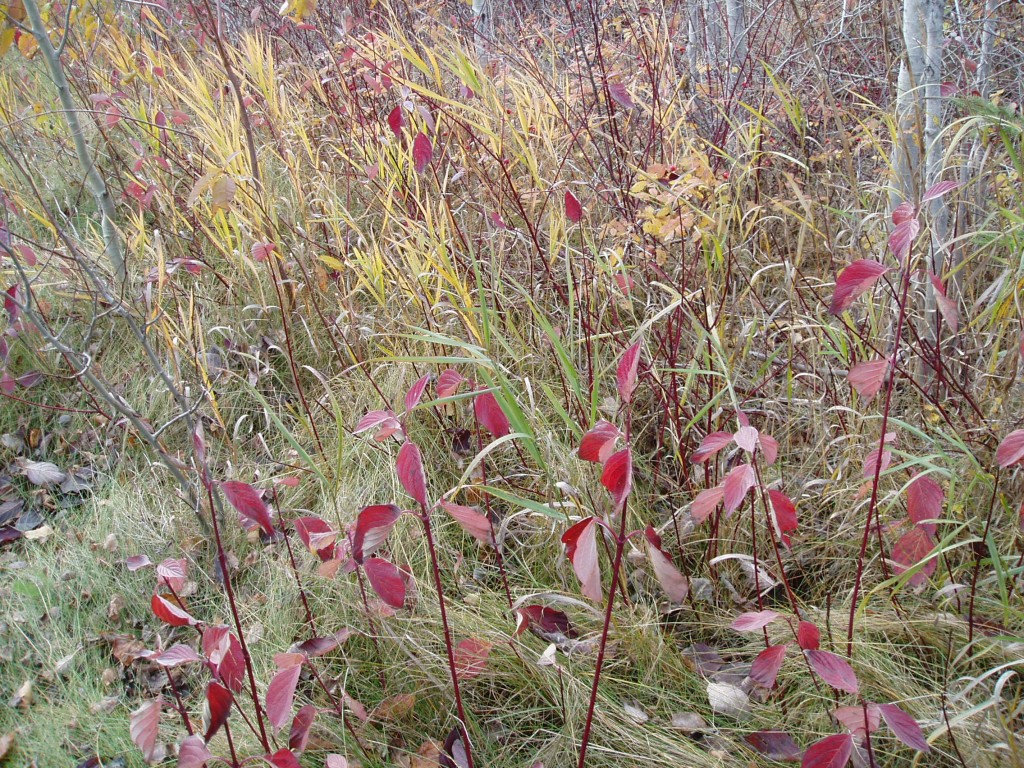 There were still a few fall colors left, even though most of the trees were bare by this time.
Later that evening, we were fortunate to find a nice restaurant still open and we dined at Chez Jude. I use the word "dine," because it was a fancy enough establishment to preclude the use of the word "ate." No one eats at Chez Jude. People dine at Chez Jude.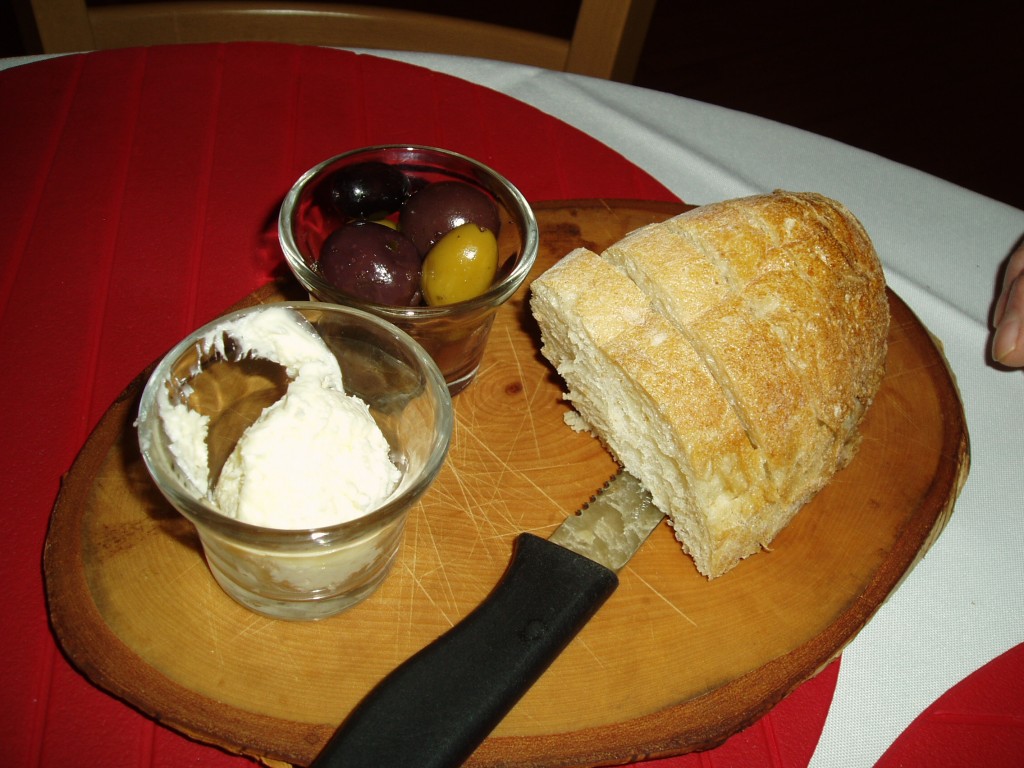 This was the crusty bread, whipped butter and different kinds of olives that were brought to our table after we were seated. Not being an olive fan, I thought the best thing to do was take their picture.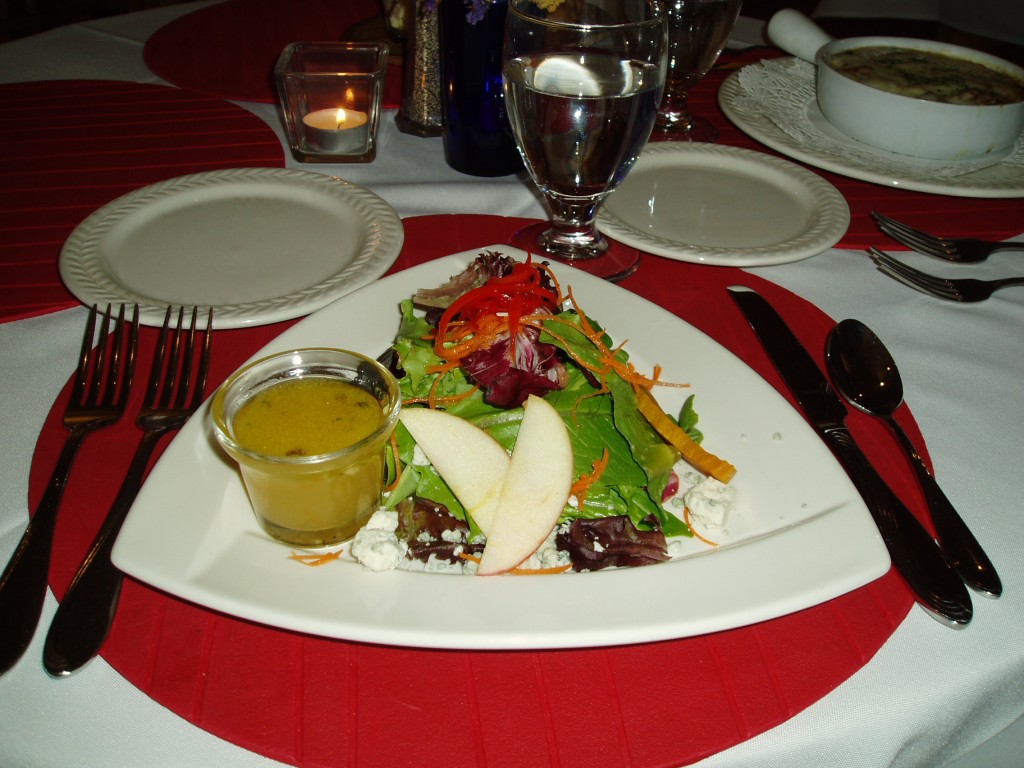 This was one of the most delicious salads I have ever eaten. It had spring greens, ripe pear slices, spiced pecans, pickled ginger, crumbled Roquefort cheese, and a lemon/thyme vinaigrette that made one involuntarily close one's eyes when tasted. There was also a wedge of ripe fig on the plate – a first for me. I had to drive to Grand Marais, MN to have my first taste of fig.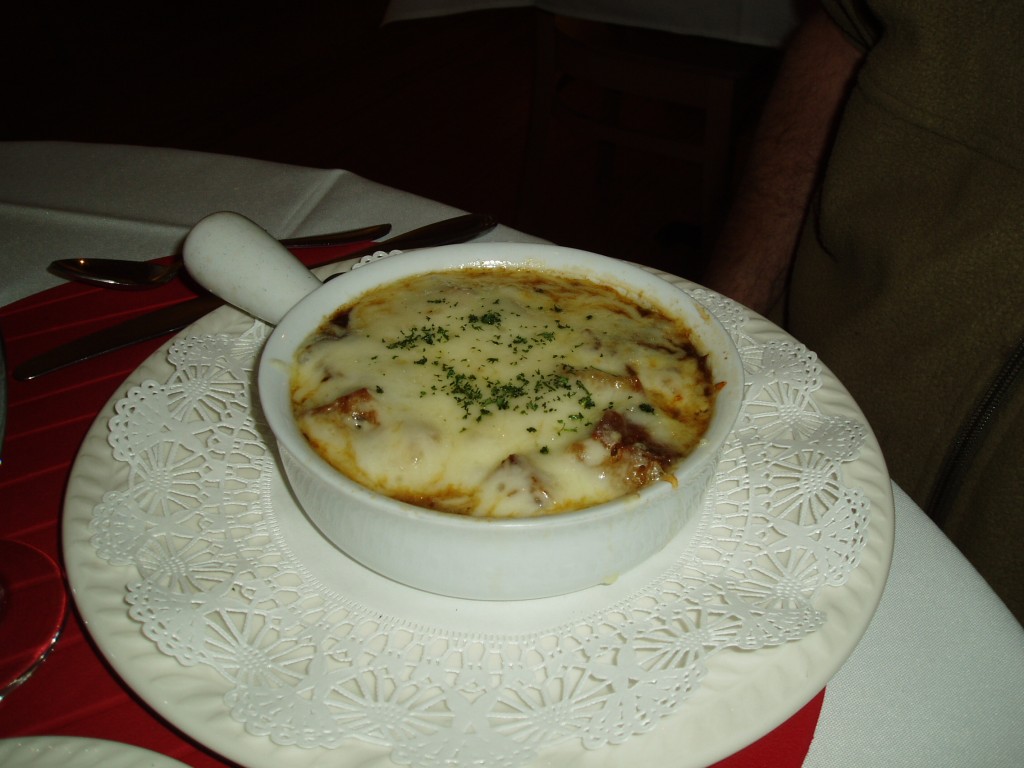 Michael's French onion soup was so delicious we both thought we could eat it every day for a month and be quite content.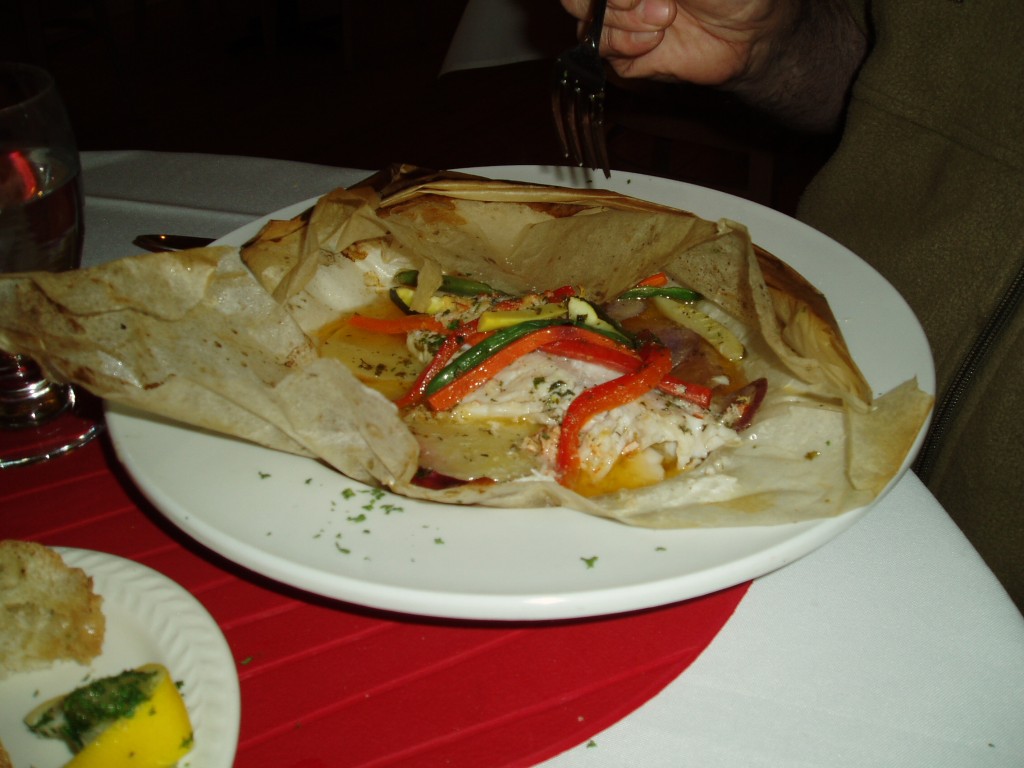 Ever the fish lover in every way imaginable, Michael ordered the walleye cooked in parchment, with some kind of mouthwatering sauce and delicately sliced vegetables that spilled out once the paper was torn open.
I ordered a French chicken and potato dish, but forgot all about taking a photo until halfway through enjoying it. Somehow a half-eaten plate of food doesn't look very appetizing on a blog. You'll have to take my word for how exquisite it was in taste and presentation.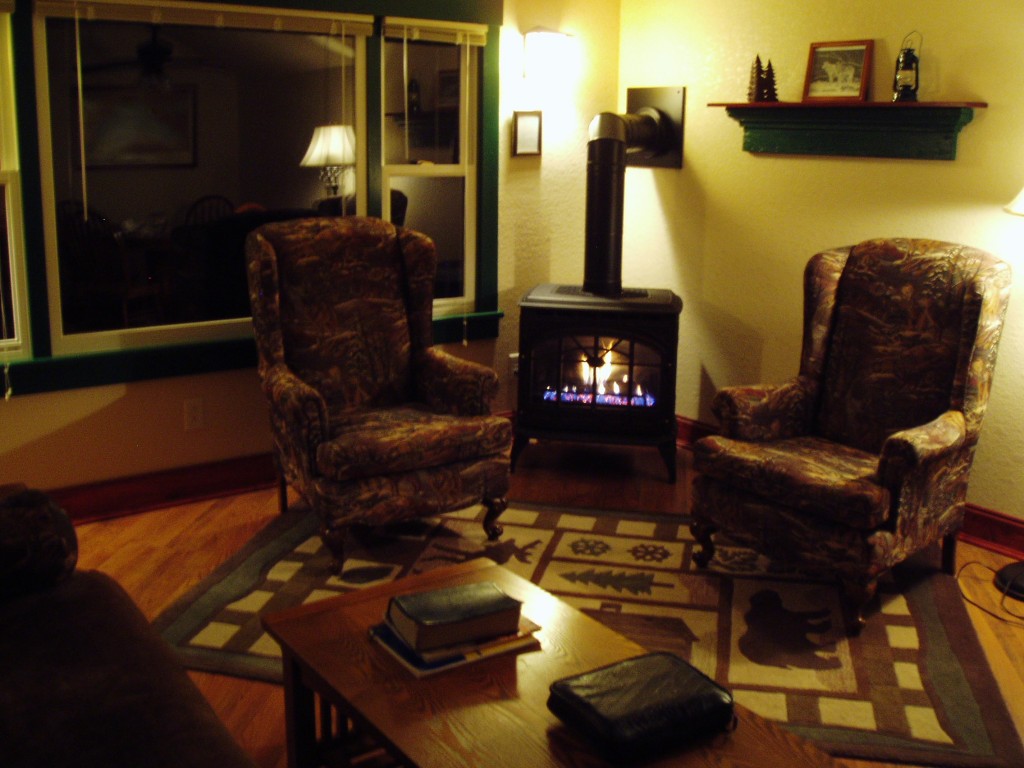 We returned to our cottage after our wonderful meal, cranked up the fire and played cribbage. We read, we laughed, we exhaled. We knew we'd have to leave in the morning and it seemed like only hours since we'd arrived, but we were both rested and refreshed.
The next morning we had some fruit for breakfast and slowly packed things up before driving away from our little cottage. We decided to stop for lunch at the Lutsen (pronounced LOOT-sen) Resort, nineteen miles south of Grand Marais.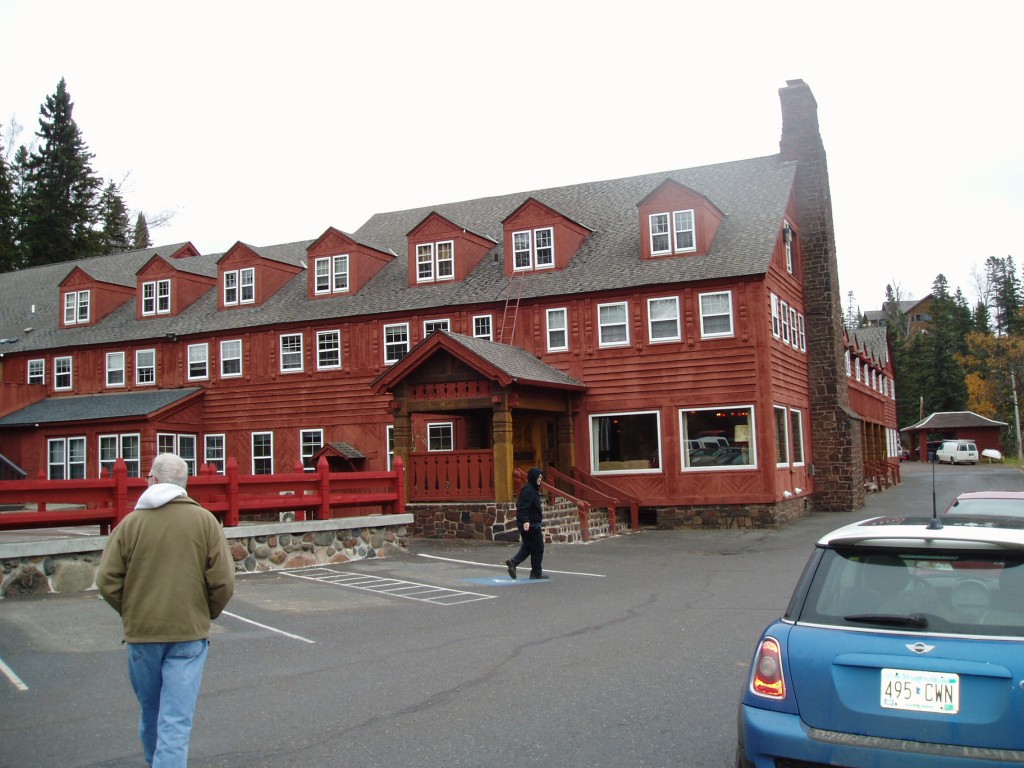 I've always loved this place on the Lake. It was another cloudy day with a brisk wind, so the beach was empty. If you look closely at the photo below you can see the covered bridge and the Adirondack chairs lined up by the water's edge.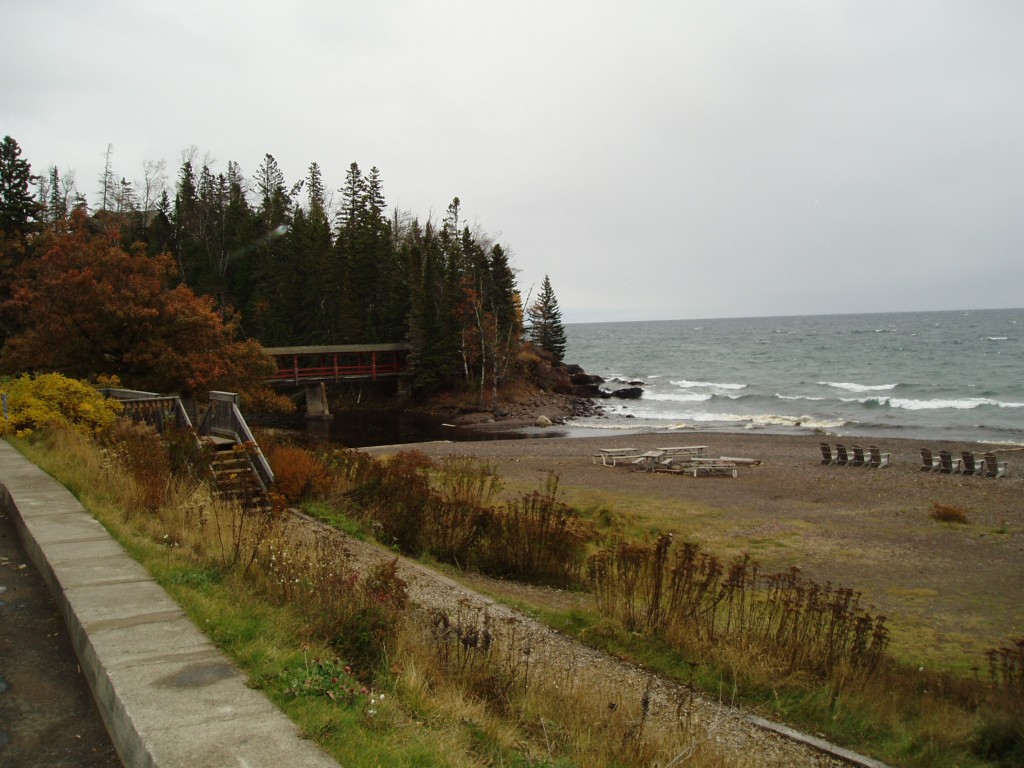 After the Cream of Chicken and Wild Rice Soup the Lutsen folks are famous for, we headed back for the van and drove south toward home. We loved our time up the shore, short as it was, and we hope to be able to take a little trip like this every couple of months.
We are still talking about our little cottage of repose.