A weekend away
Last weekend Michael and I went away to celebrate our 28th anniversary. We drove to Bayfield, Wisconsin, on the shores of Lake Superior. We also visited Madeline Island, which is part of the Apostle Islands Chain. We went away to rest, to stroll, to nap, to refresh and to reflect. I might add that my intention in this little retreat was to not cook, not clean, not let the dogs in and out seventeen times during the day, and to not do paperwork. Measured by that criteria, I would say our anniversary weekend was a success – we had a very fun and restful time.
We stayed at a great place right outside of Bayfield, called Woodside Cottages. We liked the idea of not staying in a hotel or an inn, and not sharing a hallway or walls with anyone else. We wanted quiet, and the Woodside Cottages delivered.
Our cottage was #4, and it was situated right on the edge of the woods. The  photo of the inside isn't very large but you might be able to see that we had a wood stove, a fridge and microwave, a tub, table and chairs, etc. The weather was warm and breezy, so the sound of the leaves rustling and the many varieties of birds singing was like nature's sleeping pill. We could feel the tension just fade as we unpacked our bag and decided to nap before going into town to explore.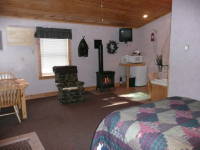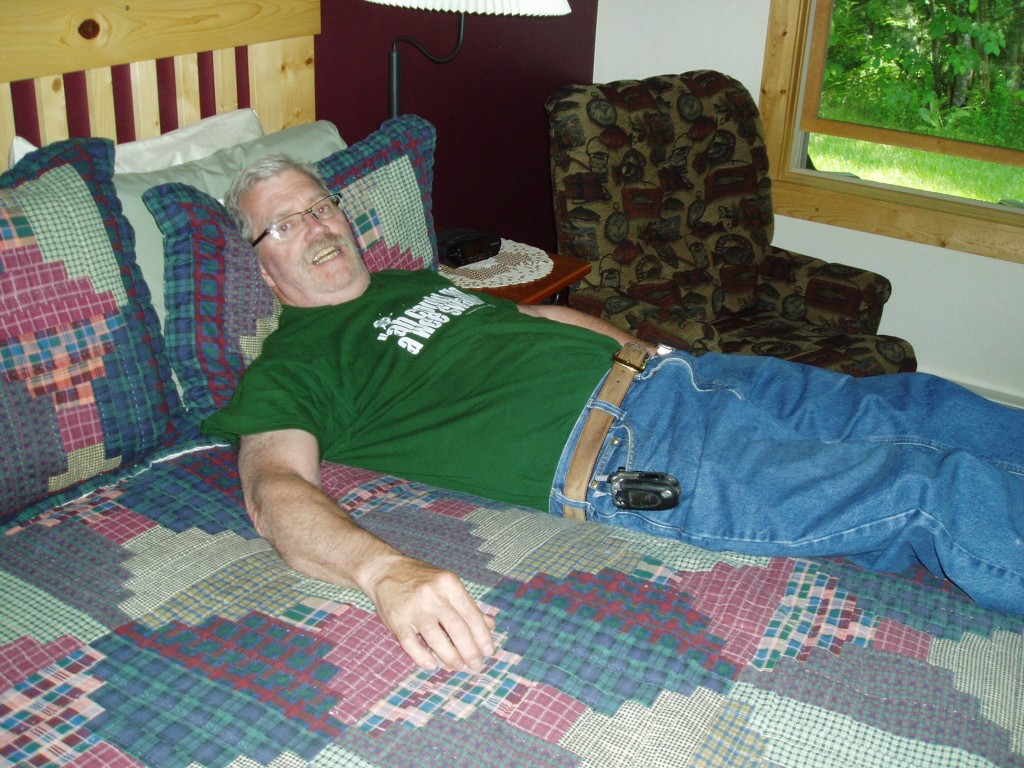 My husband of 28 years, happy to rest after driving for a couple of hours.
Later in the afternoon we drove into Bayfield and shopped. Bayfield boasts only a couple hundred residents and survives mostly by tourism. There are a lot of cute gift shops, antique stores, restaurants, fishing boat businesses and places to lodge and dine. The first weekend of every October, tens of thousands of people from all over the upper Midwest converge on Bayfield for their famous Apple Festival, and there are vendors, parades, contests, and all things apple to eat. Apple orchards abound in and around Bayfield, and the fall colors are so brilliant.
On Friday evening we ate dinner at Maggie's, which is known for their great food and over-the-top pink flamingo theme. Michael had pan-fried Lake Superior Whitefish and I had the Blackened Chicken and Blue Cheese salad. People with flamingophobia should not visit Maggie's, as every square foot of the walls and ceilings are covered with flamingo posters, stuffed pink flamingoes, plastic flamingoes, and lighted flamingoes.
After the most restful sleep from not getting up at 5:00 a.m., we took our time and didn't go into town for breakfast until 9:00 a.m. This is unheard of in our lives. 9:00 a.m. is almost lunchtime at our house – we've been up for hours by then. This is a morning view of Bayfield, taken from one of the main streets (Manypenny Avenue) looking toward Lake Superior. You can see Madeline Island in the distance, 2.6 miles from Bayfield.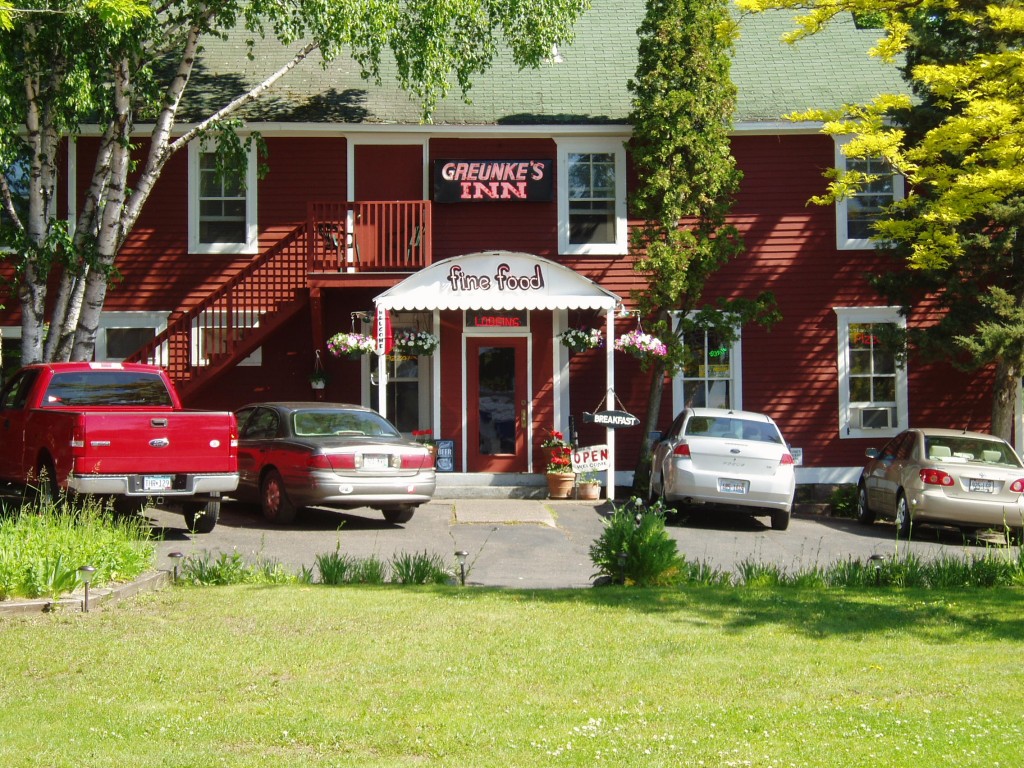 Michael was looking forward to going to Bayfield for two reasons: to rest and to eat at Greunke's. Greunke's is a really old inn that's sort of a landmark in Bayfield, known for hearty, home-cooked food. Any time we've ever visited Bayfield overnight, Michael has talked about eating breakfast at Greunke's.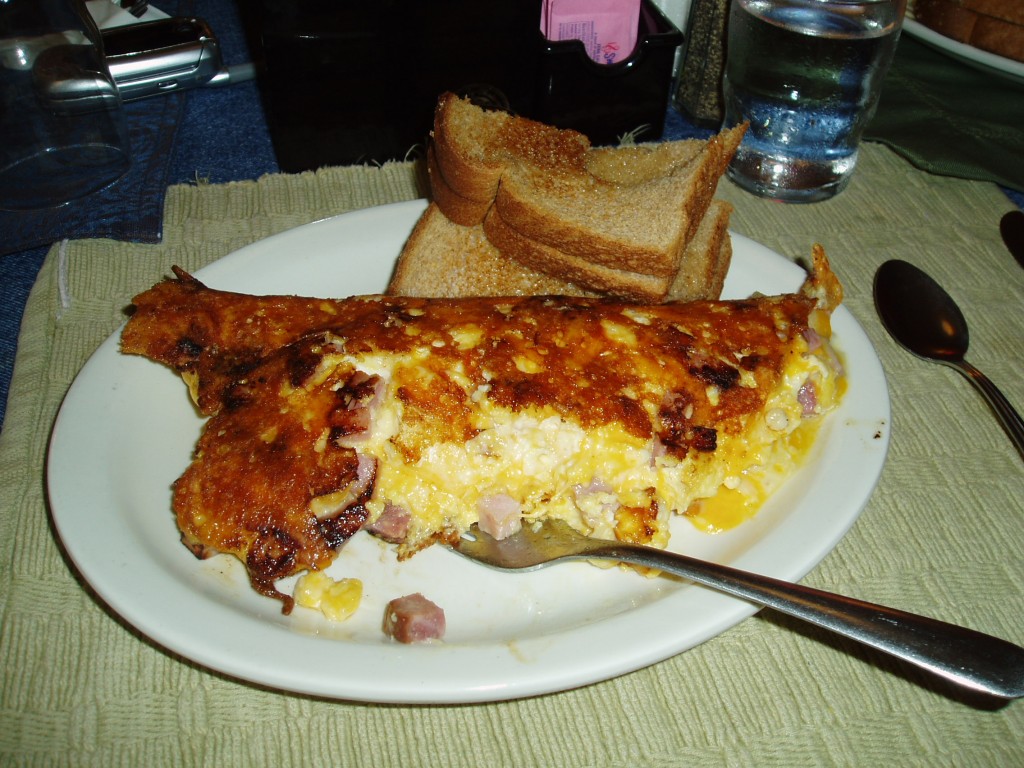 I'm not a very good photographer, but when we ate breakfast at Greunke's I had to get a shot of my surprisingly crunchy ham and cheese omelet. I stared at it for a while before trying it, and I almost sent it back without taking a bite, because it was so….well, crispy looking. I cook my omelets to be soft and fluffy and not browned at all. I tapped on the outside of this omelet with my fork and it made a loud sound, like someone knocking on cardboard. I thought quietly for a minute and decided I didn't want to begin our Saturday discontented and persnickety, so I took a bite. The outside of the omelet was as crispy as a potato chip.  Not good, I thought. But guess what? The more bites I took, the more okay it got. I actually enjoyed my almost-burned and strangely brittle ham and cheese omelet from Gruenke's, and somehow starting out the day in a gratitude mode made me feel really happy.
Michael had his never-varying favorite breakfast: two fried eggs over-easy, two pieces of wheat toast with peanut butter, American potatoes, and two sausage links. I have never known anyone more devoted to sausage than my husband. He knows this is not the greatest boon to his arterial health so he doesn't eat sausage daily like he used to before we got married, but sausage is one of those things in life that makes Michael very happy. As you can clearly see by this photo.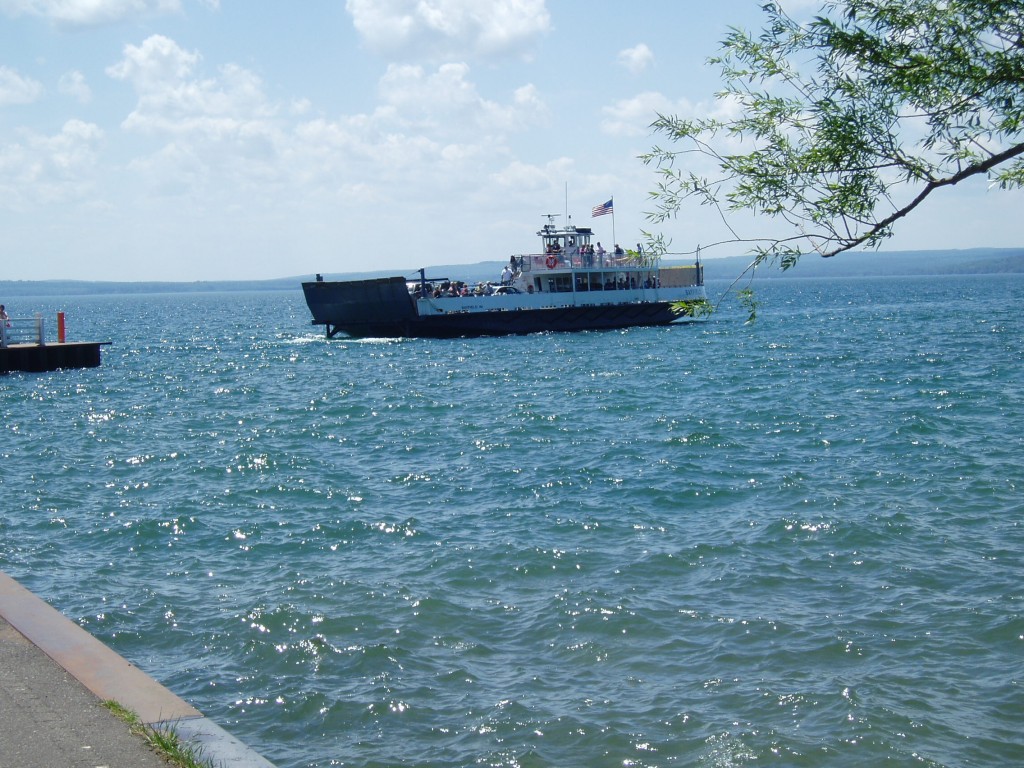 After breakfast and a little strolling around downtown Bayfield, we lined our van up with several other cars waiting to take the ferry to Madeline Island. There are four ferries in Bayfield and the biggest one holds 20 vehicles. The one we took on Saturday was called The Island Queen and held about 12, I think. It takes about 20 minutes to reach the island.
And we sat in the van as we crossed, backwards. The temperature was already 80 degrees and there wasn't a cloud in the sky. We were looking forward to doing a lot of nothing much, and visiting beautiful Big Bay Beach on Madeline Island.
Here's part of the sandy shore at Big Bay Beach on Madeline Island. The water temp was in the forties, so it was still too cold for swimming. Later in the summer it will warm up, and swimmers can go hundreds of yards out in the very shallow water before they reach a huge drop-off and dangerously cold water. The sand was scorching hot.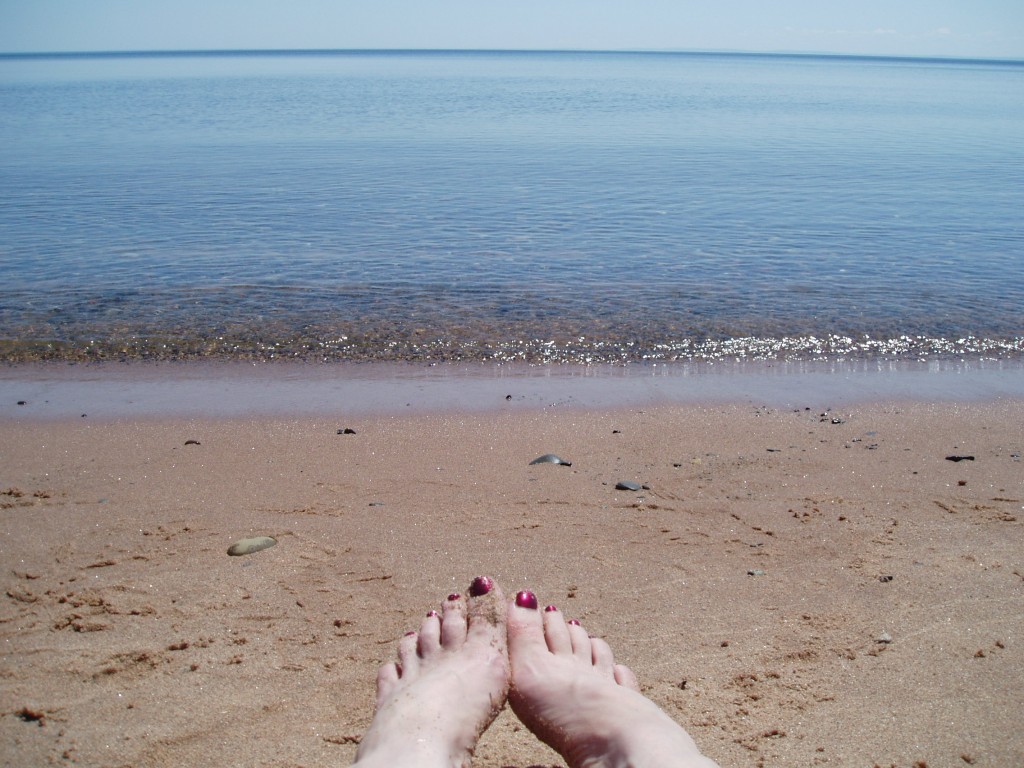 Lake Superior is legendary for its "gales of November" and  for never giving up its dead. (If you don't believe me listen to "The Wreck of the Edmund Fitzgerald" by Gordon Lightfoot.) I've seen the Lake's towering storm-tossed waves, but on this June morning the waves were about two inches high.
After Michael and I enjoyed the beach until I was on the verge of sunburn, we drove all around Madeline Island, looking at houses that were for sale, and we dreamed about having a summer home there. A three bedroom house can be had for less than $200,000. Wildflowers grew on the sides of the roads everywhere – here are some lupine, and we saw Indian paintbrush and buttercups in abundance.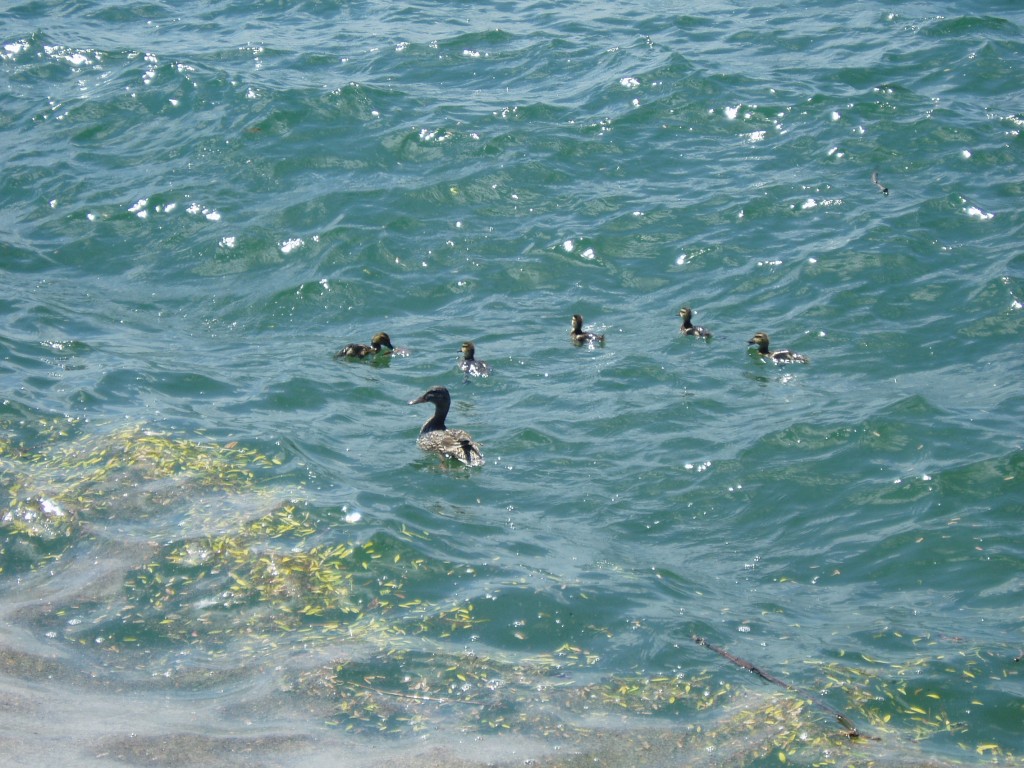 Even in the afternoon we were still so full from our Greunke's breakfast that we opted to each have an apple and a bottle of water for lunch. We knew we had a special dinner lined up for Saturday night, so we thought two meals would be plenty for one day. After more strolling and more not paying attention to the clock, we headed back to the ferry dock to wait for the next ride back across the water to Bayfield. While we sat in the shade by the big Lake, we watched in delight as a mama duck led her little ones around and showed them what to eat. The waves were bigger here and the ducks were bobbing up and down like little corks.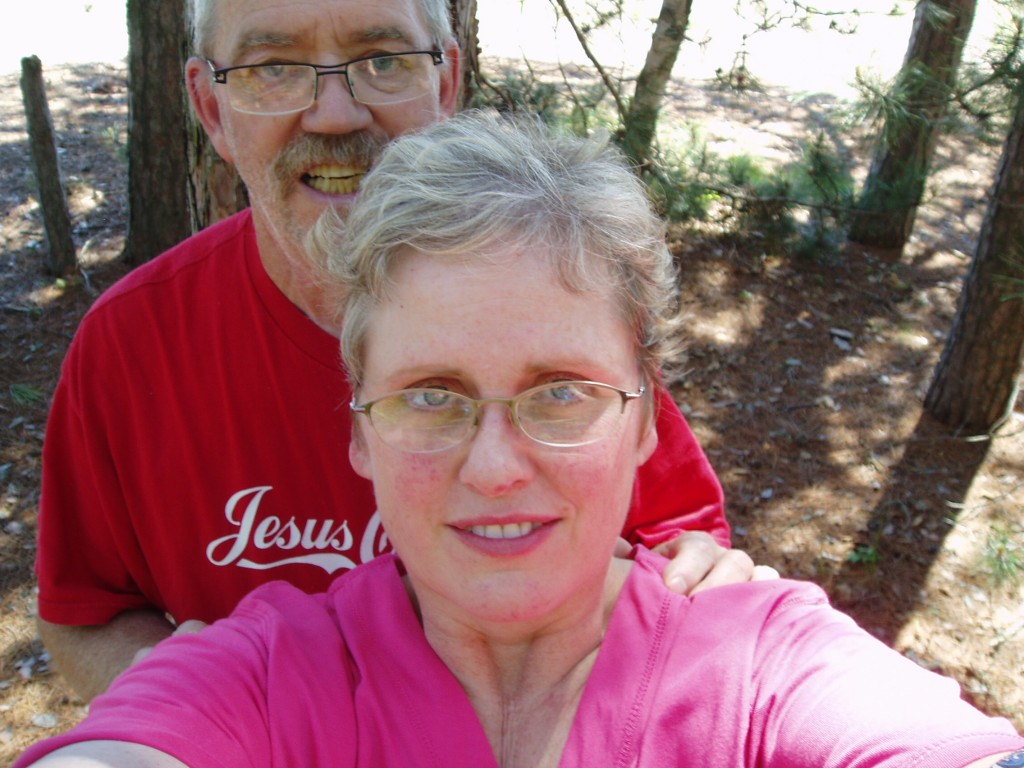 See how tired and worn out relaxed and refreshed we look after a day on the Island?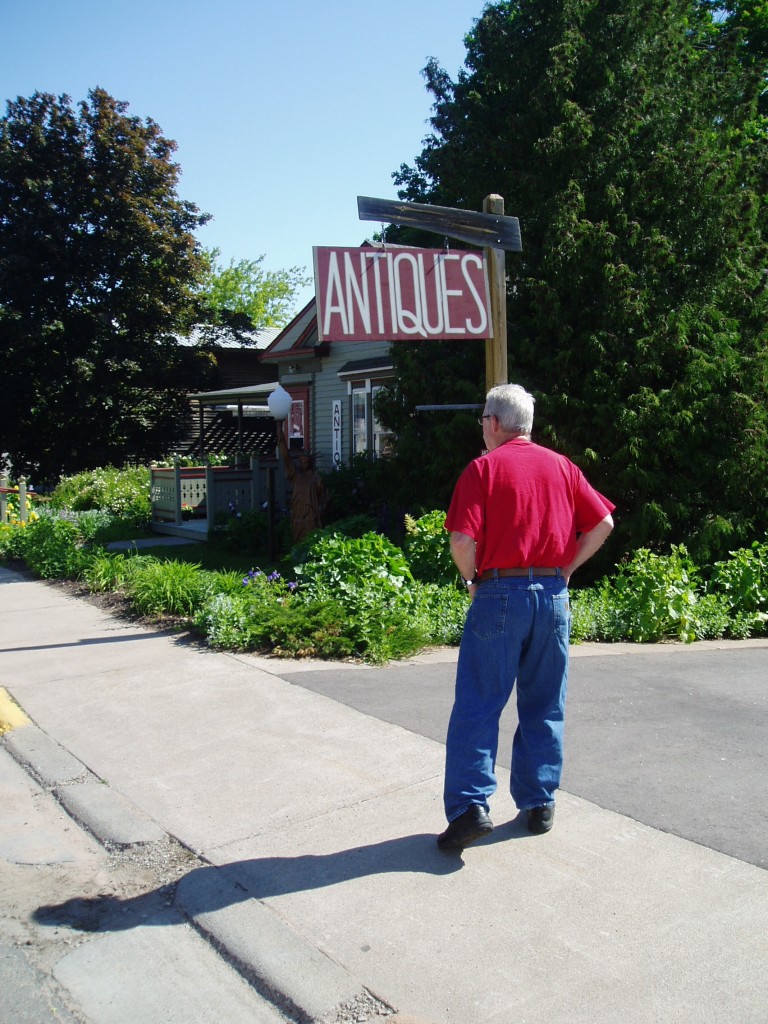 Back in Bayfield, we decided to do another thing dear to my husband's heart – antiqueing. Michael has always loved to shop, and I never really enjoy it very much. But that saying "I have places to go and people to meet!" did not apply on this day, so I magnanimously suggested that we check out the antique store across the street from Greunke's. Michael was excited. Excuse the pun that is this picture. It was absolutely intended. 🙂
We went back to our little cottage after a low-key and wonderful day, to (what else?) nap and to not cook and not clean, and to talk about how much we looked forward to our anniversary dinner at The Old Rittenhouse Inn.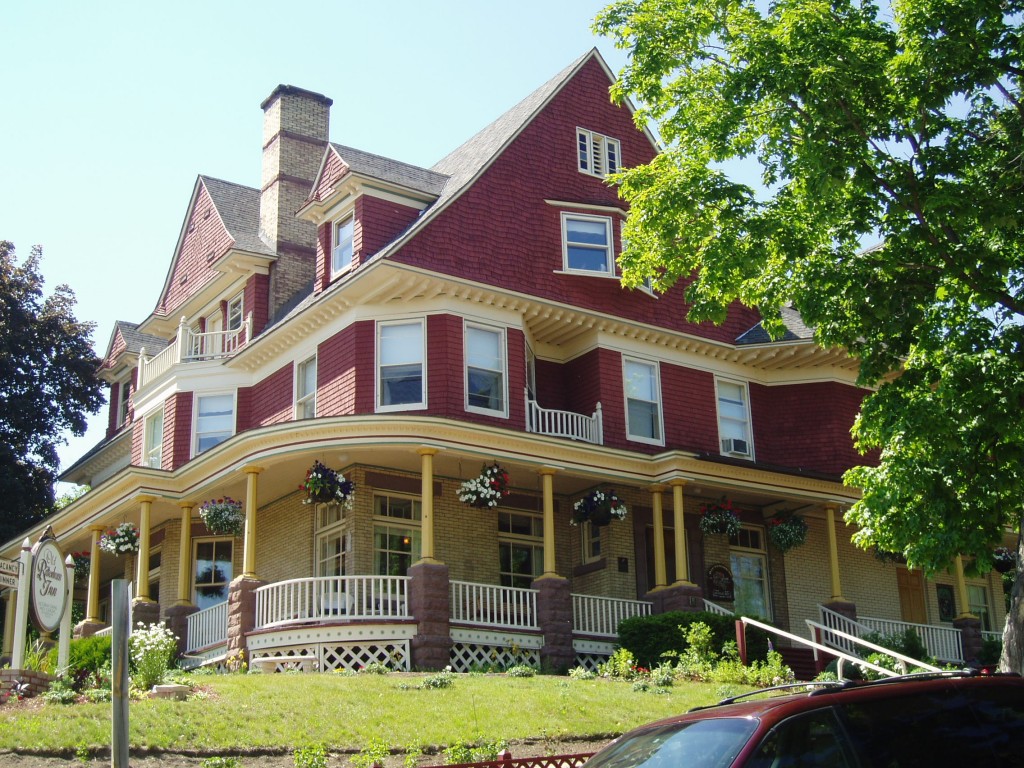 There is no way to describe how amazing the food is at The Rittenhouse. The old Victorian mansion is beautiful inside with fireplaces in every room. A five-course dinner is served, and Michael and I chose different things for each course so we could have a taste of each other's food. His soup was homemade tomato with fresh herbs and sour cream. I have never liked tomato soup but could eat that kind every day. I had French onion with Gruyere that was to die for. His salad was greens-based with smoked lake trout, wild rice and a horseradish/mayonnaise dressing. My salad was spinach-based with toasted hazelnuts, strawberries and a balsamic dressing. The third course is a palate-cleansing and refreshing sorbet. Are you ready for this? Our sorbet was Hibiscus and Ginger. There are no words, really.  For our main course Michael chose the Rittenhouse pork chop – a two-inch thick, center-cut chop seasoned with sage, thyme, rosemary, and garlic. It was slow roasted, could be cut with a fork, and was served with an apple marmalade glaze and pan jus. I had the Chicken Champagne with garlic mashed potatoes and fresh asparagus. The sauce served over all of this was delicate and had flavors I couldn't identify, because I cook with a crockpot three times a week and consider homemade tacos a really good meal.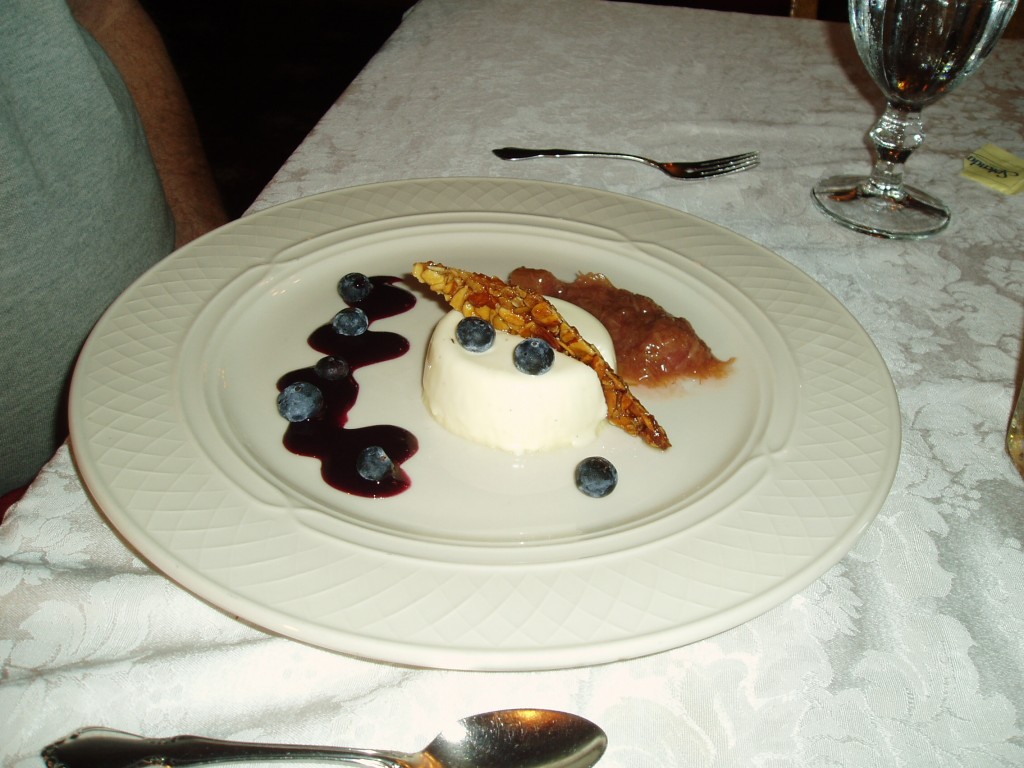 When it came time for dessert, we looked at each other doubtfully – we were already stuffed. Oh well. Michael had a vanilla panna cotta – a silky, eggless custard with Bayfield fresh blueberries, a rhubarb sauce and an almond cookie. Once again, I have no idea how to describe all these textures and amazing flavors. We could only look at each other with each bite and say nothing, which was saying a lot.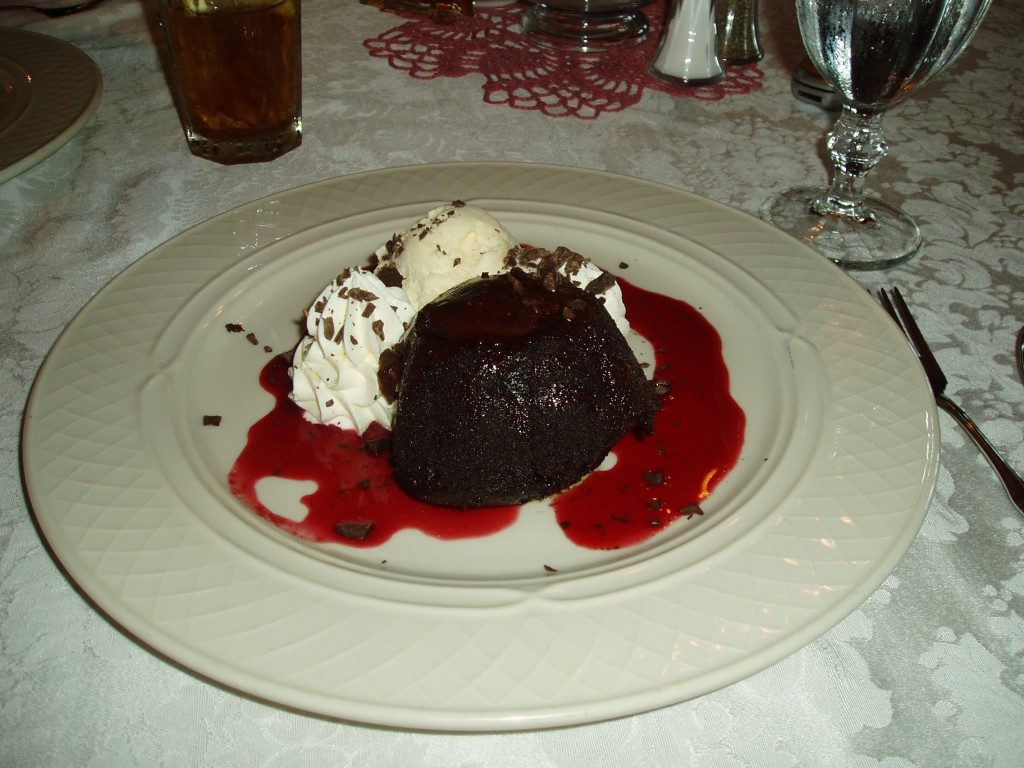 My dessert was a dark chocolate ganache cake with a tart raspberry sauce, ice cream, homemade whipped cream and shaved European chocolate. At this point I wouldn't have known the difference between Hershey's chocolate and Belgian chocolate, because I was wondering if we were going to walk or waddle out of the Rittenhouse after our meal. I think we waddled. We walked around Bayfield after dinner, and sat down by the marina for a while, enjoying the setting sun and the cooling air.
That night when we returned to our little Woodside Cottage, we remarked again how nice it was going to be to sleep in and not to not have any particular schedule to adhere to. No meetings, no paperwork.
Sunday morning I took this photo – right outside our cabin's porch was a hanging basket of fuchsia (thank you for telling me what these are, Tauni!). I was so taken by these pink round buds, and then the unique way they opened and bloomed.
Aren't these lovely?
The constant, soothing birdsong, the poplar leaves rustling in the soft breeze, the flowers and the water all around us – what a tonic it was for us on our anniversary weekend.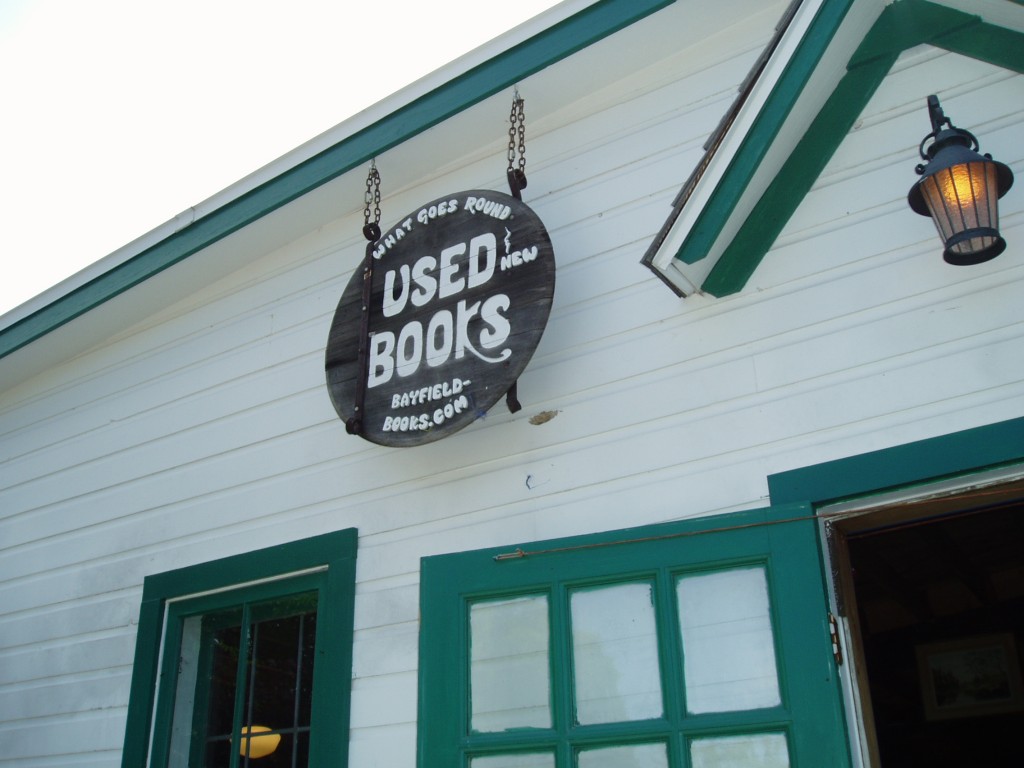 On Sunday morning we ate at The Egg Toss (one crunchy omelet was enough for the year so we didn't go to Greunke's again) and had a fantastic breakfast. Michael had his usual, and I tried whole grain buckwheat pancakes and a smoked chicken sausage with oats and chopped apples inside. Sounds iffy, tasted indescribably yummy.
And since we browsed antiques for Michael, we had to browse books for me. We walked around this tiny and well-stocked used book shop in Bayfield for a while before reluctantly heading for home.
You know, it's not as if we don't already live in a beautiful and relatively quiet part of the country. Northern Minnesota is one of the most gorgeous places on the planet, in my humble opinion. But visiting Bayfield and Madeline Island was so fun and restful. We feel rejuvenated and are looking forward to planning our next getaway. We're thinking about going up the North Shore of Lake Superior next time, maybe this fall or for our 29th anniversary.
But for our 30th anniversary, in 2011, we're talking Alps. We're talking Scottish Highlands. We're talking Norwegian Fjords.
Oh, yes, we're talking…