"Yook at dat yake!"
Once upon a time there was a little girl who couldn't pronounce her "L"s.  "My name is Cawoyin Beth Yahpine!" she would declare to anyone who asked what her name was.
Her mother thought it was such a sweet thing, she never bothered to correct her daughter, knowing that someday she would learn to pronounce her L-words properly.
The little girl and her family lived near an enormous lake, and there was rarely a day when they didn't see a view of it in some way, whether driving close by the shoreline or sitting on the bed and looking out of the upstairs bedroom window.
"Yook! Yook at dat big yake, Mom!" she would point and exclaim when they would drive over a hill and see the lake's dark blue vastness laid out before them. "I think dat's Yake Su-PEER-iter!"
"Yes, you're right Carolyn. It's the lake that looks like an ocean."
And the little girl's mother would smile to herself and close her eyes and revel in the moment of innocence and sweetness.
Years passed, and "yake" turned to "lake," and "Caroyin" became "Carolyn," but the mother never ceased to occasionally close her eyes and smile and revel in the memories, even though the little girl had grown up into a lovely woman who could easily say her "L"s.
*        *       *        *        *        *        *        *        *        *
Years ago I used to love scrapbooking, and I made a "Life Book" for each of my daughters and presented it to them when they graduated from high school. The scrapbooks are chronological pictorial accounts of their lives up until that point, and I used to stay up late into the night and work on them. I sat on our living room floor with old photographs spread out all around me, colored paper and stickers and markers and special scissors strewn about, and I prayed as I snipped and glued. I often cried over the pages I worked on too, recalling the innocence of their youths and how terribly fast the years had flown by.
Here's one double page spread from my middle daughter Carolyn's scrapbook. It has a picture from each year of school, from Kindergarten to her high school graduation photo. You can click to enlarge if you'd like to read the little caption I put under each one.
Now Carolyn is married and is the mother of four beautiful children. The oldest three will be in fourth grade, third grade and Kindergarten this year. I see a little of each of those three in the corresponding grade photos of Carolyn above.
Carolyn loves autumn and cool air and changing leaves. She dislikes fast rides and extremely hot weather. She's a meat and potatoes kind of gal and is an excellent cook. She isn't fond of coffee or soups with a light broth base. She loves to read and can still hide herself away in the midst of chaotic activity and disappear into a great book, just like she did when she was little. She likes old show tunes and can belt them out with the best of them. She believes in having a bit of candy every day. 🙂 She loves her family. She might rather listen to Rosemary Clooney sing instead of many of our current day sensations. She loves dogs. She's really funny. She often sees things through a black and white kind of lens. She is resilient and forgiving.
Carolyn also loves the theater, and has been in more plays in our local community playhouse than I can count. She can sing and act, and has had the lead roles in Cinderella, The Last Five Years, The Trip to Bountiful, Carousel, Picnic, The Philadelphia Story, Moon for the Misbegotten, The Miracle Worker, and so many more. This coming Christmas she'll be in the holiday musical The Sound of Music and I can't wait for that.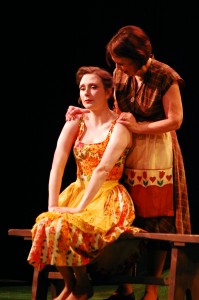 I marvel each time I sit in the audience, watching the beautiful and gifted young woman on the stage…who used to be my little girl who wore the big glasses and couldn't say her "L"s.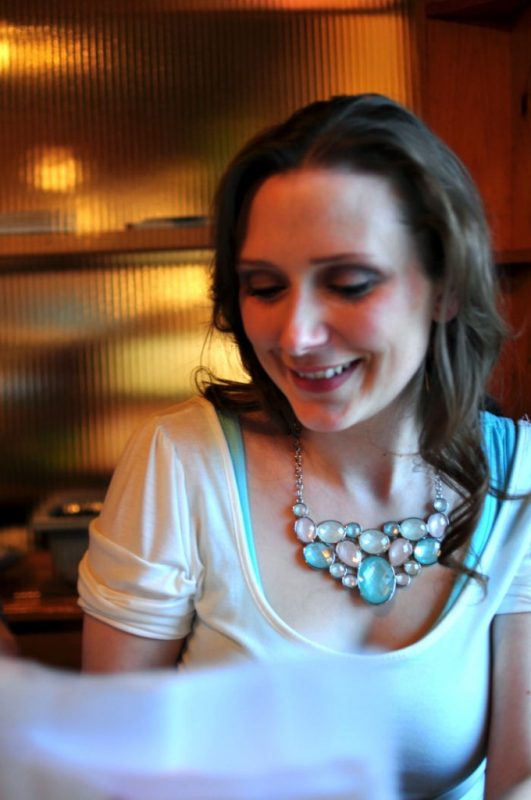 And I love her so.