A Wintry Morning's Musings
Oh, how I love a day at home, with no packages to mail, groceries to lug, meetings to attend. It's also a luxury to let myself wake up when my body wants to wake up, slowly, in the dark and with no hurried thoughts set toward organizing a to-do list. When I have such a day, I usually do wake before 5:00 a.m., but after going potty and clicking the heat up a bit, I come back to bed, tug the heavy covers up over my neck and ears, and listen to something to help me calibrate my day. Often it's Father Mike Schmitz reading The Bible in a Year to me on the Hallow app. Or today's scripture reading from my beloved Pray As You Go app.
When I'm ready to get out of bed 20 minutes later, it's still pitch black outside. I turn on a beautiful little stained glass lamp Lloyd gave me for our third anniversary in October. It puts out just enough light, not so much to illuminate the whole bedroom. I often light a beeswax candle on top of my tall mahogany dresser, and I turn on my little electric fireplace by the bedside. I pull the curtains open and look out on the neighborhood. The wind blew the snow off the roof last night while I slept, and deposited it on my newly shoveled driveway. I head to the kitchen to get some water and to microwave my Medibeads eye compress (44 seconds will do it), then I return to my room and put the compress on my eyes until it cools. I've had Meibomian Gland Dysfunction for years and oh, this compress is so wonderful for those with dry eyes. It really works.
I reach for the remote and the head of the bed slowly raises, and if Lloyd hasn't been in town from his cabin in the woods south of me, all my Treasured Things are waiting for me on his side of the king bed. My Bible. My CBS lesson (currently on the book of Joshua), two devotionals I love equally, my gratitude journal and a regular journal I often write prayers and thoughts and heart cries in. I look out the window from bed and see swirling light snow in the street light across and down one house. I look at the triad of soft lights in my room, almost equidistant from each other, and I ask the Father, Son and Holy Spirit to please come and help me this day. My prayers are so simple, really. But almost every morning without fail I end up with several wadded up tissues on the bed, because the tears fall as soon as I read His Word, or write the names of my loved ones in my journal. Everything seems to condense as one ages. The same prayers and struggles and joys, but more intense, more urgent.
Several days ago my dear friend Denel flew from San Diego to Duluth to spend a long weekend with me. We hadn't seen each other since March of 2020. She and I sat and reminisced of course, because when a friendship is 58 years old, how could we not? We drove down to see Lloyd's place and the three of us had the legendary burgers at The Bear's Den. She came with me to see my granddaughter Margaret perform as Ariel in her high school's production of The Little Mermaid. Denel and I drove out to Chris and Sharon's to visit a while, and we solved all the political problems of this divided country, just the three of us. We also took a drive up the north shore and stopped at Great Lakes Candy Kitchen in Knife River, where we browsed and picked out delectable goodies before going to sit close to Lake Superior and watch the waves break on the rocks. One night Denel and I shared a meal at Taste of Saigon, our local Vietnamese restaurant, and talked about our childhoods and families as we always do. When I shared a memory of her dad, my eyes filled and I felt so grateful to have known him.
Denel has reminded me that even though we've been through so much in our lives (both lost husbands, both had difficult brothers, both experienced heartache in other ways) and have gone on to happy times and being grandmothers and delighting in other friends, we are each others' last link to our childhoods. We knew each others' families, triumphs and tragedies so well. I went on vacation with the Lupianis, Denel went with the Sooters. To say we have thousands of memories would not be overstating it, but to say we can access them all, well that is another story. Denel and I sat in my living room one night and quietly acknowledged to each other that at our ages, this could be the last time we'll see each other on this earth. Probably not, but it's possible. And I wanted to distill everything we did and said, and hang on to it so tightly.
Soon I will pack a small bag and drive to one of my favorite places, Pacem in Terris, in St. Francis, MN. It's about a two hour drive from my home, and there are 19 hermitages placed in the woods of this retreat center. I'll be staying in one of the three newly built hermitages, all named for saints. Mine will be St. Maximilian Kolbe, and I had to look him up because I wasn't familiar with him. Here's a photo, and the path that leads to it: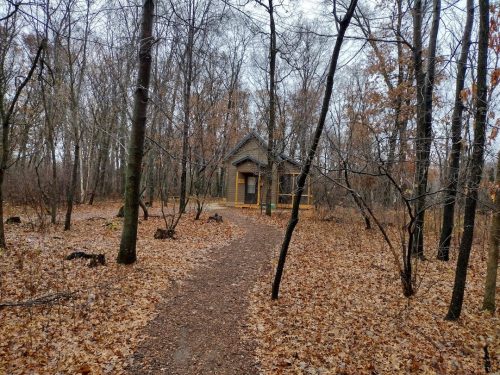 I never quite know what a few days in a one-room cabin in the woods will be like. The first time I went was restful and much needed, as Michael was becoming more ill with Parkinson's. The second time I went was all about my pride, and what the humility of Christ looked like. One time I went to Pacem and the word "offering" kept coming to my mind and was in all the scriptures I turned to. Sometimes I go very heavily burdened and just want the Lord to tell me what to do next.
The first time I went to Pacem the woman who met with me before I walked back to my hermitage said, "Even though you made the plans to come here yourself, please remember it is Jesus Himself who has invited you, and He is waiting for you in your hermitage." I've been pondering that these past few days. I believe with all my heart that He will be waiting for me when I open the door, and I pray I will receive His words, correction, cleansing and hope. I know that He lives within all believers and is always with us, but there is something quite set apart about going to a hermitage in the woods to be solely and wholly with Him. He knows how deaf I can be, I ask Him now to open my ears. He has experience with healing the deaf and the blind and the lame. And the dead. So no matter what hinders me, He is able.
Can you imagine opening your mailbox and seeing an inviation from Jesus Christ, Son of the Living God, sitting there with your name glowing on the envelope? I wonder what He would invite us to? I know He invites me to prayer all the time, and too often I don't show up. He invites me to deep trust, but I'm more familiar with fretting. He invites me to keep company with Him, and I turn to lesser things. What would I do without His patience and mercy? I would have died decades ago, but that is another story for another time.

I was going through old pictures two weeks ago and found a blurry one of my sixteen-year old self. This was taken in Squaw Valley, California, at Girl's State. It was a program for high school juniors from all over the state to spend a week learning about government by participating in actual campaigns and elections. We never got snow where I grew up in Covina, CA, so I guess I wanted to stand in a leftover patch at the ski resort that hosted us.
That girl in the picture was in pain. Her parents had split up two years before after 31 years of marriage, her brothers hated each other, she had a boyfriend who was not a standup guy, and her priorities were all wrong, and she knew it.
I feel love and kindness for that tall, uncertain girl. I'm so thankful the Lord did too, and kept her alive and kept pouring out His mercy and faithfulness on her life. He brought her out into a more spacious place and saw her through dry deserts and mucky swamps of sin of her own making. I'm so grateful He saw fit to give her three daughters who her heart beats for today. His goodness was so deep and wide He let her hold and kiss eleven grandbabies, with one still yet being formed in her mama. The ocean of His mercy in which He bathed her has now allowed her to receive invitations to come and spend time alone with Him, because He's not finished with her yet.
Have you ever received an invitation from God? What did He invite you to?
Thank you for stopping by, friends. May you have peace and hope this Thanksgiving.