What the world needs now…
….is, apparently, chicken diapers.
Yes.
My daughter was telling me about an article in Entrepreneur magazine about a new business that has taken off. It's a small but up-and-coming company that sells diapers for chickens. Because keeping chickens as house pets is, by all accounts, a new and fast-growing trend.
If you look at the chicken diaper site, you can see touching photographs of people cuddling with their chickens on the couch, and small children snuggling with chickens while napping.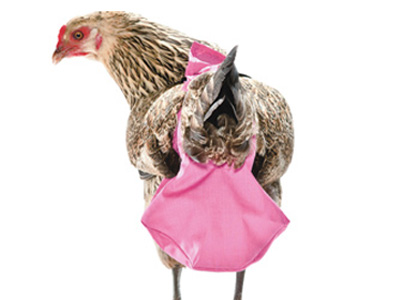 Chicken diapers are not one-size-fits-all, or even "Men" or "Women" sized. A chicken owner must carefully measure their bird in a few different ways and then make their purchase accordingly.
I mentioned this new fast-selling product to Carolyn and the look on her face was priceless. "Chicken diapers?" she asked dryly, in a tone that said youhavegottobekiddingme. We tried to imagine adding the chore of changing and washing chicken diapers to our daily list of things to do, and neither one of us could picture ourselves at the task.
I am making slow but determined efforts to simplify my life. I can state with a fair amount of certainty that diaper-wearing chickens will not be permitted to fowl up my plans.