O Holy Night
I hope your Christmas was a day you'll long remember for the joy it brought to your heart. Our Christmas was very blessed, with a houseful of family (seven grandchildren!), a table full of food, too many presents, flowers in every room, two feet of snow on the ground, and for me, the constant comfort and hope that Christ brings.
On Christmas Eve Michael and I went to the candlelight service at our church. Later, Sharon and Carolyn cooked and served a simple, delicious meal at our house. We had roast beef and mushrooms in a delectable wine sauce, roasted cauliflower, and Caesar salad with Carolyn's amazing homemade dressing and Sharon's homemade sourdough croutons.
We sat all crowded around in the living room, and each person picked a favorite Christmas carol to sing. The children's choices included "Jingle Bells" and "Santa Claus Is Coming To Town," and some of the adult's choices included "White Christmas," "Hark the Herald Angels Sing," "Joy to the World," and my personal favorite, "O Holy Night."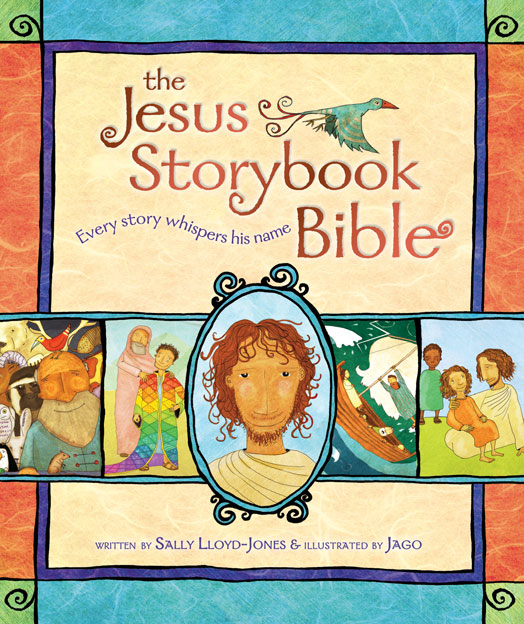 Then we sat while Carolyn read the Christmas story to us from this book, which is our favorite children's Bible. It took me a while to grow accustomed to the cartoonish illustrations, but the text is so marvelous the book is worth buying for that reason. The subtitle is "Every Story Whispers His Name," and the book highlights how even the Old Testament stories point ahead to the arrival of Jesus Christ.
When grandchildren spend the night, they invariably grab this book to page through for the hundredth time when it's bedtime. Most of them have heard me read through the whole book, but still want to read it again and again. If you have a young person in your life, this would make a wonderful gift.
Everyone eventually went home to their own houses, and we knew to expect them all early on Christmas morning. Both Sharon and Carolyn's families brought their own gifts over to open here, and then we enjoyed a bountiful brunch with a ham and cheese casserole, baked French toast, wild rice porridge, fruit salad, smoked salmon and Gruyere on hazelnut crackers, and more. (I have commenced to waddling and it has got to stop.)
I took photos of all the floral arrangements Sara created and placed around our house. I also took some pictures of the children opening gifts on Christmas morning, but for some reason almost all of those turned out a bit blurry.
This is the east side of our table centerpiece. Sara used roses, pine boughs, rose hips, bok choy, pomegranates, delphinium, thistle, pears, and curly willow.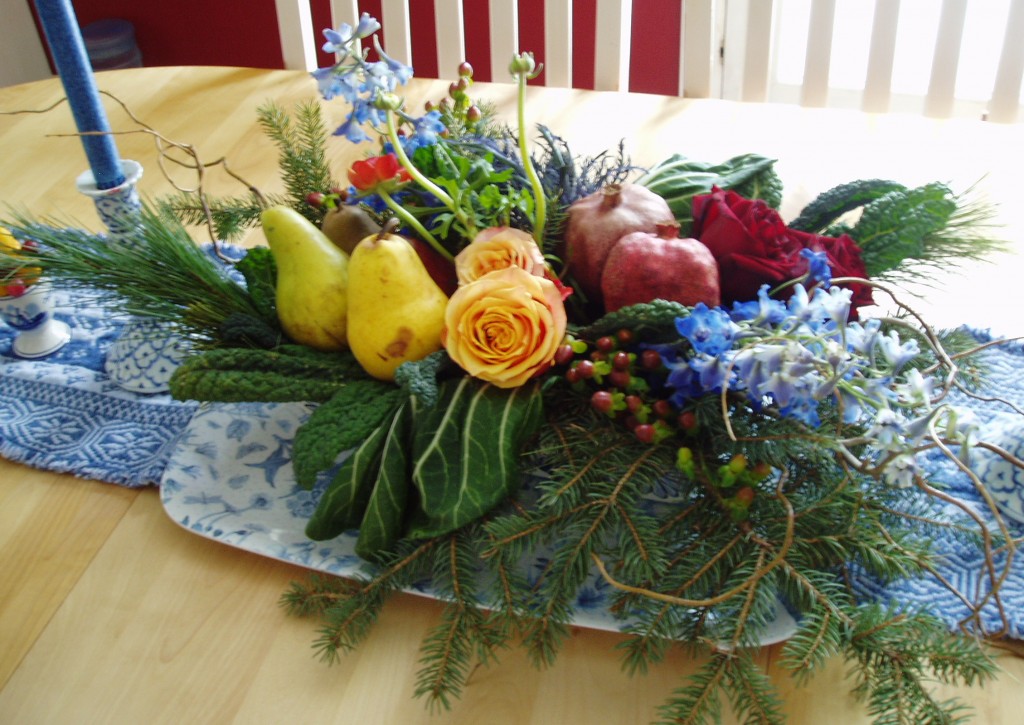 Here's the west side of the same arrangement: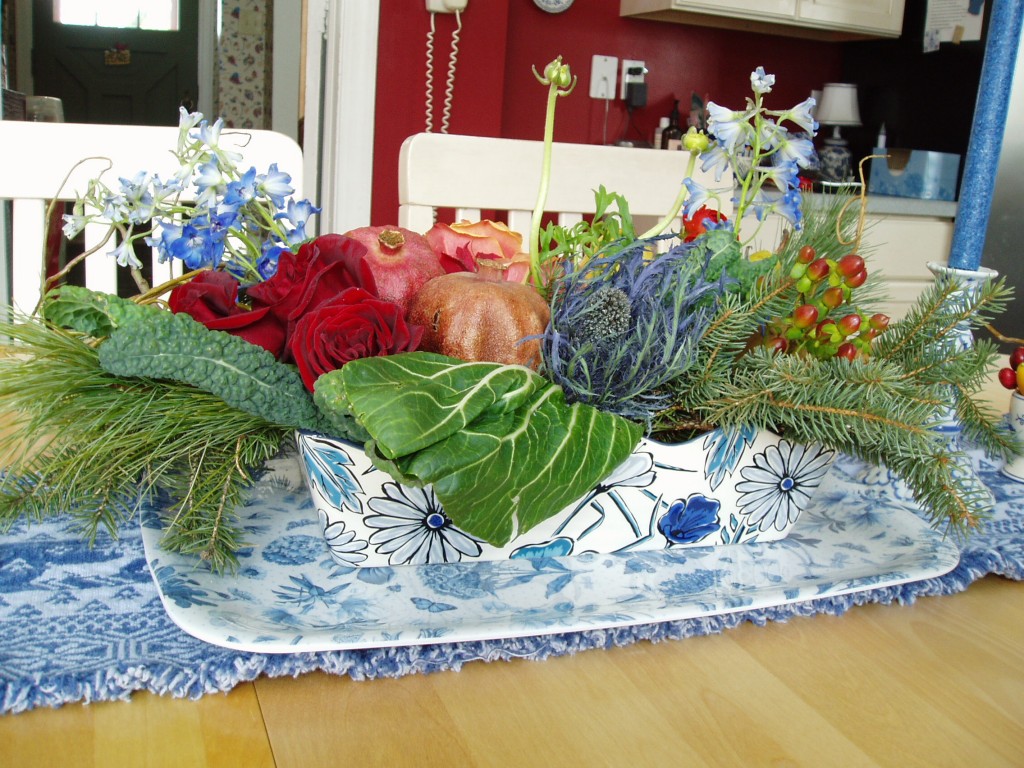 This year Sara also bought little kumquats and cranberries, and put them here and there for color and interest.
This is the downstairs bathroom: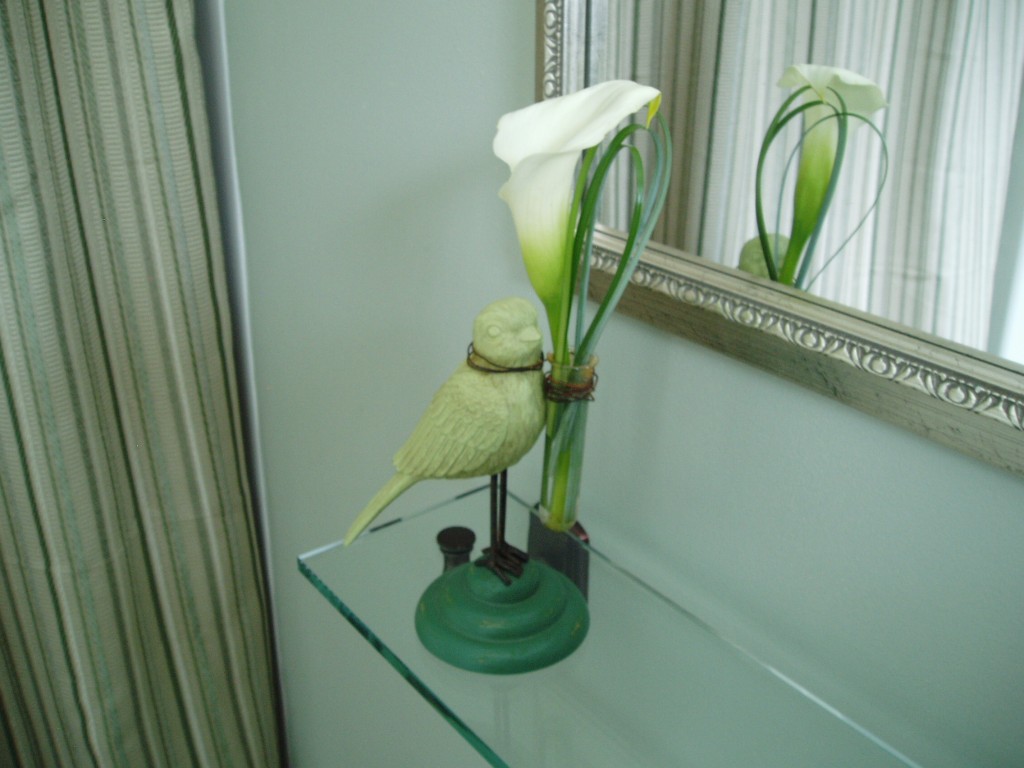 A cheerful little gathering on the kitchen window sill above the sink:
A rose, some eucalyptus, curly willow, kale and kumquats in the den:
In the living room: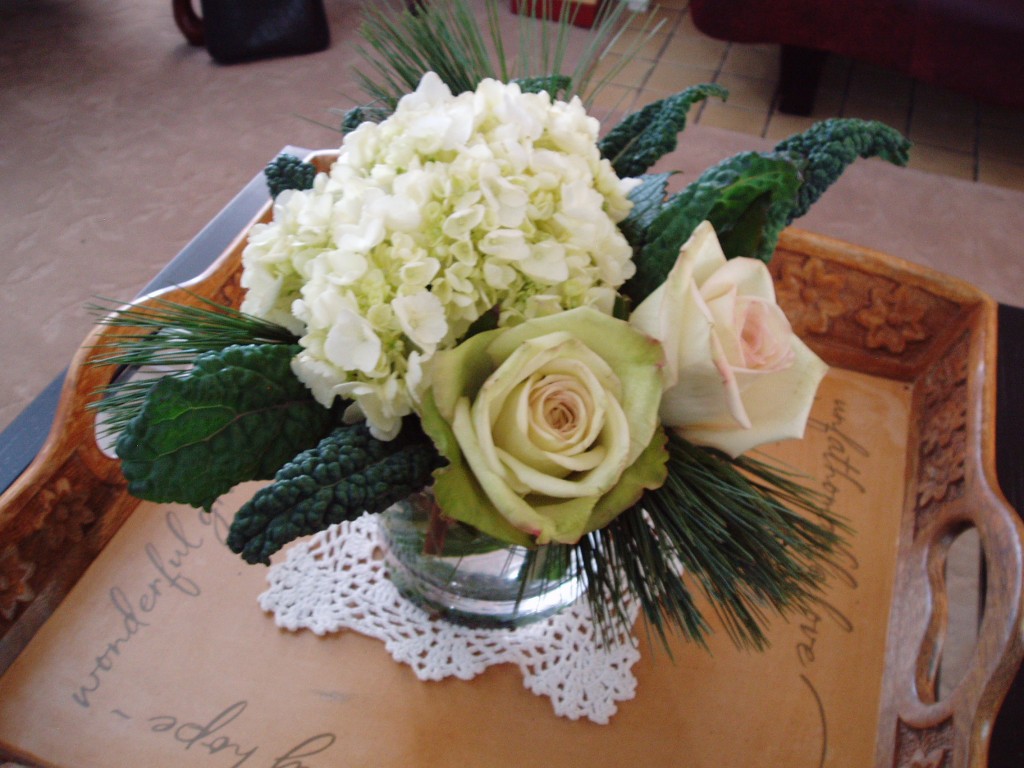 And a trio of berries and pine on the mantel:
Here is one of just a couple of photos that turned out of some of our grandchildren (and three daughters). We usually give our grans two gifts each on Christmas, in an effort to not make it "all about the presents." But when every other person gives them at least two gifts each, then the result looks something like this:
And here's a photo of our house in the snow: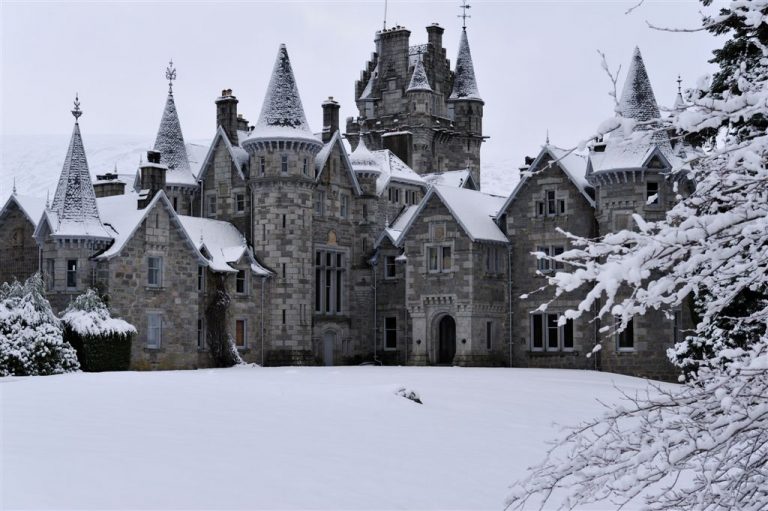 Uh, maybe not. I can dream, can't I? Actually, I would never want to live in a huge Scottish manor like this, but I would certainly love to spend a Christmas or two in a cottage in the Scottish Highlands, just over the hill from this place.  🙂
And here is the bird that visited us at Christmas time, a thoughtful gift from my friend Carey. I pretended that this cheerful fellow was right outside our kitchen window.
Have you ever sung or read all the words to "O Holy Night"? I always cry when I hear this song. No other song says for me what Christmas is all about. I think of how long my life was in sin and error pining, and how when He appears day in and day out and I pay attention, my soul feels its worth.
O holy night, the stars are brightly shining;
It is the night of the dear Savior's birth!
Long lay the world in sin and error pining,
Till He appeared and the soul felt its worth.
A thrill of hope, the weary soul rejoices,
For yonder breaks a new and glorious morn.
Fall on your knees, O hear the angel voices!
O night divine, O night when Christ was born!
O night, O holy night, O night divine!
Led by the light of faith serenely beaming,
With glowing hearts by His cradle we stand.
So led by light of a star sweetly gleaming,
Here came the wise men from Orient land.
The King of kings lay thus in lowly manger,
In all our trials born to be our friend!
Fall on your knees, O hear the angel voices!
O night divine, O night when Christ was born!
O night, O holy night, O night divine!
Truly He taught us to love one another;
His law is love and His Gospel is peace.
Chains shall He break for the slave is our brother
And in His Name all oppression shall cease.
Sweet hymns of joy in grateful chorus raise we,
Let all within us praise His holy Name!
Fall on your knees, O hear the angel voices!
O night divine, O night when Christ was born!
O night, O holy night, O night divine!
*       *        *        *        *        *        *        *
May a thrill of hope cause our weary souls to rejoice!