We're being watched
There are some authors whose books I've loved so much, I would never need to read reviews if any new works of theirs were published. I would just automatically buy the new book and read it, and know it would be something I would go back to time and again.
Joni Eareckson Tada is one of those authors for me. Not only is her life story compelling, but she's an extremely gifted writer. When she talks about God being faithful and sufficient for any trial in life, I believe her. I think she's authentic and mightily used of God to speak to our generation and the next.
Joni became a quadriplegic as a teenager when she broke her neck in a tragic diving accident over forty years ago. She thought a meaningful life or any hope of one was completely over, and in her despair she tried to enlist people to help her commit suicide, since she didn't have the use of her hands and couldn't take her life on her own.
Forty-three years after losing the use of her hands and legs, Joni has written thirty-five books, runs a ministry that ministers to the forgotten people of the world, and speaks to anyone who will listen about the beauty of knowing Jesus.
Here are a few of my favorites from her books:
I remember reading A Step Further and having many of my questions answered on the subject of suffering and God's will.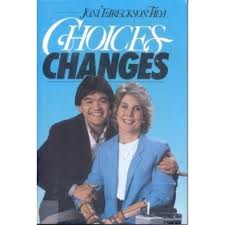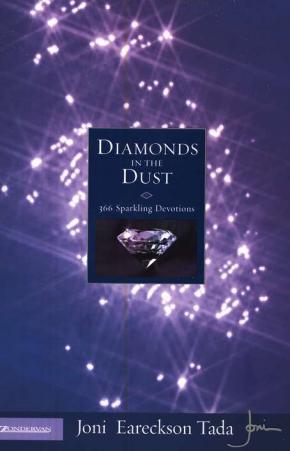 Diamonds in the Dust – Joni's devotionals are always rich and beautifully written. Never fluffy, but weighty and profound.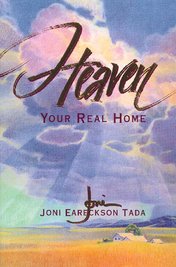 Heaven – Your Real Home was the first book I ever read that made me see heaven in a different way. For anyone who has ever thought heaven would be boring or ethereal or like the stereotypical scenes we see in movies, this book will help.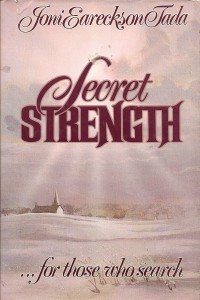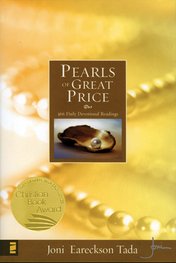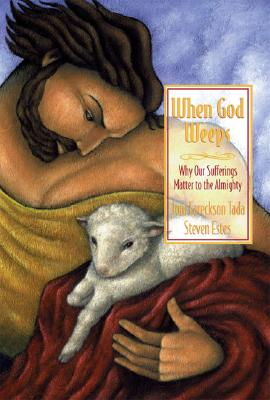 I have a vivid memory of reading When God Weeps and sobbing in gratitude and relief as I worked my way slowly through the book. Anyone who suffers or knows of people going through intense suffering will find amazing comfort in this book.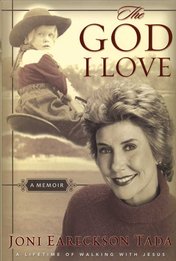 The God I Love is Joni's memoir and I was so uplifted from reading it. She has learned of God's help and faithfulness one moment at a time and her words are like water in a desert, for dry and thirsty souls.
When I heard recently that Joni had been diagnosed with breast cancer I was stunned and sad. We receive her monthly newsletter and here's some of what she wrote about her illness:
"By now you've heard that a month ago I underwent surgery for breast cancer. Yes, it's a shock, and some wondered, quadriplegia…chronic pain…now cancer? Isn't that a bit much? Yes, it's a lot…
…something else inspires me. Ephesians 3:10: 'It's now God's purpose that, through the church, His manifold wisdom should be made known to the powers and principalities in the heavenly realms.' Translation? With this cancer, my life is on display; yes, before family, friends, and disabled people around the world.
But mostly, my life is on display before millions of unseen beings who are intensely interested in my response to cancer. It's why you'll often find me quoting The Apostles Creed out loud these days, or reciting verses long-memorized, or singing (or speaking) as many stanzas of hymns that I can remember. I have to do this – it's the only way (the best way) to keep this cancer in perspective.
My husband, Ken, and I are in a cosmic battle and we are heaven-bent on making certain the unseen world (in front of which we are all on display) learns a thing or two about our great and wonderful God."
Wow. Joni can't even scratch her own itches or care for her most pressing and personal needs by herself. And she still wants to make sure the unseen beings see that she thinks her God is great and wonderful.
Have we all forgotten that we, too, are being watched? Of course as believers we know that God watches over us and that nothing is hidden from Him. But I wonder how I might behave if I actually remembered that there are beings (angelic and demonic) who are either watching and cheering for me, or watching and mocking, as I live out my life in Christ. What do my words and veiled looks and exasperated sighs and any of my actions say about God to them?
If I roll my eyes and sigh because I'm weary of not being able to understand my husband's words due to his Parkinson's, who in the unseen realms is gleeful over that? If I say, "Oh what's the use?" and walk away from prayer because the obstacles seem so huge, which invisible beings would be clapping their hands and redoubling their efforts against me? If I am tempted to be abrupt and mean and stingy, do I even remember that not only does God see, but His enemies see me misrepresent His love and goodness to the world? Do the demons rejoice over my ingratitude and pride?
On the other hand, when we get down on our knees for the umpteenth time to ask in (even feeble) faith for something we haven't seen come to pass yet, we are being cheered on by great clouds of witnesses we cannot see (Hebrews 12:1-2). When we respond in patience and kindness instead of the sharpness and sarcasm someone might deserve, we really are thwarting the enemy's work in our lives. When we humble ourselves and ask for forgiveness when we know we've hurt someone, something happens in our souls and in the heavenly realms that truly is cosmic and important…perhaps something we'll only understand on the other side of eternity.
Do we not think that praising God, being as faithful as we know how, walking in humility toward our family and friends, calling Him good even when He allows difficult trials in our lives, and loving others even when they're hard to love, is of monumental, eternal consequence?
Joni Eareckson Tada reminded me that those in the unseen realms are watching to see if we really believe our amazing God is good, and worth serving and trusting. They already know He is (although the demons hate His love and goodness), but we have a chance to show we think so too.
We are being watched. What are those who are watching (whether seen or unseen) surmising about God when they hear our words and see our choices?
If there's one thing I don't want to be caught doing, it's causing others to conclude by watching my life that I don't love and trust my God. 
Lord, please help me.