Heat, humidity and Farkle
We live in a place with an average summer temperature of 75 degrees. I have always loved this about northern Minnesota. I think I must have reached my hot-weather-quota early on, growing up in the San Gabriel Valley of southern California, where it's over 90 degrees for months on end. I'm not sure what has happened lately (I've got a call in to Al Gore) but our area has turned into a sauna and I'm getting a little irritated. It has been well over 90 degrees with oppressive humidity far too many days this summer. And we've had lots of torrential downpours rain. I can't remember the last 75 degree day we had. And at night it doesn't cool down much and the windows are all steamed up when we get up in the morning. We have been keeping our downstairs air conditioner on day after day, and have been sleeping to the grinding hum of a window a/c unit in our bedroom at night.
We talk about the heat and humidity several times per day, we check the forecasts for signs of hope, and we yearn for fall. No living in the blessed present here — we just want the blessed present to pass quickly and to turn into the cool fall weather we know and love.
But…I know I should be thankful we have air conditioners. And electricity. And that it's not 106 degrees like it was a few days ago in Kentucky where my niece Savannah is attending college. Imagine going out on your porch at midnight and seeing that the thermometer still reads 100 degrees. When Savannah texted me about the 106 degrees I texted back to her, "Doom and despair!" because that is precisely what heat and humidity bring to my mind. I think if I have any major fear issues as I approach the ripe old age of 53, I am afraid of heat. I have thermophobia.
Speaking of fears, Clara went to church with us on Sunday and she loves the kids' program called Cross Kids. Their lesson was on loyalty, and what it means to be loyal to Jesus (unlike Judas), and how to be loyal to friends and family. As we drove home Clara told us all about what she had learned and it was so sweet to listen to her. She also learned in Cross Kids what some different phobias are. I have no idea what loyalty and phobias have in common, but since Clara is taking after a few other people in our family and becoming a collector and dispenser of facts, she latched onto the phobia definitions and quizzed Grandpa and me on the way home.
"What do you think musophobia is, Grandma? Is it the fear of people, the fear of music, or the fear of mice?" We learned that the answer is C) the fear of mice.  A river of mice could crawl across my bare toes as I sit and type this and I would not be as afraid as I would be if our local meteorologist said tonight, "Well folks, it looks like we're going to be in for another few days of sauna-like weather." That would put me over the edge.
So you will be relieved to know that right before I started this historic post, I checked the forecast and learned that by this coming Sunday we might be skipping giddily around outside in 68-70 degree temps. I might be able to feel human again, or open some windows, or turn on my oven, or stop playing my thermophobia card to anyone who will listen.
On a much more interesting note, I've been playing a fun game with Clara and Elijah lately — it's called Farkle. Have any of you heard of it? I was quite surprised at how taken they both were with it, and how giggly and animated they were while we played.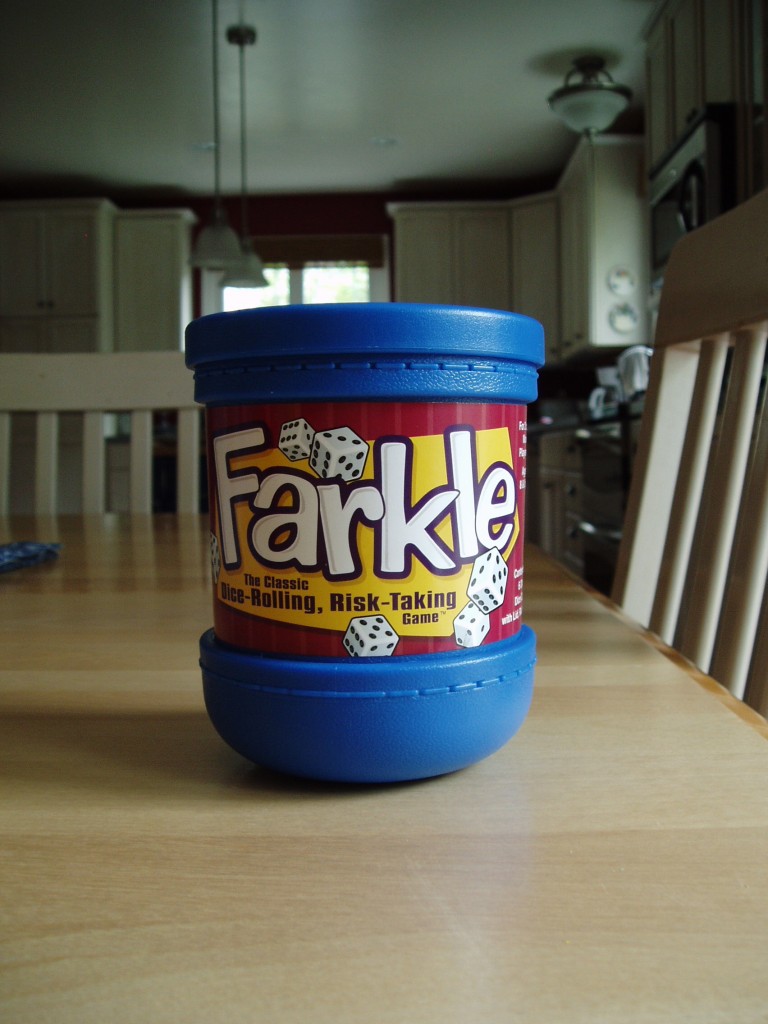 The object of the game is to be the first one to get 10,000 points. You roll six dice, and the main way of scoring is by rolling ones (100 points each) or fives (50 points each), or triplets of other numbers. If you roll three times and end up with no ones, no fives and no triplets of other numbers, you get a Farkle. That means no score for that turn, you're done, and the next person gets to roll. Both Clara and Elijah thought it was hysterically funny when I said in my deepest voice possible with bulging eyes, "Faarkkllle!" You probably would not like Farkle if you have dice-o-phobia.
Last night Elijah spent the night and I enjoyed being with him so much. Even with a bad case of thermophobia, being with grandchildren always makes me happy. He's getting his front permanent teeth in, and at times when he smiled I could almost get a glimpse of the handsome young man he's going to be. He and I read, he played with Legos and built a ship he called the Merchant Royal, we played I Spy With My Little Eyes, talked about school and life, and played Farkle.
Today when Michael and I drove Elijah home, we stopped at Dunn Brothers to get smoothies for everyone first. Five strawberry smoothies, one wildberry smoothie, and one mango smoothie, to go. All with a little dollop of whipped cream on the top. We dropped Elijah off at his house and he was glad to give everyone their smoothies, and then Michael and I went for a drive in our air conditioned car before going back to our air conditioned house. My parents used to go for drives when I was a little girl and I always had to go along. I never understood why it was so enjoyable for them to drive by houses or the ocean going fifteen miles an hour while licking ice cream cones. Now I sort of get that. Which brings me to my possible developing case of gerontophobia. Just kidding.
We drove up the shore of Lake Superior a little ways, we drove by some new housing developments in some very wooded areas nearby, and we drove by our old house, which I still miss, but not quite as much as I did a year ago.
This coming Tuesday will be our last day of summer Bible study, and the women who have graced my home each week will be staying for lunch after our last session together. Last year I made Lemon Fusilli with Arugula for lunch and it was a keeper recipe. This year I'm thinking of Spicy Grape Pasta with Basil and Ginger.
Lastly, in this very random post, I just finished reading this book, thoughtfully sent to me by my dear niece Lauren in California. It was written
in the 19th century and spoke straight to my heart in 2010. I plan to start reading it all over again very soon — there were just too many wonderful parts of this book to absorb in one reading. It's the kind of book I'll keep on my nightstand to pick up again and again.
Next to read on the floor near my side of the bed are: Coop: A Family, a Farm, and the Pursuit of One Good Egg by Michael Perry, Cutting for Stone by Abraham Verghese, and The Book of the Dun Cow by Walter Wangerin.
What books are waiting near your chair or bed these days?
What phobias are you plagued with?
I know two people who are truly afraid of feet. Another who is terrified of earthworms. I know someone else who gets a visceral reaction to the word "moist," and who freaks out if her potatoes have sprouted. I know several folks who are afraid of flying, and one who fears not always having something to do.
I'll bet you all have some stories. Most of us do.
Someday I'll write a post about the clowns.