Ugly Brown Shoes
Do you ever ask yourself rhetorical questions? Do you mutter under your breath and say things like, "What in the world is going on with you, Gladys?!" Or when you're driving to the store to buy toilet paper and cottage cheese do you ever ask yourself out loud, "What do you think you're doing?"
No? Oh come on, I'll bet you do.
We've been packing up just a few items and putting them in just a few boxes, and hauling just a few things to our local Goodwill, all in preparation for our move to a different home on May 31st. Recently as I was going through our closet, I asked myself a rhetorical question.
I asked myself, "Hey! What's with all the ugly brown shoes?"
And I didn't have an answer for myself because it's just way too deep of an enigma for me to figure out at this stage of my life.
Here is one pair of my ugly brown shoe collection. Guess how many times I've worn them? Zero. Zip. Yes, that's right. I bought them in late 2006 because we had a trip to England, Scotland and Ireland planned, and Mr. Europe Through the Back Door Rick Steves said Eccos are really, really comfortable and good for a lot of travel walking. I did not think they were cute, but bought a pair anyway, and then didn't wear them, because my dark blue Danskos felt better. So I walked all over the British Isles in those instead.
But I've kept these Eccos for all these years, and am not sure why.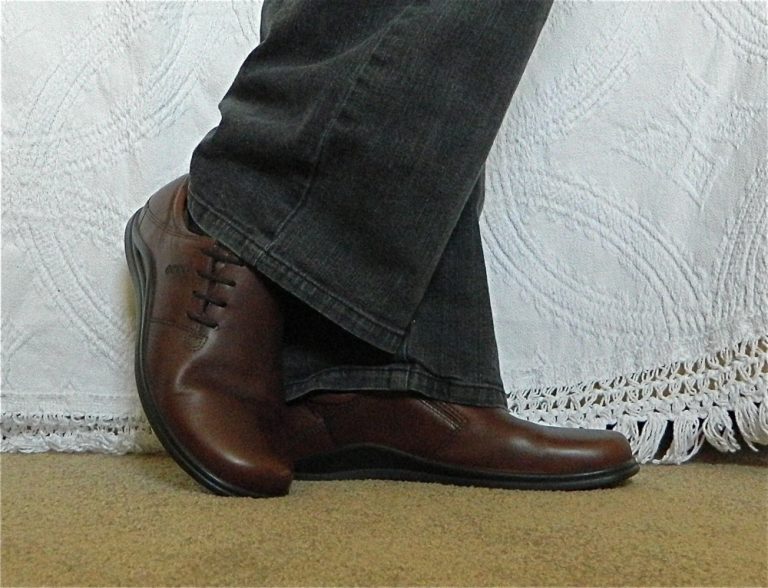 Shoe comfort is important to me. My feet do an incredibly demanding job. They are long and narrow-ish (think "marsupial" as Ember would say), and must carry around more poundage than they would prefer. So when a friend told me these shoes below were comfy, I bought a pair. I wanted to be able to slip them on without tying laces, and I wanted a non-slip sole because we have snow and ice on the ground in Northeastern Minnesota for sometimes six months out of the year.
But these shoes weren't very comfortable: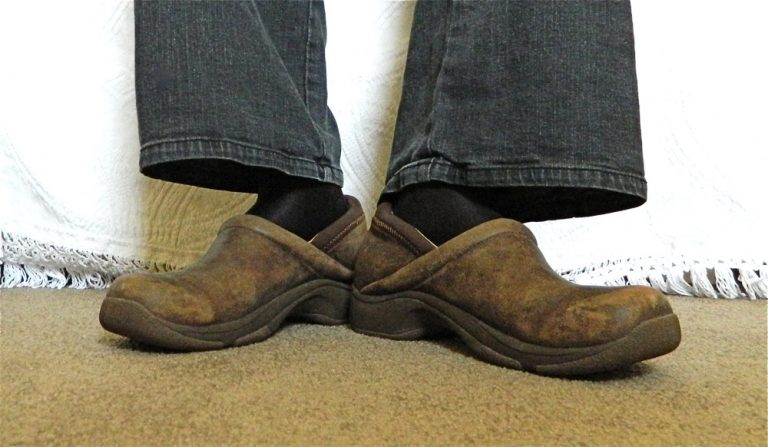 The arch hit my foot's arch in the wrong place, and they ended up hurting my feet. So I don't wear them anymore.
I love these ugly brown shoes below. Or boots, actually. They're Mukluks, made in Minnesota, and are the warmest winter boots I've ever owned. And soooo comfortable. You can wear these outside in the snow when it's twenty below zero and your feet will stay warm. So even though they're not the most adorable looking boots you'll find, I'm keeping these. (If I ever move to Costa Rica, I will give these to a deserving Minnesotan, but for now they'll stay in my closet.)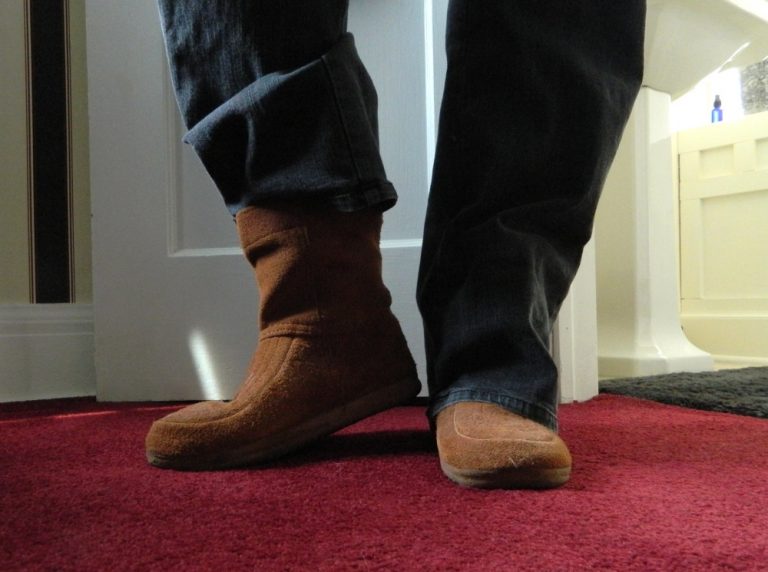 And oohhh, don't get me started on Birkenstocks. I love Birkenstock sandals. I have owned six pairs in my adult life, and worn them almost daily. They last at least five-six years, with frequent wear. I have a pair without the toe thing that I wear in the winter with warm socks too. When I put on my Birkenstocks, my feet and legs sigh loudly and say rapturously, "Aaahhhhh. Thank you." I have friends who wouldn't be caught dead in a pair of Birkenstocks because they're sort of clunky, not exactly feminine and prissy looking. But my Birkenstocks and I will be together in sickness and in health, for richer or for poorer, for better or for worse, so long as we both shall live.
Why I still have these shoes pictured below is beyond me. I bought them for Sharon years ago when she was in college. She didn't wear them much and gave them to me. I have worn them a time or two, but I think they look a little dated, don't you? They're fairly comfortable but since I haven't worn them in at least five years, I think it's time to give them to some nice woman who wears a size 9.5 shoe, so she can store them in her closet and not wear them too.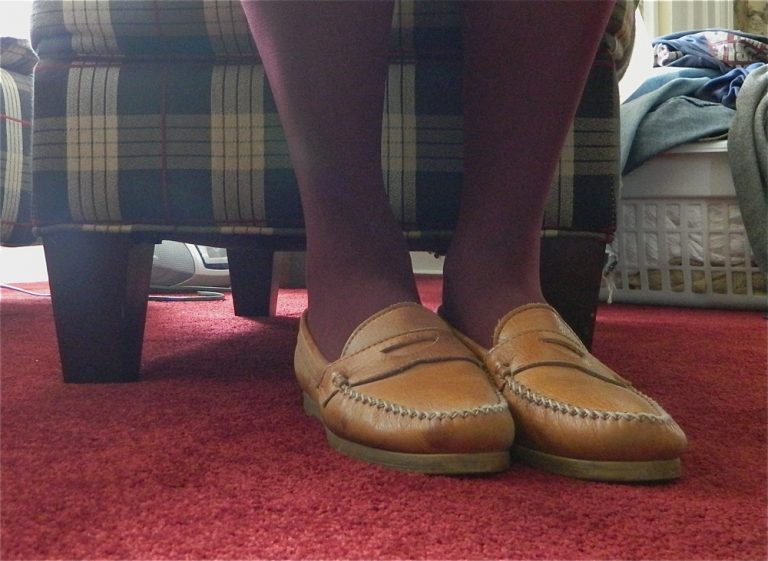 These taupe-ish brownish shoes are sort of dressy — what I might wear to a wedding or a fancy dinner at the White House. When I was young I used to wear very high heels even though I'm already 5′ 10″ tall, but when I turned 50 I decided to boycott high heels. It was one of my Turning Fifty Resolutions, and I've stuck to it quite well. These heels are about as high as I'll go now that shoe comfort means more to me than style.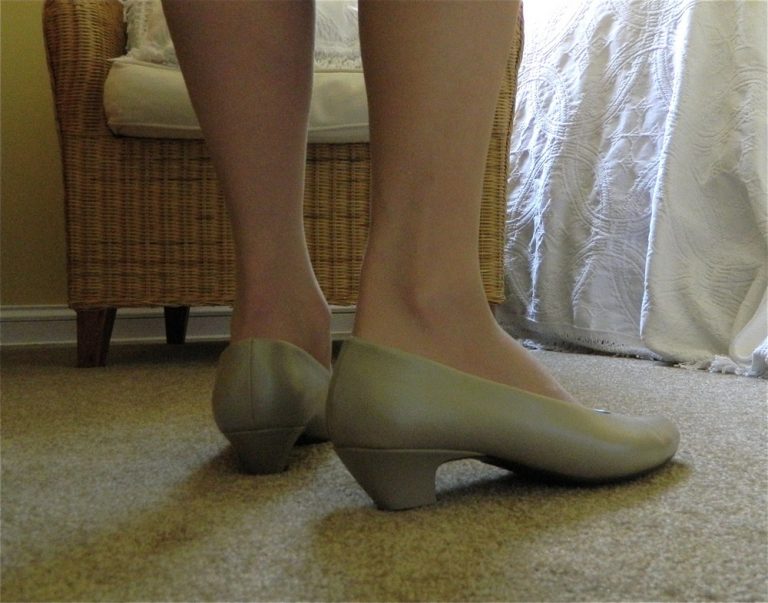 Two years ago I finally found a pair of very comfortable ugly brown shoes to wear for daily errands. They're Merrells, and these feel good on my arch, and when it's icy out they give me some traction. They have good soles. Do you have a good sole? Sometimes I think my sole isn't so good and I need to spend some more time with the Lord to let Him work on my shriveled, selfish sole. Er, soul.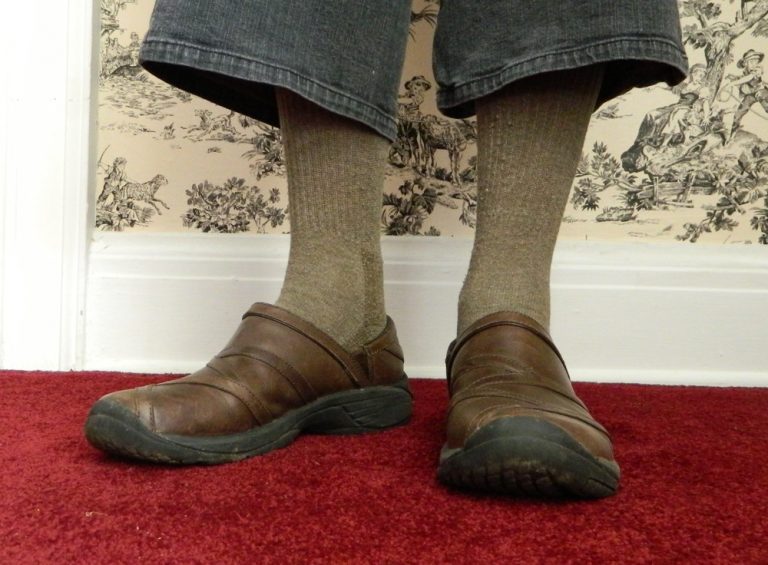 Okay now don't laugh. It's all about comfort, remember? Even Isaiah quoted, "Comfort, comfort my people!" (I know, that kind of comfort was about comfort for our souls, not our soles.)
These shoes are Earth Shoes, and are designed on the premise that when we walk on sand, our heels actually go deeper than the balls of our feet, so shoes should also follow suit. As you can see, the heels of the shoes are lower than the rest of the shoe. They look a little dorky (ugly might be too strong a word? Yes? No? What do you think?) but they are sooooo comfortable! If you don't have a pair of Earth Shoes and you have feet issues, I would encourage you to get a pair of these.
However, if you have feet like mine that are size 9.5, these shoes do nothing for making your feet look smaller. If you're into that. These shoes make your feet look so big it's almost comical. When I got them home and put them on again, one thing immediately came to mind.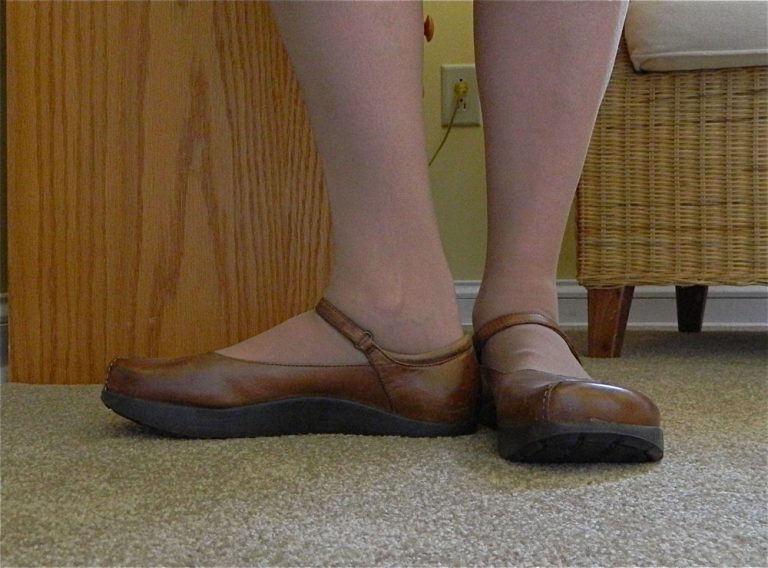 And what came to mind were the 1000-foot ore boats we see almost daily on Lake Superior, transporting iron ore from our port to various parts of the world through the Saint Lawrence Seaway.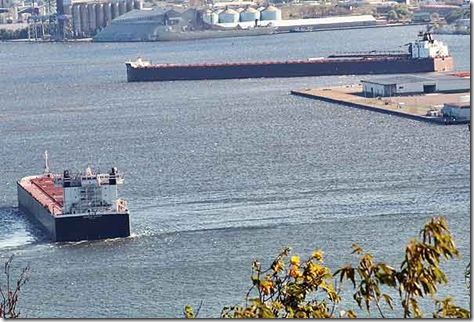 Does this ore boat look like my Earth Shoes, or what?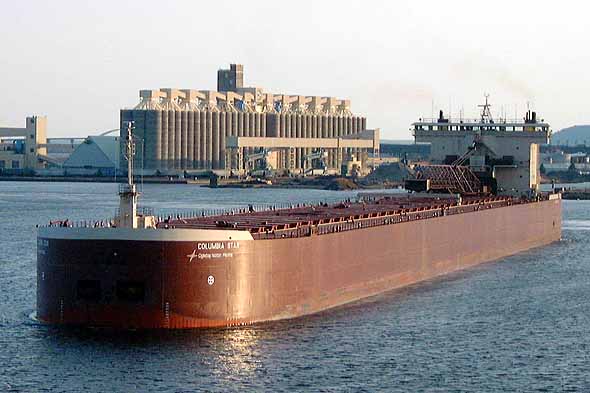 I'm going to keep five pairs of my ugly brown shoes. The others I'll give away in hopes that they'll find some nice big feet to land on.
How about you? Do you buy your shoes based on the cuteness factor or the comfort factor? Do you have a favorite brand of shoe? Do you have any ugly brown shoes? Or ugly green shoes? Or ugly purple shoes?…….