Treasures and Trees
Hello friends. After one of the hottest, most humid summers on record, I have been savoring the cool, dry fall weather that finally arrived. Never have I spent so much time in my air conditioned house. I rode my e-bike once, took two walks in the cemetery, and just generally reinforced my natural homebody inclinations so strongly I wondered if I'd become a true recluse.
But now the glory of autumn has lifted my spirits and made me yearn to gaze at all the colors around me. All I have to do is stand in my bedroom, and no matter which window I look through, there's a scarlet tree blazing across the street, and there's a neon orange tree in the neighbor's back yard. A cathedral of glowing yellow all the way down that road. I can't get enough. Years ago I went to New England with Michael during the fall with our dear friends Su and Danny, and I don't remember the legendary colors being as much to write home about as humble Duluth's are.
Lloyd and I celebrated four years of marriage earlier this month and drove up the Gunflint Trail via Grand Marais, MN to one of our favorite places, Bearskin Lodge. We stayed in a different cabin this year, deeper into the woods and more private, and the logs were massive. Here's a picture from their website so you can see the kitchen wall logs: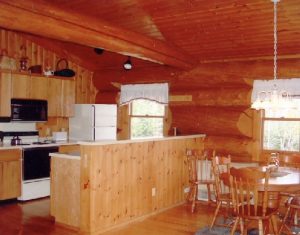 And here's the living room with the stone fireplace. Lloyd built a roaring fire each evening and we read to each other, listened to music and talked. There are no televisions at Bearskin, which is such a blessing.
We stayed three nights. We walked through the trails in the woods of the Lake Superior National Forest, saw a red fox dart by, sat by East Bearskin Lake on our cabin's dock, drove to the end of the winding Gunflint Trail and had a picnic overlooking a shimmering lake before a storm blew in and sent us scurrying for the car. And we rested. I made a big pot of Autumn Soup beforehand and we had that for dinner each night, with sour dough bread and salad. I told Lloyd I know that some people are ocean or water people; their happy place is as close to a blue horizon of water as they can be. I love water too, especially Lake Superior, our vast inland sea. But I am a tree person. If I'm in the woods I feel most at rest, most in awe, deep in wonder. I could have lived in that cabin for the rest of my life. I would have changed the decor just a tiny bit, but the bones and setting were perfect.
After we returned home (and how in the world did four years go by since we got married, we both wondered?) I felt the gratitude of having a house I love and settled right in to unpacking and doing laundry. My walls are plaster and not log, but sitting in my own living room makes me happy as well. Here's a little view. My mismatched ways please my sensibilities.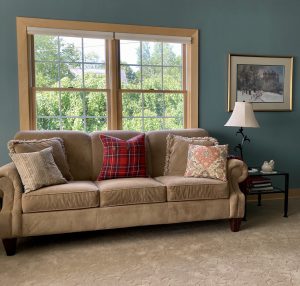 Here's a tree that thrilled me at the cemetery where Michael is buried, and where I will be someday, right next to him. I think my favorite trees in autumn are always the ones in transition. Still green, but also orange and yellow.
I am in transition too, still selfish and lazy, yet also trying to bless and serve my family in ways I can, praying more than I ever have, with His help. I hope when the Lord looks upon my heart, He sees that I too want to leave the old behind and reflect His beauty and power in some way. I tell Him all the time, "Lord, thank you for not giving up on me." If I were Him, I would have said lights out to me long ago, but His patience and kindness have never failed to humble and astound me.
Have you ever watched "The Incredible Dr. Pol," on television? I don't know where else it might be available, but I'm watching it on Disney+ and I love it. At night when I finish my chores/paperwork/puttering, I put on my plaid flannel nightgown and watch a couple of episodes. I also just finished the new season of "Unforgotten," on Masterpiece Theater on PBS. I read the Mitford series by Jan Karon years ago and loved them, so about a month ago I downloaded them all on Audible and have been listening to a chapter or two each night before I sleep. The narrator is great, and the simple goodness and winsomeness of those books nourishes me. I also just finished reading Barbara Jenkins' new book So Long As It's Wild, and so enjoyed it. She walked across a huge portion of America with her ex-husband Peter Jenkins years ago, and is finally telling her story about it.
My daughter Sharon's first book has a release date — September 17, 2024, which is so exciting. I haven't read one word of what she wrote, and I can't wait to open the cover and settle in. Maybe she will autograph it for me. She has been so busy with her podcast, teaching on Instagram (I learn more from her than I ever did from any history or civics teacher), and a recent trip to a Utah university to speak to several thousand people. I'm proud of all she does without a doubt, but I still look at her and see every stage of her life in one streaking flash, all the things she taught me, and she is my very precious daughter. The one who made me a mama.
My daughter Carolyn is busy as a wife and mother of seven children. Hannah Joy went to heaven in 2017 so we still say she's truly the mother of eight. She and Jeremy are slowly preparing for two new vocations, which I will share about someday, and that's very exciting for them. She has popular TikTok and Instagram accounts which document all they've done on their new old house. Every time I see the latest project I'm shocked at the dramatic changes they've brought about. She also makes me so proud of her gifts and talents, her patience, and listening and friendship skills, her quiet strength. But I still look at Carolyn and see her life from birth to toddlerhood to the teen years and beyond, and she is my very precious daughter, and always will be.
My daughter Sara graduated from nursing school last summer with honors, and is now employed as an RN in a long term care facility where people need the love she has always had for older people, for disadvantaged souls, for those most in need. She works hard and feels deeply, desiring to give the best care while guarding peoples' dignity, and I'm so proud of her. Sara has fortitude and resilience I've never had, and is one of the most creative people I know. She has decorated her new apartment beautifully and knows how to bring order and beauty into any setting. But I still look at her and recall how she took my breath away when I gave birth to her at home, and all the seasons of her life surge by in my memory, and she is my very precious daughter.
As I pause and turn to look out the sliding glass door to my left in my office, I see leaves scattered over the roof of my neighbors' little sagging garage, and the half bare, half blazing tree above it. I see the chickadees who are the frequent flyers of my area, taking their turns at the feeder that hangs from my roof. I see a gray sky that looks more like November than October. I see a squirrel climbing the wooden fence, twitching his tail on the way to wherever he has hidden his stash. And the fact that I see at all, in spite of a bothersome floater in my left eye, the beginning of cataracts, and the blurry vision that is no longer fully corrected by my powerful glasses, is a gift.
I tell the Lord, I see, Father. Thank you. Teach me your ways as I look at your creation. Help me to never take your handiwork for granted. Help me trust your faithfulness in and for each one I love. Change me Lord… as my own leaves begin to fall, help me keep reaching for you, putting roots down deep, and standing still in your glory and love.