These Warm My Heart
I have two or three "big" blog posts I've been working on for a while now, but every time I go back to them there's so much to say I can't seem to do it. The unfinished posts don't have any bad news or for that matter, anything that's mind-blowing, but they mean a lot to me. Maybe that's why I'm having such a hard time getting the words out in black and white. They feel like such deep things.
Anyway, hopefully before Christmas I'll get them done and then I'll see what I always do, that the things that seem to loom huge in my mind always get that way because I've ignored or overthought them.
For today, I thought I'd share some photos of people and places that warm my heart.
The photo below is my youngest daughter Sara, who took a five week trip right after Christmas. She traipsed solo around France, Portugal, the Netherlands and Israel, and made me jealous the whole time. I dream of solo travel and have this big month-long trip to the U.K. all planned out in my mind, which I hope will be a reality before I'm too old. I so enjoyed all the photos Sara texted me almost every day, and this one was from a bicycle tour of Paris: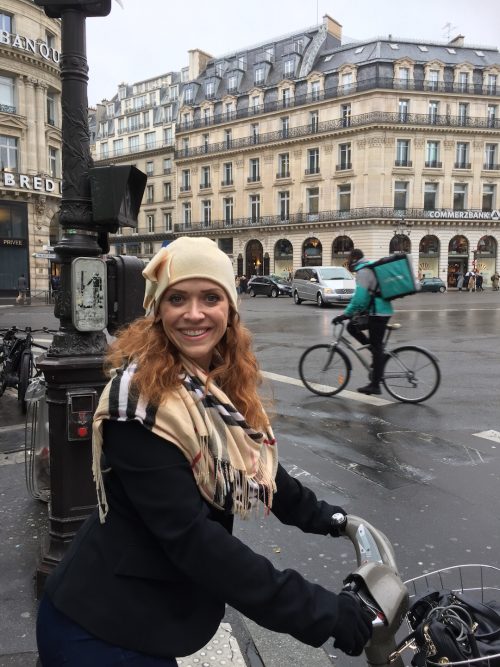 My oldest daughter Sharon joined Sara in early January for a week in Paris. They biked, ate, took the Seine River cruise at night, toured the Louvre, and sent pictures back of all the unique and delicious cafe meals they ate. Below, Sharon is standing in front of a hotel in Paris with her (almost) last name: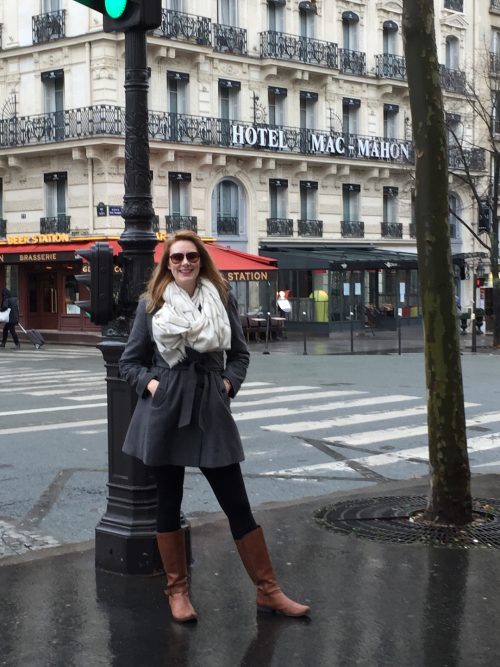 Meanwhile, back at the ranch (meaning northeastern Minnesota), my middle daughter had begun rehearsals for a play she was in at our local playhouse. I guess You Can't Take It With You is an oldie but a goodie, first a play and then a movie in the late 1930s. I didn't know the story but when I went to see the play last week I loved it. The play was so funny and quirky, and since Carolyn was one of the players who made the audience howl, I had to do the proud mom thing and tell the people around me (at intermission) that that young woman was my daughter. She played two characters, and below you can see her as The Grand Duchess Olga Katrina in the purple. You can click to enlarge photos if you like.
Imagine my awe and delight when I got this photo by text from Sara: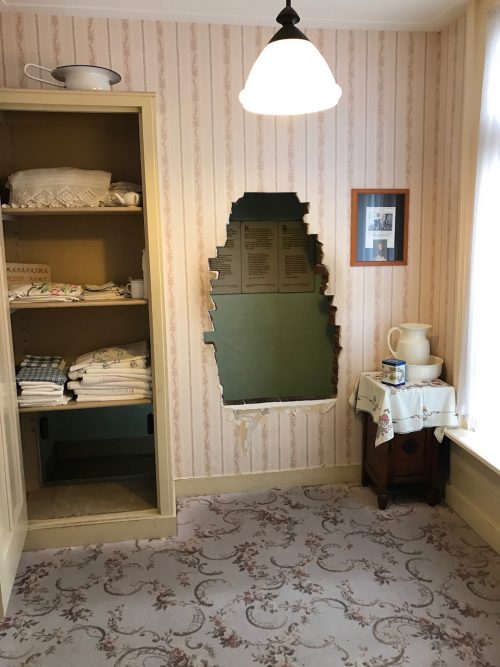 That is the real secret hiding place in the home of Corrie ten Boom in Haarlem, Holland. Sara took a train from Paris to Amsterdam and then to Haarlem, so she could tour the Ten Boom house museum.
This is Sara actually crawling out of the hiding place. What a chance of a lifetime! That's another trip I'd love to take someday. After studying The Hiding Place this last summer with several friends, seeing this home where God's love changed so many lives would be a dream come true.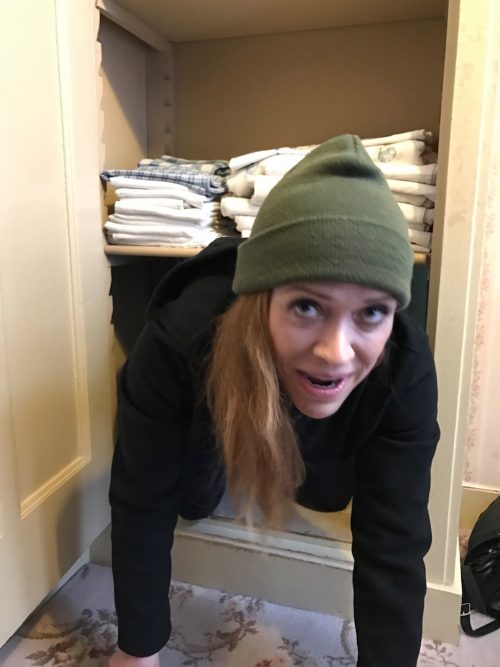 This sweet and beautiful girl is Vivienne, my fifth-born grandchild. She is eleven, will be in middle school next year (sob!) and I want to stop the hands of time because I won't be able to take it. Vivie loves science facts, and a few months ago when we were driving, she asked from the back seat, "Grandma, do you think that infinity has mass?"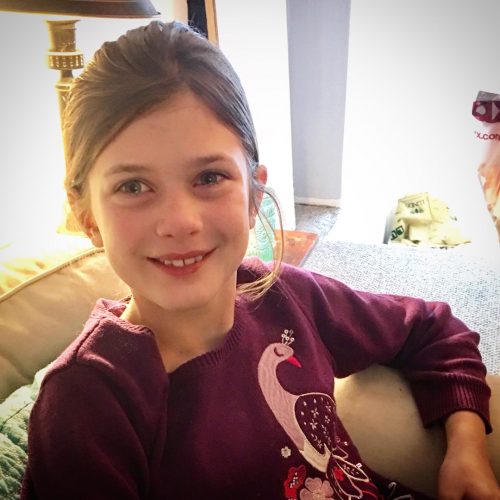 I told her I had never considered whether or not infinity had mass, but my guess was no. Gah. Vivie is a gifted artist, a thinker extraordinaire, and loves and takes delight in her little sister Miriam and dogs Frances and Walter.
I have a special weekend planned for my two foster gals, so that's all for now. I hope your weekend is a good one.