These days
Last night we were finally able to sleep with the bedroom windows open, because it was slightly cooler and there was a whisper of a breeze. Lately, these days have been hot and steamy, with not much cooling down after sunset, so when it's like that we shut the five windows in our master bedroom space and turn on the window air conditioner. Then we sigh in relief as the Black Wraith of Hopelessness slinks out of the room while the artificially cooled air washes over us. Or at least I sigh in relief. I don't think Michael knows about the Black Wraith of Hopelessness that occasionally hovers in the corner of our bedroom at night, behind the overstuffed black and cream plaid chair.
Sometime around three a.m. I awoke to an awful, sharp smell. Some of you might remember that over a year ago I lost my sense of smell (a condition called anosmia), then after several months a small portion of my olfactory capabilities were slowly restored. Thank you Lord! People ask now and then, "How is your nose doing?" and I usually tell them I think I have about 30% of my sense of smell back. In order to discern smells these days, something has to be right up against my nose or something has to smell horribly putrid. Last night I smelled a skunk, and it was as if he had taken aim at the window near my side of the bed. I considered getting up and closing all the windows and turning on the air conditioner, but instead pulled the sheet up over my nose and tried to go back to sleep. This morning the skunk odor is almost gone.
Last night Sharon and Chris and their three little ones stopped by to get some of their mail that is still coming to our house, even though in early June they moved into their own place 1.5 miles away. They have filed two change of address forms with the post office, but somehow a lot of their mail is slipping through the cracks and coming here. I always wondered where random things go when they "slip through the cracks" and apparently a goodly amount of it comes to our house. Due to yesterday's heat, Chris and Sharon took the kids to one of the many swimming spots in our city, a fresh, deep pool that's part of a small river that empties into Lake Superior.
When my girls were little they swam there a lot in the summer.
Their new chocolate Lab puppy, Rosemary Ruth Rosenbaum (Rosie for short) took her first swim last evening, frantically pistoning her front paws and legs to stay afloat.
Sharon told me that when one of the kids recently asked for something, she replied, "Maybe later." Then she heard Mr. McBoy whisper to one of his sisters, "When ladies say 'maybe later' it usually means no." We laughed hard at that one. I'm so thankful for these days of having all of my grandchildren nearby.
Even though we just finished celebrating our 29th anniversary, Michael and I went out to lunch yesterday at The Olive Garden and spent the time discussing where we'll go to celebrate our thirtieth anniversary next year. We want to decide on the place and the tour and the time of year, so we can put a deposit down and start slowly planning. Michael would like to see every country on the globe, especially China. I would like to see China too, but somehow I hadn't envisioned pressing through throngs of people and wearing surgical masks to avoid air pollution while not being able to communicate with anyone, as possible memories of our anniversary trip. Thankfully Michael is flexible so we narrowed it down to either two weeks in Ireland and Scotland, or two weeks in Switzerland, Germany and Austria. As of this writing I think the latter has won out, and when we have time we'll start looking at tour companies and tours. Do any of you have recommendations? I'd be so grateful to hear of any.
We love to get the soup and salad lunch at The Olive Garden. Michael gets the Zuppa Toscana soup with the spicy Italian sausage and the kale in it, and I like the Chicken Gnocchi with the bits of spinach and the grape-sized dumplings. After lunch we went grocery shopping and I found these.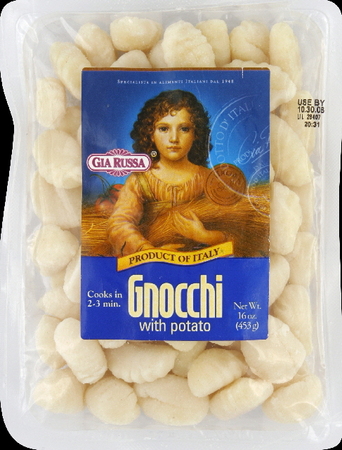 Michael has a deep attachment to soup of any kind, and also dumplings, so I thought I'd search for a good gnocchi soup recipe and make it as soon as the weather cools down a little.
These days I've been craving summer things: freshly made salsa with tons of cilantro, my mother's old six-ingredient gazpacho recipe, Swedish cucumbers with fresh dill, Spicy Grape Pasta Salad with triple the amount of ginger the recipe calls for, Ina Garten's Panzanella, whole wheat pita sandwiches stuffed with salad and blue cheese and raw sunflower seeds, fresh blackberries and raspberries tossed together with a little yogurt, Miniature Reese's Peanut Butter Cups. That kind of summer fare. What do you like to eat in the summer?
I've also been seeing a mother deer and her twin fawns strolling in our neighborhood these days. They often walk in the same direction, single file, and I'm filled with delight when they show up while I'm working in my office. The mother walks at a fair pace and is cautious and watchful, but not what I'd call paranoid. I don't care for paranoid deer, do you? I always say there's nothing worse than a paranoid deer. Her two little children still have their white spots, and they follow along behind her one after the other, epitomizing the word gambol. They don't quite trot or frisk – they gambol. I believe that's the first time I've ever used that word. I grabbed my camera and went out on the front porch in my nightgown to get the best shot I could.
You can click on the photo to enlarge it to see the little compulsive gambollers better.
Anyway, then after a few days of this little deer parade, the mother walked by again, but only one fawn followed her. This upset me very much and I went off to tell Michael about it and to see what he thought. It's not hunting season in Minnesota (don't even get me started about that) so what could have happened to the other twin? Michael wasn't worried and said that the little deer could have simply been asleep somewhere and they would go back to him and all would be well. I wanted to believe him, but deep down inside I am dubious about the little twin just deciding he would stay home while the other two went out for a walk. I have other things on my mind these days, though, so can't think about the deer today. I will think about the deer tomorrow. Maybe.
I am also paying a lot of attention to the calendar these days. In twenty-two days my beloved sister-in-law Christy and my darling niece Savannah (or are they my darling sister-in-law and my beloved niece?) are coming from Tennessee to visit us in Minnesota. I'm hoping they'll like the third floor guest suite and that it won't be terribly hot while they're here. I'm trying to figure out what meals I'll make, and just the right amount of sitting around time and driving to see a couple of spectacular sights time for their visit.
I have asked God to show me if it could possibly be in His will for me to go to England this fall to a retreat my friend Ember is leading at a beautiful place called Penhurst. She will speak on "Gospel simplicity — not just about shaking loose from the clutter that threatens to overwhelm our schedules and our homes, but about developing quietness in our hearts, finding spaciousness, clearing some of the baggage that fills up our souls and leaves less room for love and for real peace." Doesn't that sound amazing? It makes me yearn just to read that description again.
Ever in my mind is that this may be the last full year we spend in this house, as we are still planning to put it on the market next spring. We're putting the final finishing touches on things and hoping that the right buyer will come along and love everything enough to make it theirs. One more Christmas here, one more Thanksgiving, one more winter…of course only God knows whether this house will even sell next year, but we prepare nonetheless.
The living room window area was never used as a window seat before we bought the house, and I've always thought the lovely filtered light streaming in called for a special place to curl up and read. This area is still in process, but this is what it looks like this sunny morning.
Here's another photo taken a few days ago after some sweet grandbabies had been over. I took the photo from the stairs, looking through the posts in the banister.
One last living room project remains: a suitable fireplace mantel/surround.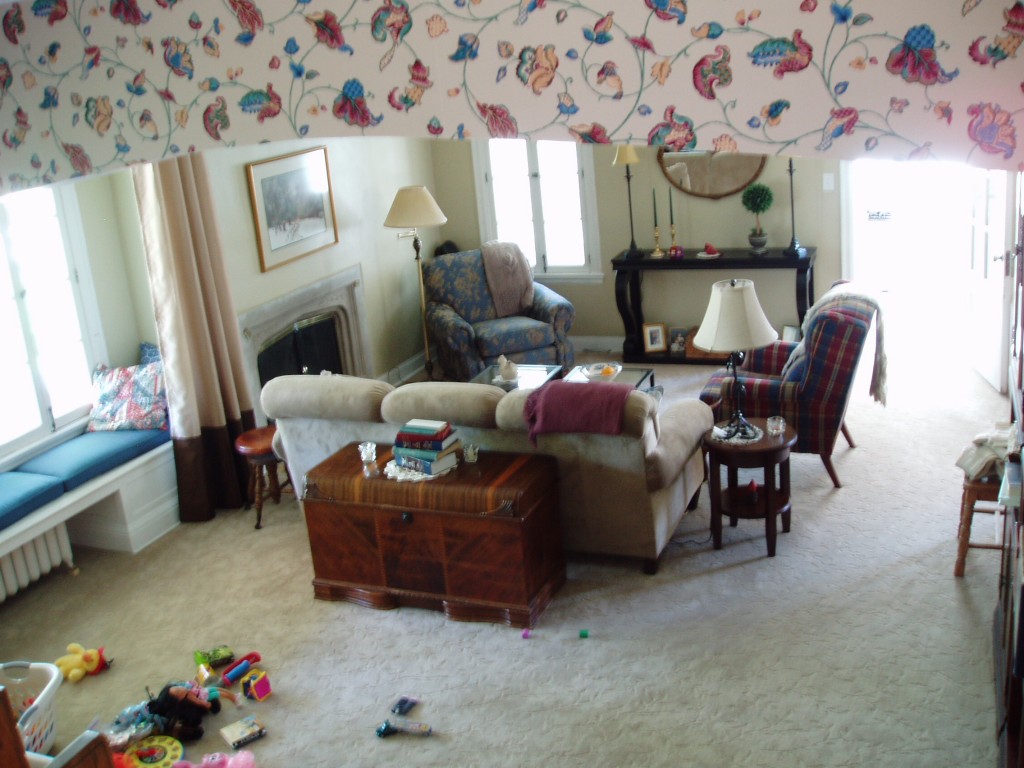 Through the door to the right is the office, and the window behind the window seat looks out on the front yard. The old waterfall hope chest belongs to Sara, something she inherited from her paternal grandmother when she died.
For inspiration, I always enjoy looking at the ideas at The Inspired Room – have you checked out Melissa's site?
These are also days of summer Bible study. Eight cherished friends fill my den on Tuesday mornings as we discuss our week's study of Beth Moore's newest Breaking Free. To share about some of the things God is pressing on my heart through this study will require another post altogether, but for now I'll just say that rarely is there a dry eye after watching the DVD, and I think we all feel the weight of blessing it is to study and pray together in freedom and great expectation.
Soon Michael and I will be driving to Rochester, MN for an orthopedic consultation at the Mayo Clinic. He tore his rotator cuff in February and since there are extenuating circumstances regarding a possible surgical shoulder repair, we decided to take advantage of the best medical care around. Kings and princes come to the Mayo for treatment….my handsome prince will too.
I spent seven hours last weekend climbing the paperwork Alps. What a good feeling to get so much done. I probably have three more hours to do this week, and then I'll be able to see the summit.
These days the schnauzers bark at every movement outside our windows. There are black squirrels, chipmunks, rabbits, deer, and woodpeckers enough in the yard to keep Edith and Mildred feeling useful. Bob Bennett sings on the house stereo system a song that brings peace and tears, "Jesus In Our Time." Michael and his friend Carl are working on the Taj Mamichael in our back yard — an edifice they're building that I wasn't thrilled about. It will hold Michael's four-wheeler, his snowmobile, the snow-blower, the lawn mower, and maybe even his boat. I am working on an article (for a small California newspaper) about my dad and his friendship with the late UCLA basketball coach John Wooden. Lately almost every day I make iced tea.
I am counting my blessings today and am depending on Jesus to make Himself known in new ways to me and my family.
That's what's going on these days….