The Road Unwanted
I keep wondering how I'm going to write about this, and I still don't know. I'm not certain how to put in black and white what seems like the most life-altering thing that I've ever experienced, apart from my decision to ask Jesus to take over my life when I was a little girl…except that event opened up my world and put a compass in my hand, and this event feels like it has nearly ended my world and set me adrift in a deep, dark, and uncharted ocean. It seems like there are no words in the English language that I can access in my numb mind to share the depth of sorrow and lostness I sometimes feel now that Michael is no longer in our home. Six weeks ago, after months of considering, praying, agonizing, researching, seeking counsel, second-guessing myself, and weeping, I drove Michael to a small state veterans home one hour north of us, and admitted him there. These very words I just typed stab my heart with a pain that has made me feel like life is over for the both of us, except for the part where I put one foot in front of the other and function like a person not quite fully alive.
The place Michael lives now is one of the most highly regarded care facilities in our area. It is not like a regular nursing home and the pictures we might have in our minds of those. Unbidden and unrelated, many people over the past few months mentioned to me this particular facility up the shore of Lake Superior in glowing terms. Wives of husbands who live there, social workers who drive up to attend their cases there, a local surgeon who has patients there, and even an actual resident himself, all spoke reassuring and recommending words they had no idea were directing me north as I neared the frayed end of my abilities to care for my beloved husband at home.
Parkinson's Disease coupled with advancing Lewy Body Dementia has whittled cruelly and relentlessly away at Michael's handsome, strong, capable body for over a decade. In these past few months he's had days when he couldn't walk. His visual/spatial perception is grossly impaired. His speech is at times almost unintelligible. And sometimes simple words spoken to him don't seem to get through.
Mornings are usually his best time. He can walk with a tiny bit of assistance and a gait belt, has a stronger voice then, and flashes of his wonderful personality are evident; I cling to those times. As the day wears on, everything fades. His walking, his voice, and his personality all shut down, and he becomes so very dependent and so terribly vulnerable that to speak of it seems almost too flippant. But it's not. It's precious and sacred to me, so I want to speak of it. I just don't really know how, even with my efforts here. Michael's life is condensing right before my very eyes, and the beautiful essence of that reduction is priceless to me.
The nursing staff at this small facility are truly loving, competent, patient and respectful. Most of the people I've met have worked there for between twelve and twenty-two years. Many of them shook Michael's hand on the day he moved in, saying things like, "It will be an honor to care for you, sir. I thank you for your service to our country." On the third day when I spoke to Michael on the phone and asked him how he was being treated he said, "They treat us like kings." They take the men fishing, they help them garden, they have weekly outings to local restaurants, they have many thoughtfully planned activities, and their dignity is guarded and prized. There are two resident dogs there, one of whom has taken a liking to Michael, and he to her. Her name is Bella. There are also two resident cats, and over a dozen colorful songbirds that flit about in a large aviary in the sunroom, where Michael and I love to sit quietly and hold hands. There are two worship services a week on Tuesdays and Sundays, and Michael always looks forward to attending.
Of course no place is perfect. A couple of the residents in the mild memory care unit he's in are much more ill than he is, and the noises they make and the behavior of one person is a little troubling to me, even though it happens infrequently. I realize they can't help themselves, but it's hard to accept that where he is now isn't exactly like the quiet and soothing environment of our home.
I drive up to see Michael on Wednesdays, Fridays and Sundays, and spend the whole day with him. I am an adult foster care provider to two sweet women who have lived with us for many years, and after I prepare their breakfasts and see them off to their respective jobs in the mornings, I put our Schnauzers Edith and Millie in their kennels and head north. On the days I don't drive up, I do all the things anyone else would do — I tend to the paperwork, errands and appointments involved in my job, make sure meals, laundry, and housecleaning get done, take my Fosters out to dinner and the movies, and I try to rest now and then.
Lewy Body Dementia is marked by extreme fluctuations in cognition (Michael can be pretty fine for a few hours, then not at all fine and almost semi-conscious within minutes), detailed and often frightening hallucinations, delusions, REM sleep disturbances, and loss of autonomic functions. The hallucinations and delusions Michael has are the hardest thing for him to deal with, and they are heartbreaking for me. I don't know what to do when he's in the throes of an episode and he's agitated, and what he sees is as real to him as reality is to you and me. I pray for him, comfort him, sometimes read scripture to him, try to distract him, and many times I turn my head and try not to let him see that I'm sobbing.
My sister-in-law has tried to help me understand that the care Michael is getting is better care than I was able to give him at home. I had come to the end of every reserve I had, but even knowing that, each morning I still wonder if I can stand having him gone for another day. My sister-in-law asked me how many people care for Michael in one day at this small veterans home. I started counting as I answered her: a registered nurse, a licensed practical nurse, and an aide (minimum) for each eight hour shift (that's nine people to begin with), a cook, a physical therapist (they work with Michael every single day), an activities director, a housekeeper, a laundry worker and a chaplain. Then there is his social worker, his site physician, and the many people who volunteer and help make all the daily activities possible. Thinking about all of this very specialized care helps for about an hour. Then I walk through our home where he lives no longer, and I cry and pray and wonder how I could possibly work things out to bring him home.
I will be honest. As much as I know how blessed we are in so many ways, at times this has felt like hell to me.
Here's how our Schnauzer Millie feels about Michael being gone:
That's his pillow she's sleeping on. The dogs feel their Daddy's absence deeply.
And here's my beloved husband of thirty-three years, the former mighty Marine, whose service to our country brought on the Agent Orange-induced affliction that has poisoned his body and put us on the road unwanted.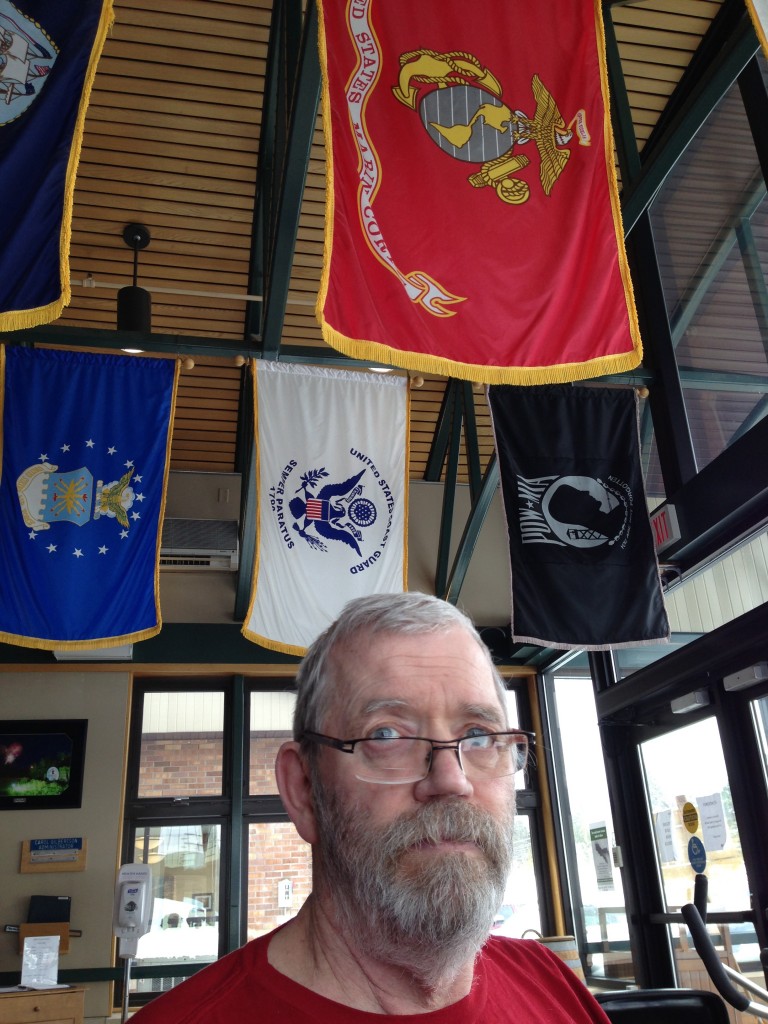 Aside from spending as much time as possible with Michael, I call him at least twice a day. He can't speak on the phone easily, but he can listen. Last night when I called, I asked him if he wanted me to read the Bible to him and he answered yes. I slowly read a few verses to him. I ended with part of the 42nd Psalm, and when I read this verse aloud, Michael whispered fervently, "That's a good one!"
Why are you cast down, O my soul,
    and why are you in turmoil within me?
Hope in God; for I shall again praise him,
    my salvation and my God.
Psalm 42:11  (ESV)
*         *         *         *         *         *         *
I will share more another time. I thank you all so much for praying for us….