The day I was Peggy Lipton for 10 seconds
In late 1979 I was 22 years old, living in Germany, and my daughters were two years old and eight months old. As I've shared about before, things in our life changed rather suddenly that year, and we found ourselves flying home from Europe to California, sans a husband and daddy. We lived with my mom for six months before I climbed to my emotional feet, and got a good job and a place of our own.
Since my husband was in the Air Force, I was still legally entitled to military benefits until he secured the divorce he wanted, so when we returned stateside, I had to get a new Air Force ID card. My ID card allowed me to shop in any military commissary and Base Exchange, and it showed that we were eligible for military medical benefits as well.
When I walked into the licensing building at March AFB, I took a number and waited to be called to sign my name and have my picture taken. When I stepped forward, the airman who took and perused my paperwork greeted me without looking up. "Here for a new stateside ID card? Okay, step to the gray line, look right here at the camera…"
Then he looked up and did a double-take. I had no idea why he was peering at me so intently for a few seconds, and checking the paperwork I'd handed over. Then the young man said, "Wow, for a minute there I thought you were Peggy Lipton."
Peggy Lipton of "The Mod Squad." For younger readers you may not know who Peggy Lipton is, but when I was an eighth grader at Traweek Junior High School and a Freshman at Covina High, "The Mod Squad" TV show was all the rage. Almost every teen girl I knew had a crush on Michael Cole. As a matter of fact, the two girls I walked to school with each morning were so enamored with him, they insisted on carrying on a make-believe production every morning about how they were dating Michael Cole. They wanted me to play along as we walked and carried our books, and say things like "Oh, yes, Mike came over last night and we went to get an ice cream cone. He is crazy about me. We had so much fun." Guess what? I refused. I was 14 years old and I was slightly grossed out by their play-acting and just wouldn't do it. I tried not to make them feel bad since they were having such a good time — I think I told my friends I would just listen as they discussed their fun activities with Michael Cole the day before.
Anyway, almost a decade later (by then "The Mod Squad" had faded into television history) I was momentarily mistaken for Peggy Lipton, which I thought was perplexing and a little funny.
Fast forward 32 years. We are currently getting ready to list our house for sale, and I've been going through things. In an old box of photos I found the Air Force ID I'm talking about: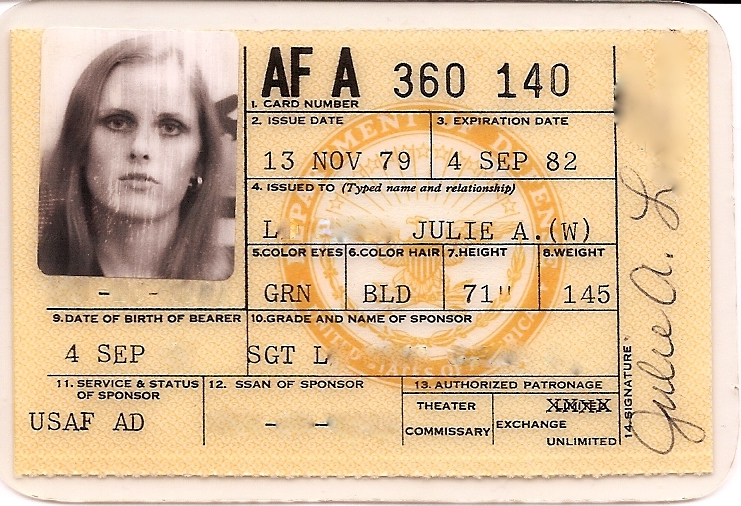 Peggy Lipton:
And I also found a picture of The Mod Squad, but not in my old box of photos. 🙂
Other than perhaps the hairstyle, I didn't see the resemblance the young airman commented on. But on that day in 1979 with the future uncertain, I took it as a sort of compliment. Because he could have said I looked like Ethel Merman. Or Ruth Buzzi.
Of course I no longer have a military ID. In recent years when I've gotten my driver's license renewed, no one has mistaken me for Peggy Lipton. Not one person.
What's up with that?  🙂
Who have you been told you resemble?