The Bad Lady
Every three or four months we take our Schnauzers to The Bad Lady. This is what they call Joyce, the groomer who has bathed and clipped our dogs for years.
Edith and Mildred call her The Bad Lady because she does things to them they don't love. She pours water all over them and puts stinky smelling shampoo all over their hair (Schnauzers don't have fur). She stands them up on a grooming table and keeps their chins lifted by a suspended collar so they can't sit down or jump off. She squeezes them in humiliating places to empty certain glands. She uses a very loud buzzing thing all over their little Schnauzery bodies to take all the warm hair off. She uses a clipper on their nails and it snaps loudly when the bits fly. And she plucks the hair from the insides of their ears. Edith and Millie prefer not to visit The Bad Lady.
But alas, their mama and daddy want them to go. They come back smelling clean and fresh. They always look a little too severe sleek at first, but in a couple of weeks their hair will grow a bit.
When eleven year-old Edith (below) gets too fluffy, we think she looks like the Sesame Street wolf. When she comes back from The Bad Lady, we think she looks a bit alien, and has bat ears. Here are before and after pictures: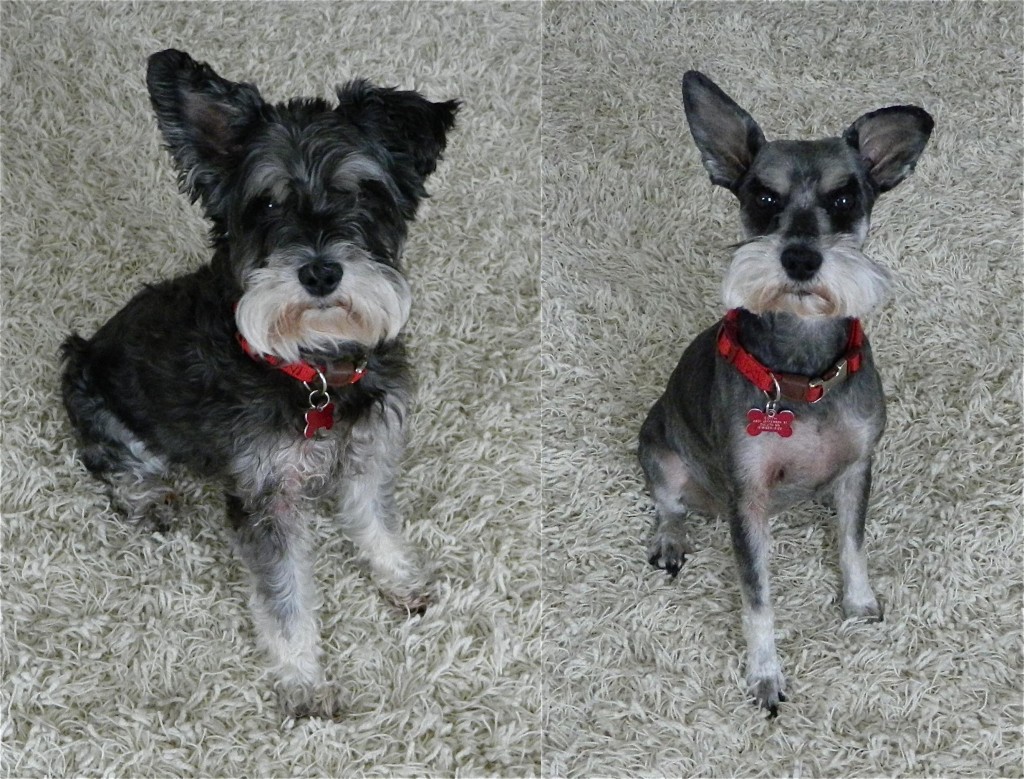 And seven year-old Mildred (below) always looks the same, whether fluffy or shaved: disturbed. Millie is our troubled dog, with multiple personality quirks that make her simultaneously hysterical and annoying.
They always zip around jubilantly when we pick them up from The Bad Lady's house. They're so thrilled to be home, and they whisper to each other when we're not looking, "Whew! Now we can relax for another three months!"
Do your pets talk like ours do?